Blueprint for Miami Heat Title Repeat Entering 2013 Postseason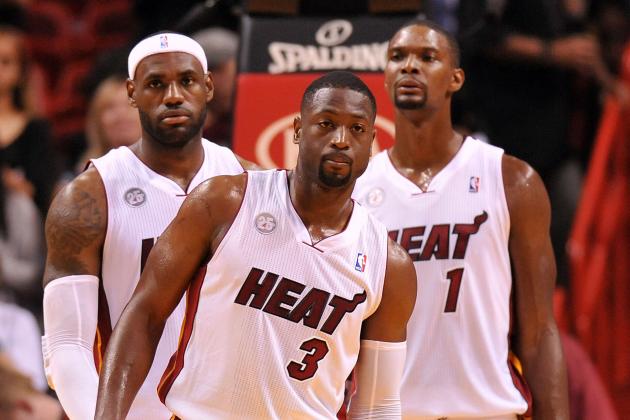 Steve Mitchell-USA TODAY Sports
Miami Heat's LeBron James, Dwyane Wade, Chris Bosh
The Miami Heat's blueprint for repeating as NBA champions heading into the 2013 postseason is relatively simple.
While compiling a league-best winning percentage of .805 in 2012-13, as compared to .697 a year ago, the Heat have re-established themselves as the league's most dominant unit.
When executing their game plan on a nightly basis, there is no scheme, defensive player or team capable of disrupting that.
Chris Bosh, Dwyane Wade and LeBron James are playing their best basketball collectively, while each of Miami's Big Three is shooting a career high from the field.
If they can continue to shoot with a similar efficiency in the playoffs while remaining healthy throughout, the Heat will become nearly impossible to beat.
That becomes even more the case if the supporting cast can limit production from opposing point guards and increase activity on the glass while the reigning MVP continues to dominate.
Begin Slideshow

»
Jeff Hanisch-USA TODAY Sports
Miami Heat's Dwyane Wade
LeBron James, Dwyane Wade and Chris Bosh all took time off during the month of April to prepare their bodies for the postseason grind.
On the strength of a 27-game winning streak, Miami earned that opportunity by separating itself from the competition and securing the No. 1 overall seed in the playoffs.
So long as James, Wade and Bosh remain healthy, the Heat are deserving title favorites.
During the opening-round matchup with the Milwaukee Bucks, specifically, the Heat could benefit long term by similarly limiting the Big Three's minutes in preparation for the later rounds.
Despite what Brandon Jennings told the Journal Sentinel earlier this week, there should be plenty of time to rest while the Bucks are swept away.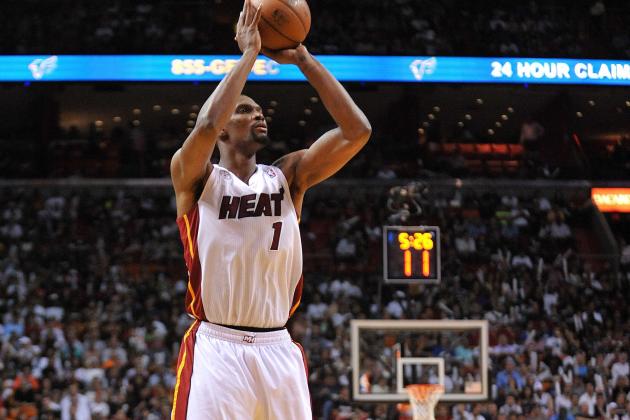 Steve Mitchell-USA TODAY Sports
Miami Heat's Chris Bosh
Dwyane Wade, Chris Bosh and LeBron James have all shot better from the field than ever in 2012-13 at 52.1, 53.5 and 56.5 percent, respectively.
If they are able to maintain this level of efficiency during the postseason, the Heat will be on their way to repeating as NBA champions.
Each of Miami's Big Three sacrificed scoring to join forces in 2010. Bosh (16.6) and Wade (21.2) posted the second-lowest scoring average of their careers this season, while James (26.8) turned in his third-lowest total.
When called upon, though, each superstar has been more reliable than ever scoring the basketball.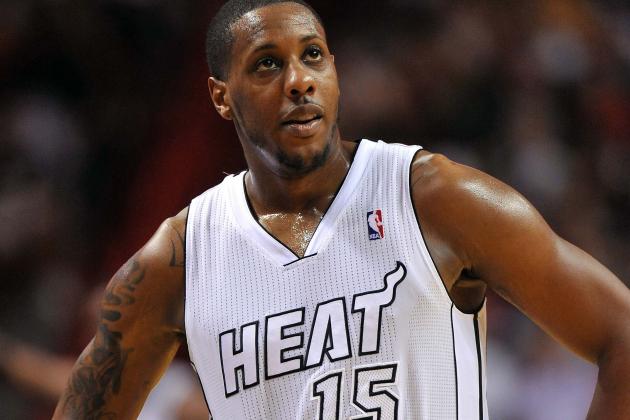 USA TODAY Sports
Miami Heat's Mario Chalmers
One area where the Miami Heat comparatively struggle is at the point guard position.
From a net production standpoint, according to 82games.com, the point guard position has yielded a minus-1.9 PER for the Heat in 2012-13.
At every other position—including center—the Heat have earned a positive net PER.
The Heat are also being outscored by opposing point guards 18.5 to 15.7 on average. They outscore their opponents at every other spot on the floor.
The impact opposing point guards have will need to be minimized as the Heat advance deeper into the postseason.
Mario Chalmers and Norris Cole will be tested early in the opening round by Brandon Jennings. In a potential finals matchup with Russell Westbrook, Tony Parker or Chris Paul, however, they will need to turn in their best collective efforts of the season.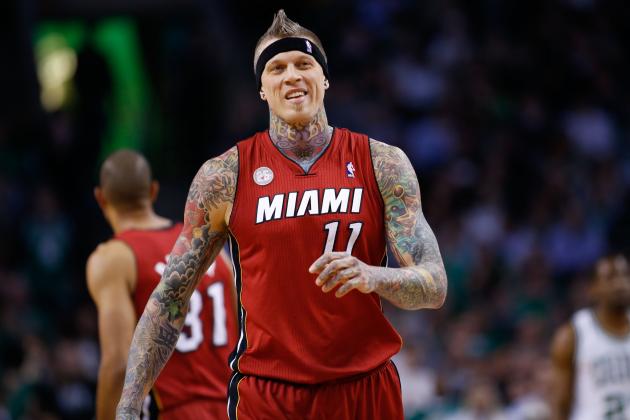 Greg M. Cooper-USA TODAY Sports
Miami Heat's Chris Andersen
The Miami Heat finished last in the NBA in rebounding, collecting only 38.6 per game in 2012-13.
This occurred even with LeBron James averaging a career-high eight rebounds per night himself.
While the Heat won't need to improve dramatically from a rebounding standpoint in order to repeat as NBA champions, the activity on the glass among the supporting cast does need to increase.
This means, for example, that Chris Andersen will need to collect at least one more rebound than the 4.1 he averaged during the regular season.
Udonis Haslem will need to similarly improve from 5.4 rebounds and Shane Battier from 2.3, to name a couple key cogs.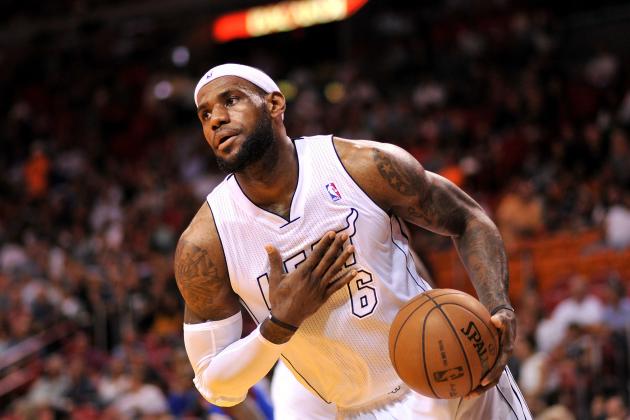 Steve Mitchell-USA TODAY Sports
Miami Heat's LeBron James
The Miami Heat do not need LeBron James to advance into the second round.
There will be moments throughout the postseason, however, when the Heat will need the game's most dominant player to make dominant plays.
On his way to earning his first championship and a finals MVP, James did specifically that throughout the 2012 postseason.
While shooting 50 percent from the floor, James averaged 30.3 points, 9.7 rebounds and 5.6 assists. More importantly, though, whenever a game-changing play was needed at either end of the floor, James stepped up like an MVP and imposed his will.
If he can continue his individual dominance when it matters most during this postseason, the Heat will repeat as NBA champions.