Playoff ETAs for Every NBA Lottery Team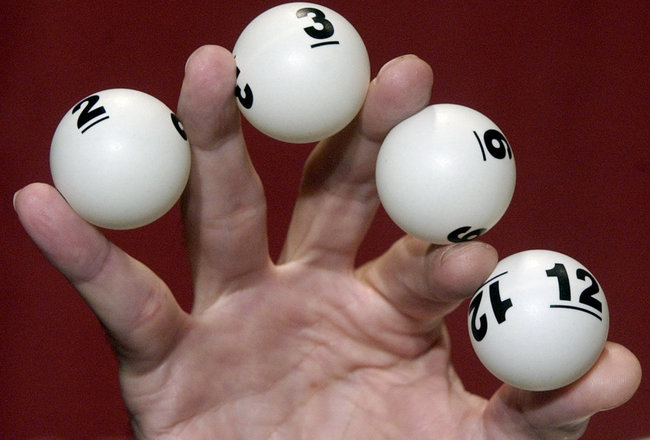 Predicting playoff returns for some of these teams takes balls. (Courtesy of Mark Duncan / Associated Press)

For the lottery-bound NBA teams, the future holds promise in varying degrees.
There are some squads who but for the sake of injury or whims of fate might be playing into May right now. There are those who are positioning themselves for a playoff run in a couple of years. And then there are the few for whom April is going to mean early vacation for a long, long time.
My late father used to say the only thing one can really ask of their sports franchise is to be competitive. In that spirit, my ETAs will predict when each respective franchise will compete for a playoff spot, rather than actually secure one.
After all, nothing is guaranteed in this world—except, of course, an Orlando Magic number one overall pick. (Just kidding, David Stern...I think...)
Check out how long your team has until May becomes meaningful.
Charlotte Bobcats: Bob-Bob-Bobbin' Along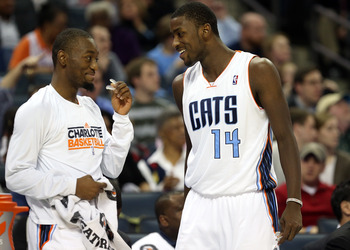 MKG and Kemba Walker are the 'Cats' top cats.
Streeter Lecka/Getty Images

2012-2013 record: 21-61


The good: Kemba Walker is the real deal. Michael Kidd-Gilchrist has the heart and the will to, I believe, become one of the very best players in the league. Gerald Henderson, Jr. improved on last year and his qualifying offer will make him a bargain.
DeSagana Diop and his contract just officially went bye-bye. After amnestying Tyrus Thomas but resigning Henderson and likely Byron Mullens (who is not the answer, but is at least serviceable), the 'Cats are close to a max-contract salary under the cap.The Bobcats stand a great chance at getting the number one overall draft pick.
The bad: Yeah, the Bobcats have some pieces, but somebody show me the box top, 'cause I'm damned if I can see what this jigsaw puzzle is. I can't imagine a top-tier free agent who would be excited to come here, despite the promise of both Walker and MKG. Matter of fact, I can't see either of them staying after their contracts expire.
Even if they rid themselves of Thomas, Ben Gordon's contract is still an albatross. If Portland falls out of the top 12, the franchise will have two first-round picks...in one of the most mediocre drafts in recent memory.
Bad to good: They're just so far away that it's impossible to predict. I'd say if they're lucky, the 'Cats will make it by the end of this decade. If they're lucky.
But hey...Charlotte is an awesome city. Stroll the historic Fourth Ward hand-in-hand with a loved one, eat yourself into a succulent tizzy at Cabo Fish Taco (featured on the Food Network) or take a terrific day trip to remarkable Asheville, a spellbinding melange of intellectualism and spirituality.
In other words, do what you can to take your mind off basketball for a few years.
ETA: 2020
Utah Jazz: Play Taps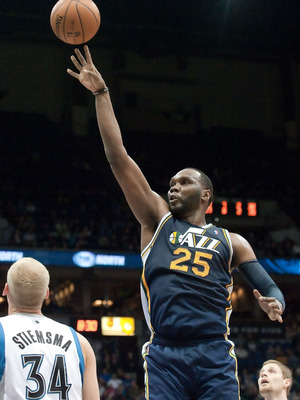 Jefferson is movin' on up and out.
Greg Smith-USA TODAY Sports
2012-2013 record: 43-39

The good: Uh...you caught me at a loss for words. I mean...they gave a noble effort. Al Jefferson is a monster, who put this team on his back during their ill-fated drive for the eighth seed. Paul Millsap had another fine year. Gordon Hayward was just this side of spectacular at the 3 and can hit the three. He's a guy you can build around. Alec Burks showed promise. DeMarre Carroll is an Energizer Bunny.
Derrick Favors had some spectacular games while working to earn time against the superb Millsap. Randy Foye is a solid perimeter threat. Enes Kanter, in his very limited minutes, looks like the center of the future. Mo Williams is in decline, but assayed another solid year at the point.
The bad: Just look at their contracts for next year and I swear you can hear the locker room clearing out. Led by Mr. Jefferson, who has every reason in the world to be movin' on up to a contender, here are the other expiring deals: Williams, Millsap, Foye, Carroll—who had his best season as a pro but won't make anybody forget Andrei Kirilenko—and assorted debris (an already-waived Raja Bell and the ghost of Jamaal Tinsley).
Who's left? Derrick Favors, Kanter, Hayward, Burks, Jeremy Evans and a grossly overpaid Marvin Williams, who will gladly pick up his player option.
Said as kindly as I can, that's not a playoff roster.
Bad to good: As Willy Wonka would say, "Strike that...reverse it." It should read good to bad. Utah fans, you've never seen a spell of futility like you're about to see—because the late time the franchise missed this many playoffs in a row, they were in New Orleans.
You want my advice? Grab your MP3 player and click on Thelonious Monk's Straight, No Chaser.
That's as close as you'll get to good jazz for a while.

ETA: 2019
Philadelphia 76ers: Deep-Sixed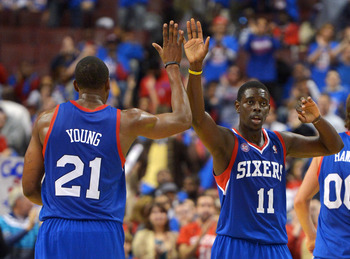 Jrue Holiday (right) and to a lesser extent Thaddeus Young are all the Sixers really have.
Drew Hallowell/Getty Images
2012-2013 record: 34-48
The good: Jrue Holiday is one of the handful of players in the league who, on both sides of the ball, makes me forget where I am when I watch him. He plays consistently sound defense that's often thrilling to watch and has stepped up his offensive game beyond all reasonable—and even unreasonable—expectations this year.
Thaddeus Young is coming along well. A Brinks truck full of cash comes off the books. The mercurial Doug Collins, who predictably lost it this season, blessedly resigned.
The bad: Where do I even start? If he gets to keep his job, Tony DiLeo, who allegedly got promoted to general manager largely because of his role in landing Andrew Bynum, now has to be seen as having decimated his team virtually beyond repair.
Worse, the players sent away are flourishing elsewhere: Andre Iguodala with the surging Denver Nuggets and Nikola Vucevic and Maurice Harkless with Orlando.
Perhaps worst of all, DiLeo is caught between a rock and a hard place: choosing to re-sign a player who had the same stats for Philly this year that I did or opting to let him go, thus conceding that the trade essentially blew up his team.
Bad to good: Anyone who has lost cash but gained wisdom in Vegas will tell you, Mr. DiLeo: when you're on a losing streak, better to cut your losses and run than keep playing with the same bad hands. I suggest you say bye-bye to Bynum, get as far under the cap as possible, and try to build around Holiday and, to a much lesser degree, Young.
But that means the playoffs are nowhere in sight.
Or, said more wistfully: playoffs? We talkin' 'bout playoffs?!? (Miss ya, A.I.)
ETA: 2018
Dallas Mavericks: Headed Southfork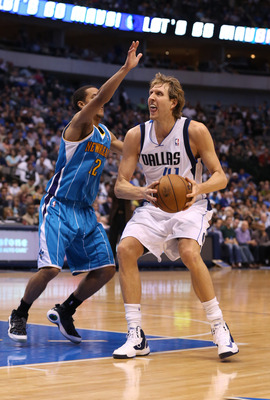 The time was now for Nowitzki; next year is too late.
USA TODAY Sports
2012-2013 record: 41-41
The good: This team has been so good for so long and Dirk Nowitzki is so easy to root for, that it's easy for them to pull the okey-doke on us. Yes, they'll have tons of cap space. I'll put it in the good column, but it's going to show up in the bad column as well...you'll see why.
Nowitzki is a transcendent talent and his no-shaving-until-.500 edict was pretty cool. O.J. Mayo had the finest season of his still-young career. Mark Cuban is an attractive owner for players.
The bad: The cap space. The reason there's so much is because most of the legitimate players on the roster have either disappeared or are about to disappear. Mayo will almost certainly opt for free-agency and a potentially huge contract.
Shawn Marion can still fill it up, but he's old; Vince Carter is older. Both had terrific seasons for their age; both will be on expiring contracts next year. Lest you forget, Dirk is 34 himself.
Here's the reality: there is no Dallas Mavericks anymore. It's Nowitzki, Marion and Carter—held together with rubber cement and tongue depressors—and a cloud of dust.
I loved this team in its heyday. Its heyday is in the rear-view mirror…and objects are not nearly as close as they appear.
Bad to good: The smart money is on these guys going in reverse. I say it's another year falling short of the playoffs, followed by a falling off of the wheels. The one thing I'll say is Mark Cuban does not strike me as the kind of owner who will sit still for a rebuilding process; that's why I have them coming back faster than I would ordinarily predict.
ETA: 2018
Sacramento Kings: Kings of Pain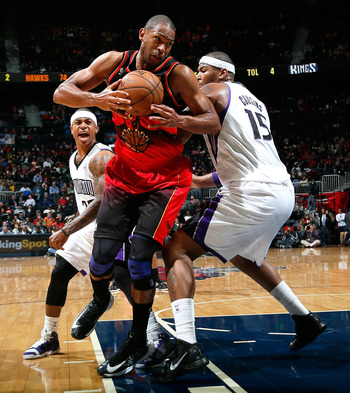 Isaiah Thomas (left, in white) and DeMarcus Cousins have talent, despite the team's morass of problems.
Kevin C. Cox/Getty Images
2012-2013 record: 28-54
The good: There is unquestionably talent here. DeMarcus Cousins, Tyreke Evans and Isaiah Thomas all merit respect and have the potential to ignite whatever city they end up calling home.
The bad: With the lousiest sports owners this side of Marge Schott and that lady in Major League, the Clash's Should I Stay or Should I Go? as their anthem and Cousins as their malcontent-in-residence, the Kings have more on the red side of the ledger than the black. But talent will win out, and if the Kings are lucky enough to land Shabazz Muhammad, I believe they will have gotten a steal.
Bad to good: If the Kings fail to re-sign Evans, all bets are off. But if he remains in the fold, I say new ownership, no matter the address, will heap goodwill on this once-proud, now woe-begotten franchise, enough to help them turn the page on this pitch-black chapter of their history.
They're not making any worst-to-first leaps, but give them three years and they'll be making some noise.
ETA: 2017

Phoenix Suns: The Sun Also Rises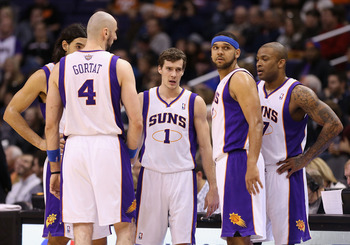 Things are not as bleak as they seem in Phoenix.
Christian Petersen/Getty Images
2012-2013 record: 25-57
The good: The Houston Rockets dealt Goran Dragic and amnestied Luis Scola; the duo ended the season as arguably Phoenix's two best players. Two first-round picks plus a fair amount of cash means the team might get better in a hurry.
Speaking of getting better, the returns of Channing Frye and Marcin Gortat would give this team a B-12 shot as well. New coach Lindsay Hunter has been said to have instilled toughness into his club, which was appreciated by his players, who considered themselves "weak."
The bad: There's no real franchise guy on this club, which means they're kind of directionless and image-less. There are no guarantees that Frye and Gortat will return at full strength once they do return.
Bad to good: I'm betting on both Frye and Gortat to come back restored and renewed. If they do, I say this roster, if the draft picks are chosen skillfully, has an outside chance to make the playoffs in the next couple of years—albeit as a low seed. So though Phoenix fans felt like they got hit where the sun don't shine this year, I believe with a little luck and smart scouting, this team can at least compete for a playoff spot within the next few years.
ETA: 2017
Orlando Magic: Tricked Out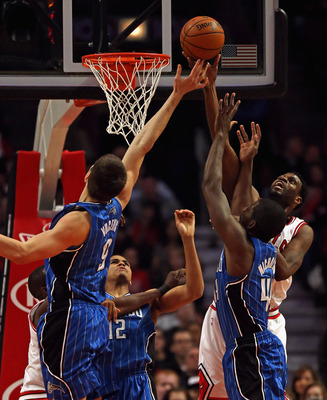 Nik Vucevic and Tobias Harris make Magic fans hope to pull a rabbit out of a hat.
Jonathan Daniel/Getty Images
2012-2013 record: 20-62

The good: I've previously named Nikola Vucevic as one of the top candidates for Most Improved Player of the Year; he's looking like one of the NBA's top five centers of the very near future. I didn't like the J.J. Redick trade at all, but it's impossible not to love the way Tobias Harris, who was obtained in the trade, has performed.
Vucevic and Harris were the first teammates to score 30 points and pull down at least 19 rebounds in the same game in 46 years. Color me impressed.
Maurice Harkless has ability. Andrew Nicholson is showing promise.
The bad: Young players were forced into heavy minutes because of injuries and the record demonstrated this. Beno Udrih's contract is the only terrible one to come off the books this year, so there's no room to do anything. High draft pick but a not-so-great draft class.
Bad to good: A couple of expiring contracts next season (Hedo Turkoglu, Jameer Nelson) and the year after that (Glen Davis, Al Harrington) spell trade potential. You've got a tricked-out core, so I'd say before the next president is sworn in, the 'Cats might be fighting for a playoff spot.
ETA: 2016
Toronto Raptors: Birds on a Wire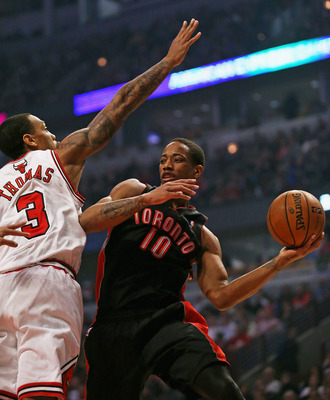 DeMar DeRozan DeMeans DeBusiness.
Jonathan Daniel/Getty Images
2012-2013 record: 34-48

The good: DeMar DeRozan is in the fold long-term and the Raptors should consider themselves fortunate for that. Amir Johnson is finally showing NBA promise—if not an NBA build—and Jonas Valanciunas was March's Rookie of the Month in the Eastern Conference.
Rudy Gay was a really nice pick-up and if his friendship with Kyle Lowry is enough to convince the franchise to pick up Lowry's team offer, the Raptors have a truly solid starting lineup for the first time in a long time. Slam-dunk Terrence Ross can stand a crowd on its feet.
The bad: Andrea Bargnani. Need I say more? All right then, I will.
This team struggled defensively and in tight contests. Landry Fields's salary is the equivalent of how much the U.S. government pays for their hammers. No contracts of significance are coming off the books. The team lost a first-round pick when they traded for Lowry.
Oh, and did I mention Bargnani? Well, he deserves to be mentioned twice.
Bad to good: Remember, this is the Eastern Conference, where the playoffs are usually easier to make. In 2014, Bargnani becomes an expiring contract, much to the huzzahs of everyone in the Toronto area. By then, this unit might have jelled.
ETA: 2016

Cleveland Cavaliers: No Mistake on the Lake
Irving and Waiters are the rock-solid backcourt of a Cavaliers team that could surprise.
Jeff Gross/Getty Images
2012-2013 record: 24-58
The good: There is a core here that, trust me, the Miami Heat will be envying in three years.
Kyrie Irving is a future league MVP. Anderson Varejao was the league's leading rebounder, a rock-solid defender and arguably its most effective second-chance creator when he went down with an injury; it potentially cost this team a passel of games.
Dion Waiters will make the All-Star team yet. Tristan Thompson has locked himself into a starting position.
The team will have cap room galore and will have four picks in the draft to either trade or use to grab a quartet of players with elite potential; after this draft, the Cavs might become perhaps the most loaded young squad in the league.
The bad: Not a lot to report here. Irving is injury-prone (less so this year, fortunately), and Varejao is 30. But if the Cavaliers were a stock, based on their record this year, I'd say they're a strong buy.
Bad to good: Whether they use the picks to bring an elite player into the fold or take four shots at landing the Rookie of the Year (call it the Cavaliers' own personal draft lottery), this team might make a run next year. I'm going to be conservative and say two years, but if there is a worst-to-first squad, this is one of the two teams I'd call to be it.
ETA: 2015
Detroit Pistons: On All Cylinders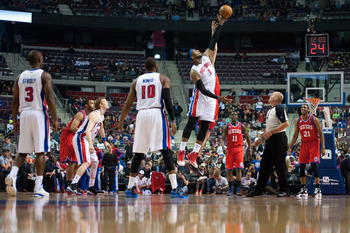 Don't let the record fool you: with Drummond and Monroe in the fold, this team is on the rise.
Tim Fuller-USA TODAY Sports
2012-2013 record: 29-53
The good: Andre Drummond is the most exciting big to watch since...well, probably since Dennis Rodman. Except Rodman was 6' 6". Drummond is an honest-to-goodness seven-footer...with a great chance to become one of the league's most dynamic players.
Greg Monroe is Drummond's alter ego: singularly unspectacular, but a guy who gets his numbers night in and night out: a poor man's Tim Duncan, if you will. Together, they are Detroit's future and it is bright.
Brandon Knight struggled this season, but occasionally flashed oodles of promise. Ben Gordon and his stiff of a contract are gone, as Corey Maggette will not be re-signed. Jose Calderon is a smart, steady, hardworking court leader, and this team is the better for having him.
The Wizards finished the season defensively in stunningly impressive fashion, ending up tied for fifth-lowest opponent shooting percentage and tied for seventh-least opponent per-game point average.
The bad: Charlie Villanueva had another god-awful year, and his contract makes one want to take the blue pill. Rodney Stuckey had another maddening year, regressing to his worst numbers since his rookie campaign.
Bad to good: If the Pistons retain Calderon, if Knight can succeed at the 2, if Monroe can increase his comfort level at the 4 and ratchet his defensive game up a notch and if the Pistons nab a big-time small forward in the draft, this team is a "just add water" unit, and can fight for a playoff spot as early as next year. However, those are four big "ifs". So I'll pad the prediction by a year to be safe.
ETA: 2015
Portland Trail Blazers: Not-So-Slow Burn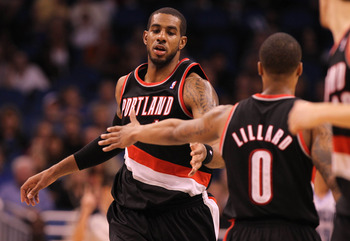 Aldridge and Lillard, along with Batum, will have this team blazing its way to the playoffs in short order.
Kim Klement-USA TODAY Sports
2012-2013 record: 33-49
The good: Portland is flat-out better than their record. Rookie Damian Lillard has an old man's game in a position that is the most difficult for a young player to master at the pro level.
LaMarcus Aldridge is among the league's most oft-overlooked players, despite another All-Star appearance; were he hooping it up in Los Angeles, you'd see him on Sportscenter every night. Nicolas Batum had a career year stats-wise. The team will have as much as $15 million in cap space.
The bad: No first-round picks in the draft. J.J. Hickson had a coming-out party for the ages since Portland picked him up late last season, but he'll probably test the free-agent waters.
Bad to good: The three star pieces in place here make this team a rising star on the horizon. Depending on whom they can get with their cap money, they may be in the hunt as early as next year. I'm going to say they're another year away, but of the three 2015 teams, they've got the best chance of making it next year.
ETA: 2015
Washington Wizards: No More Vanishing Act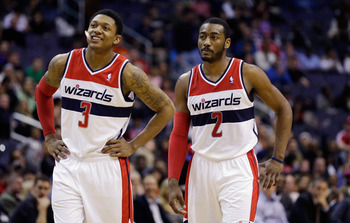 Wall and Beal are one of the league's best young backcourts.
Rob Carr/Getty Images
2012-2013 record: 29-53
The good: John Wall makes basketball in Washington fun for the first time since Arenas was in the arena—when he's healthy. Bradley Beal is a superb shooting guard—when he's healthy. Nene can still score and board—when he's healthy. Martell Webster put up the best numbers of his career—when he's healthy. (Are you seeing a pattern here?)
The Wizards finished the season defensively in stunningly impressive fashion, ending up tied for fifth-lowest opponent shooting percentage and tied for seventh-least opponent per-game point average.
The bad: Emeka Okafor is a bummer of a contract, and the Wizards don't have cap flexibility.
Bad to good: It all depends on whether or not the players pull their injury-list vanishing act again next season. I have nothing to go on except intuition, but Bradley Beal just does not look to me like he's going to stay healthy long-term. I'm going to hope I'm wrong and assume the Wizards' M*A*S*H* unit makes like the Maytag repairman this season.
ETA: 2014
Minnesota Timberwolves: You're Gonna Make It After All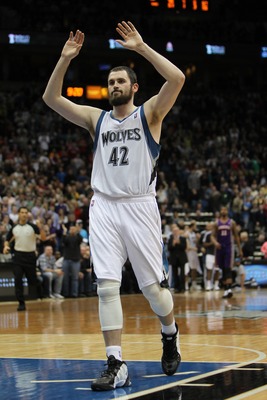 Minnesota, all you need is Love—on the court, not the sidelines.
Brace Hemmelgarn-USA TODAY Sport
2012-2013 record: 31-51
The good: I didn't just have these guys making the playoffs: I had them as a three seed. Yet for the ninth straight season, these guys failed to qualify for the postseason.
But for goodness' sake, look at this roster.
Nikola Pekovic, an often-forgotten but extremely effective 16-and-8 guy, at center. A returning Kevin Love at the 4, spelled by a Derrick Williams who is certainly started to fulfill his promise. A still-potent Andrei Kirilenko at small forward. Erstwhile 20-PPG man Brandon Roy. And energetic Ricky Rubio, exceptional in every way except three-point shooting, spelled by a quietly potent Jose Barea.
That's a playoff roster if I've ever seen one.
Add bench guys like Luke Ridnour, Alexey Shved and Chase Budinger, two first-round picks and two second-rounders, and this team is a comer for sure.
The bad: Injuries, injuries, injuries, most notably to Love and Roy. Kirilenko can opt out of his contract for next year, but I don't think he'd get more than his current deal's $10.2 million on the open market, so he'll likely stay put.
Bad to good: Once again, I'm assuming everyone stays healthy, because the Timberwolves need a break. I once again say they'll be in the upper half of the Western Conference. Said more pithily: Minnesota, if Love is all around, you're gonna make it after all.

ETA: 2014
New Orleans Pelicans: Time for You to Fly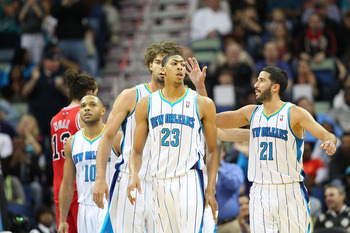 For Anthony Davis and the Pelicans, I say next year is the year.
Crystal LoGiudice-USA TODAY Sports
2012-2013 record: 27-55
The good: Simply put, this team's core makes this franchise playoff-bound. Anthony Davis improved drastically from month to month before battling injuries and looks like he'll earn his number one selection. Greivis Vasquez—talk about coming out of nowhere—has excellent court vision and play-making ability to more than compensate for a lack of acceleration and three-point shooting ability and looks to be a keeper.
Robin Lopez needs to improve his rebounding, but blocks the crap out of the ball. Ryan Anderson can hit from outside and grab his share of boards. Eric Gordon…well, put it this way: when he's not reminding everyone of Samuel L. Jackson in Unbreakable, dude can score like mad, though I'd like to see better perimeter shooting from the 2.
This team, to me, is built to run and run and run their way into the playoffs: pick up the pace, score in transition and never stop until the final buzzer.
The bad: Gordon's health has become a serious question mark. Austin Rivers is no sure thing thus far.
Bad to good: This is a reach, but again, assuming everybody stays healthy and they nab someone who can contribute right away in the draft, I say the playoff drought for the Pelicans will be brief.

ETA: 2014
Keep Reading