Notre Dame Football 2013 Spring Game: Live Analysis, Notes and Recap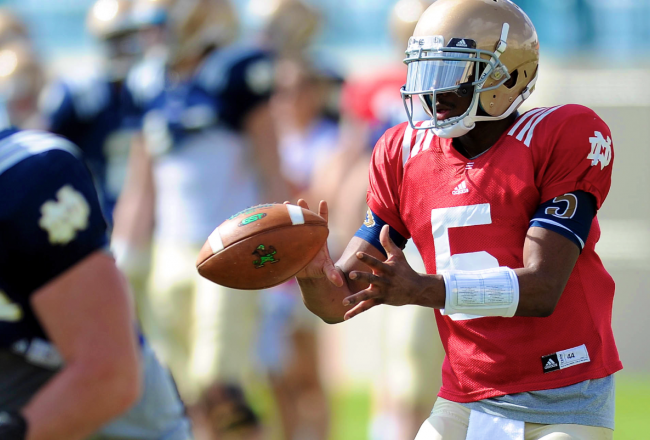 Blue Team 54, Gold Team 43 - Final

The Notre Dame spring game is always one of the more anticipated events during college football spring ball. This year's event was anticipated, but didn't quite live up to those expectations.
Notre Dame looked very similar to how it played last season. The offense had a hard time moving the football, the special teams struggled mightily and the defense did its job on both sides. Still, the good thing is that it was only a spring game, so folks in South Bend are able to relax.
Quarterback Everett Golson still has some work to do, but continues to show you flashes of being great, which makes you not want to give up on the kid. The receivers did a solid job of catching the ball for the most part and the running back situation looks promising.
The defense looks to be the side of the ball that will continue to be strong. The secondary looks improved, the defensive line was getting pressure and the linebackers did a good job in coverage.
When you add everything together, you end up with everything a spring game is supposed to be. Not much, but just enough to hold the fan base over for the next four months.
The ultimate victory for Notre Dame is the fact there were no injuries, as JJ Stankevitz of CSN Chicago reports:
Kelly says no injuries to report. Chris Watt slept wrong on neck and was sore, so that's why he didn't play.

— JJ Stankevitz (@JJStankevitz) April 20, 2013
Irish Illustrated has the story when it comes to that two-point conversation attempt by Louis Nix:
Brian Kelly says he lost a bet to Louis Nix, the payment was the 2-pt conversion shot. If Kelly won, Nix would have played 67 plays.

— Irish Illustrated (@NDatRivals) April 20, 2013
Score: Blue Team 54, Gold Team 43 - Final

Spring game has come to an end.
Everett Golson still has a little bit of work to do before becoming that full-time starter at the QB position. Although even with that said, he looked to have a little more control of the offense and showed that he can be terrific when having time to throw the ball.
The highlight of the game is going to be a quarterback sneak on a two-point conversion by defensive lineman Louis Nix.
The defense on both units looked sharp and did a good job of holding the Notre Dame offense to only one touchdown.
Overall, we didn't learn much and the game wasn't as exciting as we all thought it would be. But like everything, there were a few bright spots, and then there are areas where Notre Dame must continue to improve.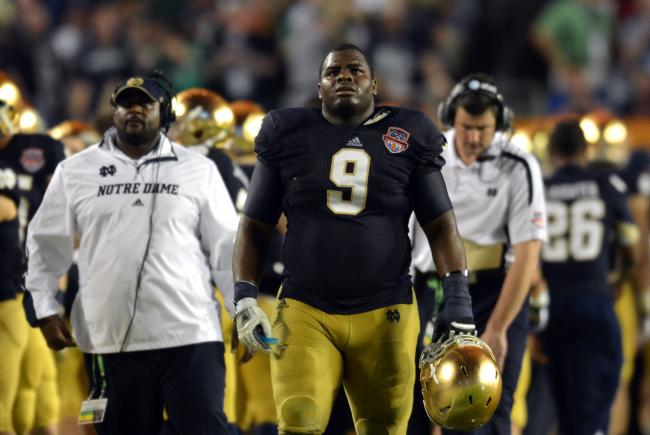 Are my eyes fooling me?
Zaire throws the first touchdown of the game to a wide open C.J. Prosise.
But the highlight is going to be a quarterback draw for a two-point conversation that was capped off by none other than Louis Nix.
This game finally got interesting!
While much of the talk will be about Golson and Zaire, Andrew Hendrix continues to deliver solid passes and show off his arm strength. Unfortunately, I don't think that is going to matter much once the official depth chart is released.
And just like that the third quarter is over and done with. This constant clock running doesn't seem to be like a good idea. I think Notre Dame ran a total of four plays in 15 minutes.
How is this possible?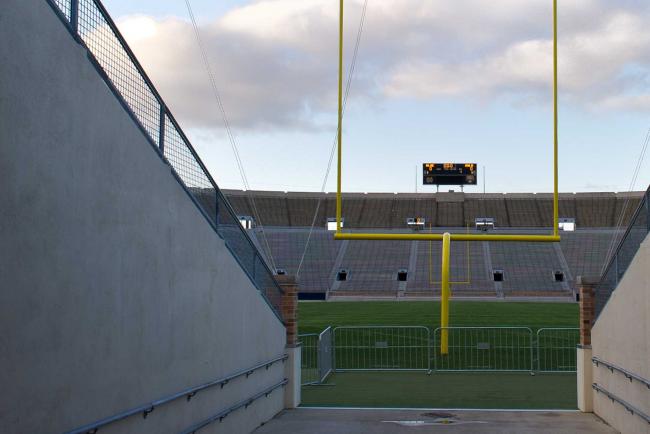 There was a nice crowd for today's game, as Irish Talk CSN pointed out.
31,652 in attendance at today's game. It's cold. Brave souls, those fans.

— Irish Talk CSN (@IrishTalkCSN) April 20, 2013
And just when I give credit to Zaire, he throws an interception that was picked off by walk-on inside linebacker Joe Schmidt.
The special teams continues to struggle for Notre Dame. This time it was a brutal punt that didn't go very far.
As for Zaire, Golson could certainly learn a few things from him. He makes quick decisions on whether he is going to pass or run with the football. There is too much hesitation with Golson, which tends to get the young quarterback in trouble.
We have a Malik Zaire sighting!
He will takeover the Gold Team offense to begin the third quarter.
Remember, the second half will have a non-stop clock. This baby is going to fly right by.
If you are looking for some of the first half leaders, Tyler James of the South Bend Tribune has got you covered:
First half offensive stat leaders: GA3 with 49 rushing yards, Golson 6 of 13 for 98 yards, INT. Daniels with 3 catches for 48 yards.

— Tyler James (@TJamesNDI) April 20, 2013
Defensive leaders at the half: Jarrett Grace with 7 tackles (2 solo), Tyler Stockton with 6 tackles (2 solo) and 2 sacks. Farley with INT.

— Tyler James (@TJamesNDI) April 20, 2013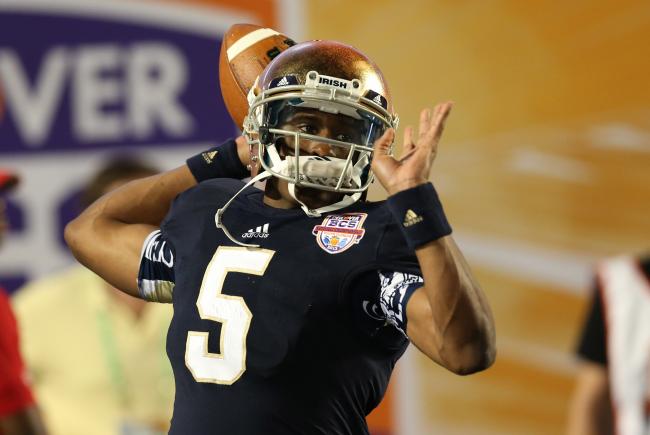 Some would say that the Notre Dame offense looked much of the same from a year ago. It is true that if this was a real game the team would only have six points. However, Golson continues to show flashes of being great. He now needs to learn to settle down a bit and not be afraid to use his athleticism. There were a few times he could have taken off and made plays with his legs back in the first half.
Despite how things may have looked the last 30 minutes, this offense will be much better this year.
Score: Blue Team 30, Gold Team 28 - Halftime
The Gold Team had to settle for another field goal, but Everett Golson finally showed us something. When this kid has time to throw the football and can see things developing down field, he throws an absolutely beautiful ball. It is when pressure gets to him is when he starts to panic and the errors begin to take place.
Hopefully Golson will get a few more reps in the second half. But one thing we do know for sure is that 2013 recruit Malik Zaire will take the field in the third quarter.
Let the drooling begin.
Wide receiver Chris Brown somehow managed to outrun the entire Notre Dame defense. Too bad Hendrix overthrew him by 30-plus yards.
The very next play resulted in a safety, as running back Cam McDaniel couldn't get out of his own end-zone.
Once again, that defensive line has done a great job today of getting in the backfield.
Right when you think we are going to have our first touchdown of the game, Golson throws an interception to safety Matthias Farley. To be fair, running back George Atkinson gave up on the route, which helped result in the turnover.
It has not been a good day for Atkinson.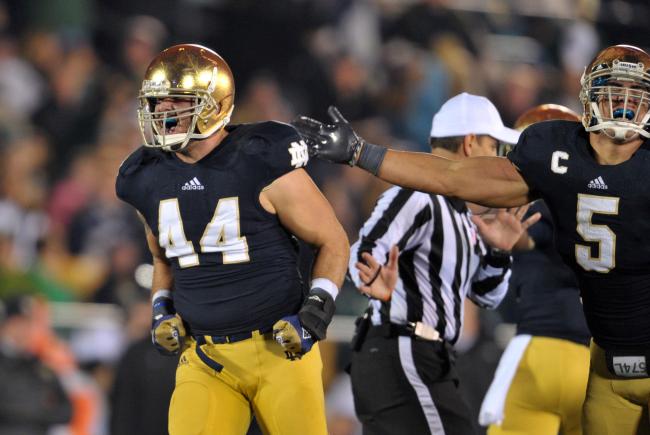 Manti Te'o, who?
Linebacker Carlo Calabrese has the play of the day so far after absolutely drilling running back George Atkinson.
That is enough to get you excited!
Boy, these referrers must have forget this is a spring game. The whistle is being blown real late when defenders get close to the quarterback. I'm surprised Brian Kelly hasn't popped a blood vessel on the sideline.
Score: Blue Team 20, Gold Team 15
We have our first real score of the game, as the gold team was able to knock through a 40-yard field goal attempt. Quarterback Tommy Rees once again looked sharp, leading his offense down the field in impressive fashion.
Golson needs to do something before this half is over.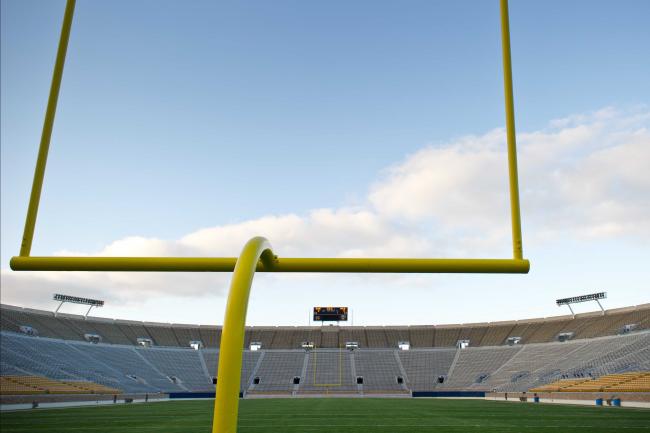 Although the scoreboard may not indicate it, we have yet to see an actual score take place. You know, things like touchdowns or field goals. All of the points so far have been produced by imaginary accomplishments that the coaching staff has installed for this special event.
Kona Schwenke with a sack on Golson, as the backup nose tackle gave the starting quarterback a shove to the ground.
He must not know what wearing a red jersey means!
Running back George Atkinson III is doing way too much dancing in the backfield. If he wants to see more significant playing time at the position, he will need to learn when to cut his losses.
Golson will have a big third-down attempt coming up to start the second quarter. After a couple of missed throws, this will be huge for him moving forward.
Will Mahone dropped a pass that likely would have kept the chains moving for the Gold Team. You have to like how Andrew Hendrix has looked early on. He is putting the ball right on the money and looks calm in the pocket.
Hopefully we will get to see Everett Golson take over for the first-team, and he can give Irish fans something to smile about.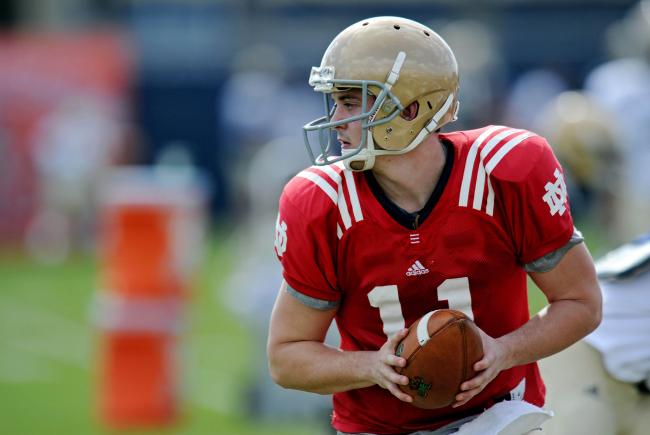 After a missed field goal, the Tommy Rees drive comes to an end.
Still, even with no points to show for it, the senior has the best drive of the afternoon so far. It is also worth mentioning that cornerback KeiVarae Russell had a great pass deflection in the corner of the end zone to prevent a touchdown.
The defensive line has also looked sharp for what it is worth.
The first-team defensive line is getting good penetration on this drive. However, Tommy Rees is doing a good job of getting rid of the ball quickly. This is easily the best drive of the afternoon so far.
Please, the last thing this team needs is another quarterback controversy!
Ooops.
Well, Tommy Rees is on the field now with the starting offense. It looks like we are playing under regular season rules as far as that is concerned.
This article is
What is the duplicate article?
Why is this article offensive?
Where is this article plagiarized from?
Why is this article poorly edited?

Notre Dame Football: Like this team?