After two straight disappointing postseason flame-outs, the Green Bay Packers begin the 2013 season a determined squad with championship aspirations.
Led by former NFL MVP Aaron Rodgers, the Packers will play a challenging regular-season schedule this coming fall. Green Bay will take on the usual suspects in the NFC North, including the Chicago Bears on Monday Night Football, the Detroit Lions on Thanksgiving Day and two matchups with former star Greg Jennings and the Minnesota Vikings.
Outside of the division, though, the Packers will play the AFC North, the NFC East and Atlanta and San Francisco from the NFC South and West, respectively.
Below we'll highlight the top must-see matchups for Packers fans in 2013.
Week 1: At San Francisco 49ers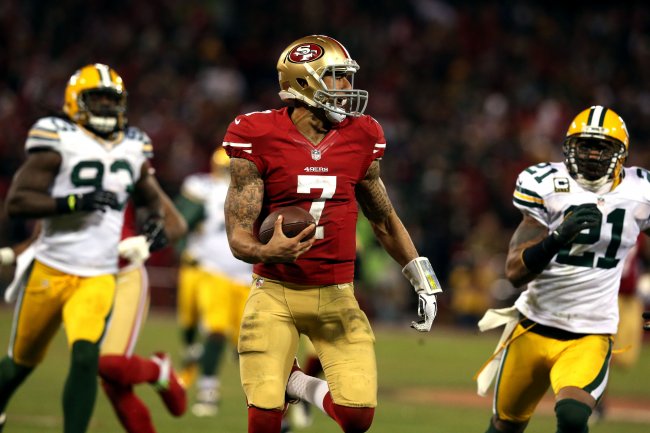 Stephen Dunn/Getty Images
For the second consecutive year, the Packers will open up the season against the despised San Francisco 49ers.
This matchup can't come soon enough for Packers fans, as Green Bay had its season ended at the hands of Colin Kaepernick and San Francisco last January. Throw in the fact that the Niners have now taken two in a row from the Pack and it's definitely not difficult to see why Cheeseheads must circle Sept. 8 on the calendars.
San Francisco has absolutely had its way with Green Bay in the past two meetings, running the ball down the Packers' throat and posing all sorts of issues for Rodgers and Co. on the other side of the ball.
This will be an awfully tough game for the Packers to win on the road, but if they can at least put forth a solid showing on the West Coast, they can feel good about their chances to compete with the reigning NFC champs in a potential playoff matchup sometime down the road.
Week 6: At Baltimore Ravens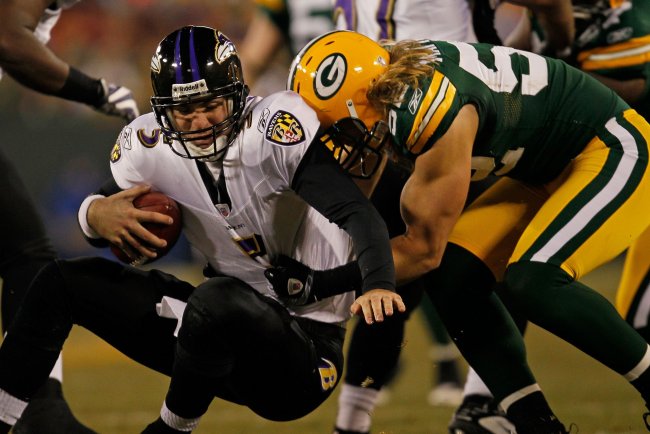 Jonathan Daniel/Getty Images
The Packers will pay a visit to the Super Bowl champions in Week 6 in a Sunday afternoon game that promises to feature plenty of great plays in the passing game as two of the league's top quarterbacks in Joe Flacco and Aaron Rodgers go back and forth in Baltimore.
Green Bay hasn't played Baltimore since 2009, and it hasn't played the Ravens on the road since 2005, when the AFC North juggernaut shellacked the Brett Favre-led Pack, 48-3.
While many of those 2005 Packers players are gone, Green Bay fans certainly haven't forgotten about that unpleasant beatdown.
No, Packers-Ravens will never be known as one of the NFL's top rivalries, but the fact that these teams rarely meet makes this matchup so much more fascinating for Green Bay fans who want to see how the Pack stack up against the current holders of the Lombardi Trophy.
Week 14: Vs. Atlanta Falcons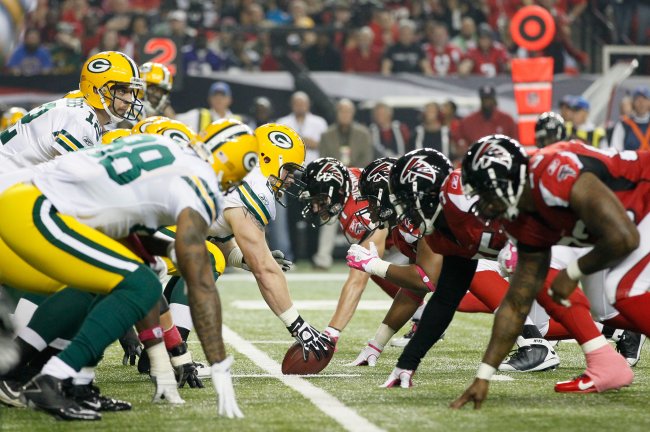 Kevin C. Cox/Getty Images
After a near miss in the NFC Championship Game, the Atlanta Falcons are set to enter 2013 as one of the teams to beat in the NFL.
Which marquee matchup are you most excited for?
While San Francisco presents serious problems for the Packers, Atlanta is another incredibly sound football team on both sides of the ball, and a legitimate Super Bowl contender. Finally, though, Green Bay will welcome the Dirty Birds to frigid Lambeau Field this year instead of traveling to the Georgia Dome.
After dropping a hard-fought game to Atlanta on the road during the regular season in 2010, the Packers have since had the Falcons' number, winning two straight over their NFC rival on the road.
However, this Week 14 showdown carries a ton of significance as both teams will likely be vying to improve their playoff position with only a few weeks left in the season. If the Packers can squeeze out a win over the Falcons at Lambeau, it may determine whether they host them in a playoff game or are forced to hit the road in January.
Green Bay Packers 2013 Schedule (courtesy of NFL.com)
Week
Date
Opponent
Time (ET)
1
Sunday, Sept. 8
at San Francisco 49ers
4:25 p.m.
2
Sunday, Sept. 15
vs. Washington Redskins
1 p.m.
3
Sunday, Sept. 22
at Cincinnati Bengals
1 p.m.
4
Bye Week
5
Sunday, Oct. 6
vs. Detroit Lions
1 p.m.
6
Sunday, Oct. 13
at Baltimore Ravens
1 p.m.
7
Sunday, Oct. 20
vs. Cleveland Browns
4:25 p.m.
8
Sunday, Oct. 27
at Minnesota Vikings
8:30 p.m.
9
Monday, Nov. 4
vs. Chicago Bears
8:30 p.m.
10
Sunday, Nov. 10
vs. Philadelphia Eagles
1 p.m.
11
Sunday, Nov. 17
at New York Giants
8:30 p.m.
12
Sunday, Nov. 24
vs. Minnesota Vikings
1 p.m.
13
Thursday, Nov. 28
at Detroit Lions
12:30 p.m.
14
Sunday, Dec. 8
vs. Atlanta Falcons
8:30 p.m.
15
Sunday, Dec. 15
at Dallas Cowboys
4:25 p.m.
16
Sunday, Dec. 22
vs. Pittsburgh Steelers
4:25 p.m.
17
Sunday, Dec. 29
at Chicago Bears
1 p.m.
Follow Bleacher Report Featured Columnist Patrick Clarke on Twitter.