Cameron Lawrence: Video Highlights for Former Mississippi State LB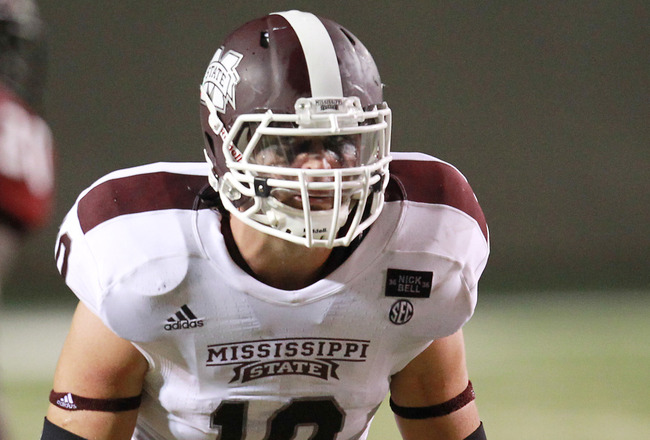 Marvin Gentry-USA TODAY Sports
Cameron Lawrence may lack the traditional linebacker build and speed, but he was a vastly productive defender for the Mississippi State Bulldogs.
In 2011 and 2012 combined, he accumulated 243 total tackles and 16 tackles for loss.
Here are some of the top plays of Cameron Lawrence's collegiate career.
Sack vs. Auburn in 2011
On this play, Lawrence came on a delayed stunt blitz and had an easy track to the quarterback. As he approached, he almost overran him, but he was able to grab the signal-caller and bring him to the turf.
Tackle on Run vs. Auburn in 2011
Lawrence made a play all linebackers need to make here.
He took on the initial blocker in the hole, shed him and executed a form tackle on the Tigers runner without letting him fall forward for much extra yardage.
Tackle on Screen Play vs. Auburn in 2011
Lawrence initially drifted to his left to follow the Auburn quarterback's roll out. Then, the Mississippi State linebacker recognized the throwback screen and did a fine job changing directions and closing in on the pass-catcher.
As he arrived to the Tigers player, he broke down, squared his body and made a form tackle.
Sack vs. Alabama in 2012
On this play, Lawrence was sent on a delayed blitz, but instead of an unabated path to the quarterback, he was chipped at the last moment.
However, he was able to keep his balance and sack Alabama signal-caller A.J. McCarron.
Interception vs. Georgia in 2011
Lawrence was sucked in due to the play-fake at the beginning of this play, but he astutely dropped back into coverage, and Georgia quarterback Aaron Murray delivered a gift-wrapped interception.
Disguise and position were everything on this play.
Keep Reading