New York Mets vs. Washington Nationals: Live Coverage of Strasburg-Harvey Duel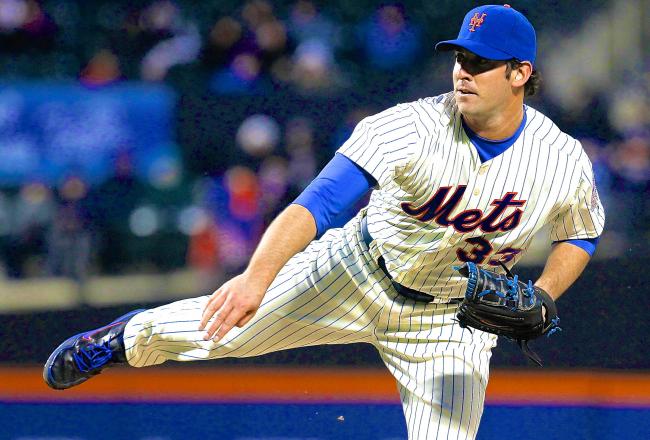 If Matt Harvey hadn't already put his name on the list of the league's top young aces, tonight likely did the trick.
Harvey outpitched fellow phenom Stephen Strasburg, who allowed two earned runs and two unearned runs.
FINAL SCORE: Mets 7 - 1 Nationals
W : Matt Harvey (4-0)
L : Stephen Strasburg (1-3)
HRs: Davis (2,3), Duda (4,5)
I also never thought I'd see the Mets trending on Twitter this season. Harvey's starts are turning into must-see TV for baseball fans.
On the other hand, Strasburg ended the night with a fine line considering that two of the runs came at the result of an error. These guys are going to be a pleasure to watch for years to come.
I hope you all enjoyed the live coverage. See you next time!
I usually infuriate everyone around me with my unabashed cynicism, but OH MY GOD MATT HARVEY!!
It's getting harder not to get giddy while watching him pitch. He's 4-0 in four starts with a 0.93 ERA and 0.66 WHIP. He's only allowed 10 hits this season.
So what can we realistically expect from Harvey going forward? Is he now an ace? Is he a legit Cy Young candidate?
We should probably wait more than four starts before reaching such a conclusion, but wow, this guy's good.
Hannah Foslien/Getty Images
Parnell fields a dribbler by Lombardozzi to end the game.
The Mets win to secure a 7-1 victory. New York improves to 8-7 on Harvey's fourth victory while the Nationals drop to 9-7.
Who would have thought these two teams would ever be separated by just one win?
Parnell will pitch the final inning despite the six-run lead. He's only received two save opportunities this year.
Kirk Nieuwenhuis, just inserted as a defensive replacement, nearly overruns a fly ball before recovering to snag it in.
Murphy dives on a grounder and throws Tracy out from his knees.
I did not think this game would get enough out of hand for the SNY booth to discuss Keith Hernandez Bobblehead Day in detail.
Tejada lines out to end the inning. The Mets are three outs away from propelling their record above .500. Who cares if it's only April?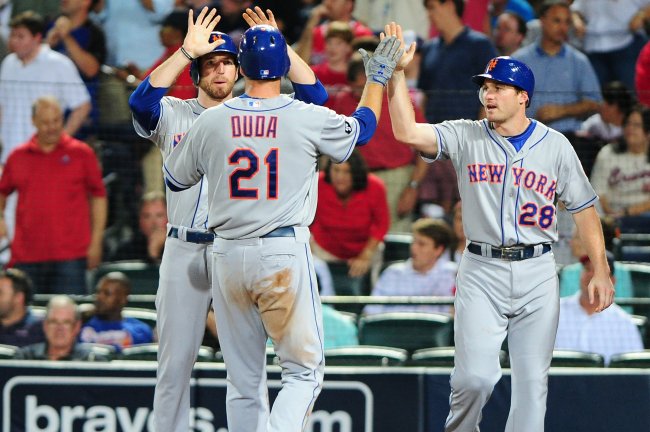 Scott Cunningham/Getty Images
Anything you can do, I can do better. Duda again follows Davis' home run with a blast of his own. Mets are up 7-1 on Duda's fifth homer of the season.
Wright welcomes Drew Storen to the game by hitting a triple on the first pitch. Span helped out Wright's cause by diving for a ball out of his reach.
Davis crushes another ball down the right-field line for a two-run homer. The lead is now 6-1, so there will be no save opportunity for Bobby Parnell.
Somebody told Davis that I benched him in a couple of my fantasy leagues. Speaking of which, try to buy low if it's not now too late.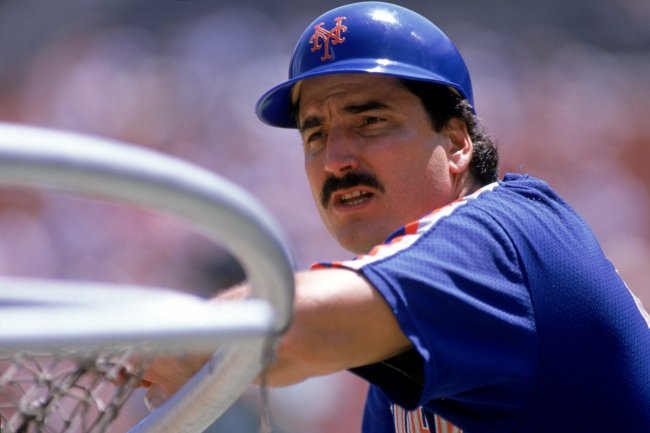 Stephen Dunn/Getty Images
Here comes Keith Hernandez's daily rant against statistics. Darn those evil computers!
Rice strikes out LaRoche to conclude the inning. It's weird seeing a Mets reliever seamlessly get through an inning.
Scott Rice enters the game to pitch the eighth inning. Wright makes a tough throw across the diamond that beats Werth to first base by a step.
Duke generates two more lazy outs to end the uneventful inning.
Now it's time to see if a non-Harvey Mets pitcher can hold down the fort.
Turner, who grounded out, hits for Harvey, so his night is officially over.
Harvey received a raucous roar when he exited the mound. Mets fans haven't had a young ace to root for in a long time.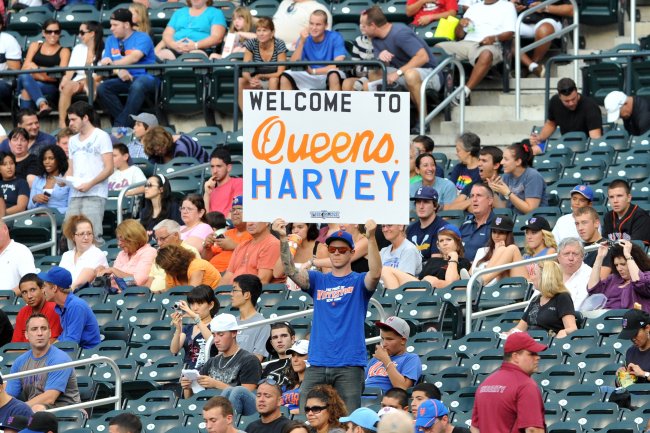 Jason Szenes/Getty Images
Span grounds out to Murphy. Inning over.
Through seven, Harvey has allowed one run on four hits and three walks. He struck out seven. With 105 pitches on the night, Harvey's probably done, which is music to Washington's ears.
Bernadina pops one up behind the plate to Buck. The fans are ready to erupt if Harvey escapes this jam with only one run on the board.
Harvey's still throwing hard, but with much less precision. It appears he's mortal after all...
Or maybe not. He unveils a nasty slider to strike out Suzuki for the first out. Roger Bernadina is pinch-hitting for Strasburg.
Lombardozzi hits a double-play ball to Murphy, but an inaccurate flip draws Tejada off the bag. The bases are loaded with nobody out.
Tracy slid over Tejada's ankle, but he appears fine.
Harvey tries to fool LaRoche on a changeup, but he instead misses and walks him.
According to Darling, the baseball gods punished Harvey for throwing the wrong pitch on the 3-2 count. And here I was thinking that the pitch was just off the plate.
Desmond follows with a single, and Tracy tags him early in the at-bat to put Washington on the scoreboard.
It's not 4-1 New York, with runners on first and second and nobody out. Things could get interesting.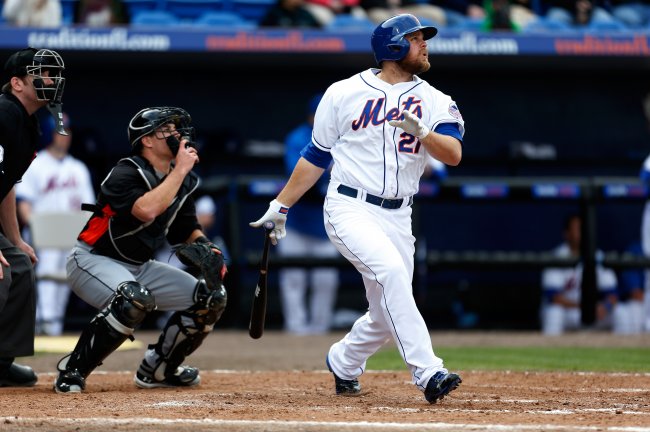 Chris Trotman/Getty Images
A Tejada ground out ends the inning, but not before the Mets tagged Strasburg for two more runs.
Through six, Strasburg has allowed five hits, two walks and two earned runs while fanning six batters. At 111 pitches, his night is likely over.
The fans are chanting "Harvey's better." He certainly has been tonight.
Zach Duke is warming up in the bullpen, so Strasburg might not make it through this inning.
Buck flies out, but Duda follows with another home run to increase the lead to 4-0.
The announcing crew is now questioning the claim he made a minute ago that Davis is the team's best power hitter.
Davis kicks off the inning with an opposite-field home run. That will turn those jeers into cheers and remind the Citi Field fans why he's still one of the team's building blocks.
That's the second homer of the year for Davis.
Harper makes much better contact on his third go-around, but Valdespin slides to scoop up the liner and end the top of the sixth.
Span starts the inning with a single. Washington at least needs to make boost Harvey's pitch count to get a crack at New York's subpar bullpen.
But right on cue, Werth grounds into a double play. A pitcher's best friend, indeed.
Strasburg retires the side in order, but Span jumped into a wall to reel in a scorcher from Murphy. He's not at 96 pitches, so we'll probably see one more inning out of him, at most.
Strasburg has thrown 83 pitches entering the fifth inning. The Nationals aren't sensitive about protecting his arm, right?
Valdespin flies out to start the inning.
This article is
What is the duplicate article?
Why is this article offensive?
Where is this article plagiarized from?
Why is this article poorly edited?