Eric Martin: Video Highlights for Former Nebraska DE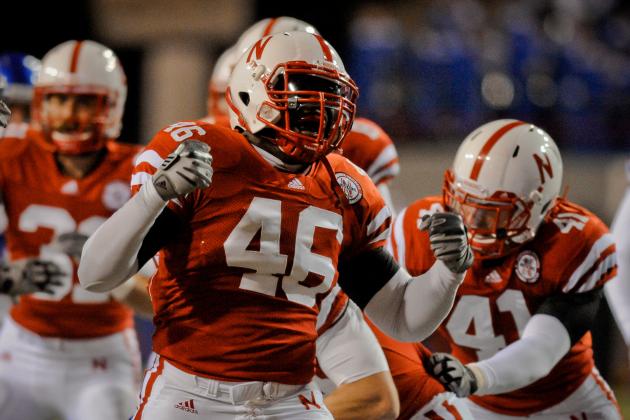 Eric Francis/Getty Images

Former Nebraska defensive end Eric Martin is a hard-hitting edge-rusher who ferociously brutalizes the opposition.
Martin checks in at 6'2'' and 250 pounds, causing pro scouts to question his overall durability at the next level. However, Martin plays above his head. He's a dominant force that wreaks constant havoc on ball-carriers in the backfield.
Martin exploded onto the draft scene in 2012, recording 32 solo tackles, including 18 for loss, and 8.5 sacks to earn first-team All-Big Ten honors. He led one of the nation's most efficient pass-rushing attacks, surging into the spotlight while crippling opponents.
The following slideshow is a breakdown of video highlights for Eric Martin.
Begin Slideshow

»
Martin displays versatility as a pass-rusher who can line up as a defensive tackle on the play featured above. He rips past freshman O-lineman Jack Miller en route to dragging quarterback Russell Bellomy to the turf.
Martin demonstrates consistent ability to initiate contact on the front. His natural speed-burst ability disables opponents from planting a block from the point. Martin showcases supreme ability to blow past would-be blockers, quickly penetrating the backfield to punish ball-carriers.
Martin exhibits a passionate style of game play on every snap, igniting a speed-power combination that dictates opponents' morale. Martin is a devastating pass-rusher, capable of demoralizing the opposition.
Martin collides with would-be blocker Larry Caper during the opening kickoff of a 2011 Big Ten matchup. He demonstrates sheer strength, pummeling Caper to the ground to deny the block.
Caper was shaken up on the play and was slow to leave the field before the first play from scrimmage. Martin laid down a signature hit, bruising the opposition just four seconds into the game.
Martin appears to lead with his helmet on the play, but wasn't flagged regardless. His upper-body strength is unparalleled, especially in collision contact. He generates a ton of force in full stride, enabling monster hits that devastate the opposition.
Martin lays down a head-crushing helmet-to-helmet hit on Oklahoma State defensive end Joe Okafor during the play featured on this slide. The hit elicited a one-game suspension for Martin, who steadfastly developed a critical reputation for brutal beatdowns against opponents.
Nebraska wide receiver Niles Paul achieved a 100-yard kickoff return for a touchdown on the play, and would have scored regardless of the demolition bestowed upon Okafor.
Martin showcases raging power in blindsiding his opponent. His aptitude for committing big hits needs to be appropriately channeled, though. He's a fierce player who sustains an uncanny ability to punish the opposition, but needs to adjust his technique out of necessity to avoid potential future fines and suspensions.
Martin displays bone-crushing closing speed on this play, swimming past would-be blockers to pummel elusive quarterback Braxton Miller.
The pocket collapses, flushing Miller outside of the tackle box in limited space. Martin explodes past two O-linemen before colliding with Miller on the fly. He quickly rips the dual-threat QB to the ground, disallowing a potential gain on a broken play.
Martin flashes high-octane speed and power across all highlight reels. He disrupts QB timing and counteracts slow-developing plays on a routine basis. Opposing quarterbacks can't simply avert the strength of Martin. His speed-burst ability disables QBs from gaining a sense of comfort in the pocket.
Martin displays relentless fortitude in the highlight reel featured on this slide. He constantly delivers crushing blows to a multitude of opponents on the Big Ten stage.
He's tenacious in chasing down quarterbacks and tailbacks and violently dragging them to the turf. Martin isn't a cookie-cutter pass-rusher who utilizes five-tool technique to explode off the edge and penetrate the backfield.
Instead, he uses brutal upper-body strength to pummel ball-carriers. Martin dominates opponents, manipulates one-on-one situations and often embarrasses would-be blockers.
He's a headstrong player who should excel as a pass-rushing specialist in the NFL.