Brian Winters: 5 Things You Need to Know About the Kent State Guard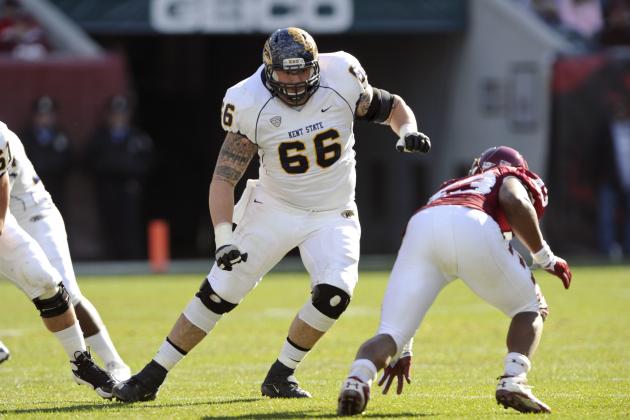 Howard Smith-USA TODAY Sports

When NFL scouts think of Kent State offensive lineman Brian Winters, the word "versatility" comes to mind. Winters, only the third Kent State player ever to be invited to the NFL's scouting combine, has done it all.
He was a three-time all-Mid-American conference player at three different positions. After starting all 12 games at right tackle for Kent State as a freshman, Winters stayed at that spot and won all-MAC honors as a sophomore. In his junior year, Winters was named to the all-MAC team as a right guard. He moved to left tackle for his senior season, and also won all-league honors there.
Winters' small-school pedigree might be somewhat offset by his versatility and experience. He projects as a guard in the NFL but can be a stop-gap player at every position on the line, with the exception of center. He started 50 games for the Golden Flashes, a school record.
Winters is a very versatile player. He began his career at right tackle in 2009, continued at the position in 2010, then moved to right guard in 2011 and finally to left tackle in 2012.
This past season, he blocked for an offense that averaged 33.1 points per game and over 225 rushing yards per game.
Begin Slideshow

»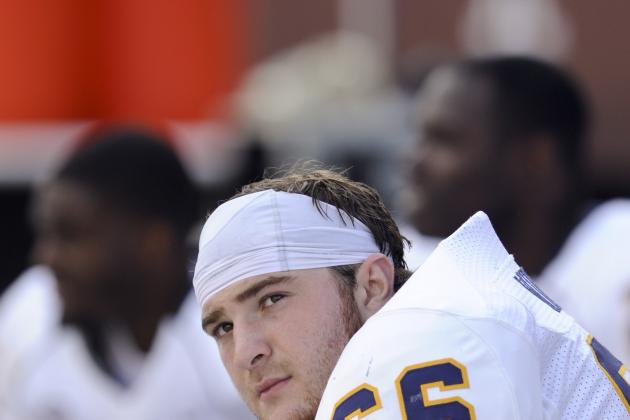 Howard Smith-USA TODAY Sports

Full Name: Brian Winters
Birthday: July 10, 1991.
Hometown: Hudson, OH
High School: Hudson High School
Major: Criminal Justice
Year: Senior
Winters started on the offensive line for all four years of his stay at Kent State. His 50 starts are a school record. Winters was named all-MAC after his sophomore, junior and senior seasons (at three different positions). In addition to his football prowess, Winters was a standout high school wrestler, lettering three times in high school.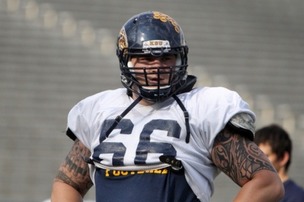 courtesy Ohio.com
2009: A highly-regarded prospect from Hudson High, Winters started all 12 games at right tackle as a freshman.
2010: Started every game at right tackle, awarded third-team all-Mid-American Conference honors.
2011: Moved to right guard, again starting every game. Was named second-team all-MAC.
2012: Started every game at left tackle, and was again named to the all-Mac team.
Winters showed his versatility and willingness to help his team by moving up and down the offensive line during his four years at Kent State. Winters also displayed remarkable durability and toughness during his four years in Kent. He started all 50 of the Golden Flashes' games during his tenure.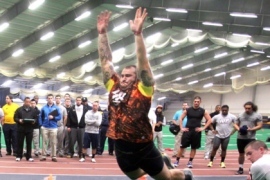 courtesy cbssports.com
Measurables
Height: 6-4
Weight: 320
Arm Length: 32 3/4
Hand Size: 9 3/4
Combine Results
40-yard dash: 5.25
Broad jump: 8 feet 11 inches*
Vertical jump: 31.5 inches*
* - statistics from Kent State's pro day on March 6th.
Winters suffered a pectoral strain after doing nine repetitions of the bench press at the NFL Combine. It was the first significant injury of his collegiate career and kept him from participating in future drills. Winters did participate in Kent State's pro day on March 6 but didn't lift weights due to the injury.
All stats courtesy of cbssports.com and sbnation.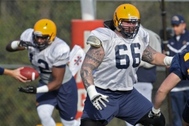 courtesy bigblue.com
Brian Winters started all 50 games that Kent State played during his four years at the school. He was all an all-MAC selection after his sophomore, junior and senior seasons.
Winters' all-league selections came at three different positions. He won honors as a right tackle (2010), right guard (2011) and left tackle (2012).
At Hudson High School, Winters lettered in football twice, and also lettered three times in wrestling. He was named All-Ohio and All-Northeast Ohio Conference his senior season with the Hudson Explorers as a football player and was also named all-conference his sophomore and junior years.
As a wrestler, he was named All-NOC his freshman and sophomore years and earned second-team all-tournament honors as a part of the winning United States team at the inaugural IFAF Junior World Championship.
High school information taken from Kent State University's player profile page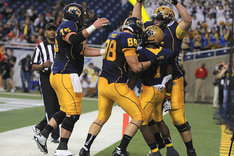 courtesy ohio.com
Though very experienced, having started each of the 50 Kent St games since 2009, Winters might need some time to acclimate to the higher intensity of the NFL.
Since he lacks natural athleticism, Winters will have to rely on toughness and smarts in the NFL. He would benefit from going to a veteran team where he could spend a year or two as a backup while he learns the pro game. Bleacher Report's Ryan Riddle states:
Winters strikes me as a guy who will struggle to see the field in his early years, as he needs to improve upon several aspects of his game in order to stop NFL defenders consistently.
Riddle goes on to opine that Winters is likely to move inside in the NFL, most likely to guard, or possibly even center.
Winters was the most highly touted prospect to come out of Kent State in many years. According to cbssports.com, 24 NFL teams (and one CFL club) came to watch Winters work out. The previous year, only five teams sent representatives to Kent State's workout.
According to the draft profile on CBSSports.com, Winters was flattered by all the attention. He said:
The combine opened my eyes, it was a big stage. When I walked up on the stage for the bench, there were a lot of people there. That woke me up for it. There were a lot of offensive line coaches here, which is rare, I guess. It was awesome. I'm really blessed that they took time out of their day to come watch me. I'm really happy with that. I feel like I had a great day. It's a great honor.
Most scouts predict that Winters will come off of the board in the second or third round. He has good size and strength and displayed unusual toughness and aggression during his time at Kent State.
Winters isn't a great athlete, but became a standout player by virtue of his toughness and technique. He's not particularly fast and might struggle with faster defensive linemen in the NFL, but should be able to hold his own physically.
Winters will have to work on his blocking in the open field and will have to overcome his short arms to be effective against taller pass-rushers.