Morgan Breslin: Video Highlights for Former USC Defensive End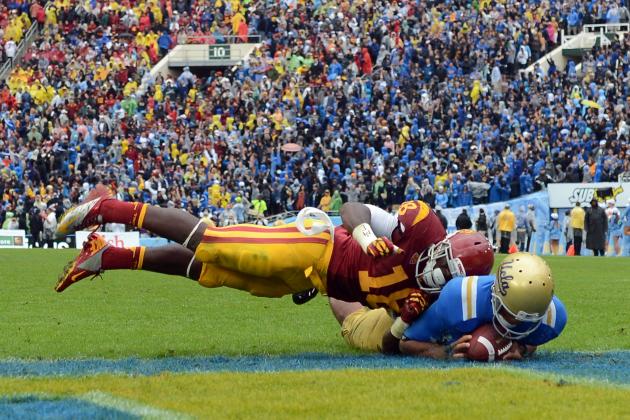 Harry How/Getty Images

The upcoming 2013 NFL draft this week is full of talented young outside pass-rushers, including defensive ends and outside linebackers. Former USC defensive end Morgan Breslin has not risen to the very top of the list but remains a highly intriguing possibility for several NFL teams.
At 6'2'' and 250 pounds, he has the physical talent and the fundamental skills that NFL scouts look for in a pass-rushing prospect.
Breslin has a high ceiling and the potential to bring long-term value to any NFL franchise as a three-down defensive player. The most likely target positions for him would be as an edge-rusher, either as a 4-3 defensive end or a 3-4 outside linebacker.
His most notable traits include a high motor and good edge-rushing ability. While he has played mostly defensive end, he has shown the ability to be effective when standing up. He has the frame and speed to be developed into an NFL linebacker.
Here are some of Breslin's best and most revealing highlights from his college career playing for the USC Trojans.
Begin Slideshow

»
In this play, we can see Breslin's strong first step earn him immediate penetration into the backfield, coming around the right side of the offensive line. He gets into the backfield too quickly for the opposing Arizona State quarterback to do anything useful with the ball.
The quarterback makes a futile attempt to scramble, but Breslin earns the sack for USC. This type of disruptive play is a nightmare for quarterbacks and can derail an offensive game plan.
In this game against Cal, we see Breslin's outside speed overwhelm the opposing right tackle. He comes straight around the outside of the line with his superior speed and gets a quick quarterback sack.
With the pressure coming so quickly, the Cal quarterback has no opportunity to do anything except hold onto the ball and avoid a fumble.
In another play against Cal, we see what Breslin's pressure on the quarterback can do beyond sacks. With immediate penetration into the Cal backfield, he forces the opposing quarterback into making an ill-advised throw.
The pass goes straight into the arms of a USC defensive back for an interception. While Breslin's stat sheet does not show anything for this play, NFL teams love quarterback pressures that force errant throws and cause turnovers.
Against Syracuse, Breslin displays some fundamentally sound pass-rushing moves in this play. Lining up against the opposing right tackle, Breslin forces his way to the inside, breaking down the pocket.
From the point when the pocket collapses to the point when the sack is earned, hardly any time passes. Breslin's closing speed is too much, and the Syracuse quarterback is down before he can react to what is happening.
This last play shows off Breslin's high motor and ability to fight through blocks. He starts off by blowing by the opposing right tackle on Hawaii. The quarterback wisely steps up to avoid the pressure, moving back into the temporarily stable portion of the pocket.
Breslin continues relentlessly, further breaking down the pocket and getting to the quarterback from behind. Inevitably, the quarterback is wrapped up for a sack and a loss.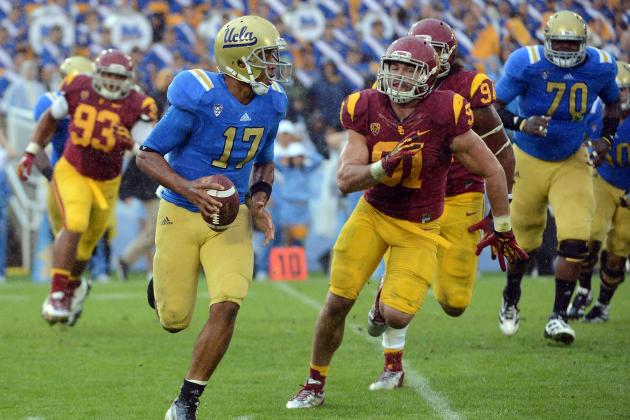 Harry How/Getty Images

This 2013 NFL draft features both depth and quality when it comes to outside pass-rushers. As such, USC's Morgan Breslin will most likely not be considered in the first or second rounds.
Instead, expect to see him become more of a factor in the middle or late rounds.
I would give Breslin a non-trivial shot at being taken in the fifth round, especially if there are teams left at that point that have been unable to fill their holes at defensive end or outside linebacker. From watching his film from USC, it is clear that he is ready to compete for a job in the NFL.
Adam Waksman is a featured columnist for Bleacher Report who writes primarily about the New York Jets and the NFL. Be sure to follow Adam on Twitter to receive updates right away.