2013 NFL Schedule: Highlighting Prime-Time Matchups That Should Be Replaced
Tom Pennington/Getty Images
The 2013 NFL schedule was released on Thursday night, and with it, there are plenty of conclusions to draw from the 17 weeks of slated action that will keep league fans firmly planted to their couches, garages and sports-bar hangouts when September arrives.
While most of the feedback so far has been focused on games that will have fans foaming at the mouth to see, not every game this season is going to be about a clash of two potential Super Bowl candidates.
Even when the game is in prime time.
NFL Network's "Thursday Night Football," NBC's "Sunday Night Football" and ESPN's "Monday Night Football" are the best examples of network television doing everything they can to force-feed us NFL action, and for the most part, the outcomes are great.
However, there's always the clunker that we wish had been replaced by another game that happened either earlier in the day or the week.
To be fair, sometimes the best games don't turn out to be that way. Look no further than New England's blowout win over Houston in Week 14 to see that the "best" games aren't always the ones we expect.
By the same token, who could have expected the Kansas City Chiefs and Pittsburgh Steelers to give us a defensive struggle in the middle of the year, or the botched touchdown call on Monday night in the Green Bay Packers/Seattle Seahawks clash that led to the reinstatement of the regular officials?
Still, the clunkers are there. The Tennessee Titans and New York Jets clash comes to mind, as does the reality of the San Diego Chargers and Detroit Lions each getting two games on Monday night (0-4 combined record).
With that last sentence in mind, here's a look at four games we are going to wish were moved into another time slot after they have been completed.
*For a complete look at the 2013 NFL Schedule, check out NFL.com's release.
Week 3 "Monday Night Football" on ESPN: Oakland Raiders vs. Denver Broncos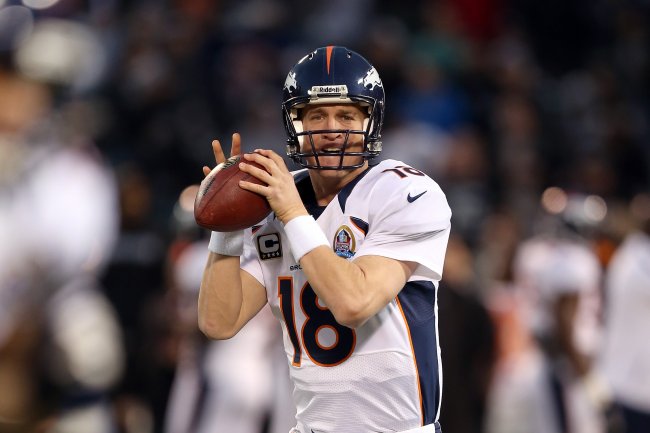 Ezra Shaw/Getty Images
The mediocrity surrounding the Raiders has been a thorn in the side of long-time fans for quite some time, but the Raiders, maybe more than any other team in football, have a positivity about them, based on the previous season, that is unmatched when the season begins.
While the road game against Denver is one that is a clash of AFC West rivals and features a chance to knock quarterback Peyton Manning down off his perch. These are two different teams in both talent and proximity to a Super Bowl.
The Broncos will be contenders, and the Raiders will face an uphill battle to get back to .500 (and that might be a little generous). Heck, all ESPN's Mike Sando can say when previewing the game is, "Welcome to the AFC West, Matt Flynn (h/t ESPN)."
The hope for Oakland to return to prominence is slim, but the thought of Denver overcoming the meltdown from the AFC Divisional Round and reaching the Super Bowl is all John Elway and company can think about these days.
Maybe Oakland can turn this into a shootout in the Mile High City, but with just two games under their belts to start the season and a myriad of positions to fill out via free agency and the draft, I don't see the Raiders being competitive in this one.
Week 5 "Thursday Night Football" on NFL Network: Buffalo Bills vs. Cleveland Browns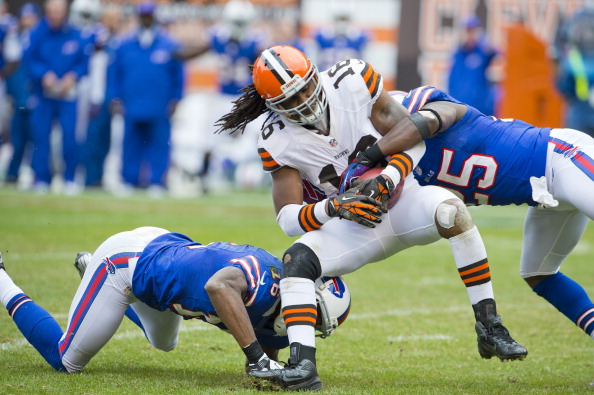 Jason Miller/Getty Images
In what hopefully turns out to be a battle of former Dana Holgorsen prodigy QB's (Brandon Weeden from Oklahoma State and Geno Smith from West Virginia), the Bills and the Browns will be the only NFL game on the air on Thursday night in Week 5.
Visions of grandeur aside, the Bills and the Browns both have top-eight picks in the draft, have question marks on both sides of the ball and are both welcoming new coaches (Rob Chudzinski and Doug Marrone) into the fold.
Trial by fire, as they say.
Which team will make the playoffs first?
The Browns have the better chance to turn things around and compete with a full year of the trio of Weeden, Trent Richardson and breakout star Josh Gordon, and an active offseason that featured signings of Paul Kruger and Quentin Groves on defense.
However, the Browns are still in the AFC North—arguably the toughest division in football after sending five teams (Baltimore twice, Cincinnati twice, Pittsburgh 2011-12) to the playoffs in the last two seasons.
For the Bills, the new era under Marrone is one that will be tough to start, but he has playmakers to utilize in better ways than former coach Chan Gailey could. One of those is running back C.J. Spiller, expected to be a breakout candidate when the season begins (h/t ESPN's James Walker).
On second thought, this might be a matchup to watch if you aren't busy lamenting the loss of NBC's "The Office" or gearing up for a Thursday night outing just to stick it to your boss.
Then again, the winner of this game might not win again for a while. It's a toss-up, but lean toward young mistakes from two young rosters and sloppy football at this point in the season.
Week 6 "Monday Night Football" on ESPN: Indianapolis Colts vs. San Diego Chargers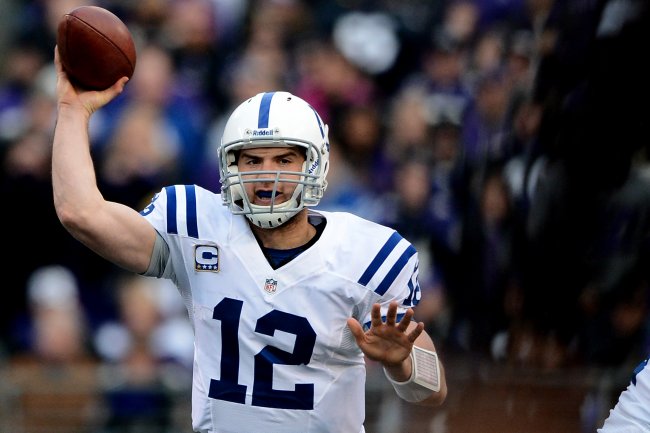 Patrick Smith/Getty Images
Admittedly, any time I get a chance to see Andrew Luck on TV is something I'm excited about.
Whether it's because I feel he will be a budding MVP candidate in his second season or because the anticipation of hearing his "identity protected for safety" voice in postgame interviews, I'll never tell.
In all seriousness, the response by the Colts to last year's unbelievable playoff season will be one of the biggest storylines in the NFL to follow, and this will be Luck's lone appearance on "Monday Night Football."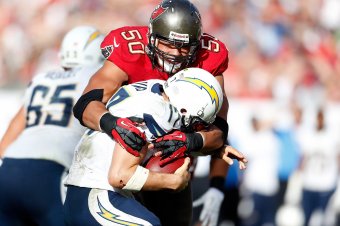 J. Meric/Getty Images
Instead of facing a division rival or a team from the NFC, we get to see the Colts take on the San Diego Chargers.
While I understand the insistence on getting almost every team some face-time on national TV, this will be the second Chargers appearance on "MNF" through six weeks—both games coming at home in San Diego.
That's high praise for a team that failed to reach the playoffs, fired its head coach and has to live in the Philip Rivers spin zone every time something goes wrong on the field in the second half of games.
Whether it's a good game or not is not the issue with this showdown—the placement of the Colts and the love for the Chargers is. It might be a great game, it might not be, but this feels like one of those games we'll scratch our head at after it's all said and done in Week 6.
Week 10 "Sunday Night Football" on NBC: Dallas Cowboys vs. New Orleans Saints
Two things—one, I'll always feel that the Dallas Cowboys are both deserving of the title "America's Team," in large part because of the past accomplishments and notoriety that comes with wearing a helmet with a Cowboy star.
Two—the Cowboys don't deserve this place on "Sunday Night Football" with a shot at redemption over the New Orleans Saints on the line.
Let's get the storylines out of the way first.
Coming off a horrific season by New Orleans standards, the Saints welcome back head coach Sean Payton and welcome in former Cowboys defensive coordinator Rob Ryan, with redemption from last year's debacle the only thing at heart.
By Week 10, things could be going either way for both teams, especially after QB Tony Romo signed a monster offseason contract that should signal his place in both Cowboy folklore (or nightmares) until the day he decides to retire.
Which prime-time game are you most dreading?
Still, there are better games than this one on deck.
How about Seattle's return to the scene of its last loss, a heartbreaking defeat at the hands of the Atlanta Falcons in the NFC Divisional Round. Or maybe a showdown between the Ravens and Bengals, two teams that have both made the playoffs from their division in the past two seasons.
Or maybe, the evolution of the running QB, as Carolina and San Francisco showdown in a matchup of year-three signal-callers who can both take it to the house on any given play.
Instead, we'll get to see Dallas and New Orleans, a matchup that could go either way. The Cowboys will get four prime-time matchups, something that continues to occur these days as folks continue to pay more attention to the star than the on-the-field product.
While this piece is a bit of a rant, it's what the schedule-makers have to expect when they put together these matchups each year. As key games continue to trickle in from each team's analysis section of media exposure, I hope you'll enjoy questioning a few of the marquee games, too—even if it means questioning the reality of your favorite team.
Then again, we're four months out. Prepare to feel the anticipation seep in as OTA's, training camp and preseason gets closer and closer with every passing day.
This article is
What is the duplicate article?
Why is this article offensive?
Where is this article plagiarized from?
Why is this article poorly edited?