SEC Football: Every SEC Team's Biggest Worry Post-Spring Practice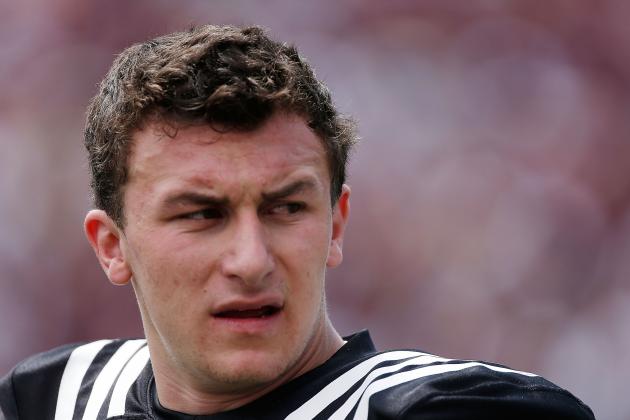 Scott Halleran/Getty Images

With spring practice wrapping up around the league, the chase for capturing the eighth straight national championship for the SEC inches closer. What's stopping each of these 14 SEC teams from becoming the conference's representative in Pasadena, California next January?
New problems have surfaced for some SEC teams, while old hurdles remain as a roadblock for a national championship run.
What are these bumps in the roads for SEC teams following spring practice? Go on and take a gander inside.
Begin Slideshow

»
Biggest Worry: Derrick Henry's Health
It was beginning to look like Alabama's running back stable improved after losing Eddie Lacy.
Well, with Derrick Henry's injury, that potentially frightening scenario for the SEC West may not hold true.
After fracturing his fibula last week, Henry is now on the road to recovery. Before he broke his leg, Henry was having a breakout spring and was expected to share the backfield with T.J. Yeldon.
Will Henry be the same running back he was this spring when the fall rolls around?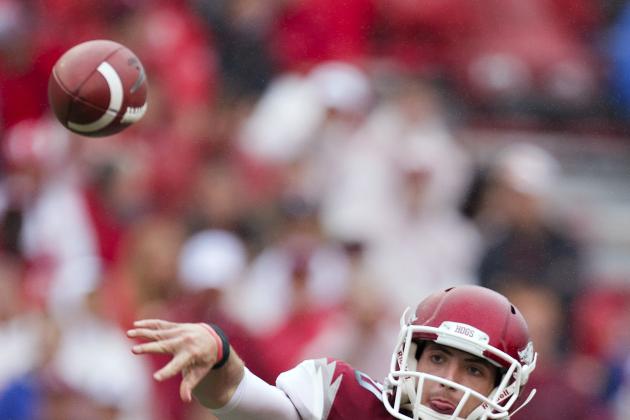 Wesley Hitt/Getty Images

Biggest Worry: Finding a Capable Quarterback
The battle of the Brandons has Arkansas fans on edge.
It's hard to replace a Tyler Wilson, but then again, fans thought it would be tough to replace a Ryan Mallett years before.
At the same time, Bobby Petrino isn't heading this offense up anymore. This isn't going to be the same high-flying Hogs that fans have grown accustomed to seeing.
The Hogs still need a quarterback though, and if the performances by both men in the spring game is any indicator of who will start at quarterback, the fall is going to have an intense quarterback battle.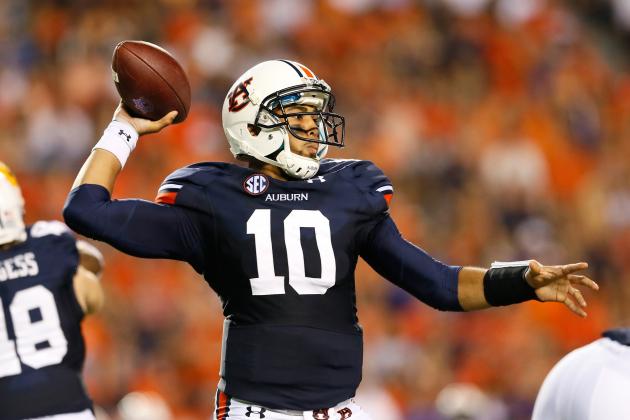 Kevin C. Cox/Getty Images

Biggest Worry: Kiehl Frazier Starts Again
"Don't make me live this nightmare again..."
That's the thought running through every Auburn football fan's mind at the moment. The reason they're thinking this is because Kiehl Frazier looks to be the leading candidate to start at quarterback again next season.
For those who may have forgotten, this is the same quarterback who threw for fewer than 1,000 yards, two touchdowns and eight interceptions last season. Ohhhh, brother.
Because Frazier is more comfortable in Gus Malzahn's system, he's been performing much better in the spring (despite a lackluster spring game outing). Who's ready for Round 2 for Frazier?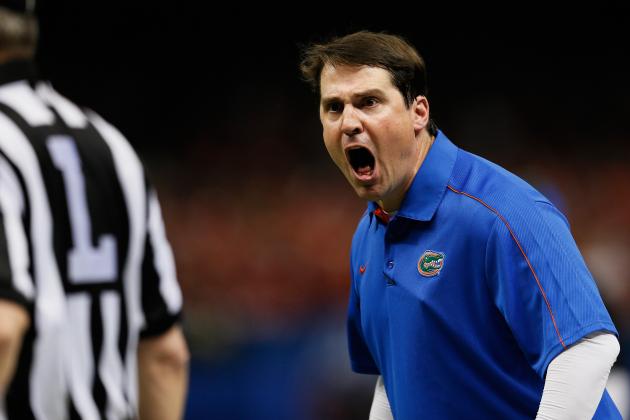 Kevin C. Cox/Getty Images

Biggest Worry: Injuries on the Offensive Line
Boy oh boy, can Florida hit the restart button for 2013?
Let's not bring up the embarrassing loss to Louisville in the 2013 Sugar Bowl. Let's try to focus on more positive issues.
Like...umm...Florida not having a spring game? Because of multiple injuries on the offensive line that left Will Muschamp with just six healthy offensive linemen, Florida had to cancel its spring game.
It's now vital for Muschamp and his medical staff to get his big hog-mollies healthy before the season begins.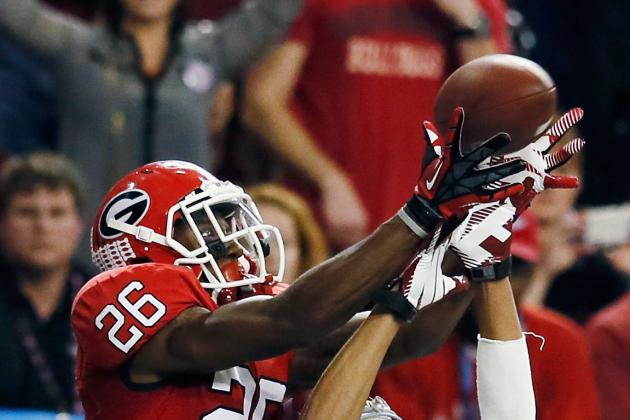 Kevin C. Cox/Getty Images

Biggest Worry: Getting Malcolm Mitchell Ready to Go
It's hard to replace a Malcolm Mitchell. Hopefully, Georgia won't have to.
Mitchell missed the remainder of spring practice after he decided to undergo knee surgery at the beginning of April.
With hopes of Mitchell returning to the field this fall, Aaron Murray has to be praying for a speedy recovery daily because of Mitchell's coveted skill set.
Last season, Mitchell was second on the team in receiving yards with 572.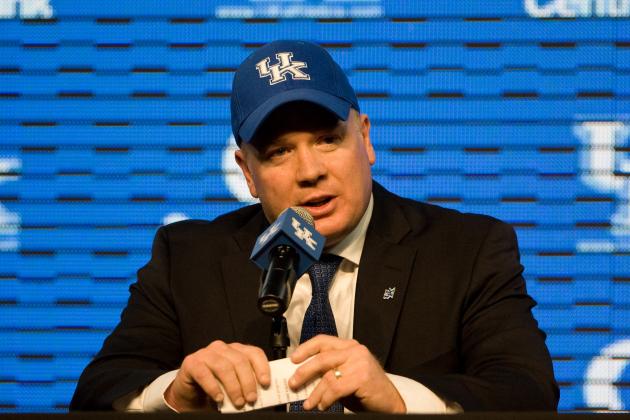 Mark Zerof-USA Today Sports

Biggest Worry: Keeping Kentucky Fans Interested in the Football Program
Well, those spring attendance numbers were unexpected, don't ya think?
Before Saturday's spring games occurred, Kentucky was second in spring game attendance with 50,831. Somebody's excited about the Mark Stoops hiring, huh? Geez, that's a lot of somebodies.
Okay, we know the Big Blue Nation loves it some basketball and is willing to show up and fill Rupp Arena, but this is spring football we're talking about here.
This is obviously a great thing for Kentucky football, and moving forward, it's Stoops and his program's job to keep these people interested in Wildcat football.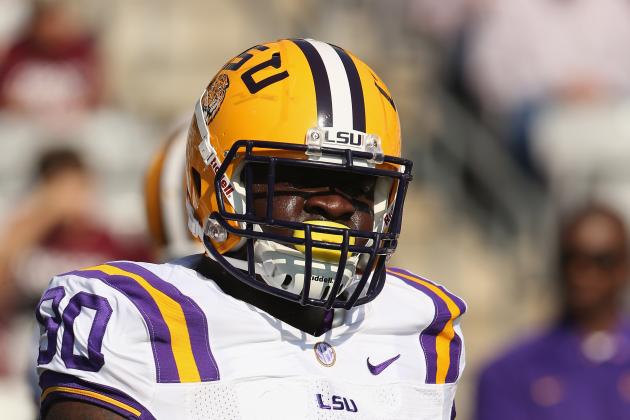 Ronald Martinez/Getty Images

Biggest Worry: Creating New Defensive Depth
These ain't the same LSU Tigers that SEC fans have grown accustomed to seeing.
Are they just as talented? Sure—in fact, they seem to be the most talented they've been in years on offense.
However, the defensive depth that allows LSU to constantly keep fresh legs on the field may be gone in 2013. That's the result of losing 13 juniors.
The Tigers must find capable, fresh legs to continue their defensive dominance on the football field.
Chris Graythen/Getty Images

Biggest Worry: 2013 is Another Flop
Look, it's hard to call a season where Mississippi State reaches a bowl game a flop when you look at the program's history, but Dan Mullen has much bigger goals.
Most of the pieces to the puzzle are coming back next season for Mullen, and if the spring game indicates the growth and maturity of Tyler Russell, good things are surely coming.
So State has to find a way to emerge from the deep SEC West. Easier said than done.
Beating Ole Miss and beating either LSU or Alabama would certainly qualify as a great season. Let's see if Mullen can get his experienced Bulldogs up for the challenge.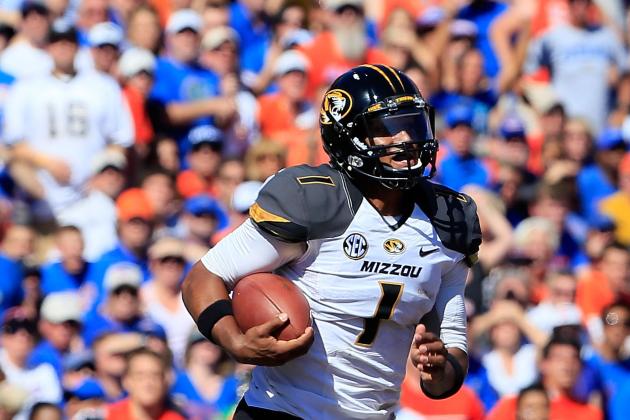 Sam Greenwood/Getty Images

Biggest Worry: Enduring Another Season in the SEC without James Franklin
A caller on the Paul Finebaum Show said it best before the 2012 season.
When someone mentioned James Franklin would be the best quarterback in the SEC last year, a caller simply said, "Yeah, best quarterback on his back." Oh, how right that caller was.
Franklin missed multiple SEC games last season. Because he was battling injuries all season, he never seemed to be a factor in any SEC appearance.
If Missouri wants to avoid being beaten up in the SEC East, the Tigers need Franklin to be the quarterback he was in the Big 12. Missouri fans are desperately hoping that's possible following Franklin's shoulder surgery in March.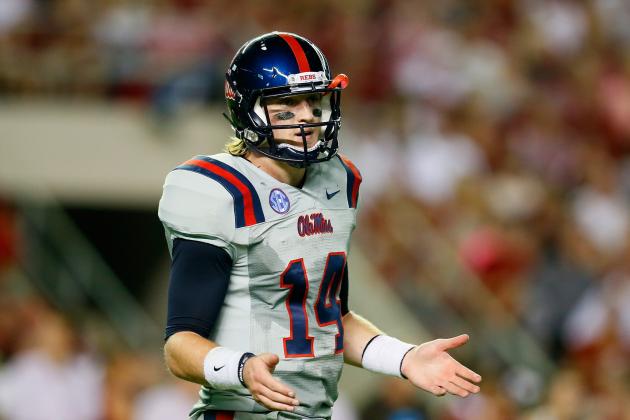 Kevin C. Cox/Getty Images

Biggest Worry: Bo Wallace's Shoulder
Speaking of shoulder surgeries...
Well, this seems to be the trend in the SEC at quarterback this offseason, doesn't it? Add Bo Wallace to the list alongside Franklin.
Let's be real and rather blunt—if the Ole Miss Rebels are going to shock the world in 2013, they need Wallace catching the snap.
It's possible the Rebels can compete in the SEC West with the talent they have coming back, but Wallace must be leading that talented group.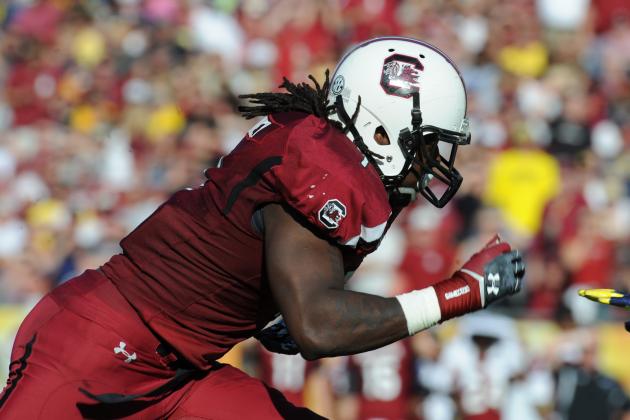 Al Messerschmidt/Getty Images

Biggest Worry: Keeping Jadeveon Clowney Healthy
Come on, you had to know this slide would be about Jadeveon Clowney and his neck.
Though Clowney is expected to make a full recovery from his neck sprain by the fall, his health is the Gamecocks' biggest worry.
Why? Well, he's the lifeline to South Carolina winning the SEC East.
He's undoubtedly the best player on the team, and if he stays healthy, he should lead the Gamecocks to yet another successful season.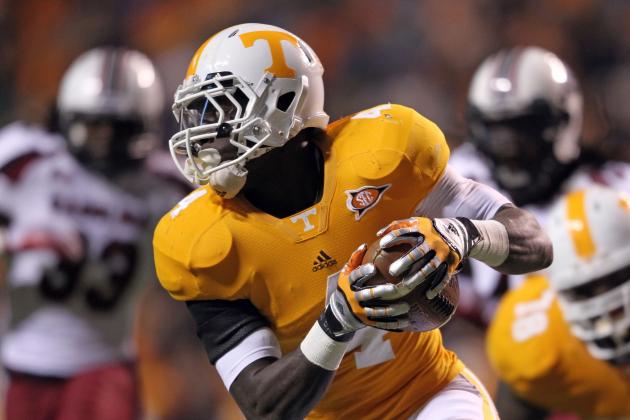 Andy Lyons/Getty Images

Biggest Worry: Marlin Lane Being a Non-factor in 2013

Though he's not kicked off the team, it's hard to believe Marlin Lane will be reliable for the 2013 season.
That's assuming Lane even makes it back onto the team.
Lane, who was indefinitely suspended from the team, is working his way toward reinstatement. And if he doesn't work his way back onto the team, the Vols will be missing a running back who contributed 658 rushing yards last season.
He was a nice complement to Rajion Neal. If he does not make his way back onto the team, who will the Vols feature alongside Neal in the backfield?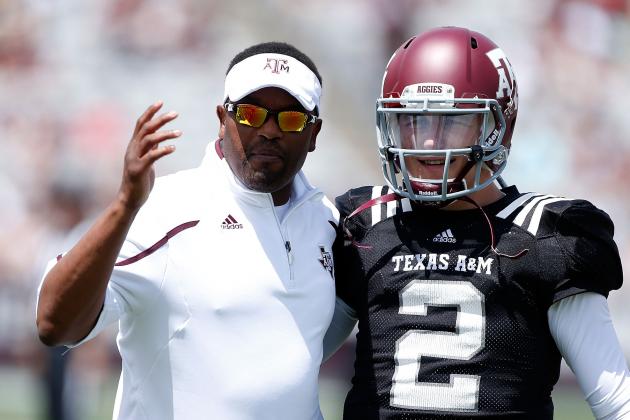 Scott Halleran/Getty Images

Biggest Worry: Keeping Johnny Manziel's Head on Straight
Johnny Manziel catches a lot of heat for his off-field activities, but try and look at it from his perspective.
Manziel is the king of Texas A&M's campus. He has an exciting style that's entertaining to all football fans, and that makes him a hot commodity.
Add in the fact that Manziel is the first freshman to win the Heisman trophy and it's apparent that life is going quite well for Manziel. So live it up, but don't live it up too much.
The Aggies need to make sure that Manziel's focus stays on the game of football and further improving as Texas A&M's quarterback. After all, the Aggies are in the SEC West.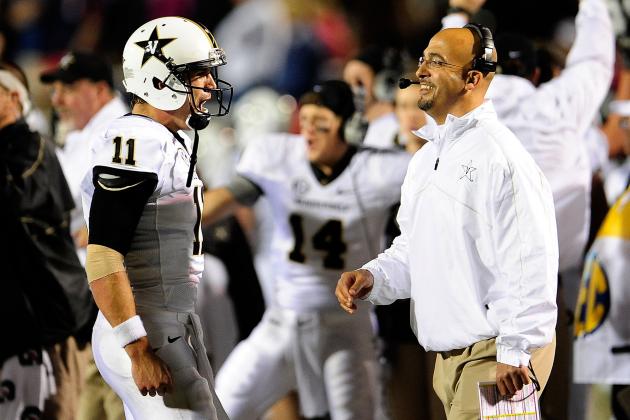 Stacy Revere/Getty Images

Biggest Worry: Finding Offense
There are a lot of new faces for Vanderbilt on offense.
Jordan Rodgers is no longer around for James Franklin to turn to on offense, so players like Austyn Carta-Samuels and Patton Robinette are going to have to step up
Which brings me to my next point—they're going to have to find a way to get Jordan Matthews the football on the outside.
Matthews is one of the best receivers in college football, but if there's no one available to throw him the ball, he's basically a non-factor.