Buffalo Bills: Looking Ahead at 2013 Draft, Schedule and Season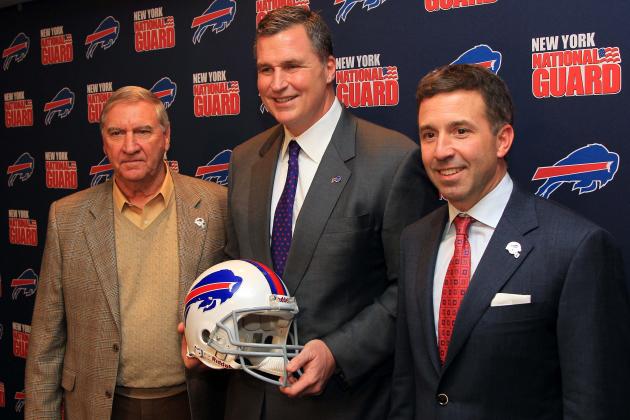 Kevin Hoffman-USA TODAY Sports
Doug Marrone is already changing the culture at One Bills Drive.
The Buffalo Bills now know their 2013 schedule, so the next big item is to figure out who the team will be drafting next week.
This week has been interesting with the three-hour special on the NFL Network to announce the 2013 schedule. In addition, I listened in as NFL Network's draft analyst Mike Mayock held a two-hour conference call this week answering questions from beat reporters around the league.
Coming into the draft, the Bills offense clearly needs some more talent to be more competitive with the New England Patriots and the other contenders in the AFC. The defense has some holes as well, but figures to be better this year under new coordinator Mike Pettine.
Back at One Bills Drive, the team has assembled for its initial voluntary minicamp. The players have now had the opportunity to interface with the new coaching staff, and they appreciate the passion and energy that Coach Doug Marrone and his coaching staff brings to the team.
In this presentation, we will look at the upcoming schedule and share our opinion on the upcoming draft. As always, feel free to share your thoughts regarding the upcoming draft and the 2013 season.
Begin Slideshow

»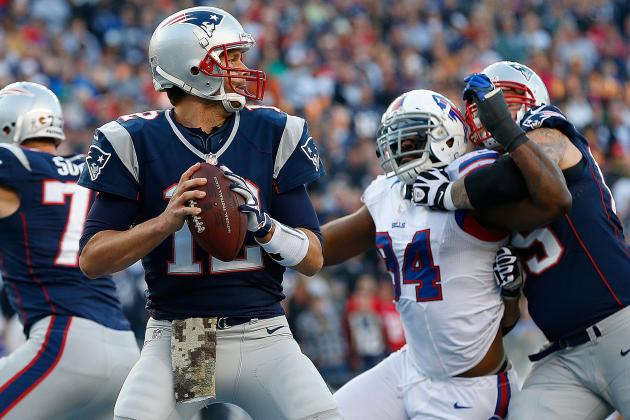 Jim Rogash/Getty Images
Mario Williams hopes to get to Tom Brady more in 2013.
Here is the first half of the Buffalo Bills 2013 schedule:
Week 1: home versus New England
Week 2: home versus Carolina
Week 3: at New York Jets
Week 4: home versus Baltimore
Week 5: at Cleveland on Thursday Night Football
Week 6: home versus Cincinnati
Week 7: at Miami
Week 8: at New Orleans
Analysis of First Half of Schedule
The Bills will be staying close to home for the first six weeks of the season, which is an important factor. Relatively shorter trips to New York City and Cleveland is the extent of the Bills' travel schedule until they have two consecutive games down south against Miami and New Orleans in Weeks 7 and 8.
Out of the first four games, three of them involve teams that are making a wholesale number of roster changes in the Patriots, Jets and Ravens. It is fair to wonder how long it will take all three teams to jell.
For New England, it has to be concerned about the health issues of its star tight ends, and Brady will need some time to start clicking with Danny Amendola.
The Jets will be relying on their younger draft picks from recent years to step up into starting roles to replace the number of veterans that the team released. It will take time for them to be productive, so catching them in Week 3 is an advantage.
The Ravens are another team with a number of wholesale roster changes, so you'd rather face the Ravens in Week 4 than you would in Week 10 or beyond when this team will be much more in sync.
Out of the first eight opponents, only three of them were playoff teams in 2012, and the Bills will be playing all three at home. So, that is another advantage for the Bills, as you clearly have a better chance to win those games at home than you do on the road.
The Cleveland game is the Bills only prime-time contest in 2013. That is to be expected as the Bills haven't been contenders for such a long time. Until the Bills start turning in consecutive winning seasons, they won't be showing up very often in prime time. No matter how much talent or how many exciting players they have on the roster, the prime-time games want to feature winning teams.
The Bills close out the first half of their schedule playing in New Orleans, which is the final game before Halloween. You would have to expect that the city of New Orleans will be all decked out for that game in full costume, so that should be a crazy atmosphere. Bills fans looking for a great game to travel to should circle that contest.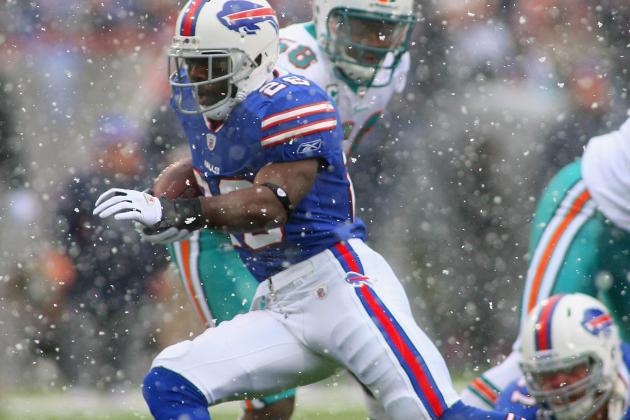 Rick Stewart/Getty Images
Miami should expect to play in the snow in Week 16.
Here is the Buffalo Bills second-half 2013 schedule:
Week 9: home versus Kansas City
Week 10: at Pittsburgh
Week 11: home versus New York Jets
Week 12: bye week
Week 13: in Toronto versus Atlanta
Week 14: at Tampa Bay
Week 15: at Jacksonville
Week 16: home versus Miami
Week 17: at New England
Second-Half Schedule Analysis
For the first five weeks of the second half, the Bills once again have very little traveling to deal with. Short trips to Pittsburgh and Toronto are the extent of their travel.
The one strange aspect of the 2013 schedule is that the bye week doesn't occur until very late in the season, in Week 12, which is the latest week any team has a bye week this year. That means any player that comes up with a relatively serious injury will have to play through it for the first 11 weeks. If he isn't healthy enough to play every week, the options are to have him be inactive until he is able to perform, or to place him on IR.
If the Bills are in contention coming into the bye week, they only face two playoff teams from the 2012 postseason out of their final five games. In fact the Bills only face two playoff teams from last year in the entire second half of the season, which is what you would hope for from a team that was last place again in the AFC East.
One aspect of the 2013 schedule is the back-to-back trips down south in Weeks 7 and 8, and then again in Week 14 and 15. Will the Bills stay down south to avoid the second-round trip and to stay adjusted to the weather? Chan Gailey had the Bills stay out on the West Coast for the second straight week in 2012, and it resulted in a win at Arizona. We will see what Coach Marrone wants to do.
If the Bills come into the final two weeks of the season in playoff contention, they will need to beat an improved Miami team in Week 16 that clearly improved their overall talent in free agency. The Patriots game in Week 17 will come down to how badly the Patriots need the win for home-field advantage.
If the Patriots have already clinched home field for the postseason, or don't have anything on the line, it isn't out of the question that Coach Belichick might want to sit Brady to keep him away from Mario Williams.
Bills Brain Trust for 2013. Photo courtesy of https://twitter.com/buffalobills/status/324191813630054401/photo/1
The Buffalo Bills 2013 roster is far from being complete. We have the 2013 draft to look forward to next week, but free agency isn't exactly over either. The vast majority of free agents have already signed, but there are still some key free agents that are out there looking for a home.
If the season started tomorrow, you could argue that the Bills had holes at quarterback, wide receiver, offensive line (specifically left guard), tight end, pass rush, linebacker and cornerback. The cornerback assessment is even more pronounced with the decision to move Aaron Williams from corner to safety.
Some of these positions will be addressed via the draft, but with only six draft picks currently at their disposal, it is difficult to imagine the 2013 draft class will adequately address all of these holes. In some cases, the Bills may need more than one player to give them the proper depth they desire.
After the draft is over and the Bills have recruited their fare share of undrafted rookie free agents, there will still be time for the final wave of free agency to kick in and fill in those last roster holes. Previously, this is when the Bills added players like Nick Barnett and Kirk Morrison.
Speaking of Barnett and Morrison, neither player has landed a new home yet. Whether the Bills would consider bringing either of them back at a reduced salary remains to be seen. Other Bills veteran players still without a team for 2013 include FB Cory McIntyre, WR Ruvell Martin, DL Spencer Johnson and CB Terrence McGee. In addition, ex-Bills WR Roscoe Parrish and Namaan Roosevelt are still looking for work.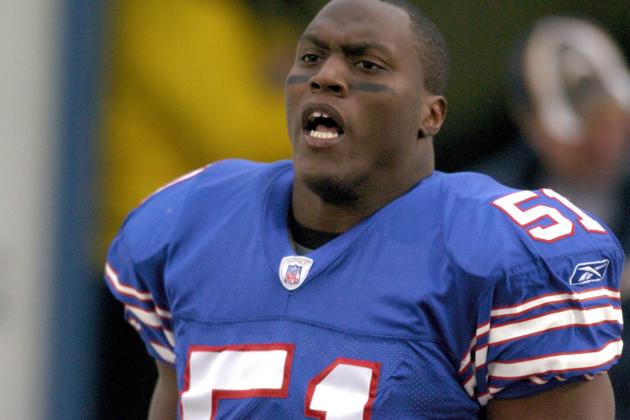 Mark Konezny/Getty Images
Ex-Bills LB Takeo Spikes is currently out of work.
Here is a brief overview of the final wave of free agents that the Bills could think about adding after they assess their roster upon the conclusion of the upcoming draft. Free agents are listed with their former team from 2012 season.
Wide Receivers: Brandon Lloyd (New England), Randy Moss (San Francisco), Devin Aromashodu (Minnesota), Matt Willis (Denver), Derek Hagan (Oakland), Donte Stallworth (New England), Braylon Edwards (New York Jets), Roscoe Parrish (Tampa Bay), Austin Collie (Indianapolis) and Ramses Barden (New York Giants).
Guards: Brandon Moore (New York Jets), Ryan Lilja (Kansas City), Stephen Peterman (Detroit), Rex Hadnot (San Diego) and Jake Scott (Philadelphia).
Tight Ends: Will Heller (Detroit), Jeron Mastrud (Miami), Kevin Boss (Kansas City), Dallas Clark (Tampa Bay), Travis Beckum (New York Giants), Chris Cooley (Washington), Dante Rosario and Randy McMichael (San Diego).
Defensive Linemen: John Abraham (Atlanta), Israel Idonije (Chicago), Juqua Parker (Cleveland), Trevor Scott (New England), Bryan Thomas (New York Jets), Dwight Freeney (Indianapolis) and Lawrence Jackson (Detroit).
Linebackers: Karlos Dansby (Miami), Leroy Hill (Seattle), Bart Scott (New York Jets), Kyle Bosworth (Jacksonville), Takeo Spikes (San Diego), Bradie James (Houston), Scott Shanle (New Orleans), Brian Urlacher (Chicago) and Michael Boley (New York Giants).
Defensive Backs: Charles Woodson (Green Bay), Sheldon Brown (Cleveland), Marcus Trufant (Seattle), Elbert Mack (New Orleans), Pat Lee (Detroit), Chris Gamble (Carolina), Jacob Lacey (Detroit), Cedric Griffin (Washington), ex-Bills Nate Clements (Cincinnati) and Rashean Mathis (Jacksonville).
This late into free agency, the price tag for all these veterans has to begin dropping more and more with each passing week. Some of these players will lose the final roster vacancies to the undrafted rookie free agents that teams decide to sign. Some of them have limited time left on their legs, but still aren't ready to hang it up just year.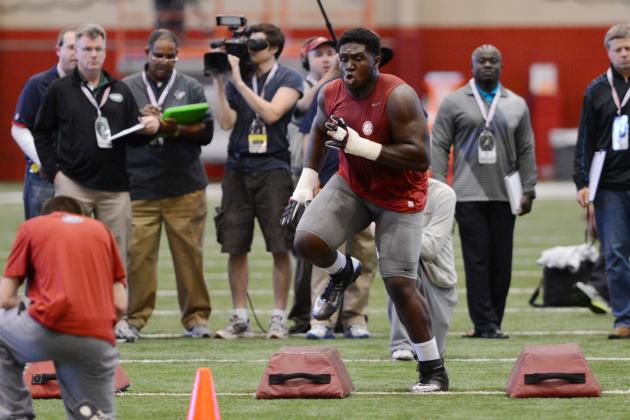 Kelly Lambert-USA TODAY Sports
Chance Warmack has the tools to become an All-Pro guard.
Since we aren't privy to knowing the specific grades the Bills have assigned to the 2013 draft class, let's define what is an acceptable outcome for the Bills in the first round of the draft.
To my way of thinking there is only one of two possible outcomes that are acceptable. The primary goal with the No. 8 overall pick is to draft a player that will become an immediate starter in 2013. He should also have an excellent chance at becoming an All-Pro in the NFL during his career.
The second acceptable outcome is to have a plan B due to the distinct possibility that the players the Bills truly valued and wanted with the No. 8 pick are already gone. In that event, you trade down in the first round with the best deal you can find to acquire more draft picks in the second and/or third round. Currently there are two teams that are actively looking to trade up in the first round, which is Atlanta and Minnesota.
The only thing you can't do is to reach for a player because of need. That is a cardinal sin for a GM.
So, who will be the Bills' best options at the No. 8 pick that meets the criteria we laid out? You have to assume that tackles Luke Joeckel and Eric Fisher will already be off the board. After the pair of talented tackles are gone, things begin to get a little fuzzy due to the combination of teams looking to trade down and the potential for teams to reach for a quarterback. Some players will unexpectedly slide, and the Bills might wind up being surprised with who is still available for them when they are on the clock.
Here are the players I would be delighted with at No. 8:
Oklahoma tackle Lane Johnson, North Carolina guard Jonathan Cooper, Alabama guard Chance Warmack, Alabama corner Dee Milliner, West Virginia wide receiver Tavon Austin, Utah defensive lineman Star Lotulelei, Oregon linebacker Dion Jordan, Florida defensive tackle Sharrif Floyd and LSU linebacker Barkevious Mingo.
These players fit with the best player available type of strategy that allows an NFL team to remain in contention from one year to the next.
Obviously a number of these players will be gone after the first seven selections are announced. But we have no way of knowing for sure which ones will be gone as of today. We do know that at least three of those players, and possibly four will be viable options for Buffalo. That is why the Bills could trade down as low as the No. 11 or 12 overall pick and still get a very good quality player.
The players that scare me to death with the No. 8 pick that would be construed as a reach are West Virginia QB Geno Smith, USC quarterback Matt Barkley, Syracuse quarterback Ryan Nassib, Tennessee wide receiver Cordarrelle Patterson, BYU defensive end Ziggy Ansah and Georgia linebacker Jarvis Jones.
The players in this group have potential, but either they doesn't have the preferred track record or has too many question marks to justify a pick at No. 8. In some cases it is a health issue (Jarvis Jones) while with others it is the poor track record (Ansah and Patterson).
As for the quarterbacks, the comfort level increases as the first round starts to hit the No. 20 pick and below. As you get to No. 25 and later, the value of these quarterbacks begins to increase, and you aren't making as big of a reach.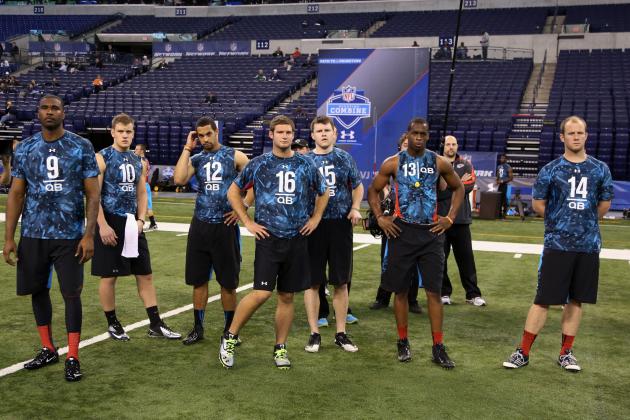 Brian Spurlock-USA TODAY Sports
Will Buddy Nix trade back up into the first round to draft one of these QBs?
There has been an ongoing debate about the merits of trading back into the bottom half of the first round to draft a franchise quarterback for the Bills. The reason that you would entertain such a plan comes down to two main reasons.
First, the quarterbacks in the 2013 draft class aren't worthy of being drafted with the No. 8 pick. The second reason is that by the time you are back on the clock with the No. 41 pick, there is a very good chance that the majority of the quarterbacks you value (Geno Smith, Ryan Nassib, Matt Barkley or E.J. Manuel) will be gone.
The Buffalo Bills organization has botched the quarterback position since Jim Kelly retired. That is the primary reason why the Bills haven't been to the playoffs since 1999. The fanbase has done its best to remain patient, but the frustration level only continues to grow. When you see how well players like Russell Wilson and Colin Kaepernick perform, knowing the Bills could have easily drafted either one, it starts getting old.
Going against the Bills and Buddy Nix is the fact that the Bills only have six draft picks this year to work with. That doesn't provide them with much ammunition to trade back up into the first round. They could sacrifice some of their precious draft picks this year to move up, but that would leave the team with some gaping holes after the draft.
There is the possibility of trading away your first-round pick from 2014, but that would eliminate Buffalo from consideration from what should be a better crop of franchise quarterbacks that are available next year. So no matter which way you turn, there are issues and risks with any option or plan.
The most difficult choice might be to just sit still and hope that one of the quarterbacks you feel strongly about will still be there for you at No. 41. For many Bills fans, that will turn out to be a disaster if the best three or four quarterbacks have been drafted by then. Just one more botched draft to add to the list.
There is a gauntlet of quarterback-needy teams that could make a run on the best quarterbacks atop the second round. Teams that could decide to go with a quarterback in the second round include Jacksonville, Philadelphia, Arizona and the New York Jets. All of them have a pick before Buffalo is on the clock with the No. 41 pick. Perhaps the Bills have a "Plan C", which is to trade back up to the top of the second round. That would be a little less costly in terms of draft picks for 2013 or 2014.
Because of all the risks and intrigue, how this draft unfolds with regards to the Bills' ability to draft the quarterback that they wanted all along will be one of the main highlights of the 2013 draft.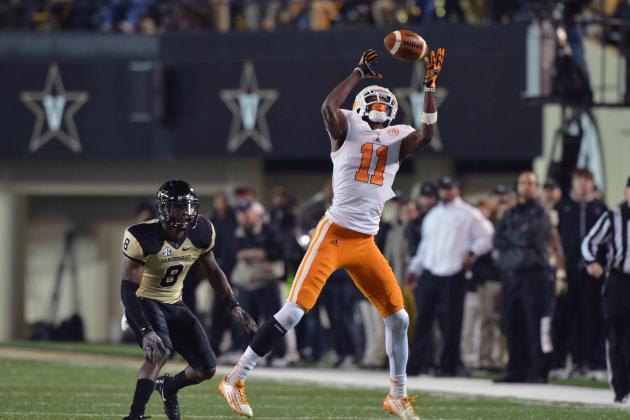 Don McPeak-USA TODAY Sports
Justin Hunter keeps showing up in mock drafts at No. 41.
Here are 33 players on the offensive side of the ball that stand a likely chance to be gone after the first two days of the draft are complete.
Quarterbacks (6): Geno Smith (West Virginia), Matt Barkley (USC), Ryan Nassib (Syracuse), E.J. Manuel (Florida St.), Mike Glennon (North Carolina St.) and Tyler Wilson (Arkansas).
Wide Receivers (10): Tavon Austin (West Virginia), Cordarrelle Patterson (Tennessee), Keenan Allen (California), Justin Hunter (Tennessee), Robert Woods (USC), DeAndre Hopkins (Clemson), Quinton Patton (Louisiana Tech), Markus Wheaton (Oregon St.), Stedman Bailey (West Virginia) and Terrance Williams (Baylor).
Running Backs (2): Eddie Lacy (Alabama) and Gio Bernard (North Carolina).
Tight Ends (3): Tyler Eifert (Notre Dame), Zack Ertz (Stanford) and Travis Kelce (Cincinnati).
Offensive Linemen (12): Luke Joeckel (Texas A&M), Eric Fisher (Central Michigan), Lane Johnson (Oklahoma), Chance Warmack (Alabama), Jonathan Cooper (North Carolina), Larry Warford (Kentucky), Terron Armstead (Arkansas-Pine Bluff), D.J. Fluker (Alabama), Justin Pugh (Syracuse), Kyle Long (Oregon), Barrett Jones (Alabama) and Menelik Watson (Florida St.).
This isn't intended to be an all-inclusive list. There are a few names we left out that could very well be drafted prior to Day 3 of the draft. The main point is that as you begin crossing off the names as they are selected, there will still be plenty of talent available for the Bills when they are on the clock with their picks at No. 41 and 71.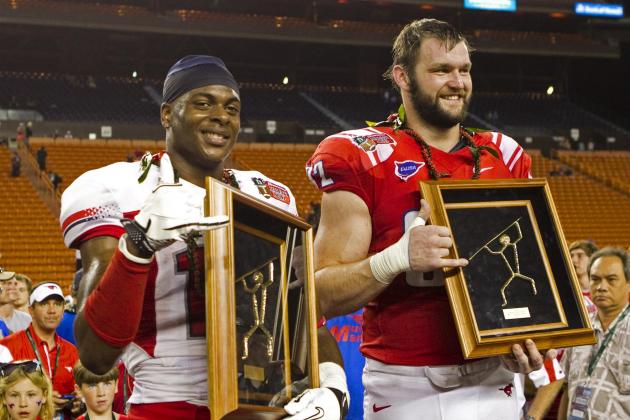 Marco Garcia-USA TODAY Sports
Which round will Margus Hunt go in the 2013 draft?
Here is the defensive side of the ball options for the first three rounds of the 2013 draft. This list adds another 47 players that have a strong chance of being selected during the first two days of the 2013 NFL draft. That brings our pool to a total of 80 players so far.
Defensive Linemen (16): Star Lotulelei (Utah), Sharrif Floyd (Florida), Sylvester Williams (North Carolina), Sheldon Richardson (Missouri), Ziggy Ansah (BYU), Tank Carradine (Florida State), Dion Jordan (Oregon), Margus Hunt (SMU), Jesse Williams (Alabama), Bjoern Werner (Florida St.), Johnathan Hankins (Ohio St.), Damonte Moore (Texas A&M), Alex Okafor (Texas), Sam Montgomery (LSU) and Kawann Short (Purdue).
Linebackers (11): Manti Te'o (Notre Dame), Jarvis Jones (Georgia), Alec Ogletree (Georgia), Arthur Brown (Kansas St.), Barkevious Mingo (LSU), Kevin Minter (LSU), Khaseem Greene (Rutgers), Kiko Alonso (Oregon), Corey Lemonier (Auburn), Jon Bostic (Florida) and Jamie Collins (So. Mississippi).
Cornerbacks (11): Dee Milliner (Alabama), Xavier Rhodes (Florida St.), Desmond Trufant (Washington), Blidi Wreh-Wilson (U Conn), Jamar Taylor (Boise St.), Johnathan Banks (Mississippi St.), Jordan Poyer (Oregon St.), David Amerson (North Carolina St.), Darius Slay (Mississippi St.), Logan Ryan (Rutgers) and Dwayne Gratz (U Conn).
Safeties (9): Kenny Vaccaro (Texas), Johnathan Cyprien (Florida International), D.J. Swearinger (So. Carolina), Bacarri Rambo (Georgia), Eric Reid (LSU), Matt Elam (Florida), Phillip Thomas (Fresno St.), Tony Jefferson (Oklahoma) and Shamarko Thomas (Syracuse).
Feel free to print out the big board slides and cross the names off as they are selected. The lists will give you a good idea of what options are available as the Bills get ready to announce their picks at No. 8, 41 and 71.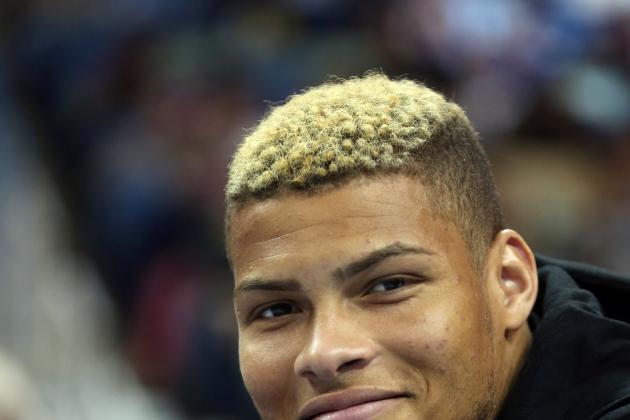 Chuck Cook-USA TODAY Sports
Why is Tyrann Mathieu smiling?
Time to enter Day 3 and wrap up the 2013 draft. This is the day where you have players with tons of potential, but they possess a number of flaws or have other kinds of risks. LSU corner Tyrann Mathieu, the famed Honey Badger of more-than-10-failed-drug-tests fame, is a prime example of the kind of risk versus reward you have to analyze in Day 3 draft scenarios.
If you happen to strike gold during Day 3, you have a player that will be earning less money than the players drafted in the first few rounds. They will be just as hungry, if not hungrier. There is also a very good likelihood that they will be playing with a chip on their shoulder due to being passed over so often. Bills fans will recall how well Thurman Thomas played with a chip on his shoulder.
For the third day of the 2013 draft, the Bills currently hold draft picks at No. 105, 143 and 177 overall.
We will post another entry with Big Board options for both sides of the ball after the third round of the draft is completed. Until then, feel free to share your thoughts about the Bills schedule, roster and draft pick ideas for the first three rounds of the draft.
Thanks for checking out the presentation. Follow me on Twitter: @DanVanWie