1 Area Each 2013 NBA Playoff Team Must Improve to Survive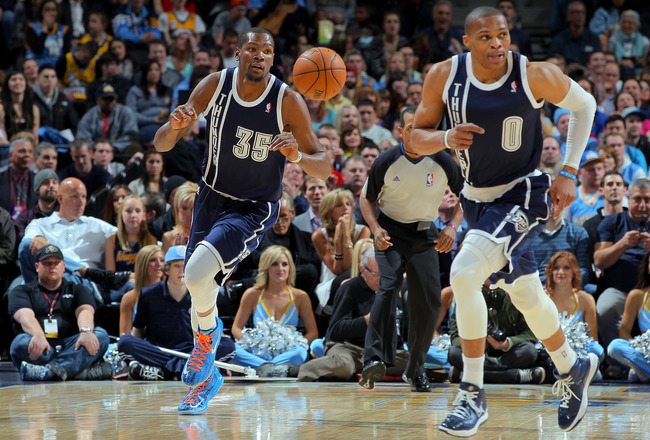 Durant and Westbrook must cut down on their turnovers for the Thunder to win it all.
Doug Pensinger/Getty Images
Every NBA playoff team has flaws, and the shortcomings they were able to overcome during the regular season will be exploited by elite coaches and teams in seven-game playoff series. It is the teams that improve on their weaknesses during the playoffs that will survive and advance deep into the postseason.
Not all weaknesses are fatal. It is incumbent upon the coach to determine which aspects of his team require improvement. That may include the coach himself, who can alter substitution patterns, make better in-game adjustments or be more creative with his late-game play calls.
Several playoff teams need to shore up one component of their defense, such protecting the rim, defending the three-point shot or controlling the defensive backboards. Other teams are focused on becoming more efficient offensively by reducing turnovers, moving the basketball or taking higher-percentage shots.
Miami Heat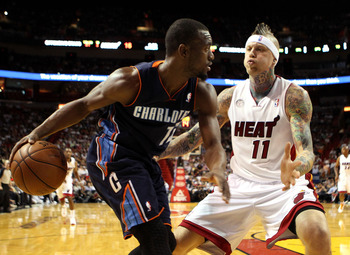 Chris Andersen gives the Heat a physical presence down low.
Marc Serota/Getty Images
It is difficult to find fault with a team that won 66 games and 37 of its last 39. If there is one discernible weakness to the Miami Heat it is their poor rebounding numbers. The Heat ranked 26th in offensive rebounding percentage and 24th in defensive rebounding percentage (via Basketball Reference).
Miami has thrived with a small lineup featuring Shane Battier at the 4, which leaves it somewhat vulnerable down low against bigger, more physical teams. The Chicago Bulls gave them trouble this season, and a potential NBA Finals showdown against the Memphis Grizzlies' frontcourt of Marc Gasol and Zach Randolph would pose a challenge.
The Heat can play bigger if necessary. They added size with the midseason acquisition of Chris Andersen, and Udonis Haslem can log more minutes against bigger teams.
New York Knicks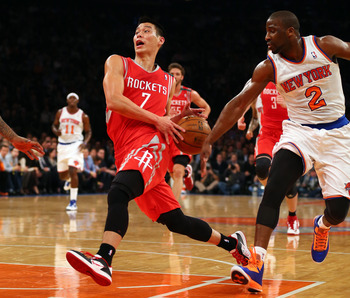 Elsa/Getty Images
The New York Knicks' biggest weakness has been their inability to keep quick guards out of the paint. Knicks guards were torched by the likes of Stephen Curry, Damian Lillard, Jeremy Lin, Nate Robinson and John Wall during the regular season.
New York has been particularly vulnerable against pick-and-rolls. According to Synergy Sports, (membership required) the Knicks surrender 0.85 points per possession to the ball-handler on pick-and-roll plays, which ranks 28th in the league.
Mike Woodson's team is unlikely to face a speedy point guard in the first two rounds. The Boston Celtics' Avery Bradley is known more for his defense than his playmaking skills, and George Hill of the Indiana Pacers (New York's likely second-round opponent) is a shrewd ball-handler, though not capable of blowing by the Knicks point guards.
If the Knicks are to have any chance against the Miami Heat in the conference finals, they must limit Dwyane Wade and LeBron James' dribble penetration. The Heat picked apart the Knicks defense with pick-and-rolls in the playoffs last season.
Indiana Pacers
Kim Klement-USA TODAY Sports
The Indiana Pacers play a slow, physical brand of basketball predicated on their stifling half-court defense. In order for that style to be successful they must protect the basketball, something the Pacers failed to do this season.
Indiana averaged 14.3 turnovers per game this season (via ESPN.com), tied for third most in the league, while playing at the sixth-slowest pace (via NBA.com).
Paul George was the leading culprit. The first-time All-Star was forced to carry more of the load—his usage rate increased from 19.3 in 2011-12 to 23.5 this season—due to the injury to Danny Granger, and his turnovers per game jumped from 1.8 last season to 2.9 (via Basketball Reference).
The Atlanta Hawks want to push the pace against the Pacers, and turnovers will allow them to score easy baskets before Indiana can set up its defense. LeBron James and the Miami Heat will feast off of the Pacers' mistakes if the two teams meet down the road.
Brooklyn Nets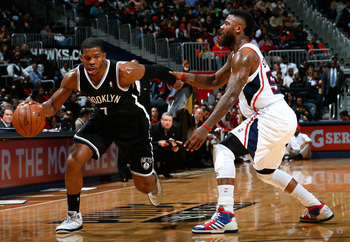 The Nets cannot rely too heavily on isolation plays in the playoffs.
Kevin C. Cox/Getty Images
The Brooklyn Nets ranked 25th in the league with 16.2 assists per game (via ESPN.com), and point guard Deron Williams averaged the fewest assists (7.7) since his rookie season (via Basketball Reference).
The Nets were successful in spite of their lack of ball movement, because they have three excellent isolation players in Williams, Joe Johnson and Brook Lopez. According to Synergy Sports, Brooklyn ranked third in the league in points per possession on isolation plays (0.88).
However, the Nets must be more creative against the sophisticated defenses they will face in the playoffs, beginning with Tom Thibodeau's Chicago Bulls. Thibs will take away the Nets' first and second options, and Brooklyn will struggle to score if it does not move the ball.
5. Chicago Bulls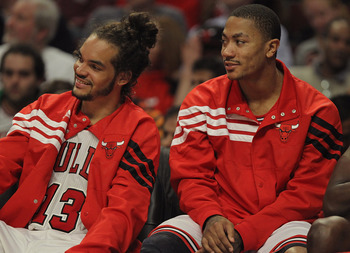 Chicago will have to find other ways to score without Noah and Rose.
Jonathan Daniel/Getty Images
Tom Thibodeau announced that Derrick Rose is "most likely out" for the postseason (via ESPN.com). To make matters worse, the Chicago Tribune reported that Joakim Noah will be severely limited in the Chicago Bulls' first-round series against the Brooklyn Nets due to plantar fasciitis in his right foot.
The Bulls will have to find other ways to score without their two best players. Carlos Boozer can put up points in the post. The veteran averaged 16.2 points per game and 18.4 over his last 20 games (via NBA.com/Stats, login required). Luol Deng is a jack of all trades, and Nate Robinson has provided a spark off the bench.
Chicago will have to improve its three-point shooting in order to advance without Noah and Rose. The Bulls ranked 20th in three-point percentage (35.3) after finishing tied for third last season (37.5) (via ESPN.com). The dropoff can be attributed to fewer open looks without Rose in the lineup and the departure of sharpshooter Kyle Korver.
Atlanta Hawks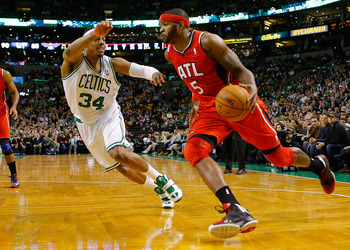 Josh Smith must refrain from launching deep two-pointers.
Jared Wickerham/Getty Images
The Atlantic Hawks were plagued by inconsistency this season, both in effort and execution. The Hawks had a bead on home-court advantage in the first round but faded down the stretch and missed out on the fifth seed by losing six of their last 10 games.
Josh Smith continues to be an enigma for the Hawks. The multi-talented forward is a potent offensive force at times, but is equally as likely to launch a slew of ill-advised, deep two-pointers. Smith will be a free agent this summer and wants to prove that he is worthy of a maximum contract.
The Hawks face a well-coached, disciplined Indiana Pacers team in the first round. Starting with Smith, they must play an entire series of inspired, intelligent basketball.
Boston Celtics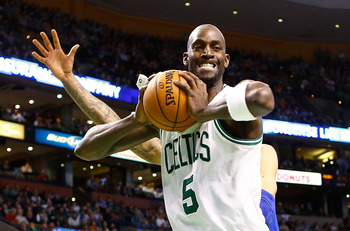 Kevin Garnett has not had much help on the glass.
Jared Wickerham/Getty Images
It is hard to believe that a team led by Kevin Garnett could be pushed around down low, but that is what happened to the Boston Celtics this season. They had the worst rebound differential in the league (minus-4.3) while surrendering 11.4 offensive rebounds per game (via ESPN.com).
Doc Rivers was forced to go with a smaller starting lineup due to an injury to rookie Jared Sullinger and an overall lack of depth. KG averaged the fewest rebounds per game (7.8) since his rookie season, and Boston's starting forwards, Brandon Bass and Jeff Green, grabbed just 5.2 and 3.9 rebounds per game, respectively.
The Celtics' small front line is not a major concern against a New York Knicks team that plays a small lineup and has several frontcourt injuries of its own. However, Doc's club must hold its own on the defensive glass against more physical teams if they reach the later rounds.
Milwaukee Bucks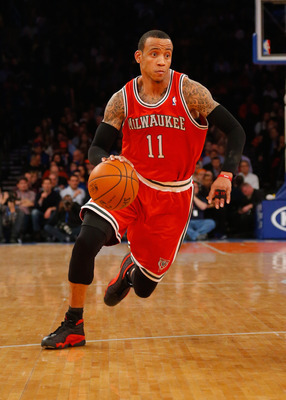 Monta Ellis can score in bunches, but is very inefficient.
Jim O'Connor-USA TODAY Sports
Brandon Jennings' prediction of a Milwaukee Bucks victory aside, the Bucks-Miami Heat matchup has a David vs. Goliath feel to it. Even if Milwaukee does everything right, it will probably not be enough to defeat the defending champions.
If the Bucks want to make the series competitive, they must improve their shot selection. Milwaukee's 43.5 field-goal percentage ranked 28th.
Their two best players, Brandon Jennings (39.9 percent) and Monta Ellis (41.6 percent and 28.7 percent from downtown) are low-efficiency volume shooters. The same can be said for the team's third guard, J.J. Redick, who connected on just 40.3 percent of his attempts.
The Bucks guards need to shoot less and create for their teammates more, particularly power forward Ersan Ilyasova, who can score in a variety of ways and shot 44.4 percent on three-point attempts.
Oklahoma City Thunder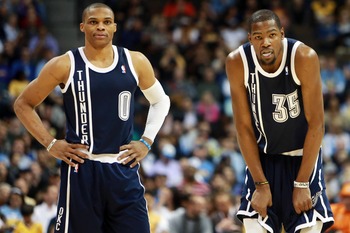 Westbrook and Durant are still not in sync in crunch time.
Chris Humphreys-USA TODAY Sports
The Oklahoma City Thunder had an excellent season, but they are going to have to make better decisions with the basketball in order to win a championship.
OKC averaged the second-most turnovers with 14.4 per game (via ESPN.com). Their two stars, Kevin Durant and Russell Westbrook, were each among the top five in the league with 3.5 and 3.3 turnovers, respectively (via ESPN.com).
The Thunder managed to reach the NBA Finals after leading the league in turnovers last season and are efficient enough to overcome their miscues against most teams, but they have to take better care of the ball to have any chance of beating the Miami Heat.
OKC also still struggles at times to execute down the stretch. Like Dwyane Wade and LeBron James in their first season together, Durant and Westbrook sometimes appear to take turns with the ball, as opposed to playing off one another. Additionally, Westbrook took one more shots per game than Durant, despite shooting a much lower percentage (43.8, compared to 51.0) (via Basketball Reference).
San Antonio Spurs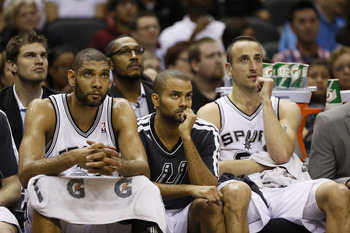 The Spurs need to pick up their defense in the playoffs.
USA TODAY Sports
Gregg Popovich wanted his San Antonio Spurs to return to being an elite defensive team, and his players responded. The Spurs jumped from 11th in defensive efficiency last season (100.6) to third this year (99.2) (via ESPN.com).
However, Pop's squad slipped on that end of the floor over the last two months of the season. The Spurs' defensive efficiency soared to 103.9 over their last 20 games (via NBA.com/Stats), which would have placed them 19th over the full season.
Some of their defensive decline can be attributed to injuries. Manu Ginobili was sidelined with a hamstring injury, and Tony Parker has been hampered by a shin problem. The Spurs will not be legitimate title contenders unless they regain their early season form.
Denver Nuggets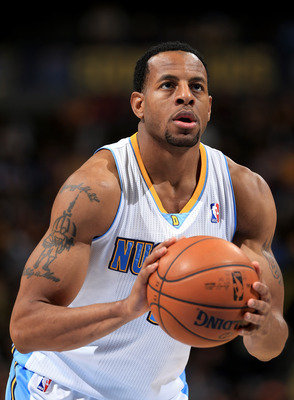 The Nuggets need to shoot better from the foul line.
Doug Pensinger/Getty Images
The Denver Nuggets attack the basket relentlessly and ranked third in free-throw attempts, but were 28th in free-throw percentage (via CBS Sports) at 70.1 percent.
The Nuggets' leading shooter from the charity stripe, Andre Miller (84 percent), only got to the line two times per game, and their second-leading shooter, Danilo Gallinari, is out for the season with a torn ACL. Andre Iguodala, Kenneth Faried, Kosta Koufos and JaVale McGee all shot under 62 percent.
Denver won 57 games in spite of its poor free-throw shooting. However, many games are won or lost at the foul line in the postseason. The Nuggets will need to get that percentage closer to 75 against the top teams in the Western Conference.
Los Angeles Clippers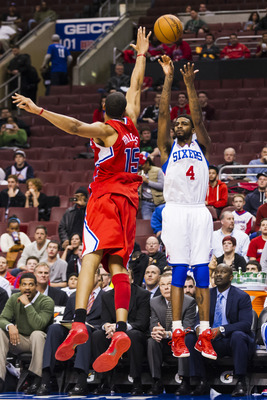 The Clippers struggle to defend the three ball.
USA TODAY Sports
The Los Angeles Clippers showed significant improvement on the defensive end this season, shaving almost two full points off their defensive efficiency (102.9 to 101) (via ESPN.com).
Yet, L.A. still struggled to defend the three ball. The Clippers' opponents shot 37.3 percent from behind the arc, and according to NBA.com/Stats, that number increased to 38.6 percent over the Clippers' last 20 games.
L.A.'s first-round opponent, the Memphis Grizzlies, are at the bottom of the league in three-point percentage at 34.5 percent. But the Oklahoma City Thunder and San Antonio Spurs, two teams the Clippers could face later in the playoffs, rank among the top four teams in shooting from behind the arc.
Memphis Grizzlies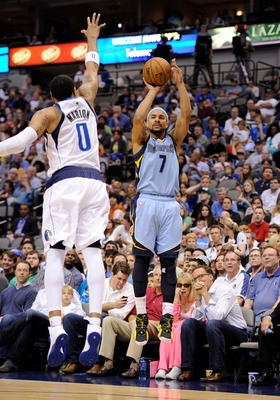 The Grizzlies need Jerryd Bayless to knock down outside shots.
USA TODAY Sports
The Memphis Grizzlies pound their opponents down low with Marc Gasol and Zach Randolph. In the playoffs, teams will pack the paint and force Memphis to beat them in other ways.
That should create plenty of open shots from behind the arc, where the Grizzlies struggled this season. Memphis averaged the fewest three-pointers per game (4.7) and ranked 24th in three-point percentage (34.5 percent) (via ESPN.com).
Tayshaun Prince and Jerryd Bayless are both capable of shooting more efficiently from downtown. Prince knocked 36.6 percent of his three-points attempts this year after connecting 40.4 and 43.4 percent of the time during the previous two seasons. Bayless drained 42.3 percent of his attempts for the Toronto Raptors in 2011-12 and just 35.3 percent of his three-point attempts this season.
Golden State Warriors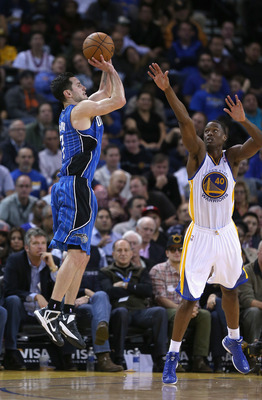 Harrison Barnes has to be more consistent defensively.
Ezra Shaw/Getty Images
The Golden State Warriors made tremendous strides defensively, finishing 13th in defensive efficiency (102.6) after surrendering 106 points per possession last season (26th) (via ESPN.com).
Yet, the Warriors were still not as consistent on that end of the floor as coach Mark Jackson would like. Golden State's defensive rating for the month of February was 110.7, almost two full points more than Charlotte's league-worst mark (via NBA.com/Stats).
In particular, the Warriors have difficulty containing dribble penetration. Rookie Harrison Barnes has the physical tools to be a lockdown defender but is often too passive on the court. Klay Thompson has the opposite problem. The second-year guard likes to body up on his man and regularly gets into foul trouble. Both youngsters will need to step it up against the explosive Denver Nugget offense.
Los Angeles Lakers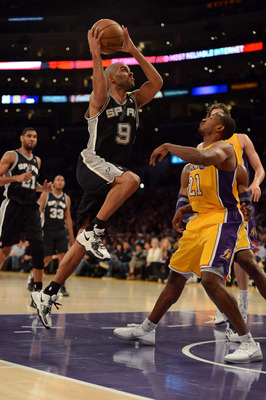 Tony Parker and the Spurs will look to run against the Lakers.
Harry How/Getty Images
The Los Angeles Lakers tied with the Brooklyn Nets for the worst defensive efficiency (103.6) among all playoff teams (via ESPN.com). Their aging perimeter players struggled to keep opposing guards out of the paint, and teams carved up Mike D'Antoni's squad with a steady dose of pick-and-rolls.
The Lakers' transition defense that was their Achilles' heel. According to teamrankings.com, L.A. allowed opponents to score a whopping 15.9 points in transition per game, second only to the Sacramento Kings.
The Lakers will be even more vulnerable to fast-break baskets in the playoffs with Kobe Bryant on the shelf and Metta World Peace at less than full strength after undergoing knee surgery. The San Antonio Spurs played at the sixth-fastest pace this season (via ESPN.com) and will push the tempo against the Lakers.
Houston Rockets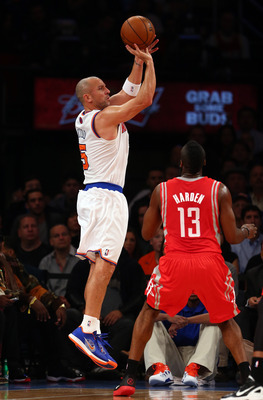 Harden and the Rockets need to run shooters off the three-point line.
Elsa/Getty Images
The number of points allowed per game by the Rockets (102.5) is a bit misleading because they played at a faster pace than any team in the league (via ESPN.com). The Rockets finished near the middle of the pack in defensive efficiency (tied for 16th), allowing 103.5 points per possession (via ESPN.com).
The most troubling aspect of the Rockets defense was their inability to defend the three-point shot. Houston allowed the fourth-most three-point attempts (21.9) per game, and their opponents connected 36.7 percent of the time (via ESPN.com).
That is a recipe for disaster against an Oklahoma City Thunder team that shot 37.7 percent from behind the arc, and has three players, Kevin Durant, Thabo Sefolosha and Kevin Martin, who nailed over 40 percent of their three-point attempts. It will be a quick series if the Rockets do not close out on the Thunder shooters.
Keep Reading