Michael Clay: Video Highlights for the Former Oregon LB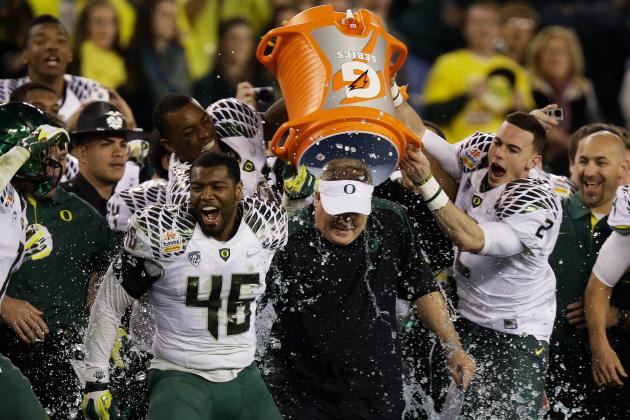 Ezra Shaw/Getty Images

By traditional NFL standards, Michael Clay is an undersized outside linebacker.
However with so much passing in the game today, teams are placing a higher value on the smaller, speedier linebacker who can cover and operate effectively in space.
The 6'0'', 230-pound defender accumulated 203 total tackles over the last two years at Oregon.
Here are some of the top plays from Michael Clay's collegiate career.
Begin Slideshow

»
On this play, Clay noticed the Colorado quarterback looking to a slant from the right outside receiver, and he instantly broke underneath the route.
Clay baited the signal-caller's throw, easily made the interception and took it to the house for six.
Clay's sheer speed was on full display here, as he wrapped around the edge from his initial middle linebacker position.
He was sent on a delayed blitz and went untouched to the quarterback.
Lined up in an outside linebacker/safety hybrid, Clay thumped Wisconsin runner Monte Ball on this play. He waited for his opening, hit the intended running lane with authority and brought the Badgers runner to the turf with a huge hit.
Oregon-quick.
On this play, again operating from his typical middle linebacker spot, Clay exhibited fine instincts and the ability to react quickly in coverage.
He read the quarterback's eyes, broke on the ball and knocked down the pass.
Clay's angle of pursuit and acceleration to the football on this play were stunning. He deciphered the reverse before it materialized and timed his run perfectly.
He certainly doesn't lack in the athleticism department.