Handing out Major MLB Awards as If the Season Ended Today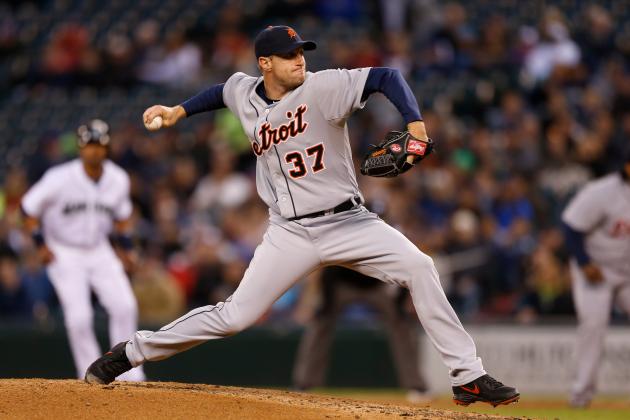 Otto Greule Jr/Getty Images
Max Scherzer is making a lot of noise on the mound for the Detroit Tigers.
The Major League Baseball-awards season race can directly parallel what Hollywood does every year with the Academy Awards.
Momentum and timing are everything. Think back to last year's Oscar race, when the nominations were first announced. Everyone had Lincoln as the leader in the clubhouse for Best Picture, Director, Actor, Supporting Actor and Adapted Screenplay, since it had the most nominations of any movie.
As the process continued, and the 3,214 other award shows that precede the Oscars happened, Argo clearly became the movie to beat in the Best Picture category. Lincoln wound up "settling" for a Best Actor and another low-level category that no one cares about.
Moving back to Major League Baseball, a player can win or lose an MVP award multiple times throughout the course of a season. To a lot of the voting populace, yes, overall stats do matter, but they like to factor in how you played down the stretch and what the best narrative is.
Two years ago, despite Matt Kemp being the best player in the National League, Ryan Braun won the National League MVP award. Last year was the great Mike Trout-Miguel Cabrera debate in the American League.
Point being that as we look back on the first three weeks of the 2013 season, while still ridiculously early, people are already trying to find narratives they can use when making a case for postseason awards.
So to those people, we present you with a look at the very, very, very early award winners in MLB for 2013.
Note: All stats courtesy of Baseball-Reference.com unless otherwise noted.
Begin Slideshow

»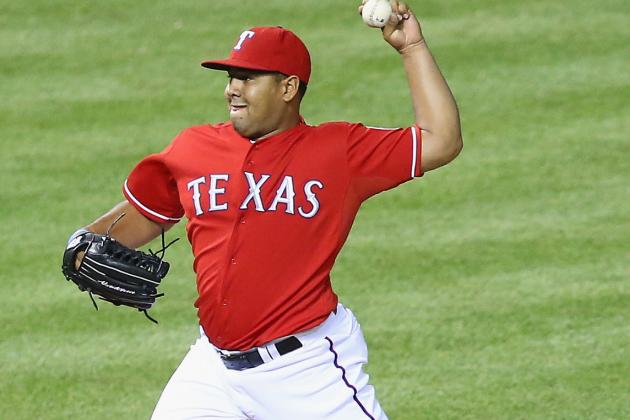 Ronald Martinez/Getty Images
Texas' Joe Ortiz has done a fantastic job out of the bullpen through three weeks.
Winner: Joe Ortiz, LHP, Texas Rangers
6 G, 2-0, 10.2 IP, 0.84 ERA, 7 H, 2 R (1 ER), 0 HR, 1 BB, 9 K
First, it has to be said how ugly the American League rookie class looks right now. High-profile players like Aaron Hicks, Jackie Bradley Jr. and Brandon Maurer have really struggled in limited action.
Bradley already was sent down to Triple-A to accommodate the return of David Ortiz to the Boston Red Sox on Friday night (h/t Sean McAdam of Comcast SportsNet New England):
Red Sox have optioned Jackie Bradley Jr. to Pawtucket to make room for David Ortiz tomorrow. Bradley will join Pawsox in Rochester Fri.

— Sean McAdam(@Sean_McAdam) April 19, 2013
Joe Ortiz has had tremendous success right out of the gate, despite not having overpowering stuff. His fastball averages 90.6 mph (per Fangraphs), yet he keeps the ball in the park and doesn't walk anyone.
There is going to be a lot of regression coming later in the year, as his BABIP is .226 and line-drive percentage is 33.3, as well as the fact he plays most of his games in a ballpark that is very hitter-friendly when the temperatures rise.
It takes a lot of things for a reliever to win a major award, at least in my opinion, because the value added on the field is so small compared to what an everyday player or starting pitcher is able to bring.
I don't expect Ortiz to even be mentioned in the AL Rookie of the Year mix by season's end, but right now, he is the best of a poor lot.
Apologies To: Conor Gillaspie (Chicago White Sox), Dan Straily (Oakland A's)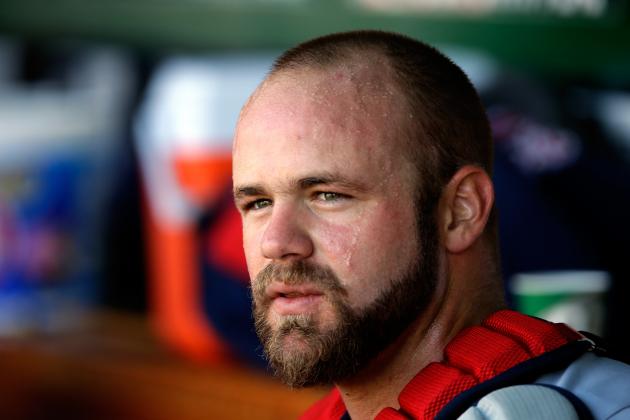 Rob Carr/Getty Images
Evan Gattis has gone from being a janitor to catching for the best team in baseball.
Winner: Evan Gattis, C, Atlanta Braves
12 G, .279/.333/.674, 12 H, 2 2B, 5 HR, 12 RBI, 6 R, 4 BB, 10 K
For the voters who love narratives, Evan Gattis is one of the biggest stories in the early part of this season.
He is a 26-year-old rookie who has spent the last three years floating around the system as a decent prospect. He also worked his way back from the bottom of the barrel, battling drug problems as a young man in college to working a series of odd jobs, including as a janitor in Texas, before getting back into baseball.
Not only that, but Gattis was tasked with holding down the fort behind the plate for the Braves until All-Star catcher Brian McCann returned from offseason shoulder surgery.
Needless to say, Gattis has more than held up his end of the bargain. The rookie catcher is hitting for average and a lot of power through the first three weeks of the season. He leads all rookies in home runs, runs scored and RBI, and ranks second in hits and third in slugging percentage.
Gattis is doing all of that while playing the most physically demanding position on the field, and handling it well. The National League rookie crop appears to be much deeper, at least early on, than the AL group. But Gattis is the best of the bunch right now.
Apologies To: Matt Adams (St. Louis), Jose Fernandez (Miami)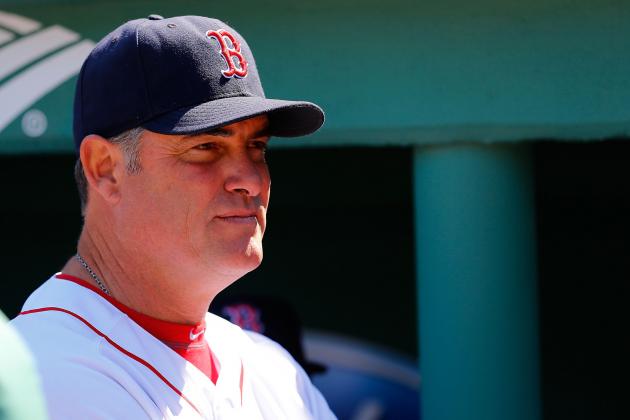 Jared Wickerham/Getty Images
Taking over a Red Sox team that no one knew what to expect, John Farrell's crew has the second-best record in the AL.
Winner: John Farrell, Boston Red Sox
Trying to figure out who the manager of the year is after three weeks is actually more difficult than any other award, because there are so many things that a manager does over the course of a season that it is hard to gauge the impact right now.
That being said, John Farrell appears to be just what the Boston Red Sox needed. After the complete and utter mess that was the Bobby Valentine "era" last season, no one knew what to expect from the Red Sox this season.
There was some hope surrounding the team if a few things went right, but it is hard to say that anyone was expecting this team—playing without David Ortiz for the first 15 games—to have the second-best record in the American League.
Having Jon Lester and Clay Buchholz healthy and allowing a combined six earned runs with 46 strikeouts in 48 innings is another critical factor.
A lot of season remains, but seeing Boston sitting at 11-4 after playing 12 games against American League East teams is a huge confidence boost for this franchise.
Apologies To: Bob Melvin (Oakland A's), Ned Yost (Kansas City Royals)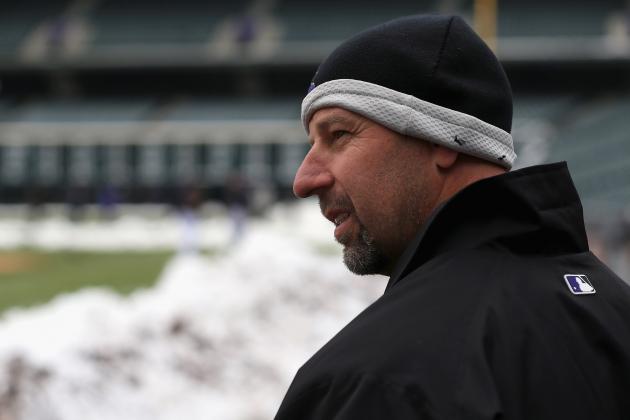 Doug Pensinger/Getty Images
Walt Weiss is guiding the surprising Colorado Rockies to a fast start in 2013.
Winner: Walt Weiss, Colorado Rockies
Considering the disaster that the Rockies' pitching staff was last year—and could easily turn into this year—they were expected to be one of the worst teams in baseball this season. I actually predicted them to be better than only Houston and Miami in the National League.
So you can imagine my (very early) surprise to see that the Rockies are 11-4 after 15 games. Some of that is just smoke and mirrors, as they have allowed 67 runs (seventh in the National League), but a lot of it is coming exactly as you would expect.
Colorado has been a hitters' haven since the inception of this franchise 20 years ago, and that remains the case. The Rockies lead the NL with 93 runs scored.
Walt Weiss was an odd choice to manage this franchise, given that his only experience leading a team was at a high school in the Denver area. Usually, hiring a manager with no experience—either in the big leagues or minors—can lead to a lot of growing pains for both the team and skipper.
But Weiss seems to have taken to his new gig. The pitching is eventually going to catch up to this team. For right now, though, enjoy the ride that Colorado is on, because it is fun to watch.
Apologies To: Fredi Gonzalez (Atlanta Braves), Kirk Gibson (Arizona Diamondbacks)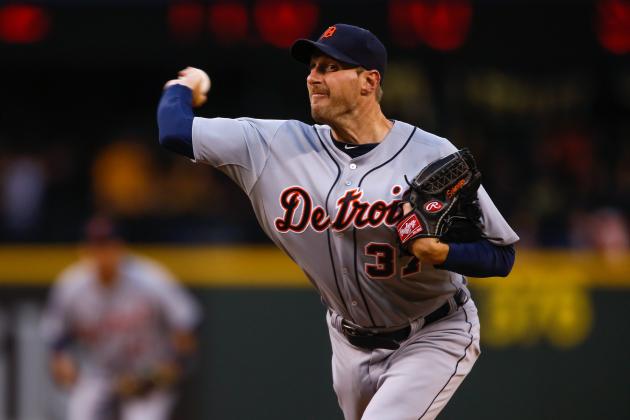 Otto Greule Jr/Getty Images
Despite the presence of that other guy in Detroit's rotation, Max Scherzer has taken his game to another level.
Winner: Max Scherzer, RHP, Detroit Tigers
3 GS, 1-0, 19.0 IP, 2.84 ERA, 16 H, 7 R (6 ER), 1 HR, 4 BB, 30 K
There are a handful of pitchers you can make a case for in the American League, but none better than Detroit's Max Scherzer. If I were to ask you to name the ace of the Tigers' pitching staff, I wonder how many people would hesitate to take Justin Verlander over Scherzer right now.
Yes, Verlander has the longer track record. But you look at what Scherzer is doing right now, combined with the way he ended 2012, and it suddenly looks a lot closer than anyone would have expected.
As for why Scherzer gets the nod over, say, Jon Lester or Yu Darvish, it all comes down to competition faced and how great he has been with everything that is in his control.
Scherzer has faced the Yankees, A's and Mariners in his three starts. The A's lead the AL in runs scored right now, with New York fifth in that category. Lester, as great as he has been, has beat up on Cleveland, Tampa Bay and Toronto—all mediocre offensive teams at best right now—in three of his four starts.
Darvish had one of the most dominant single-game performances any of us will ever see, striking out 14 in 8.2 perfect innings against Houston, and continued to post above-average strikeout totals against the Angels and Mariners.
But Darvish also walked four and lasted just five innings in a start against Seattle.
Scherzer can rack up high pitch counts as well as anyone, but his control has been a lot better. He hasn't walked more than two in any of his three starts this season, while never striking out less than seven batters.
Going deeper into the numbers, Scherzer leads the AL with a 1.40 FIP and 1.96 xFIP. The latter category isn't particularly close right now, as Chicago's Jake Peavy ranks second with a 2.23 xFIP.
Apologies To: Yu Darvish (Texas Rangers), Jon Lester (Boston Red Sox)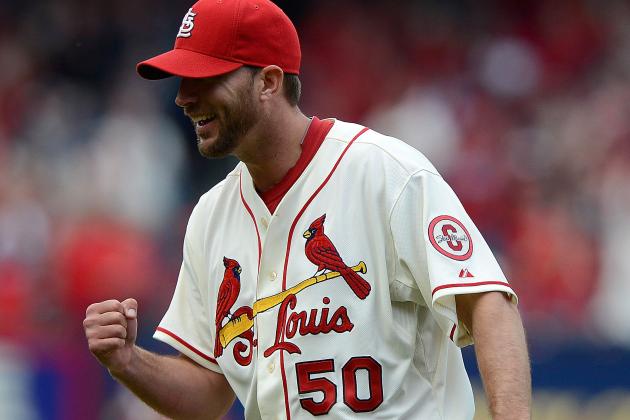 Jeff Curry/Getty Images
With a 28-0 K-BB ratio, it is safe to say that Adam Wainwright is completely back after Tommy John surgery two years ago.
Winner: Adam Wainwright, RHP, St. Louis Cardinals
4 GS, 3-1, 29.0 IP, 2.48 ERA, 31 H, 9 R (8 ER), 0 HR, 0 BB, 28 K
No one knew what to expect from Adam Wainwright at the start of last season as he was making his way back from Tommy John surgery. It is safe to say, based on how he finished last year and has started this year, the St. Louis ace is back to his old self.
Let's start with the most remarkable stat of the season. Wainwright has thrown 29 innings this season without giving up a walk. That is just incredible control, the likes of which we expect from Cliff Lee.
But even more important than that is the fact that Wainwright really isn't doing anything new. He has always had a good ground-ball rate—this year, it is at a career-best 55.4 percent. His strand rate is 71 percent, more than four full points lower than his career mark. BABIP actually hasn't been kind to him, as it is .365 right now.
So, it is actually possible that as the season moves on, Wainwright could get even better. He hasn't been doing this against cookie-cutter lineups, either. Arizona, San Francisco and Milwaukee are all top-10 offenses in the NL right now, with Philadelphia sitting at No. 11.
Just a brilliant start for someone already regarded as one of the best right-handed pitchers in baseball.
Apologies To: Cliff Lee (Philadelphia Phillies), Jeff Samardzija (Chicago Cubs), Matt Harvey (New York Mets)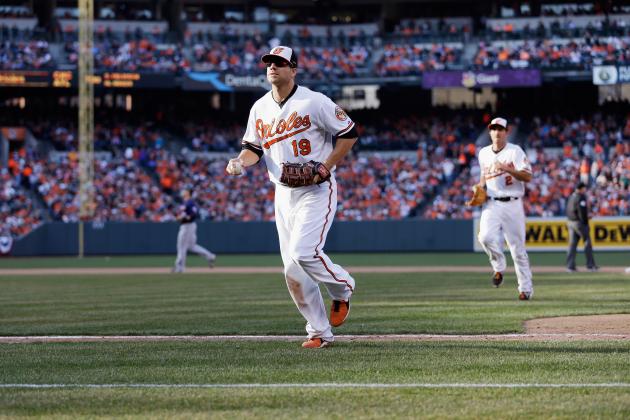 Rob Carr/Getty Images
A hot start for Chris Davis has carried Baltimore's offense in 2013.
Winner: Chris Davis, 1B, Baltimore Orioles
15 G, .353/.452/.784, 4 2B, 6 HR, 20 RBI, 7 R, 9 BB, 13 K
While Chris Davis has cooled off considerably since his ridiculous start, his offensive impact has been greater than any other player in the American League so far. He is tied with Michael Morse for the league lead in home runs and sits atop the leaderboard alone in RBI.
In addition to those normal stats, Davis' peripheral stats dwarf everyone else in the AL. His .431 isolated power is 27 points better than Cleveland's Mark Reynolds. He is ninth in the league in walk rate, while cutting his strikeout rate down by over nine percent (30.1 in 2012 to 21.0) this year is a strong sign of improvement.
Davis' defense at first base is a liability, but when you play that position, it is all about what you are doing with the bat. And because he has been so dominant on the offensive side of things, with no other strong contenders that close to him in performance, he still gets the nod.
One quick note: Max Scherzer's dominance on the pitching side of things does give him a compelling case for the early-season MVP award. I seriously thought about giving him the nod, and could change my opinion if you were to ask me later today.
For now, Davis will still get the edge thanks to his ability to hit for power in a league where home runs are such a precious commodity.
Apologies To: Max Scherzer (Detroit Tigers), Coco Crisp (Oakland Athletics)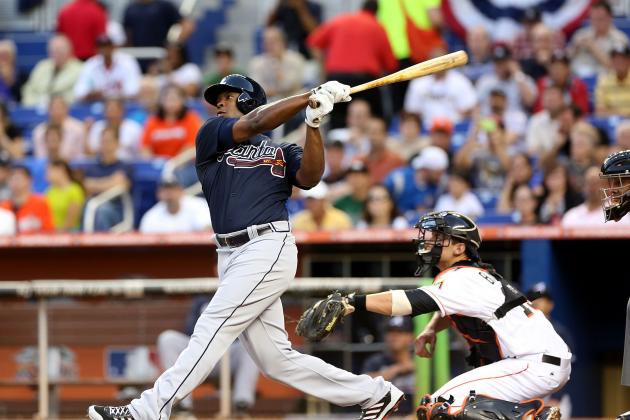 Marc Serota/Getty Images
The race is closer than you might think, but Justin Upton gets the nod for NL MVP.
Winner: Justin Upton, LF, Atlanta Braves
15 G, .328/.394/.862, 19 H, 4 2B, 9 HR, 13 RBI, 15 R, 7 BB, 17 K, 2 SB
Going into this, I assumed that Justin Upton was the easiest choice to make. Then when you begin the process of looking over stats and judging value, you start to realize that nothing in baseball is ever as easy as it seems.
The player who caused me the most agony was San Francisco Giants shortstop Brandon Crawford, who everyone knows has one of the best gloves in baseball and is actually putting up numbers on offense. He is hitting .352/.435/.593 in 16 games, in addition to his usual stellar defense.
Those 41 points of on-base percentage that Upton gives up to Crawford gave me pause, until you realize that Crawford is hitting in the No. 8 spot in a National League lineup, just ahead of the pitcher. While Crawford is an easy out in his own right, opponents are likely to pitch around him to get to a pitcher.
What Upton has done this season might be a surprise to most people—certainly, Arizona Diamondbacks GM Kevin Towers would argue that what he is doing isn't that impressive. But he has always been an immensely talented young man. That last part is notable, because Upton has been around since 2007 but is just 25 years old.
Upton is slugging an insane .862 this season, or 117 points better than the No. 2 player, Carlos Gonzalez. His .394 on-base percentage is 19th in the NL. Upton's Isolated power is 100 points better than Dexter Fowler, and wOBA of .510 leads the NL.
Plus, Upton is learning a new position in left field and playing it fairly well already. He has already saved two runs on defense and when you average out his UZR/150, it comes to an outstanding 17.6 (per Fangraphs).
Big things were expected of Upton after he was traded to Atlanta over the winter. It is safe to say, at least through three weeks, he has more than delivered.
Apologies To: Adam Wainwright (St. Louis Cardinals), Bryce Harper (Washington Nationals), Carlos Gonzalez (Colorado Rockies)
For more baseball talk, feel free to hit me up on Twitter.