Game-by-Game Predictions for Oklahoma City Thunder's Series with Houston Rockets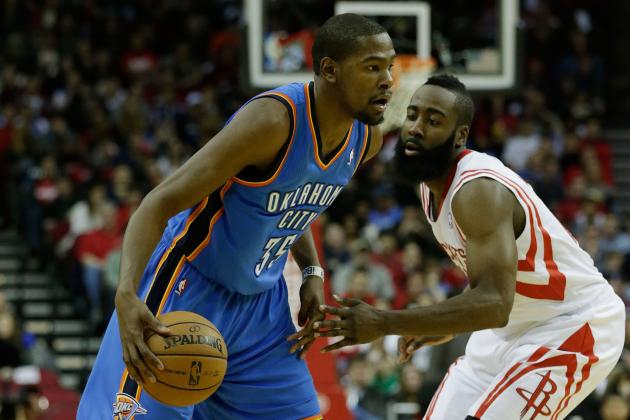 Scott Halleran/Getty Images

The Oklahoma City Thunder's road to retribution is finally about to begin as they enter the postseason atop the Western Conference.
After the past few seasons of encouraging improvement and solid seasons, the Thunder have shed themselves of the underdog role, having now fully blossomed into a legitimate contender.
Just making it to the Finals was a big step for OKC last season, but this season the ultimate goal is nothing short of winning Oklahoma City's first NBA championship.
In order to get back to that point, the Thunder will have to endure the grueling stretch of the NBA playoffs. It's important for them to regard every series opponent as a credible challenge and threat in order to dispel any chance of an early exit from the postseason.
Oklahoma City's first challenger will be the Houston Rockets, a team lead by former Thunder sixth man James Harden. Just last summer, Harden was a heavy contributor to the Thunder's run to the Finals, but one blockbuster trade later, and he's a breakout superstar for a Rockets team full of potential.
Each and every playoff game holds great importance and must be treated as such. As great as the Thunder's confidence may be against a team like the Rockets, whatever happened in the regular season is in the past, and these next four-plus games are a clean slate.
Begin Slideshow

»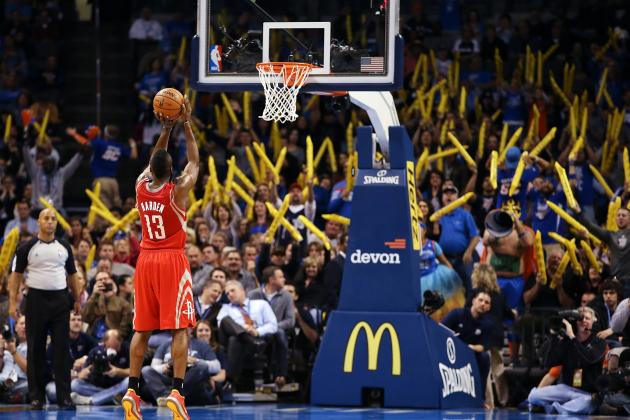 Kevin Jairaj-USA TODAY Sports

Being the top seed in the Western Conference, the Oklahoma City Thunder are guaranteed to have home-court advantage throughout the playoffs and possibly the Finals (if the Miami Heat are somehow eliminated before then).
With that being the case, this Thunder team would love the opportunity to begin every series in front of their energetic home fans. These fans are sure to be a little extra riled up since an old bearded friend (James Harden) will be suiting up in opposing colors.
I expect a really fast start for OKC in this series, even though they will be coming off of a little more rest (three nights off) than they're used to. This prediction has a lot to do with the very potent Oklahoma City offense combined with the frequently lackluster Houston defense.
The Rockets surrender an average of 102.5 points per contest, which ranks them at 28th in the league. That average, though, was inflated even more when Houston faced OKC, since the Thunder racked up at least 119 points in each of the three matchups this season.
Oklahoma City's head coach Scott Brooks knows how far this team can go in the postseason, so it's really up to him to make sure they stay focused, motivated and composed. Therefore, Brooks will have to instill the idea of starting out strong. I do believe that his message will get through resulting in a pretty hefty blowout in Game 1 of this opening-round series.
Final Score: Oklahoma City 123, Houston 97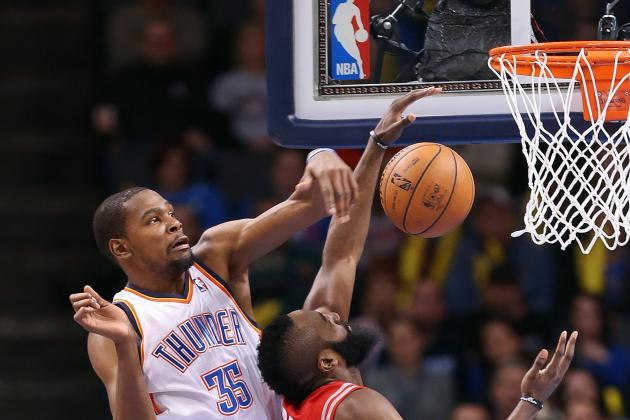 Kevin Jairaj-USA TODAY Sports

After a probable blowout in Game 1, there's no doubt Houston will show up a lot stronger in the second game of the series.
Game 2 is a lot more important than you may think in a series, especially for the road team. Taking a one-to-one split as a lower seed is huge, since that team gets the next two games at home and a chance to take a decisive 3-1 series lead.
On the flipside of the coin, however, the Rockets could get downed again and be faced with a 2-0 deficit—and not a lot of momentum—with the series shifting to Houston.
I know this, the Thunder know this and James Harden knows this. Harden has, by far, the most playoff experience on his team, so his performance in Game 2 will really reflect his sense of urgency for a contest that could sway the series severely.
For Oklahoma City, though, the team will be aptly prepared for an offensive outburst from Harden and should have no problem shutting down the other, more inconsistent scoring threats on Houston's roster like Jeremy Lin or Chandler Parsons.
With these other options limited and Harden only being able to do so much by himself, there's no way the Rockets could outgun the Thunder, meaning this game should be closer than the first but will result in a loss nonetheless for the Rockets.
Prediction: Oklahoma City 106, Houston 100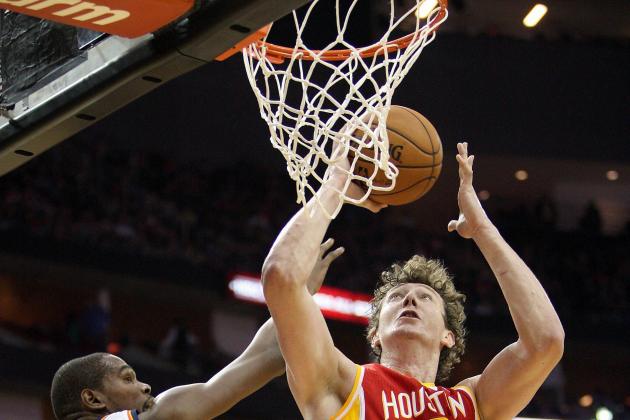 Troy Taormina-USA TODAY Sports

With a hypothetical 2-0 lead, this game could very well be the nail in the coffin for the Rockets.
In the history of the NBA playoffs, no team has ever recovered from a 3-0 series deficit to come back and win four straight games. That record should be safe, assuming the Thunder take care of business in their trip to Houston.
During the playoff, home fans are more passionate and crazy than ever, so much so that it could propel a team like the Rockets to play above their usual level. Though this Houston team is not very experienced in postseason play, it does have a lot of talented depth on the roster.
Guys mentioned before—like Lin and Parsons—play important roles on the team and have become very popular amongst Houston fans. There are other role players—like Omer Asik and Carlos Delfino—who have managed to make some important contributions to a still-developing team.
Asik, for example, has improved immensely with his increased role in Houston. His tough defense and rebounding will not make life easy for an already offensively inept Kendrick Perkins as well as the Thunder's best big man, Serge Ibaka.
For the game itself, I expect the Rockets to feed off of the energy of the crowd, much like I predict the Thunder will in the first two games. Even with a crazy supportive environment, though, there simply isn't enough quality team defense to stop the Thunder's offense nor enough Houston scoring options for it to ever hope to win a shootout against OKC.
It's not going to be an easy victory for Oklahoma City, but I predict a gritty, series-deciding win here for the Thunder.
Prediction: Oklahoma City 102, Houston 98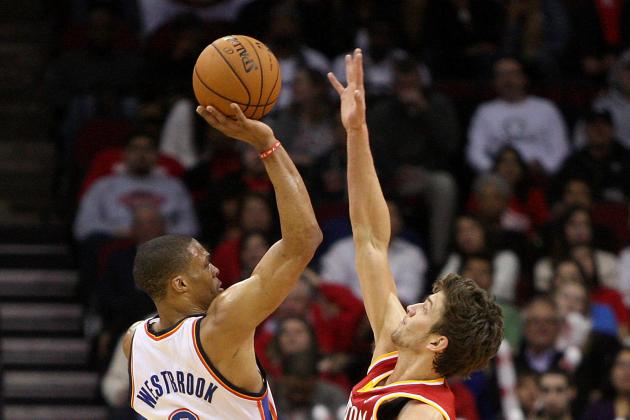 Troy Taormina-USA TODAY Sports

If the Oklahoma City Thunder do, in fact, come into Game 4 with a 3-0 series lead, any possible ensuing games past Game 4 would only be delaying the imminent elimination of the Houston Rockets.
Though they wouldn't technically be out of it yet, the season would be all but over for the Rockets. It's tough for any team to convince themselves that they can be the first one to come back from a three-game deficit and I'm certain that Houston head coach Kevin McHale would stress the possibility of such a scenario.
However, the Thunder are just too good to let themselves be on the wrong side of history here. The hunger in Durant and the rest of the team is evident. After several years of inching closer and closer to NBA immortality, there's a lot of expectations within the Thunder organization and roster to finally seal the deal and win it all.
This down-to-business approach means that the Thunder will jump at the opportunity to close out any series as early as possible, especially one in which they lead by an insurmountable amount. Any extra games would be pointless for the Thunder, since they could only result in extra fatigue or even injury.
I expect a strong start for OKC in this game, mirroring its performance in Game 1, which will eventually contribute to an early lead it won't relinquish. I really admire the fight in this Houston team, and I do believe it has the chance to develop into a legit threat in the Western Conference, but it'll have to take the backseat this postseason and learn—just like the Thunder did—how painful that progress really is.
Prediction: Oklahoma City 119, Houston 105