Sunday Night Football Schedule 2013: Matchups and Predictions for Every Week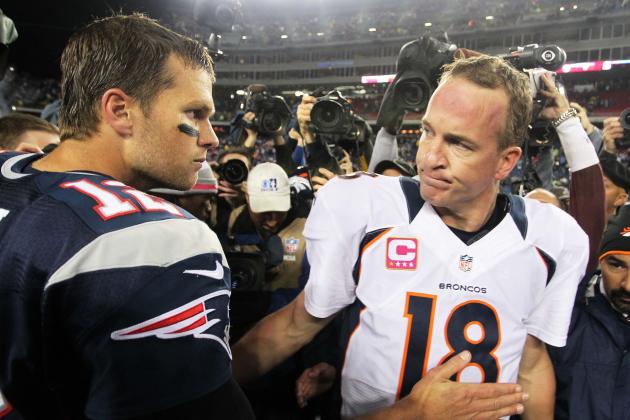 Stew Milne-USA TODAY Sports

Sunday Night Football isn't returning for another few months, but the NFL gave us a clear glimpse Thursday of what we'll see in Sunday's primetime slot during the 2013 season.
All but one of the 19 SNF games were announced during the league's annual schedule release, which set the stage for each of the 32 NFL teams next season.
As you'd expect, the SNF lineup is star-studded and filled to the brim with intriguing matchups.
In the following slides, we'll present each of the SNF matchups and tentatively pick a winner for each contest.
Begin Slideshow

»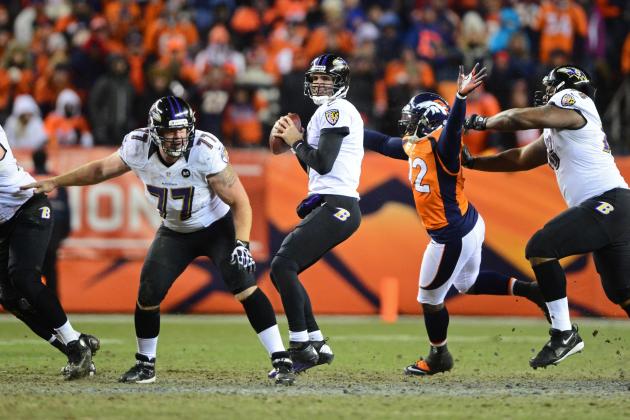 Mark J. Rebilas-USA TODAY Sports

The 2013 season will kick off in a rematch of one of the best games from the 2012 playoffs.
During a January night in Denver, Joe Flacco's miracle heave helped the Ravens upset the Broncos in double overtime, 38-35. The win eventually set the stage for Baltimore's dream run to a Super Bowl title.
The Ravens will be a much different team to kick off 2013, and a scheduling snafu has sent the reigning champions on the road.
With Baltimore still gelling together the new pieces, the explosive Broncos should avenge the playoff loss and start the season 1-0.
Prediction: Broncos 27, Ravens 21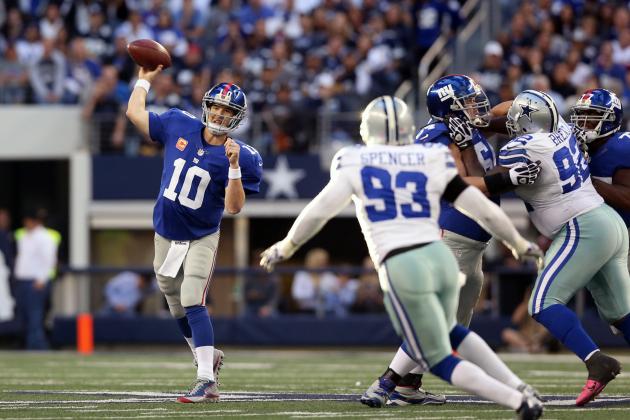 Matthew Emmons-USA TODAY Sports

Giants quarterback Eli Manning has just a 10-7 career regular-season record against the Cowboys, but he's 4-0 in his last four trips to Dallas, which is about as good a trend as you can find in this back-and-forth rivalry.
Over those four-straight wins at Cowboys Stadium, the Giants haven't scored less than 29 points.
But even if the Giants win, expect Tony Romo to play well. The Cowboys quarterback has posted a passer rating over 100.0 in five of his seven season openers, with 14 touchdown passes and just four interceptions.
In a potential shootout, the slight edge goes to Manning, who hasn't lost in Dallas since 2008.
Prediction: Giants 34, Cowboys 30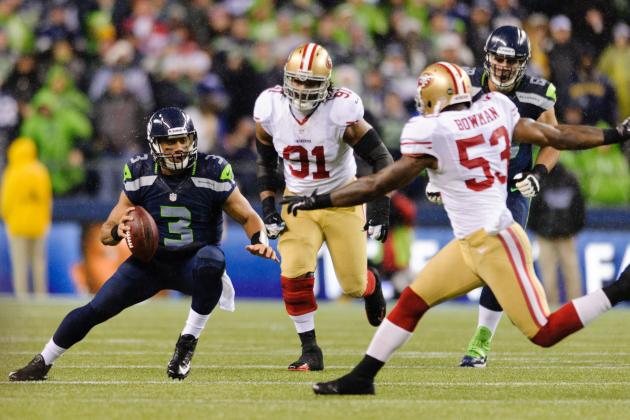 Steven Bisig-USA TODAY Sports

During Week 2, a pair of NFC superpowers will clash in this budding rivalry.
The 2012 chapter told a maturing tale of Russell Wilson, who posted a career low passer rating of 38.7 in an early-season loss at San Francisco but turned around and tossed four touchdowns against the 49ers in a later rout.
If there's any team that can beat Wilson and the reloaded Seahawks this season in Seattle, it's probably the 49ers, who have executed their own stockpiling of talent this offseason.
But considering the shellacking the Seahawks put on their NFC West rival in Seattle last season, we'll roll with the hometown team jumping out to an early division lead.
Prediction: Seahawks 27, 49ers 17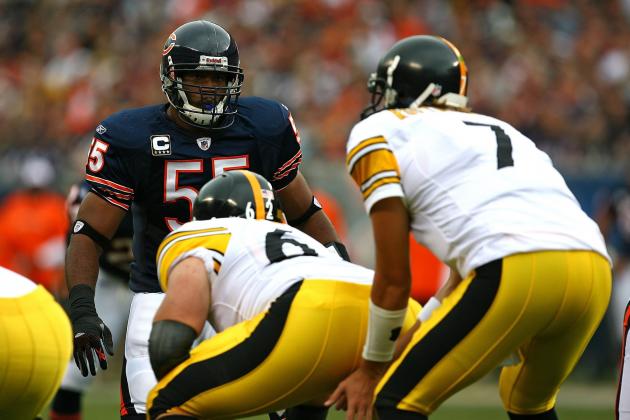 Jonathan Daniel/Getty Images

The Bears are entering a new era under Marc Trestman and the Steelers should start 2013 with plenty of question marks, but it's hard not to like a matchup featuring these two old-school franchises.
And save for the absences of Brian Urlacher and Mike Wallace, this is still a very intriguing cast of characters for both Chicago and Pittsburgh.
Both teams feature very good but aging defenses. Each quarterback is well respected but has dealt with varying degrees of criticism. Special teams remain strengths for both teams.
The Bears will still be transitioning into Trestman's new style of offense, so it's conceivable to think the Steelers could cause Jay Cutler some trouble. In a close one, Ben Roethlisberger makes one more play than the combustible Cutler.
Prediction: Steelers 23, Bears 21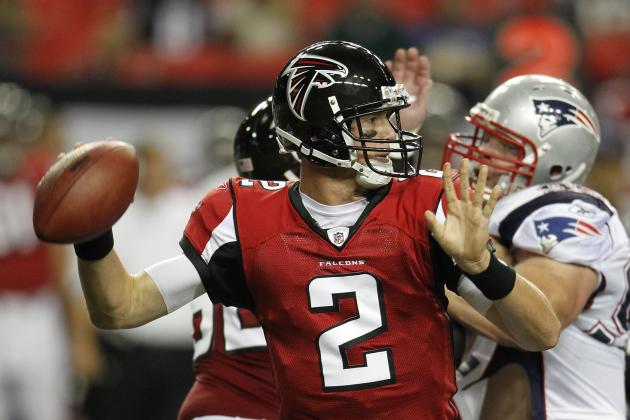 Mike Zarrilli/Getty Images

A potential Super Bowl preview in Week 4? Sure.
The Falcons and Patriots combined for 25 regular-season wins in 2012, and each is expected to be major players in their respective conferences next season.
Picking a tentative winner here might require a look at Matt Ryan's career record at home. Over 38 career games in Atlanta, Ryan is 33-5 with 60 touchdowns, 26 interceptions and a passer rating over 95.
Tom Brady can win anywhere and beat anyone, but Ryan gets the edge in this intriguing NFC-AFC battle.
Prediction: Falcons 30, Patriots 24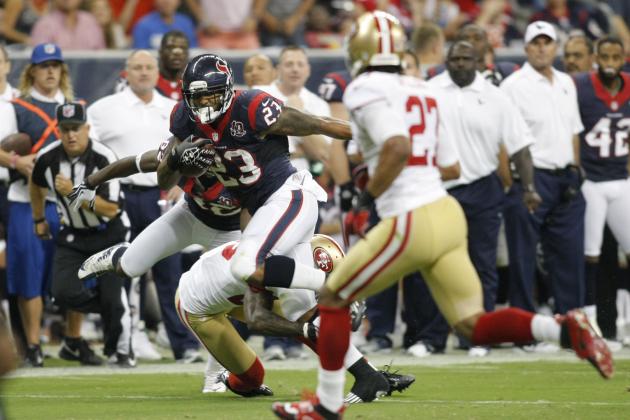 Brett Davis-USA TODAY Sports

Both the San Francisco 49ers and Houston Texans will enter the 2013 season with hopes of building on what they accomplished over the last calendar year.
The 49ers, who have waged an arms race with the Seattle Seahawks this offseason, hope to take the final step and win the Super Bowl. The Texans, winners of the AFC South in back-to-back seasons, need to find a way to get past the Divisional Round (as they lost there in 2011 and '12).
In Week 5, the two will face off head-to-head in San Francisco.
If this game was in Houston, I'd have an easier time thinking the Texans can pull off the upset. But the 49ers are just too talented on both sides of the football for a team that still doesn't receive consistent play at the quarterback position.
Prediction: 49ers 23, Texans 13
Tim Heitman-USA TODAY Sports

Robert Griffin III had his way with the Dallas Cowboys last season.
In two wins, the 2012 Offensive Rookie of the Year threw for 404 yards and four scores and ran for 92 more and another touchdown. The Redskins won both in Dallas and in the season finale in Washington.
Can RGIII continue his dominance of Big D in 2013?
The Week 6 timing certainly leaves him plenty of time to get back to 100 percent. If he's healthy, we're not ready to bet against RGIII in a matchup he's had fun with so far in his career.
Prediction: Redskins 31, Cowboys 23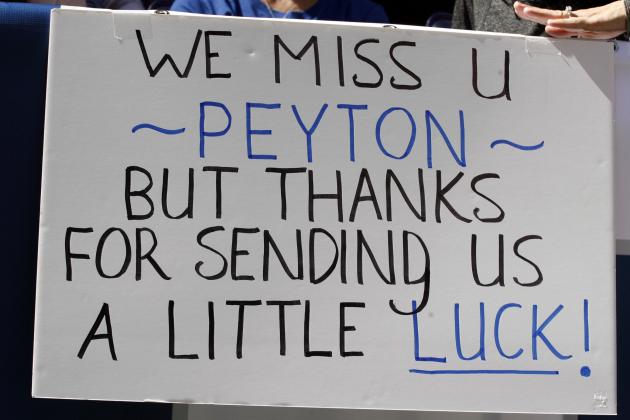 Brian Spurlock-USA TODAY Sports

Is there a more intriguing contest on the entire 2013 schedule? The storylines will be overflowing in the lead up to this one.
Peyton Manning comes home to Indy. Andrew Luck faces the former face of the franchise he now calls his own. Two playoff teams with 24 combined wins from a season ago. And to top it all off, SNF will carry it in prime time.
The Broncos are the better team, and you'd have to assume Manning will carry a chip into Lucas Oil Stadium, a place he helped build. Denver wins on an emotional night for everyone involved.
Prediction: Broncos 30, Colts 21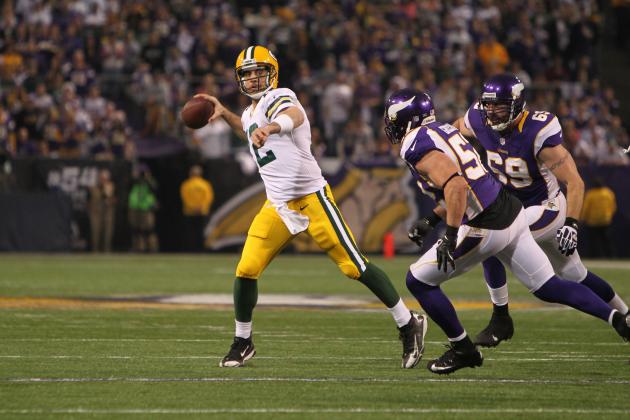 Brace Hemmelgarn-USA TODAY Sport

While hard to beat a Manning-Luck reunion in Indianapolis, the Packers and Vikings will do their best to stage a convincing encore the very next week.
And like the previous week, this matchup has plenty of storylines. Already.
Greg Jennings will make his first appearance against his former team, and the Packers will be playing (most likely) for the last time ever in the Metrodome. Green Bay will also attempt to avenge a loss to the Vikings in Week 17 that cost the Packers homefield advantage in the 2012-13 playoffs.
Much like the last time these teams met in the Metrodome, this matchup screams points, and lots of them. We'll take Aaron Rodgers in this go-around.
Prediction: Packers 34, Vikings 30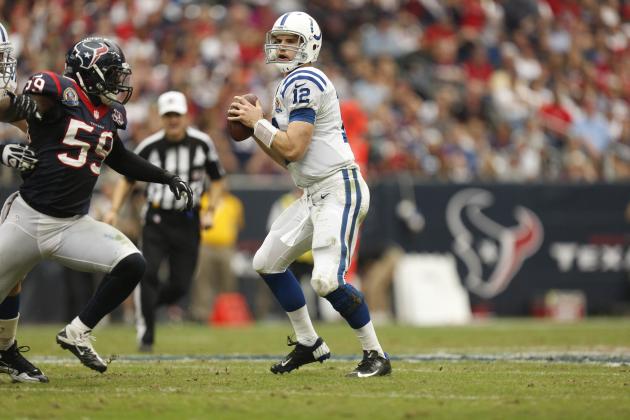 Thomas Campbell-USA TODAY Sports

A budding rivalry in the AFC South will take center stage in this Week 9 SNF clash.
Remembering back to December of last season, Andrew Luck and the up-and-coming Colts traveled to Houston and were knocked off the Texans. Houston won the division crown, but Indianapolis is nipping at its heels as the 2013 season approaches.
If Andrew Luck continues to progress, and the Colts defense and offensive line is improved significantly by additions made in free agency, Indianapolis can certainly win this division next season. Beating the Texans in Houston would go a long ways in accomplishing such a feat.
Prediction: Colts 27, Texans 20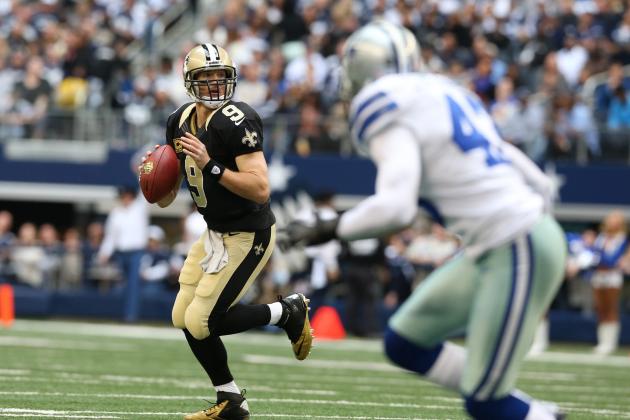 USA TODAY Sports

In 2012, the Saints and Cowboys gave us one of the more underrated games of the season.
Down 14 points to New Orleans in a must-win Week 16 contest, the Cowboys rallied back with two late scores—only to fall to Drew Brees and the Saints in overtime. The two quarterbacks—Brees and Tony Romo—combined for nearly 900 yards and seven touchdown passes.
Hopefully, these two can provide another thrilling contest in Week 10 next season.
In another likely shootout, Romo (1-0 lifetime in New Orleans) can get the best of a still-rebuilding Saints defense.
Prediction: Cowboys 38, Saints 30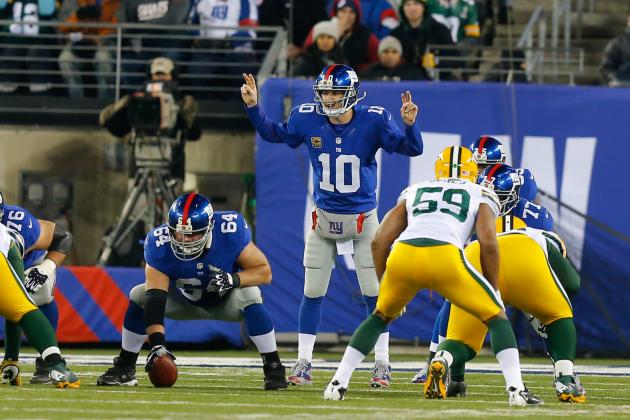 Jim O'Connor-USA TODAY Sports

Does this matchup, setting and timing sound vaguely familiar? It certainly should.
The Giants and Packers faced off on SNF in Week 12 of last season, a game in which New York throughly dominated at MetLife Stadium. Green Bay will get a chance at redemption in Week 11 of 2013.
The Giants have mostly beat up on the Packers in two recent meetings (including playoffs), but Aaron Rodgers has generally played very well in the regular season vs. New York. Over four games, he has nine touchdown passes and a rating over 110.0.
If Rodgers can get back to beating up on the Giants secondary, the Packers can win going away. If not, New York will continue its recent dominance of the series.
Prediction: Giants 34, Packers 23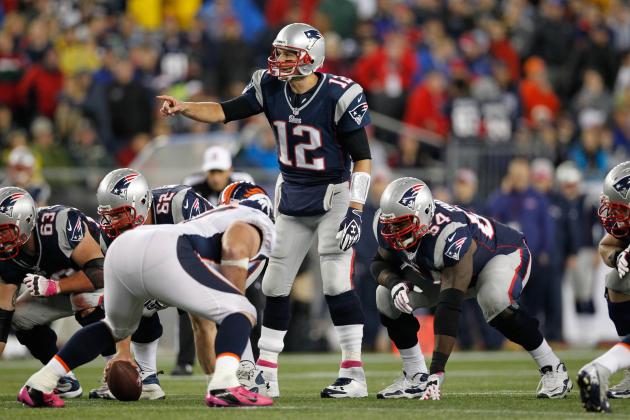 Greg M. Cooper-USA TODAY Sports

Believe it or not, but the opportunities to take in a Peyton Manning-Tom Brady duel are becoming increasingly more slim.
The two eventual Hall of Fame quarterbacks are entering the final stages of their careers, leaving precious few years left for epic meetings like the one scheduled for Week 12 of next season.
Brady got the best of Manning early in 2012, before the Ravens' upset of Denver robbed everyone of the chance to see the two face off again in the AFC title game.
The interesting storyline here is the switching hands of Wes Welker in the rivalry. Can he put the Broncos over the top? We'll bet Bill Belichick and the Patriots do everything in their power to make sure the slot receiver doesn't beat them in his New England homecoming.
Prediction: Patriots 27, Broncos 24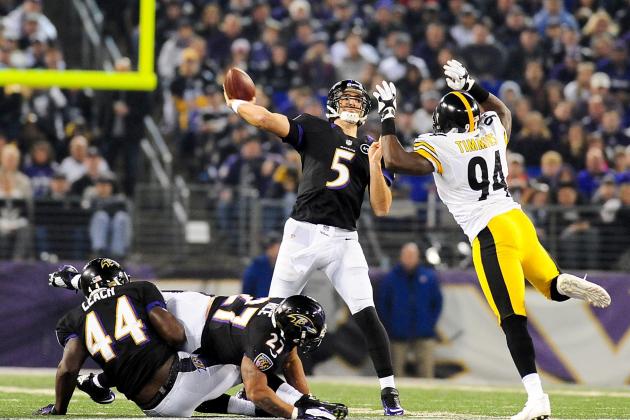 Evan Habeeb-USA TODAY Sports

Are the tides shifting Baltimore's way in this AFC North rivalry?
Joe Flacco and the Ravens have won three of the last four games against the Steelers, plus back-to-back division titles. Add in a Super Bowl crown last season, and this rivalry has clearly favored the Ravens in recent seasons.
At this point, the Steelers are not considered heavy favorites in the AFC. But let's not count out Pittsburgh just yet. Has outside speculation ever mattered when these two meet? The Steelers can still pull off the mini upset on the road.
Prediction: Steelers 23, Ravens 16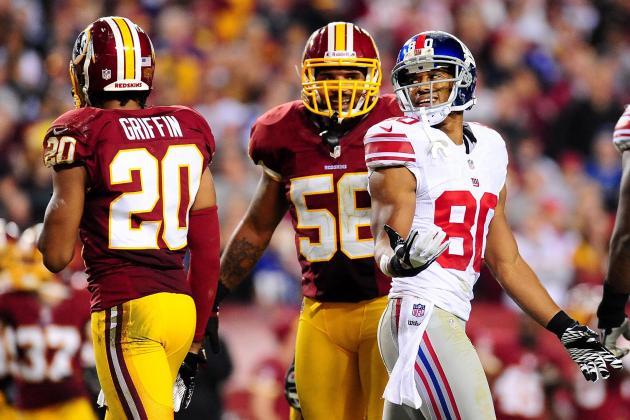 Evan Habeeb-USA TODAY Sports

The two perceived heavyweights in the NFC East will clash in what should be another important primetime matchup.
The Giants and Redskins split their two contests last season, with each team winning at home. Washington's win came during their vital seven-game win steak that provided the fuel necessary for an unlikely division title.
New York will certainly have to play better against Robert Griffin III, who finished each game with a passer rating over 100.0 and 70 or more rushing yards (161 total).
With the game being played in Washington, and the successes of Griffin III last season, the Redskins are a safer bet here.
Prediction: Redskins 20, Giants 13
Kevin C. Cox/Getty Images

With the Seahawks and 49ers loading up on talent this offseason, both the Falcons and Packers—two teams that won a combined 24 games in 2012—have been mostly forgotten.
By Week 14 of next season, expect that to have changed.
The Falcons have done just as much to reload their own roster, and Aaron Rodgers and another Ted Thompson draft will give the Packers all the ammo they need to compete in the NFC again.
Green Bay might prefer this December game was played on the fast track in Atlanta, but it's worth noting that the Packers were 7-1 at home and just 4-4 on the road in 2012. In a late-season game at Lambeau Field, Rodgers and Co. should get a hard-fought win.
Prediction: Packers 24, Falcons 23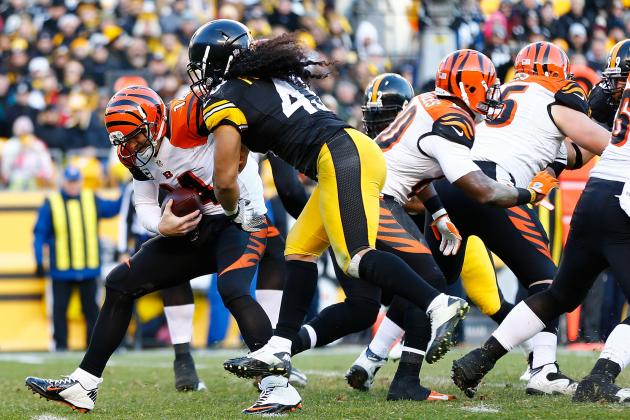 Jared Wickerham/Getty Images

The Bengals beat the Steelers for the first time in the Andy Dalton era in Week 16 of last season, but it's wasn't because of some terrific effort from the Bengals quarterback.
In a 13-10 win, Dalton threw two interceptions and finished with a passer rating of 58.8. Over four career games against Pittsburgh, he has five picks and a passer rating of just 62.7.
Eventually, Cincinnati will need Dalton to win a game on his own in Pittsburgh. Is he capable, even against an aging Steelers defense? He hasn't provided much evidence of such ability in four opportunities.
Prediction: Steelers 20, Bengals 16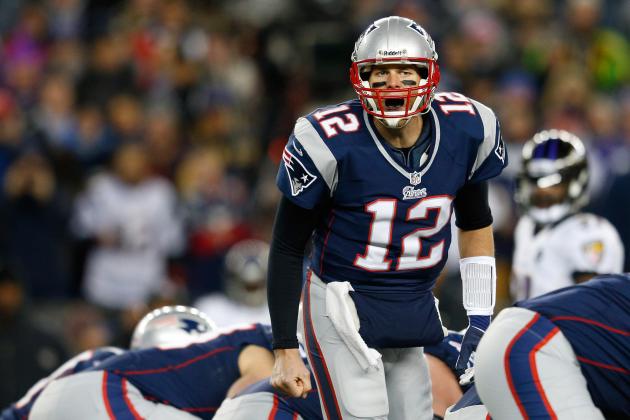 Jim Rogash/Getty Images

A rematch of the last two AFC title games comes in Week 16, with the Ravens hosting the Patriots in what should be another important conference battle.
In considering such a matchup, it's worth wondering if Ravens quarterback Joe Flacco officially has New England's number.
Over his last three games against the Patriots, Flacco has thrown for eight touchdowns and just interceptions—good for a passer rating over 100.0. The Ravens won two of those three game and only narrowly lost the third.
Until the Patriots figure out Flacco and the Ravens' offense, we'll give the edge to Baltimore.
Prediction: Ravens 31, Patriots 27