Under-the-Radar Season-Ending Injuries That Hurt NBA Teams This Year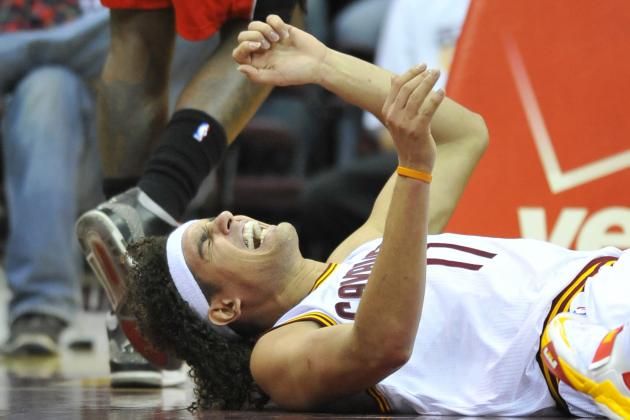 USA TODAY Sports
The Cleveland Cavaliers lost Anderson Varejao for the season on Jan. 18.
Every NBA season there are star players that suffer severe injuries, effectively ending their teams' chances at contending for a title. Last season Derrick Rose tore his ACL in the first game of the playoffs. This year Kevin Love, Rajon Rondo and Kobe Bryant all suffered season-ending injuries, while Rose and Andrew Bynum never even played a game for their teams.
Injuries to non-stars do happen as well, and sometimes that can be completely devastating to a team. Season-ending injuries to these five players may have gone overlooked, but they had major negative impact on each team.
Begin Slideshow

»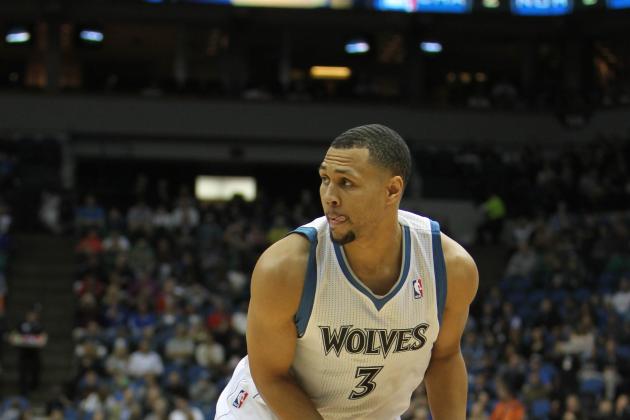 Brace Hemmelgarn-USA TODAY Sports
Brandon Roy played in just five games this season for the Timberwolves.
Brandon Roy's time with the Minnesota Timberwolves was done after just five games, as the former All-Star once again suffered a major knee injury. And for the second time, Roy's basketball career is in jeopardy.
Roy was supposed to be the answer at shooting guard for the Timberwolves. Instead, Roy's injury was one of many for a Minnesota team that suffered through a season of disappointments. Many expected them to make the playoffs for the first time since 2004, but injuries to nearly every key player on the roster eliminated any chance of that happening.
Before signing with the Timberwolves in the offseason, Roy underwent platelet-rich plasma therapy with hopes that it would revive his career. Instead, he may again be forced to move on from basketball.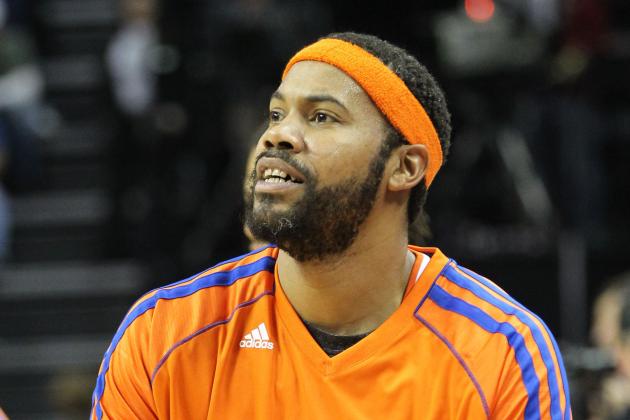 Nelson Chenault-USA TODAY Sports
A broken foot forced Rasheed Wallace to retire for a second time.
Rasheed Wallace came out of retirement this season with hopes of making a deep playoff run with the New York Knicks. Instead, a foot injury forced him into retirement for a second time on the final day of the regular season.
The Knicks signed the 38-year-old big man in October with very low expectations. "He's an insurance policy and (a) what-if," said Mike Woodson at the time, per Ian Begley of ESPN.
Wallace played better than expected, however, in his 21 appearances with the team. He averaged seven points and four rebounds per game, and his three-point shooting helped him fit in very well with a team that shot more threes than any other in the NBA this season.
More importantly, Wallace provided solid post defense for a team with very little frontcourt depth. Tyson Chandler is a fantastic defender, but the Knicks have very few options in the post after him.
Wallace's effectiveness was somewhat unexpected this season, but the Knicks will miss him in the playoffs, especially if they play Indiana in the second round.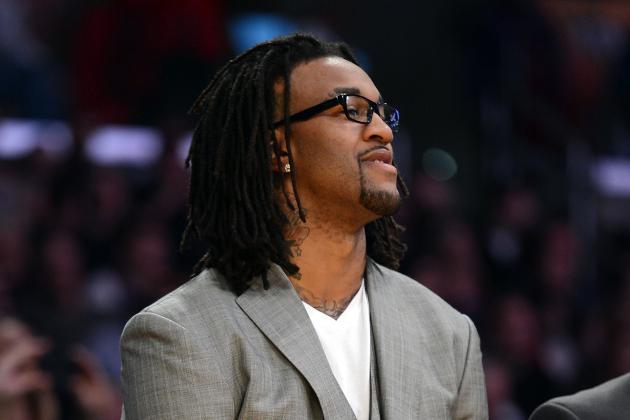 Harry How/Getty Images
The Los Angeles Lakers lost Jordan Hill for the season after he underwent hip surgery.
Lost among the countless storylines of the 2012-13 Los Angeles Lakers' season was the early loss of their most reliable backup big man. Jordan Hill was having the best season of his five-year career when he suffered a season-ending hip injury that forced him to miss the final 49 games of the season.
Hill averaged career-highs in both points (6.7) and rebounds (5.7) this season while coming off the bench behind Dwight Howard and Pau Gasol. He was fantastic on the offensive glass, and his 20.3 offensive rebound rate would have been the highest in the league had he played enough minutes to qualify.
He proved to be a better defensive option for the Lakers than Antawn Jamison, and his injury was one of the reasons that Earl Clark started so many games at power forward. Gasol's injury was made worse for the Lakers because Hill was not available off the bench.
Hill brought youth and energy to the Lakers' frontcourt, something that they lacked for most of the season. His absence may have gone largely unnoticed, but it really hurt the Lakers at times this season.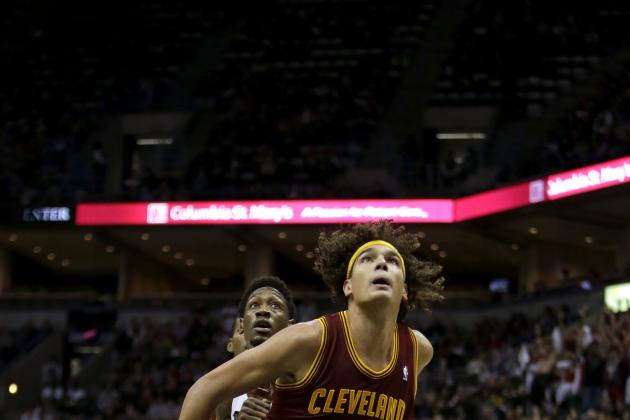 Mike McGinnis/Getty Images
Anderson Varejao was leading the NBA in rebounding before his injury.
Anderson Varejao may have been on track to make his first All-Star team this year before he hurt his quadriceps in December. Even with him the Cleveland Cavaliers would not have made the playoffs this season, but his injury was still a huge loss for the team.
In the 25 games he did play, Varejao averaged a career high 14.1 points and 14.4 rebounds per game. Not only did he lead the league in rebounds per game, but he led the NBA in offensive rebound rate. His game is based on hustle and energy, and he was providing a ton of it for the Cavaliers in the early part of the season.
What made his injury so unfortunate was that it came just one week after Kyrie Irving returned from an injury of his own. The two played just 14 games together this season, so it is hard to say how the team would have fared at full strength.
The Cavaliers are still in rebuilding mode, and a healthy Varejao would have been a great trade chip at the deadline. He was playing at such a high level that there certainly would have been multiple suitors for his services.
Instead, the Cavaliers played without their second-best player and their best interior player, and they don't really know how well he fits with Irving going forward.
USA TODAY Sports
Louis Williams has been out since January with a torn ACL.
The Atlanta Hawks finished the season with the No. 6 seed in the Eastern Conference, but they could have been even better had Louis Williams been healthy all season. He played in only 39 games after suffering a torn ACL.
Williams was not a starter for the Hawks, but he was the player with the ball in his hands in crunch time. He was the only guard on the roster capable of consistently beating his man off the dribble and creating his own shot.
He was the best guard on the Hawks roster, providing scoring and a change of pace off the bench. His injury eliminated their backcourt depth and gave minutes to players with considerably less talent.
Even with Williams, the Hawks wouldn't be a favorite in the East. They would have, however, been much more likely to win a series or two and make an extended playoff run.