Circle Week 12 of the NFL season because that is the week Peyton Manning heads to New England to take on Tom Brady and the Patriots. Oh, Manning will also be bringing receiver Wes Welker with him, as if this matchup needed anything else to make it compelling.
We'll have more on that game below, as well as two other key matchups in what is a difficult schedule for the Patriots that is packed with entertainment value.
Note: For a complete look at New England's 2013 schedule, check out NFL.com.
No. 3: Week 4: at Atlanta Falcons
Mike Zarrilli/Getty Images
The Patriots season will kick into high gear as they roll into Atlanta to take on the Falcons.
The fast track of the Georgia Dome accentuates the Falcons' dynamic passing attack. Pass defense has not been the Patriots' strong suit over recent seasons, and they were 29th in that department last year.
Meanwhile, Steven Jackson should give a boost to an Atlanta run game that averaged just 3.7 yards per carry.
Still, if the Falcons are going to win this one, it will likely be through the air. As long as New England has Vince Wilfork clogging the middle, running on the Patriots is not the greatest option.
This game could very well end up being a shootout. The Falcons' defense finished 23rd against the pass and 21st against the run last year. While that defense is going to look vastly different next year, it would be asking a little much of them to shut the Patriots down.
No. 2: Week 12: vs. Denver Broncos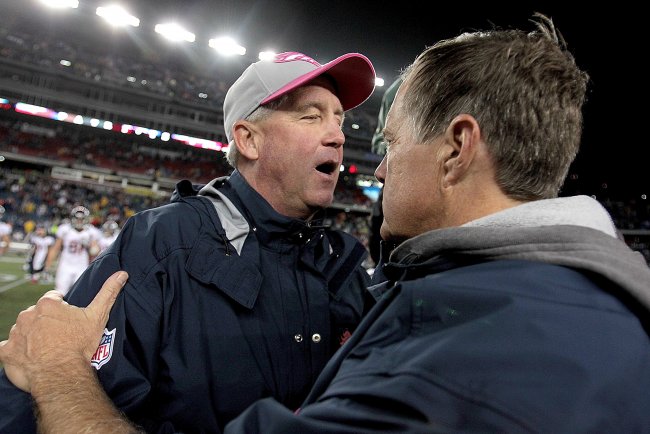 Jim Rogash/Getty Images
This is going to be great. Injuries permitting, we will get another installment in one of the greatest quarterback rivalries of all time with Tom Brady versus Peyton Manning.
Both legends are desperately trying to get over the hump and claim the Lombardi another time as their careers begin to wind down.
But not only that, as we mentioned above, this game has Wes Welker going against his former team for the first time. Welker could wind up catching 20 passes in this game. You know Manning and the Broncos would love to help Welker stick it to the Patriots.
The Patriots beat the Broncos in Week 5 last season, and that was actually the Broncos' last regular-season loss of the year.
If things go according to plan for both these teams this year, this game could be the deciding factor in the race for home-field advantage in the playoffs.
No. 1: Week 16: at Baltimore Ravens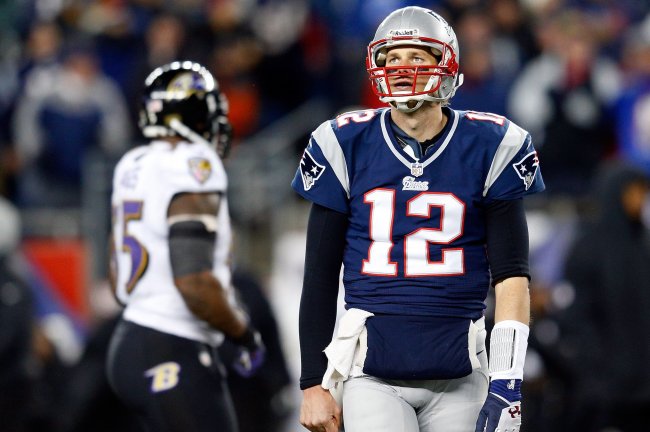 Jim Rogash/Getty Images
The Ravens and Patriots are really building a nice rivalry. They've played in the postseason in each of the last two years, splitting the games.
They also played in the regular season last year, when the Ravens won by one in Week 3, and in the regular season in 2010 when the Patriots won by three in overtime.
The Ravens are going to look vastly different next season, but they also have a strong core returning beginning with the new king of clutch quarterbacks, Joe Flacco.
Let us not forget that, in last year's AFC Championship Game, Flacco threw three touchdowns against no interceptions to Tom Brady's one touchdown and two interceptions.
I have to believe that Tom Brady and the rest of his Patriots teammates already have this game circled on their schedules.