Power Ranking Big Ten Starting Point Guards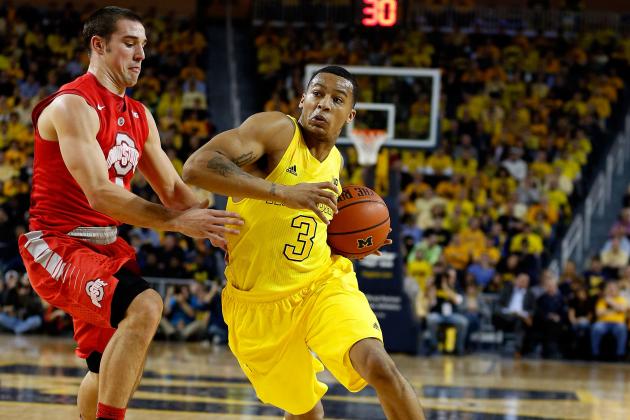 Gregory Shamus/Getty Images

Whether they are a floor general, a scorer or a defensive stopper, determining the point guard list was no piece of cake. There was excellent play from these ball-handlers, even prompting one of the players listed here to earn the nation's highest honor of national player of the year.
Here is a recap of the 12 starting point guards in the Big Ten this past season, ranked solely on this season's performances.
This is the fifth and final list analyzing Big Ten starters. Feel free to share your thoughts and look back at the previous lists of other positions.
Begin Slideshow

»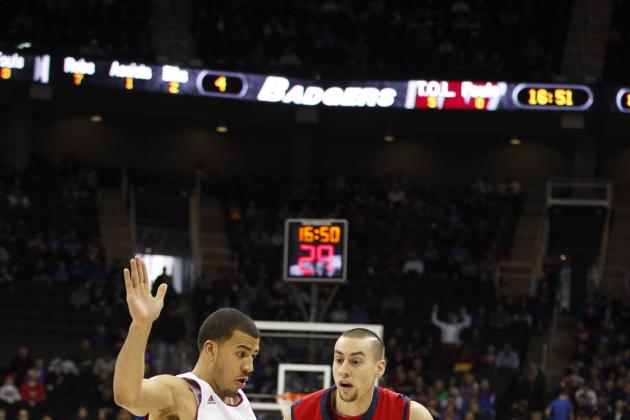 Ed Zurga/Getty Images

Stats: 6.9 points, 2.5 rebounds, 2.8 assists, 27.8 minutes
Traevon Jackson, son of former Big Ten great Jim Jackson, came into the season as third on the depth chart in Bo Ryan's point guard rotation. But after Josh Gasser's season-ending injury during preseason practice and George Marshall's early-season struggles, Jackson got the nod as starter.
Replacing Jordan Taylor is no easy task, and through some ups and downs, Jackson did it to the best of his ability. Jackson only scored 19 points and dished out three assists as a true freshman. Jackson was one of the Wisconsin Badger's most clutch players in 2012-13.
He hit a buzzer-beating three-pointer to end the regular season at Penn State, securing yet another top four Big Ten finish for Coach Ryan. Jackson's production should remain similar as a junior, in a loaded Badger backcourt that returns Jackson, Marshall, Ben Brust and Gasser.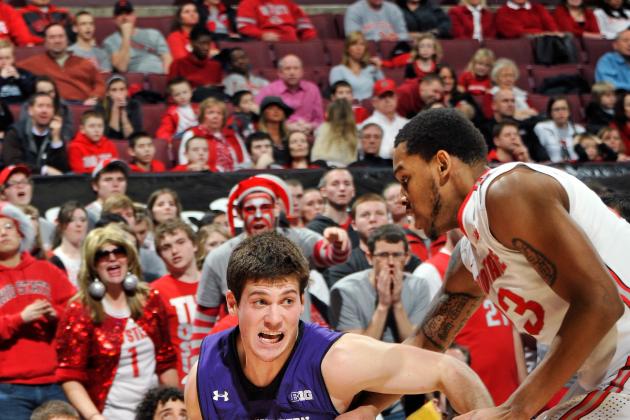 Jamie Sabau/Getty Images

Stats: 9.8 points, 2.8 rebounds, 4.0 assists, 34.8 minutes
Maybe no one in the Big Ten was dealt a tougher hand in 2012-13 as Dave Sobolewski. First, this sophomore point guard lost Northwestern's all-time leading scorer John Shurna to graduation. Then backcourt mate JerShon Cobb was suspended for the duration of the season.
Prior to Big Ten play starting, four-year starting wing Drew Crawford went down for the year. Last but not least, fifth-year senior transfer Jared Swopshire's career ended due to injury. Sobolewski and Reggie Hearn were the only true mainstays for the Wildcats, and it wasn't always pretty.
Though most Sobolewski's statistics improved as a sophomore, his turnovers increased as well thanks to not having as strong a supporting cast. Expect Sobolewski to make a leap as a junior with Cobb and Crawford coming back into the lineup and no point guard battle as Jaren Sina will now play at Seton Hall.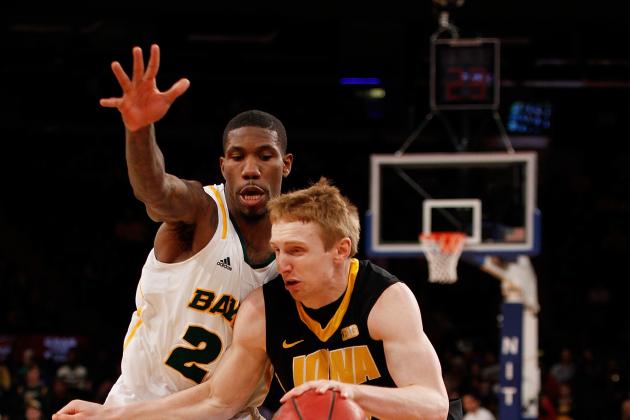 Mike Stobe/Getty Images

Stats: 8.7 points, 2.6 rebounds, 2.6 assists, 25.1 minutes
Mike Gesell had a strong start to his collegiate career, starting from day one at the point guard position. Then a few weeks into the season, Fran McCaffery decided to start a small lineup with Gesell at shooting guard and fellow freshman Anthony Clemmons at the point.
Gesell eventually retained his 1-guard role, though he missed four games in late February and early March due to injury. For the remainder of the season, Gesell came off the Hawkeye bench in favor of a big lineup with Roy Devyn Marble at point guard.
Nonetheless, Gesell is the point guard of the future in this promising Hawkeye program that Coach McCaffery has resurrected. One gripe on Gesell was his play late in games, as the Hawkeyes were handed a number of narrow defeats, greatly hurting their NCAA tournament chances.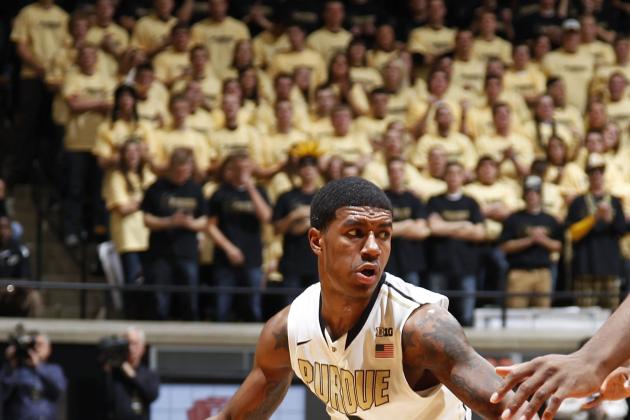 Joe Robbins/Getty Images

Stats: 10.3 points, 3.4 rebounds, 4.1 assists, 31.2 minutes
Transitioning from high school to college ball is no easy task, though it can't hurt when your two-year-older brother is playing in the same backcourt as you. That's what Ronnie Johnson faced as a true freshman, beside older brother Terone.
Like Terone, Ronnie struggles as an outside shooter. He only connected on 17 percent of shots from behind the arc and 60 percent of his free throws. He also committed a hefty 2.6 turnovers while creating for both himself and his Boilermaker teammates.
Ronnie is adept at getting to the rim though and has a deadly floater. This left handed playmaker from Indianapolis will have the luxury of playing with his sibling for one final season, in 2013-14, though hopefully with more success as Purdue missed both the NCAA tournament and NIT last season.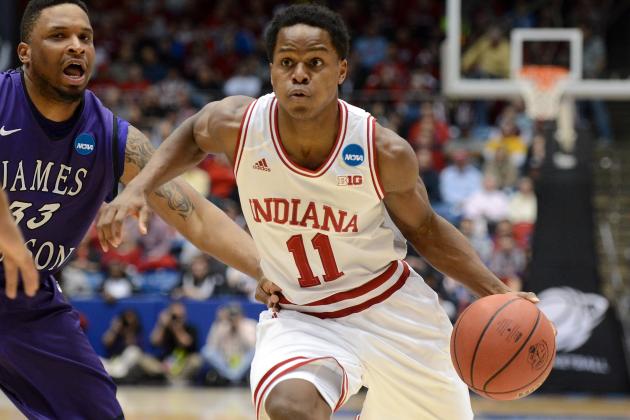 Jason Miller/Getty Images

Stats: 7.6 points, 2.8 rebounds, 4.1 assists, 28.1 minutes
Yogi Ferrell was placed in a unique spot prior to his NCAA basketball career's beginning. He would be joining the nation's preseason No. 1 team, a team that returned five starters from the season before. And yet, Ferrell won the starting point guard job.
Ferrell took Will Sheehey's slot in the starting five, moving Jordan Hulls to the 2-guard. In 2012-13, Ferrell played alongside four 1,000-point scorers, in lottery pick players Victor Oladipo and Cody Zeller, as well as four-year journeymen Christian Watford and Hulls.
Ferrell did exactly what Tom Crean asked of him most of the time, though he turned the ball over 2.1 times per contest. Ferrell was exposed in the Indiana's Hoosiers' Sweet 16 loss to Syracuse, listed at 6'0", he had the matchup with lanky point guard Michael Carter-Williams of the Orange.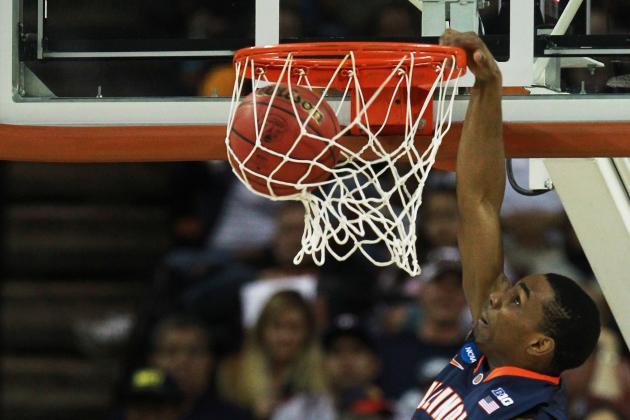 Ronald Martinez/Getty Images

Stats: 10.6 points, 3.5 rebounds, 3.4 assists, 28.7 minutes
Tracy Abrams was selected as the Fighting Illini's team MVP in 2011-12, following a disappointing season that ended with Meyers Leonard's departure for the NBA and Bruce Weber's firing. Though he only averaged 4.3 points and started half the season, Abrams was Illinois' locker-room leader that year.
That was when Abrams, a natural leader, was only a true freshman who had played at Mt. Carmel in Chicago just a year before. Abrams became more well-rounded as a sophomore, becoming one of the league's best on-ball defenders.
Abrams' 3.4 assist to 2.6 turnover ratio is startling, though many believe Abrams is not a true point guard. His decision-making must improve next season, as Abrams is now the second-most experienced player (behind Joe Bertrand) on a young, but talented, Illini squad.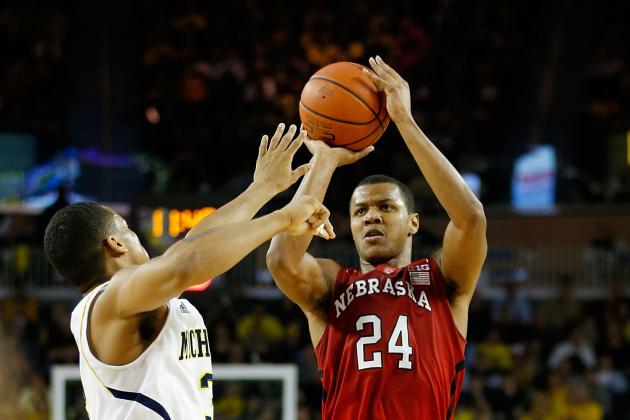 Gregory Shamus/Getty Images

Stats: 13.7 points, 4.8 rebounds, 2.5 assists, 35.5 minutes
Dylan Talley's stay in Lincoln only lasted two seasons, though Talley was certainly an impact player during that short time period. After losing four starters from the 2011-12 team, Brandon Ubel was the team's lone returning starter, while Talley's role changed from reserve to primary ball-handler.
Freshman Benny Parker was Tim Miles' point guard during non-conference play, but that changed when league play came around. Talley moved from small forward to point guard in a short Nebraska Cornhusker rotation that rarely saw Talley or Ray Gallegos leave the floor.
Talley did turn the rock over 2.2 times per contest, though his heavy workload and learning the point guard position are certainly valid excuses for that. Talley's presence will be missed by Nebraska in what could be another tough season in the rugged Big Ten.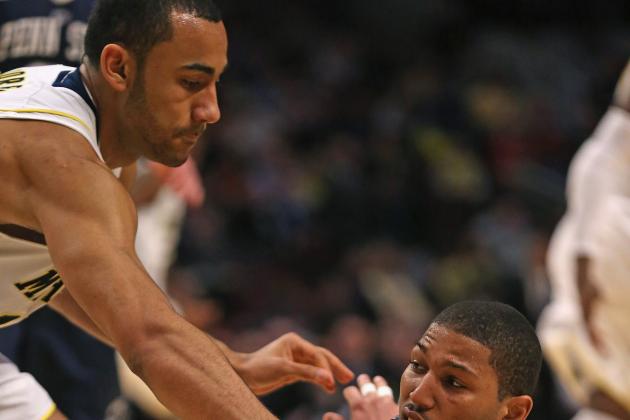 Jonathan Daniel/Getty Images

Stats: 16.3 points, 5.0 rebounds, 4.0 assists, 36.5 minutes
After a solid freshman season at Southern Mississippi, D.J. Newbill decided to transfer to Happy Valley. After sitting out the entire 2011-12 season due to transfer regulations, Newbill finally took the court for the Penn State Nittany Lions in late 2012.
Despite having never played a game at Penn State, Newbill was elected a team captain. Newbill's on-court captaining happened sooner than he may have presumed, as do-everything point guard Tim Frazier went down with a season-ending Achilles injury in November.
Newbill, a natural wing player, had no choice but to move to point guard at this point. Newbill scored in double figures in all but three games, also contributing rebounds and assists.
Newbill, Jermaine Marshall and Frazier now come back to Penn State as the top three returning scorers in the Big Ten, all of whom are backcourt players. Watch for the Lions to surprise this upcoming year.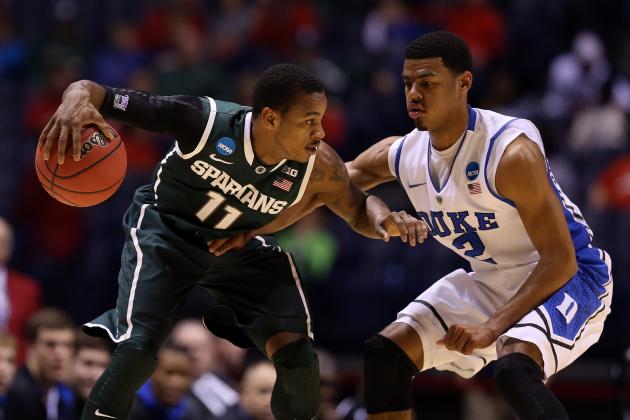 Streeter Lecka/Getty Images

Stats: 13.4 points, 3.4 rebounds, 3.3 assists, 33.6 minutes
Keith Appling came to East Lansing as a shooter and has transitioned to his point guard role over the past two years. There are times when Appling is effectively flashy and can blow by opponents or find the open teammate with a great pass.
There are also times, when Appling makes a boneheaded late-game turnover that leaves Tom Izzo dismayed. Appling's worth will be shown as a senior leader and primary ball-handler for a team picked by everyone to make the 2014 Final Four.
Izzo has never had a recruiting class go four years without reaching a Final Four, though Appling and Adreian Payne are in jeopardy of never reaching the final weekend. Appling's decision-making could be the difference-maker in a potential tight game sometime next March that decides MSU's fate.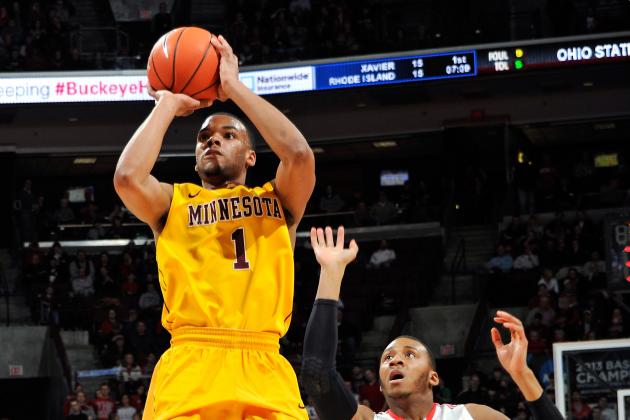 Jamie Sabau/Getty Images

Stats: 14.6 points, 3.7 rebounds, 3.4 assists, 30.1 minutes
Andre Hollins' November 23 performance against the Memphis Tigers may have been the Big Ten's best in 2012, as the sophomore scored 41 points on 12-of-16 shooting, 5-of-5 from long range and 12-of-13 from the foul stripe.
What's better is that Hollins hails from Memphis. Hollins was also impressive during the Minnesota Golden Gophers' two NCAA tournament games, scoring 28 and 25 points against UCLA and Florida, respectively. Though it wasn't enough to save coach Tubby Smith's job.
Hollins returns as a junior with fellow guards Joe Coleman and Austin Hollins in a talented backcourt. The question mark surrounding Minnesota will be their frontcourt, as only Elliott Eliason has been a regular the past two seasons, behind the likes of Trevor Mbakwe and Rodney Williams Jr.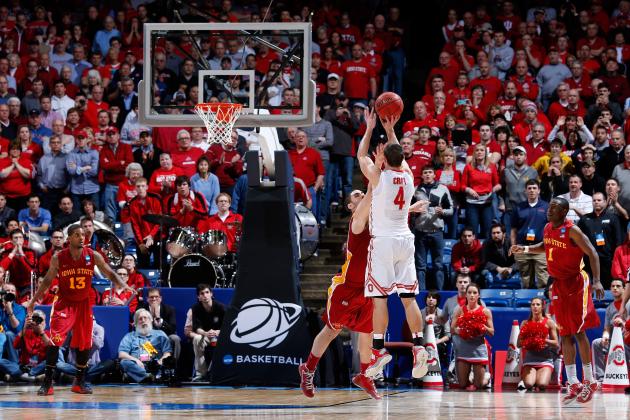 Joe Robbins/Getty Images

Stats: 10.0 points, 3.6 rebounds, 4.6 assists, 34.1 minutes
Say what you may about Aaron Craft, but he is one of my favorite players to watch in all of college basketball, even at the expense of my favorite teams. Craft is one of the nation's best defenders and on-court leaders. He nearly helped the Buckeyes reach back-to-back Final Fours this past March.
Craft was the MVP of the Big Ten tournament, as OSU knocked off Nebraska, Michigan State and Wisconsin in that order. Craft's 20 points and nine assists, in the semifinal win over the Spartans, was a truly great performance.
Craft's magic continued later into March, as he knocked down a three-pointer to sink the Iowa State Cyclones in the NCAA third round and later assisted on LaQuinton Ross' game-winning three to beat Arizona. Luckily for college hoops enthusiasts, Craft will be back for one last go-around in 2013-14.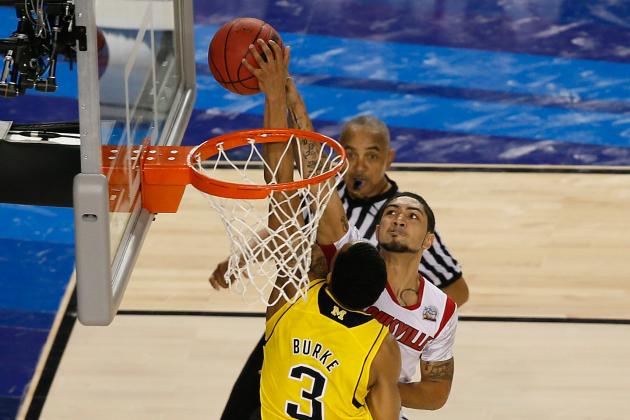 Kevin C. Cox/Getty Images

Stats: 18.6 points, 3.2 rebounds, 6.7 assists, 35.3 minutes
What more can be said about a kid who was the national player of the year and nearly willed his team to an NCAA title? Trey Burke's game-tying three-pointer in the Sweet 16 against Kansas kept the Wolverines' season alive and his second-half performance against Louisville nearly won them the whole thing.
Burke scored in double figures in all but two games as a sophomore, both coming in the NCAA tournament against South Dakota State and Syracuse. Burke had four games where he scored double-doubles in points and assists, and he won plenty of awards both in the Big Ten and on the national level.
Burke's two seasons in Ann Arbor were special ones, something that will be tough to match for future John Beilein guards to match. Burke will be chosen in this June's NBA lottery and has the tools to have a great and lengthy NBA career.