Who Should the New York Mets Target with Their 2013 First-Round Pick?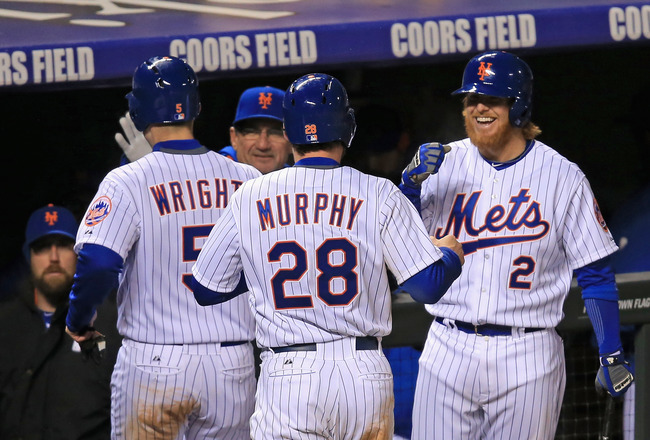 Instead of new uniform permutations, it would behoove the Mets to put some thought into selecting players who can fill holes in the organization.
Doug Pensinger/Getty Images
Although the New York Mets aren't exactly kicking butts and taking names on the field, they're still a big-market team, and that means they have big-market money. In fact, it was recently reported that the so-called Amazin's have about $7 million to work with in the 2013 draft, a figure that places them 10th among MLB peers.
That money would be best spent on plugging the glaring holes in the organization. With the 11th pick in the first round, the Mets would make a smart choice by going with one of the following three players in the college ranks.
Kevin Ziomek, LHP, Vanderbilt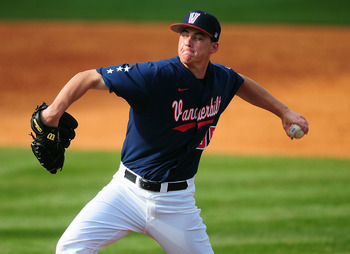 Kevin Ziomek could be a solution for a team that's way behind in the left-handed arms race.
Andrew Weber-USA TODAY Sports
This isn't the first time Kevin Ziomek's name has come up in a conversation regarding a draft. Back in 2010, he was a first-round candidate and turned down the Arizona Diamondbacks to attend Vanderbilt.
Honing his skills in college wasn't a bad idea; scouting reports had dinged him for lacking zip on his fastball, not being a commanding force on the mound and showing inconsistent mechanics. That said, when he's firing on all cylinders, the 21-year-old junior has a fastball around 92 MPH and throws a solid changeup as an off-pitch. Ziomek gained some size in his college years and at 6'3" and 200 pounds is a very good athlete.
Marco Gonzales, LHP, Gonzaga

Marco Gonzales is another left-handed pitcher who merits a close look from the Mets front office.

Marco Gonzales is another lefty pitcher who, in 2010, chose college over going pro. Although his home-state Colorado Rockies drafted him in the 29th round, he opted to play at Gonzaga, get an education and try to boost his Q-rating. The gamble appears to have paid off, because he's projected as a mid first-rounder.
Gonzales is versatile, offering some skills at first base and in the outfield. The Mets are set with Ike Davis as a first baseman, and they can use some help in the outfield; however, Gonzales shows more promise as a pitcher.
Let's face it, at 6'1" and 185 pounds, he isn't likely to provide the power needed from an outfielder. The book on him is that his fastball is average in terms of speed but above average in command. He has a strong changeup, and a decent curveball and slider.
Aaron Judge, OF, Fresno State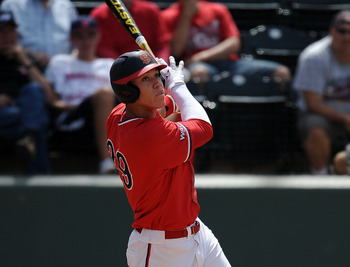 The Mets outfield needs a jolt of power, and Aaron Judge could be the guy to provide that.
Jayne Kamin-Oncea-USA TODAY Sports
What stands out most about Aaron Judge is his towering size—6'7" and 230 pounds. Winner of the TD Ameritrade HR Derby in 2012, Judge has potential to be a bona fide power hitter, something the Mets desperately need.
Potential challenges for him would be adjusting to major league pitching (of course) and hitting at Citi Field, a park that reduced David Wright to warning-track power.
In 2012, Judge hit .308 with a 42/48 strikeout-to-walk ratio and had 13 stolen bases in 15 tries. The ability to hit for average and get on base made up for only hitting four home runs. A higher amount of round-trippers—and it shouldn't be hard to top four home runs—will have a lot of teams looking at him come draft day.
Keep Reading

New York Mets: Like this team?