With the 2012-13 NBA playoffs tipping off on Saturday, there is plenty to discuss after a wild regular season that saw the Los Angeles Lakers barely reach the postseason and the Golden State Warriors clinch their second playoff berth in 19 years.
This year's postseason also features one of the most dangerous No. 8 seeds in NBA playoff history, a team guided by its depth in the thin air of Colorado and an explosive group from Los Angeles (and, no, I'm not talking about the Lakers).
Here's a breakdown of my top three first-round matchups in the 2012-13 postseason.
*The complete bracket can be found at NBA.com
Houston Rockets (8) vs. Oklahoma City Thunder (1)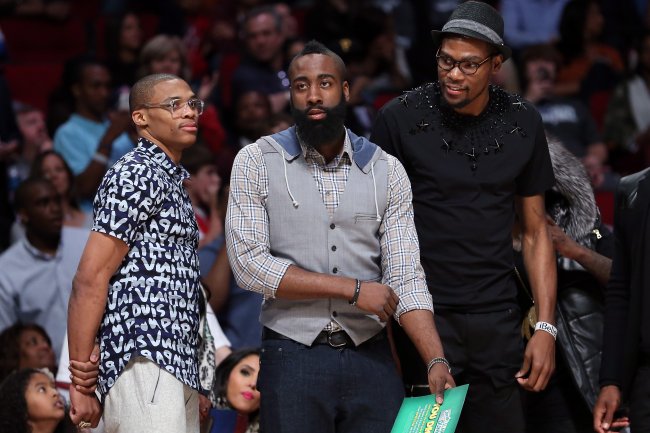 Ronald Martinez/Getty Images
Overall, the Thunder are a better team than the Rockets. They rank second in offensive efficiency, fourth in defensive efficiency and sixth in rebounding rate, per TeamRankings.com.
On the other hand, when the Rockets get hot, they get hot. This is a team that can post 110-plus points on any opponent when it has the three-ball going. Houston ranks ninth in the league in three-point percentage, but games like the one against the Golden State Warriors on Feb. 5 (23-of-40 from downtown) show just how dangerous this team can be offensively.
And don't forget, you always have to be wary of former players coming back to haunt you (see: James Harden).
Worth noting: The Rockets went 29-12 at home this season but 16-25 on the road. They lost two of three to the Thunder during the regular season, including a 120-98 loss in Oklahoma City on Nov. 28.
Houston isn't a very good defensive team (ranked 17th in defensive efficiency and opponents' field-goal percentage), so the Rockets are going to have to get hot to steal this series from the Thunder.
Golden State Warriors (6) vs. Denver Nuggets (3)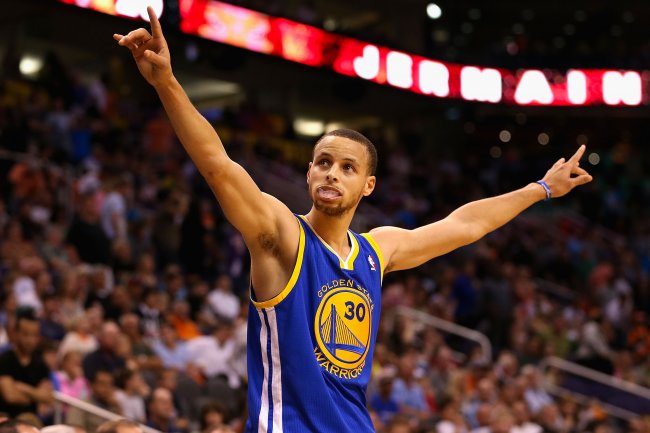 Christian Petersen/Getty Images
The Nuggets ranked second in the NBA in field-goal attempts per game this season. The Warriors ranked ninth.
Get ready for some high-octane basketball, folks.
The Nuggets also ranked fifth in offensive efficiency this season, while the Warriors ranked 10th. Both squads ranked in the top 15 in defensive efficiency, with Denver holding a slight edge in the category.
Denver went 3-1 against Golden State, but the Nuggets recently lost Danilo Gallinari to a torn ACL, while Kenneth Faried is trying to battle back from injury.
If Faried returns and is effective, it's hard to see the Warriors winning the series. They ranked 14th in the NBA in rebounding rate this season, while the Nuggets ranked fifth. The Nuggets also ranked first in offensive rebounding percentage.
One thing Golden State has that Denver doesn't, though (especially after the Nuggets lost Gallinari), is three-point shooting. The Warriors—led by star point guard Stephen Curry—rank first in the NBA in three-point percentage, while the Nuggets rank 25th in the category.
If Golden State can get hot from downtown, Mark Jackson's squad has a chance.
Of course, there's also the fact that Denver went 38-3 at home this season.
Memphis Grizzlies (5) vs. Los Angeles Clippers (4)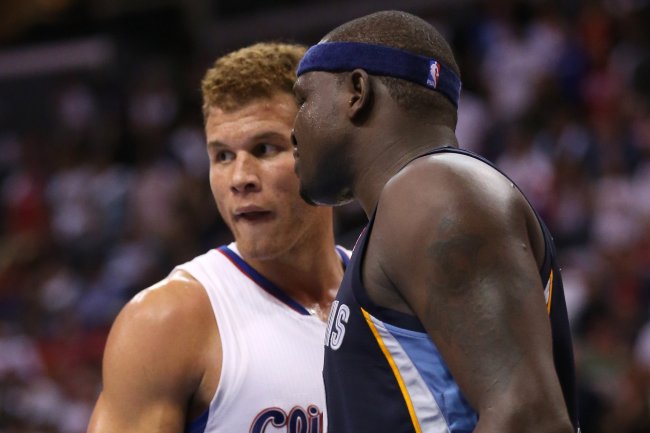 Stephen Dunn/Getty Images
Which series are you most excited to watch?
The Clippers are favored in this matchup, and for good reason. Los Angeles has gone 3-1 against the Grizzlies this season, including a 91-87 victory in Memphis on April 13.
With all the Lob City talk, what some people fail to realize is that the Clippers actually rank better in half-court efficiency (fifth) than they do transition efficiency (12th), as noted by Kevin Pelton of ESPN.com.
Sure, Memphis ranks second in defensive efficiency this season (complete with perimeter defenders Tony Allen, Mike Conley and Tayshaun Prince), but that didn't keep the Clippers from shooting 46 percent from the field on April 13.
And the fact that Marc Gasol and Zach Randolph—who have an advantage in the post against the Clippers—combined for 34 points and 27 rebounds on April 13 and the Grizzlies still lost tells you a lot.
You can be a superb defensive team and still get burned by the pick-and-roll between Chris Paul and Blake Griffin.