Monday Night Football Schedule 2013: Game-by-Game Breakdown and Predictions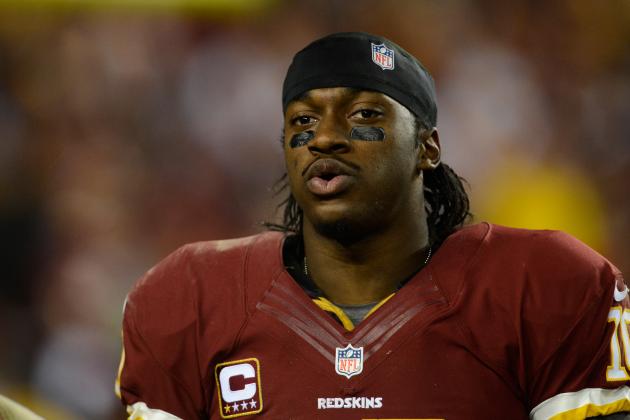 Patrick McDermott/Getty Images

Surely, you're excited for Monday Night Football.
We all are.
Unfortunately, we'll have to wait until September, but at least the NFL was nice enough to provide the entire Monday Night Football schedule on Thursday night.
Here's a rundown of the entire MNF docket, with predictions for each contest.
Begin Slideshow

»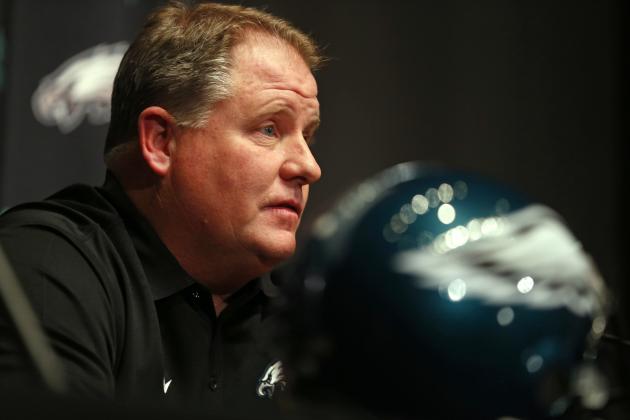 Rich Schultz/Getty Images

Robert Griffin III's availability will be one of the major storylines in this NFC East clash. Chip Kelly's NFL head coaching debut will be the other.
If RG3 is at or near 100 percent, the Eagles will have trouble stopping the Redskins' read-option-based offense.
However, Philadelphia's defense will undoubtedly be conditioned, and if anyone is well versed in defending the read-option, it's Kelly.
This one will be decided by how well the Eagles defend Washington's running game. They'll keep RG3 and Alfred Morris from going berserk on the ground while efficiently moving the football with LeSean McCoy as the offense's prominent figure.
Assuming Kelly chooses the best quarterback to lead his up-tempo attack, the crafty coach will make an enormous statement to start the year.
Eagles 23, Redskins 20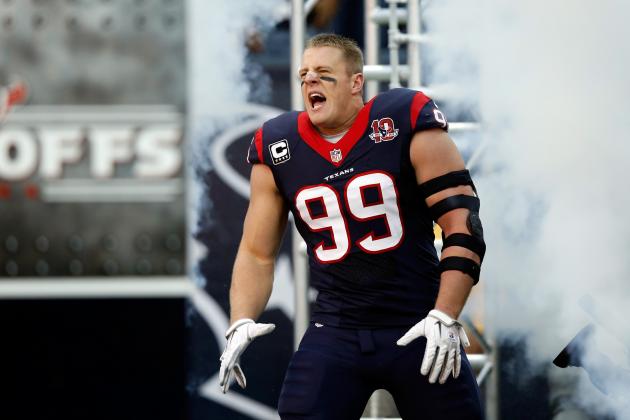 Scott Halleran/Getty Images

The Texans will likely add a playmaking wide receiver early in the draft, which should aid the production of Arian Foster and Andre Johnson.
The Chargers should select an offensive lineman in one of the first few rounds, something that'll help Philip Rivers.
However, Houston's defensive front will dictate this game, as will the steady zone-blocking scheme and Foster's mastery of running in it.
The overwhelming trench victory will lead a team with one of the more physical and talented rosters in football to a season-opening win.
Houston 30, Chargers 17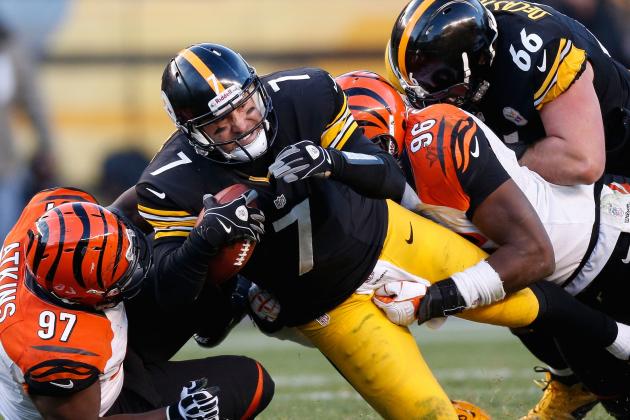 Gregory Shamus/Getty Images

Right now, Pittsburgh's roster is not up to typical Steelers standards. Meanwhile, the Bengals are a legitimate up-and-coming club with plenty of talent on defense, a sound offensive line and A.J. Green out wide.
Ben Roethlisberger is the ultimate X-factor for the Steelers, mainly due to his improvisational acumen, and he'll have to piece together a vintage Big Ben performance to keep Pittsburgh in the game late.
In the final few minutes, Cincinnati's defensive front, led by the best pass-rushing defensive tackle in the game, Geno Atkins, will keep Pittsburgh out of the end zone in a classic AFC North battle.
Bengals 30, Steelers 24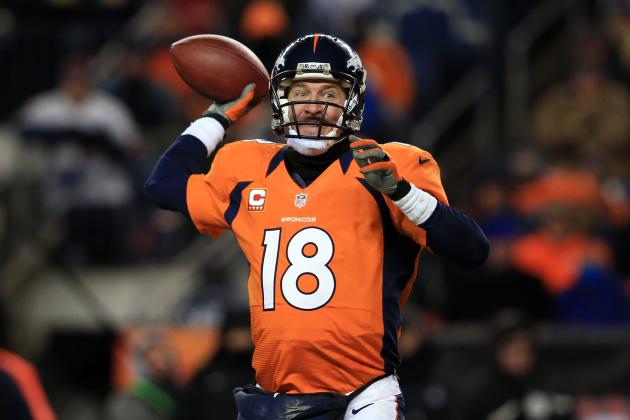 Doug Pensinger/Getty Images

Whoa boy.
Nothing against Reggie McKenzie, Dennis Allen and the Oakland Raiders, but the Broncos are absolutely loaded.
Demaryius Thomas, Eric Decker, Wes Welker, and...duh, Peyton Manning.
This should be an easy win for Denver in a semi-shootout.
Broncos 38, Raiders 24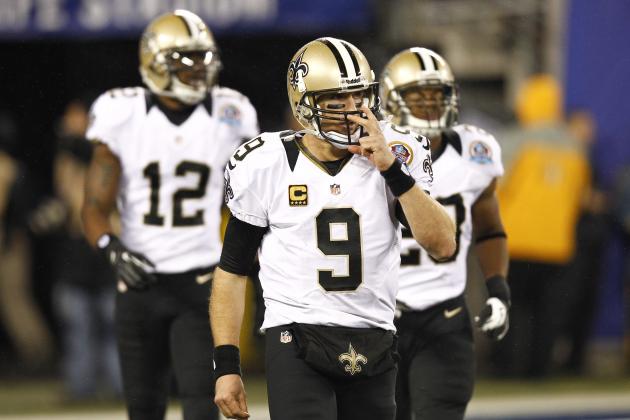 Jeff Zelevansky/Getty Images

Ryan Tannehill's coming-out party?
It very well could be.
The Saints will likely address their defense in the draft. They added Keenan Lewis, a young and underrated cornerback in free agency, but the Dolphins should be able to move the ball with relative ease.
Two Camerons—Jordan and Wake—will be impact players in this game. The way each team counters these powerful edge-rushers with its respective offensive tackles will also make a difference.
If this game was in Miami, I'd give the Dolphins the edge, but that Mercedes-Benz Superdome is, well, ridiculously raucous every week and even more boisterous in prime time.
In a surprisingly close game, Drew Brees and Co. sneak away with a win.
Saints 34, Dolphins 30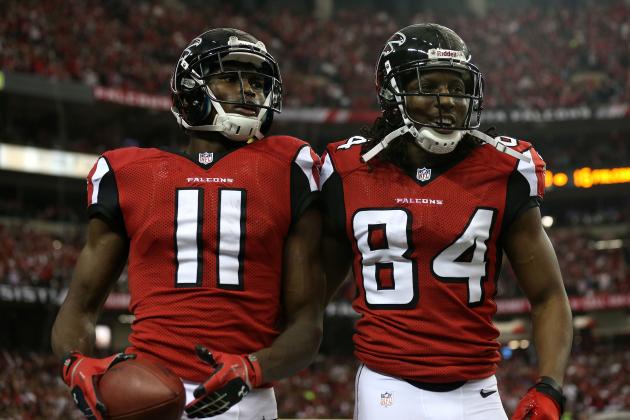 Streeter Lecka/Getty Images

Currently, the New York Jets are a mess, but we can't discount Rex Ryan's defensive brilliance.
Unfortunately for Gang Green, the extensive talent on the Falcons roster will be too much to handle for four quarters.
This one gets ugly in the third quarter, especially if Darrelle Revis wears a Tampa Bay Buccaneers uniform in the 2013 season.
Falcons 31, Jets 14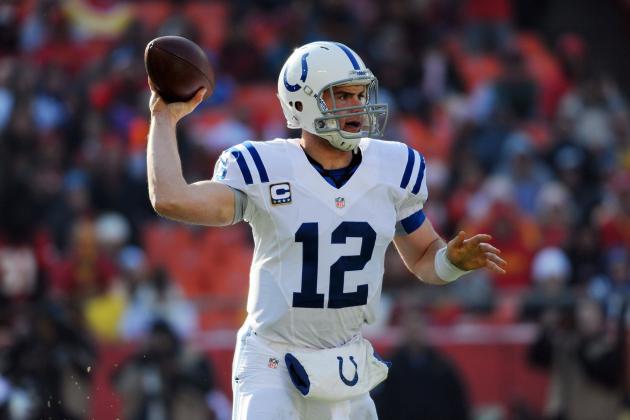 USA TODAY Sports

In all likelihood, Andrew Luck won't be hit as often as he was in 2012, and after a sparkling yet somewhat underappreciated rookie season, he's ready to take the next step toward the "elite" category.
The Chargers shouldn't be taken lightly, as San Diego's defensive line corps is youthful and athletic (see: Reyes, Kendall and Liuget, Corey). Meanwhile, Eric Weddle is the most complete safety in the NFL.
In tight games between teams with similar collections of talent, I tend to go with the club with the better quarterback. In this contest, that will be Mr. Luck.
Colts 27, Chargers 17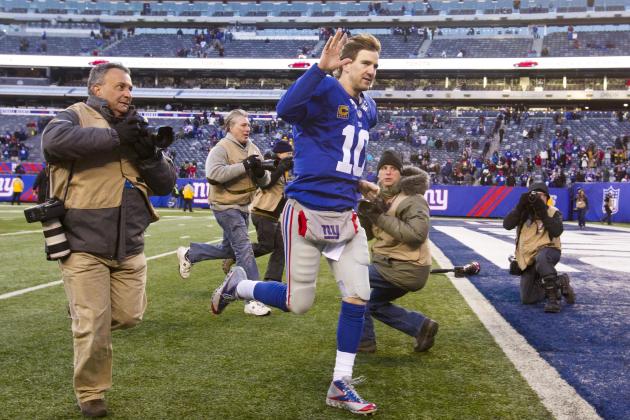 The Star-Ledger-USA TODAY Sports

Is there a more difficult team to project than the Giants?
No way.
One week, they're totally dominant in all phases of the game. The next, Eli Manning is a befuddled mess, and the defensive line is "overrated."
Then again, who saw the Vikings riding Adrian Peterson to the playoffs last year? I didn't.
New York will dedicate its entire defensive game plan to stopping AD, but Christian Ponder will find Greg Jennings on a few occasions.
Minnesota will hang tough; however, the G-Men's aerial assault will guide Tom Coughlin's club to victory.
Giants 30, Vikings 21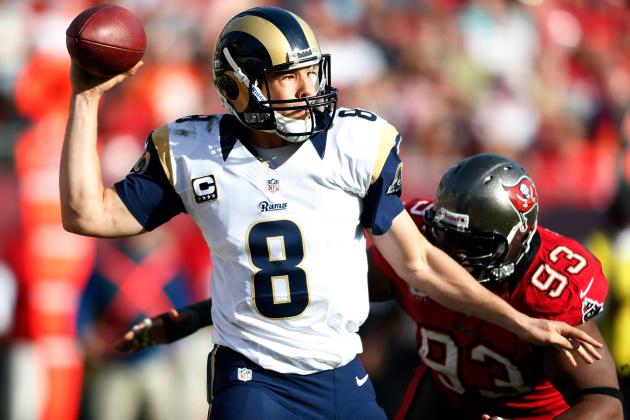 J. Meric/Getty Images

The Rams handled the Seahawks last year in St. Louis, and although Jeff Fisher's club certainly isn't the talk of the NFC West heading into 2013, they will be at this juncture of the season.
With two first-round picks in the draft, the Rams will likely be able to add more offensive weaponry for Sam Bradford and another offensive lineman.
Seattle won't overlook St. Louis, but the Rams match up extremely well with the Seahawks and will ride a few big plays and stingier-than-expected defense to a surprising victory at home.
Rams 24, Seahawks 20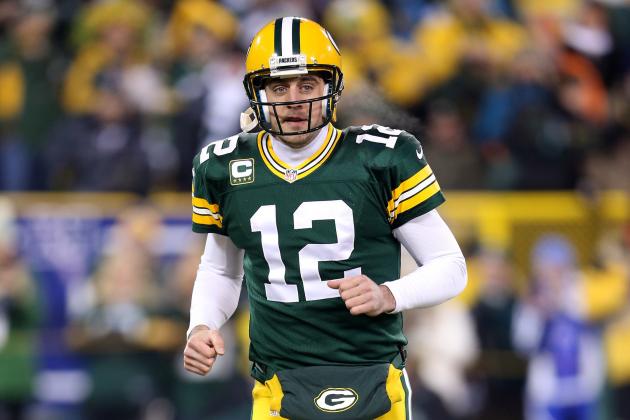 Andy Lyons/Getty Images

Ah, the Bears and the Packers.
Always a blast in prime time.
Jay Cutler and his offensive line have had nightmarish efforts against Green Bay in the past. With Alshon Jeffery no longer a rookie and Jermon Bushrod a clear upgrade over J'Marcus Webb at left tackle, the Bears have tailored their roster to unseating the Packers.
By this point, Aaron Rodgers will have acclimated to life without Greg Jennings, and a legitimate feature back should be a part of the Packers' systematic offense.
The assortment of offensively gifted players on Green Bay's roster will steer the Packers to a rather comfortable win.
Packers 35, Bears 21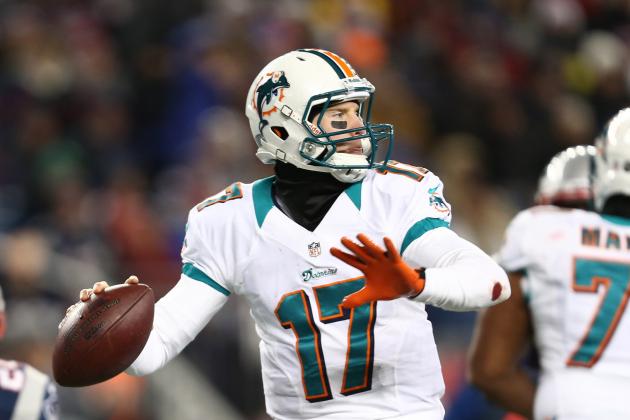 Mark L. Baer-USA TODAY Sports

Which Josh Freeman will we get in 2013?
There's no reason he can't be, or improve upon, the quarterback he was in 2010, especially with Doug Martin as a legitimate threat on the ground.
The Muscle Hamster—or my favorite, Martin Scoreseasy—will alleviate pressure on Freeman, and Vincent Jackson is a sure-fire stud on the outside.
Mark Barron and Dashon Goldson will formulate a valuable safety tandem, and linebacker Lavonte David is a future All-Pro. But the Buccaneers defense will have trouble limiting the effectiveness of the Dolphins offense with Tannehill at the helm, Lamar Miller in the backfield and a fine grouping of receivers.
Also, we mustn't rule out the stability of Miami's defense.
In one of the more entertaining prime-time matchups of the year, the Dolphins leave Tampa Bay victorious.
Dolphins 27, Buccaneers 24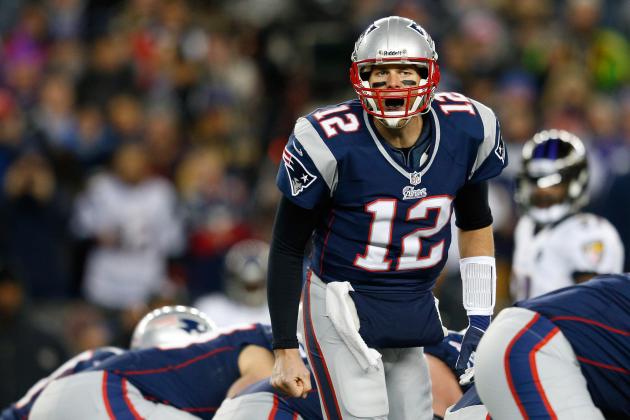 Jim Rogash/Getty Images

How will Cam Newton handle the limelight in his third year against Tom Brady and the Patriots?
This game will take place around the time the Patriots usually emerge from any funk they were in and hit their stride, a development that doesn't bode well for the Panthers.
Carolina will be improved in 2013, mainly due to Luke Kuechly's production at middle linebacker and Newton's maturation under center.
Then again, New England's defense is turning the corner with an abundance of young talent, especially in the linebacking corps, and Tom Brady is Tom Brady.
Patriots win, but not going away.
Patriots 41, Panthers 31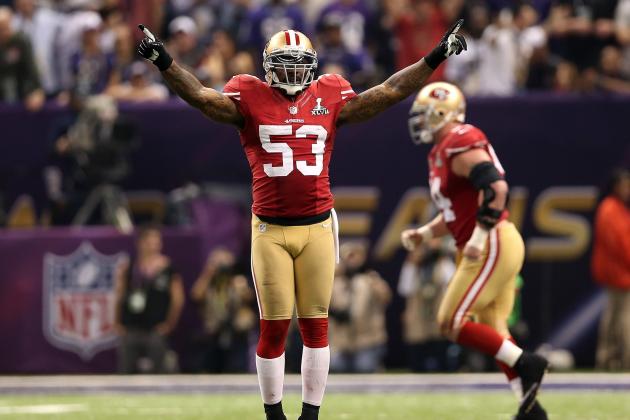 Christian Petersen/Getty Images

Injuries are impossible to predict, but one has to imagine the chances of Robert Griffin III being at least a little dinged up at this juncture of the year are higher than most quarterbacks in the NFL.
Watching RG3 and Colin Kaepernick operate the read-option will be absolutely delightful for football fans, and so will the fierceness of the 49ers defense.
Griffin will make plays with his arm and his legs, but the Redskins offense simply won't be able to function as efficiently as normal against San Francisco.
49ers 30, Redskins 17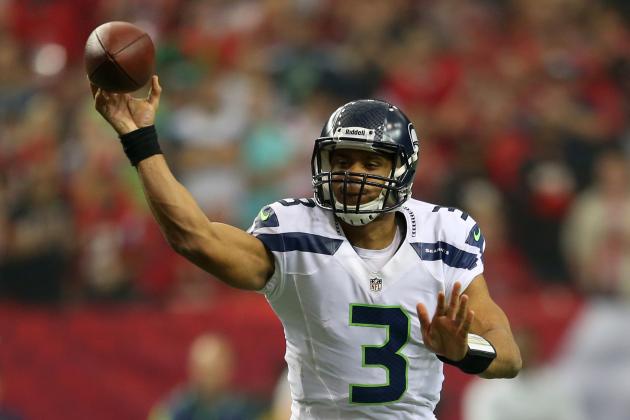 Mike Ehrmann/Getty Images

The Seahawks went undefeated at home in 2012, and there's nothing suggesting they'll regress in front of their green-and-blue clad fans in 2013.
Drew Brees' spread attack will make Seattle's defense slightly more susceptible. However, Pete Carroll's secondary talent will be a major hindrance to what Sean Payton tries to do offensively.
The Saints could come out fast, but Russell Wilson, Percy Harvin and Marshawn Lynch will methodically move the football and will be integral in the Seahawks win.
Seahawks 38, Saints 30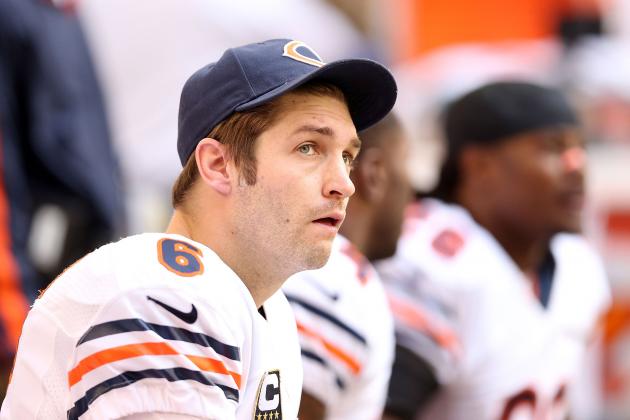 Christian Petersen/Getty Images

Tony Romo has been one of the more misunderstood quarterbacks of his era, yet it's true his teams have underwhelmed in many big-game situations.
When you think about it, Jay Cutler has a similar reputation with the media and fans.
Dez Bryant and Brandon Marshall will give us a fine display of two of the meanest and most aggressive receivers in the NFL.
The draft could alter things, but I'll take Chicago in somewhat of a toss-up game.
Matt Forte steals the show in the end.
Bears 33, Cowboys 27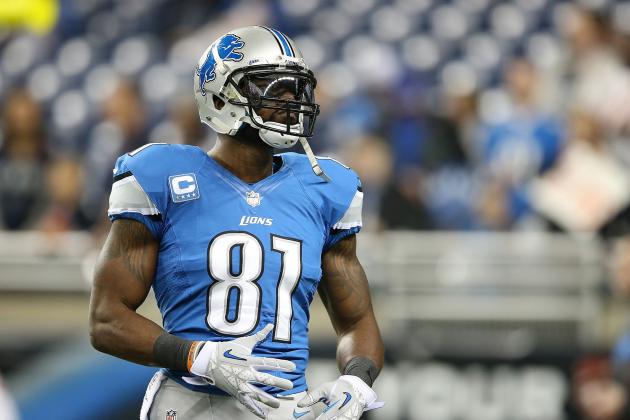 Leon Halip/Getty Images

The Lions have premier offensive talent.
If Matthew Stafford can temper some of his riskier decisions and stay fundamentally sound in regards to his release, he can be an amazing volume passer. He proved that in 2011.
The Baltimore Ravens will have a vastly different appearance in 2013, but that doesn't mean they'll be worse. Defensively, they could be better than they were last year.
If the Lions address the offensive tackle spot early in the draft and find a quality cornerback later, they'll have a decent chance to rekindle the magic of two seasons ago.
Also, Reggie Bush may catch 70 or 80 passes.
Joe Flacco and Stafford will duel, but Detroit gets it done at home.
Two words: Calvin Johnson.
Lions 38, Ravens 35
Daniel Shirey-USA TODAY Sports

The MNF schedule saved the best for last.
Matt Ryan and Colin Kaepernick will captivate this massive audience in the NFC title game rematch, but I'll watch the power running styles of Frank Gore and Steven Jackson.
There's a chance one or both of these clubs will have secured playoff positioning, which means the Falcons will be eager to enact their revenge.
San Francisco has a stronger defense than Atlanta; however, Roddy White, Julio Jones and Tony Gonzalez will get the best of the 49ers secondary.
Not exactly the ideal sendoff for Candlestick Park.
Falcons 31, 49ers 30