Jasper Collins: Video Highlights for Former Mount Union WR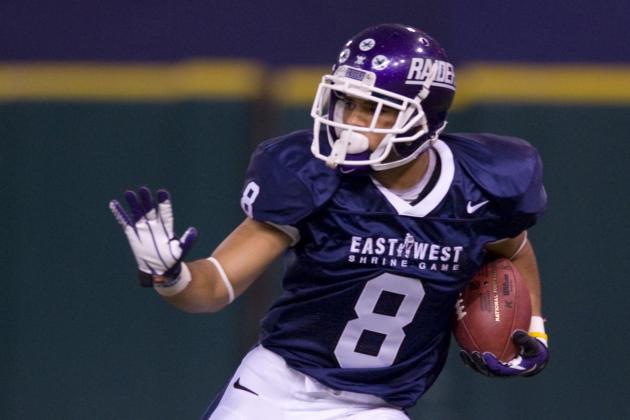 Jeff Griffith-USA TODAY Sports

Jasper Collins is attempting to follow Pierre Garcon and Cecil Shorts III as former Mount Union receivers who have found success at the NFL level.
He's well on his way.
Collins made a number of NFL scouts actually show up to the Mount Union pro day after not being invited to the NFL Scouting Combine (per CBS).
The attention he is receiving is for good reason. Collins has the look of a prototypical NFL slot receiver, and his 37 career touchdowns and impressive tape back up that notion well.
Let's take a look at some of Collins' best highlights during his time at Mount Union.
All statistics courtesy of Mount Union's website.
Begin Slideshow

»
As per the norm most of the time, Collins lined up as the slot receiver in the above highlight. Also, as you'll commonly notice, he again makes the most of a pass thrown his way.
Collins did not have to do much here except use his outstanding speed to split the defense. He did just that, and the quarterback was able to place the ball where only Collins could reel it into his arms.
The impressive part of this highlight is just how much concentration it would take to bring this ball in with two defenders staring him down.
Per the norm, Collins makes it look easy.
It's going to be a recurring theme throughout—Collins uses his elite speed to get behind defensive backs and make them pay.
However, in the above highlight, that's not the most impressive part.
Collins' ability to reel in a catch at full speed and still have the awareness to get both feet in bounds for the score is something that will set him apart at the NFL level.
There are plenty of players in the NFL who can kill you with speed, but there are only a handful who can combine that with ballerina-esque toe-tapping to put points on the board.
Further increasing Collins' chances to succeed in the NFL is the value he brings on special teams, which you'll get a small taste of in the video above.
Collins fields the punt cleanly and then proceeds to wiggle out of a few tackles before using his speed to take it the rest of the way for a touchdown.
Perhaps the most impressive feat is his ability to reach his top-end speed with such ease that, even when it looks like he's been slowed down, he's suddenly outrunning every player on the field.
If all else fails, Collins has the dynamic skills to be a major player on special teams in the NFL.
Part of being a consistent playmaker out of the slot at the NFL level is the ability to find holes in the defense and then break tackles for yards after the catch.
If the highlight above is anything to go by, Collins will do just fine at the next level.
Collins is able to find a point where he and the quarterback can connect, and then he weaves through arm tackles before being brought down just short of the end zone.
Not all plays have to be scoring plays, and that's the case here. It's a smooth, routine play that can turn into a major one if defenses are not careful.
Here, Collins shows that he can also line up on the outside and burn defenses deep if he is not covered adequately.
In this case, Collins is simply too fast for the defensive back and is able to bring in the pass without being touched.
Granted this is against a smaller school, but the ability to line up at more than one position on the field makes Collins' expansive repertoire even more impressive.
At full speed this does not look like much, but when things slow down, it is much easier to see just how insane of a catch this truly is by Collins.
He is sprinting at full speed in one direction, and the quarterback places the ball behind him.
Not to worry, Collins can stop on a dime, reel in a bad pass and resume sprinting down the field like nothing was wrong with the play in the first place.
Add "elite hands" to Collins' versatile skill set.
Follow me on Twitter for more NFL news and analysis.