Miami Dolphins: Ranking Positions by Need for 2013 NFL Draft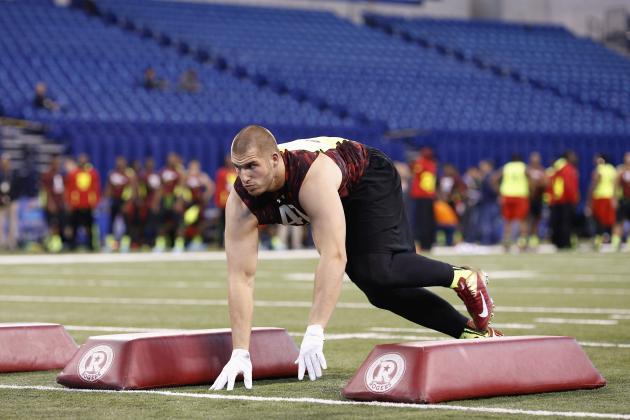 Joe Robbins/Getty Images

With all of the mock drafts and big boards circulating as the 2013 NFL draft quickly approaches, it's hard to get a real sense of what's real and what's not.
There are some mocks where the analyst just selects the best player available. Other mock drafts are strictly based on need. Smart ones try to combine the two and get great talent at great value.
But for the Dolphins, who had so much activity during free agency, there are still some questions to address, and with five picks in the first three rounds and 11 total selections, there's plenty of room to continue building the roster.
Instead of forcing another mock draft down your throats, I decided to flesh things out from a standpoint of needs and let you formulate your own opinions.
I didn't include the quarterback, fullback, or center positions because those are all spots that the Dolphins have pretty secured right now.
This is not necessarily the order I think Miami should draft based on position, it's simply my opinion on where the Dolphins still have the biggest needs.
Let me know what you think in the comments, and feel free to share your own mock drafts or favorite prospects at each position as well.
Begin Slideshow

»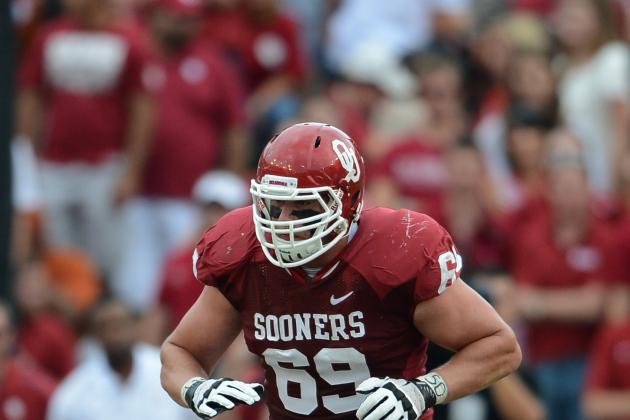 Matthew Emmons-USA TODAY Sports

The Dolphins have to plan their draft around getting a tackle.
They have some flexibility because Jonathan Martin can play on either the right or the left sides, but they absolutely need to find a prospect who can start on day one of next season.
There have been options out there, as right tackles Eric Winston and Tyson Clabo remain unsigned, but the Dolphins clearly don't feel strongly enough about either to sign them at their current asking price.
There's no guarantee they will still be around after the draft, however, so Miami needs to make sure they find a good tackle in the first two rounds of the draft. Their investment in Ryan Tannehill seems to be a good one, but now they need to protect that investment.
Getting a raw project-type player would not work, because that would either put a guy who isn't close to ready out there on the field, or current backup Nate Garner. To me, this means trading up for Eric Fisher (not Lane Johnson), or waiting and selecting either Terron Armstead or Justin Pugh in the second round.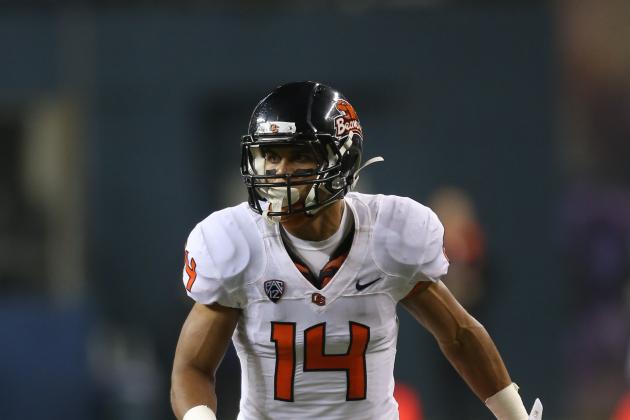 Otto Greule Jr/Getty Images

With the signing of a true No. 1 cornerback in Brent Grimes, Miami's hole at corner shrank significantly, although the Dolphins still could use some serious upgrades across the board.
They don't have a solid No. 2 corner on the roster, and Dimitri Patterson is extremely overpriced as a depth guy so it would benefit Miami to replace him with a draft pick.
On Thursday, I profiled the top cornerbacks who Miami should consider in the draft. I believe that is a big need, although not quite as glaring as offensive tackle at this juncture.
When teams have a poor offensive tackle, their quarterback is in a lot of trouble from a health and development standpoint.
However, with a solid No. 1 corner and a couple average depth guys, you can get by without any serious damage. Miami still really needs some more talent there with my favorites being D.J. Hayden and Jordan Poyer.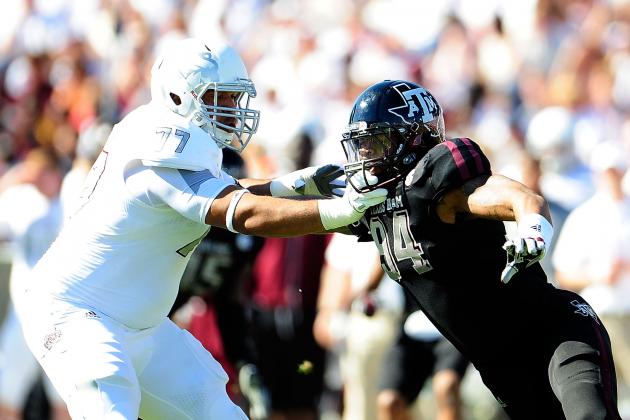 Stacy Revere/Getty Images

This is a pretty significant need that has gotten overlooked because of all the attention given to offensive tackle and cornerback, but defensive end really is worth a high pick for Miami.
Defensive ends are extremely valuable in today's NFL, as Dolphins fan have seen Cameron Wake carry the team at times with his disruptive ability, but he needs a counterpart to help shoulder some of the load.
Jared Odrick was drafted as a 3-4 defensive end, but is now out of place at the 4-3. He recorded all of his sacks last season from the inside, and is better suited as the backup defensive tackle.
Olivier Vernon has potential, but still is not ready to be an every-down starter and would be better suited in a rotational role.
This also happens to be a very deep class of pass-rushers. Miami could look at taking a guy like Bjoern Werner 12th overall or see who slips to them in the second or third rounds.
Damontre Moore, Tank Carradine, Brandon Jenkins, Corey Lemonier and Michael Buchanan would all be solid fits.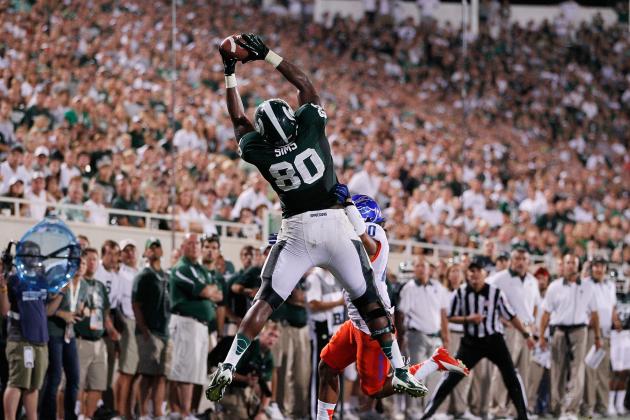 Gregory Shamus/Getty Images

After losing Anthony Fasano, the Dolphins made a great move by locking up Dustin Keller to a one-year deal.
Keller is an athletic playmaker, but he is injury-prone and can't block very well.
After Keller, the Dolphins are looking at a rotation of Michael Egnew and Charles Clay, which should be a scary thought to all Dolphins fans. They desperately need to bring in a well-rounded tight end in the first few rounds of the draft.
Tyler Eifert has been gaining some steam in the media as Miami's potential first-round pick, and it's a move that makes a ton of sense. He's the best tight end in the draft, but there are still a few good options should the Dolphins pass on Eifert.
Dion Sims is a great blocker and would be a solid fourth-round addition. Vance McDonald is an intriguing prospect out of Rice who combines strength and surprising explosiveness into a solid 6'4" frame.
Travis Kelce is a great all-around player, but has some off-the-field issues that could scare away head coach Joe Philbin.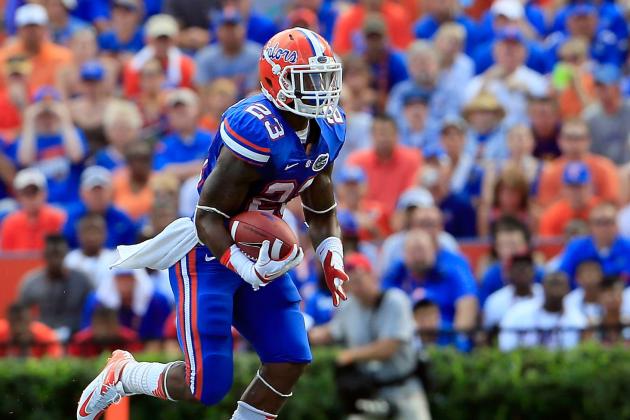 Sam Greenwood/Getty Images

To some, calling running back a need because the Dolphins already have two high-profile players at the position may seem a little iffy, but there are issues to address.
First off, Lamar Miller is not the kind of workhorse back who will be able to carry the ball 25 times every game, a la Adrian Peterson. He is explosive and could be a lead back, but cannot shoulder the load on his own.
Daniel Thomas would be Miller's current counterpart, and you can put me down as someone who thinks Thomas is completely worthless. He has barely been healthy at all during his first two NFL seasons. Even when he is, he is slow and lacks great strength or power.
After those two, the Dolphins have essentially nothing. Jonas Gray and Marcus Thigpen have a little talent, but can't be relied on for much at this point.
I think Miami needs to target Mike Gillislee, Johnathan Franklin, Le'Veon Bell, and Stepfan Taylor as possible backups to Miller, allowing Thomas to slide to the third slot.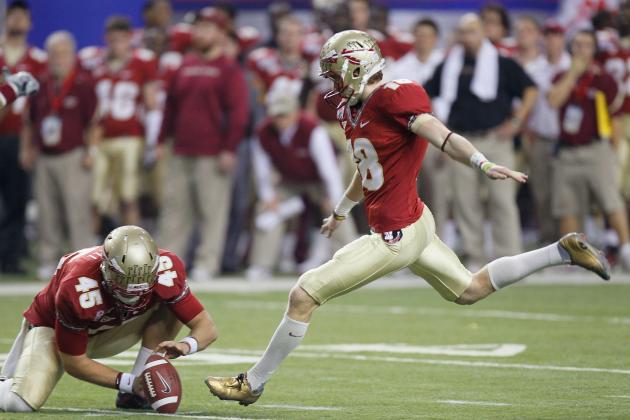 Kevin C. Cox/Getty Images

The Dolphins are paying Dan Carpenter way too much money to be an extremely average kicker.
While it seems strange to call a kicker a "need", I think the Dolphins absolutely need to address the position in the draft.
With all of their free-agent additions, the Dolphins really won't have a ton of room on the roster at this point. If their first five picks—all within the first three rounds—make the team, there will be hardly any excess room for other prospects.
That being said, I think it makes a ton of sense for Miami to go after one of the top two kickers, Caleb Sturgis or Dustin Hopkins, in the the fifth round.
They would essentially upgrade an important position that scores a lot of points while saving a lot of money.
Easy call there.
USA TODAY Sports

Offensive guard is a position where I think it has to be all or nothing for Miami in the draft.
John Jerry did a very average job in his first year starting at right guard last year, and it was clear that an upgrade was possible there.
Some people speculated that Jonathan Cooper could be his replacement until Miami went and signed Lance Louis, a solid starter for Chicago who came cheap because of ACL surgery.
Richie Incognito is not going anywhere on the left side of the line, but while Louis is a good player, he's definitely not a sure-fire starter with his injury, and Cooper could still be the pick to supplant him.
If they don't grab Cooper, I really don't see the point of wasting any pick in the first five rounds on a guard when Miamia already has two starters and a quality backup.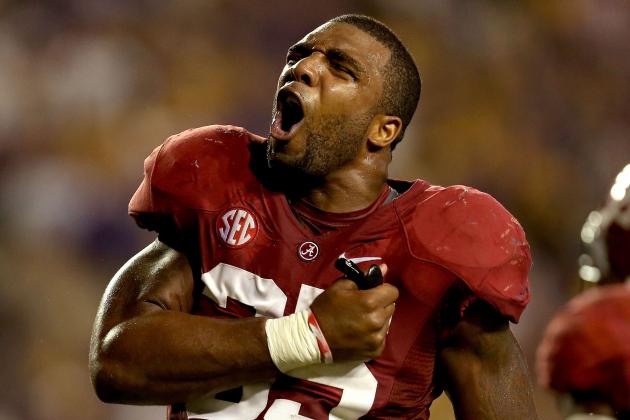 Matthew Stockman/Getty Images

The Dolphins swapped Kevin Burnett and Karlos Dansby for Dannell Ellerbe and Philip Wheeler via free agency, getting younger and faster at linebacker in the process.
However, that didn't address their biggest flaw at the position—depth. After those two, along with starter Koa Misi, the Dolphins desperately need a quality option to substitute at any three of the linebacker positions.
They should stay away from taking one in the first three rounds because it's pretty far down the "need" chart, but getting a strong, athletic tackler like Nico Johnson, Jon Bostic, Gerald Hodges or Devonte Holloman could be had in the fourth or fifth round.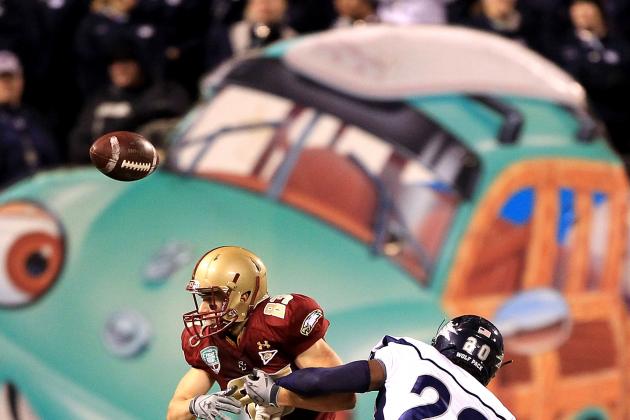 Ezra Shaw/Getty Images

Now we get to the positions where adding another prospect would be nice, but there really isn't much of a need here this offseason.
Reshad Jones had a breakout year in 2012 and Chris Clemons was brought back on a one-year deal. The two form one of the best safety tandems in the NFL.
The problem is that Tyrone Culver and Jimmy Wilson are pretty mediocre backups, and with Clemons' deal only being for one season, it wouldn't hurt to try and find a diamond in the rough. Later-round safety prospects include Duke Williams, Ray Ray Armstrong and John Boyett.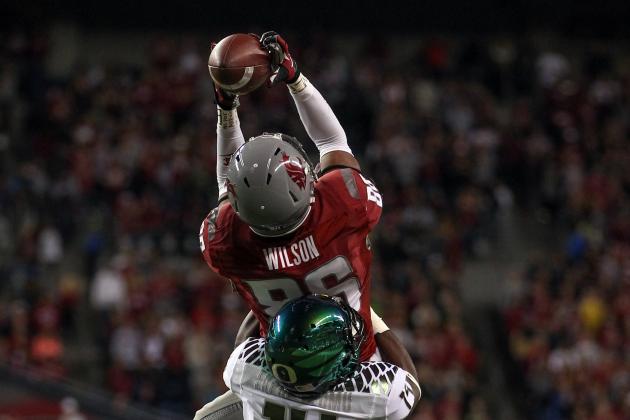 Otto Greule Jr/Getty Images

Wide receiver went from Miami's most talked about need to one of their biggest strengths after adding Mike Wallace and Brandon Gibson in free agency and re-signing Brian Hartline.
Those three, combined with slot receiver Davone Bess, give the Dolphins a very well-rounded group of top receivers. But Gibson and Bess are nothing particularly special, so it wouldn't be shocking to see Miami take a guy like Stedman Bailey or Ryan Swope in the third round while looking to try and move Bess' contract elsewhere.
But I think they have too many other needs to address other than receiver, so that shouldn't be a priority in the first few rounds. Marquess Wilson has been a name thrown around for the seventh round, and I wouldn't mind if Miami took a shot at a high-upside guy like him.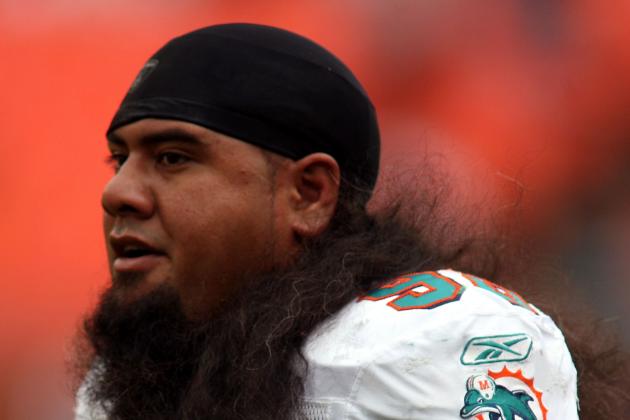 Marc Serota/Getty Images

I felt that I needed to put this slide on here just to point out how little of a need defensive tackle actually is for Miami, even though I have been seeing a ton of comments on articles about fans clamoring for Miami to pick up another one in the draft.
The Dolphins have two very good starters in Paul Soliai and Randy Starks. Yes, they will each be free agents next year, but Miami should have the ability to re-sign one of them.
If they hit on their picks this year, replacing the other tackle could be a top priority in the 2014 draft.
Even then, Miami still has a lot of depth at the position. Should Jared Odrick move inside, which would be a smart move, he would become the first player off the bench to give Soliai or Starks a breather.
Miami also signed veteran Vaughn Martin, who provides even further depth at the position. Some say that the Dolphins should grab a late-rounder just for insurance, but that's exactly what they did last year by taking Kheeston Randall in the seventh round.
Randall actually showed some potential last season, and is a more-than-adequate fifth-stringer.
Sorry folks, there is absolutely no point in Miami drafting a defensive tackle this year.