Game-by-Game Predictions for Milwaukee Bucks' Series with Miami Heat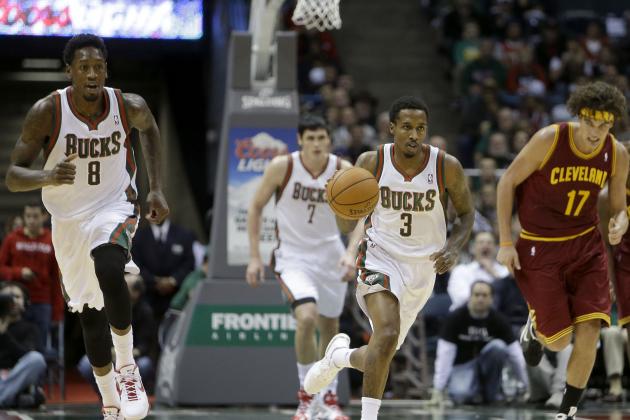 Mike McGinnis/Getty Images
Can Brandon Jennings lead the Bucks to a miraculous upset?
Entering postseason play for the first time in three years, the Milwaukee Bucks have been burdened with the monumental task of trying to upset the defending champion Miami Heat.
In fact, some might even say it's an impossible one.
And while dethroning the Heat is something that will require the Bucks to play flawless basketball for an entire series, nothing in sports is impossible.
If the Bucks want to win a game—or a few—they'll have to be competitive right from the start and force the Heat to feel like they'll at least have to earn a series victory.
But where can Milwaukee possibly steal a game?
Will they shock everyone and win a game at American Airlines Arena? Or will they have to do their damage from the confines of the BMO Harris Bradley Center?
*All stats used in this article are courtesy of Basketball Reference*
Begin Slideshow

»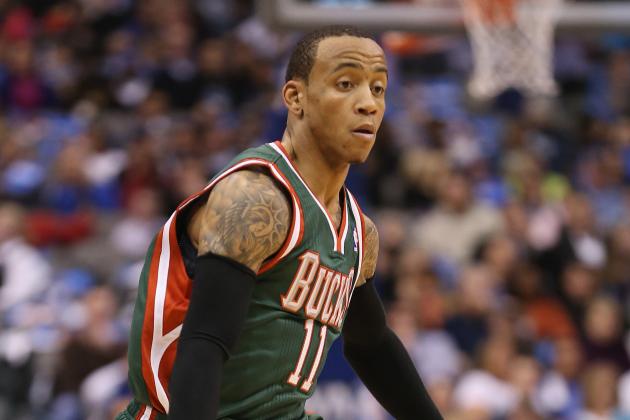 Ronald Martinez/Getty Images
Can Monta Ellis get off to a good start and help the Bucks be competitive?
When: Sunday, April 21
Where: American Airlines Arena (Miami, Fla.)
Time: 6 p.m. CDT
Where to Watch: TNT, Fox Sports Wisconsin
The Bucks will try to become just the fourth team to win a game at American Airlines Arena this season when they head south for Sunday's Game 1.
As if that wasn't a tall enough task, the Heat enter the first-round series against Milwaukee on a modest—by their standards anyway—eight-game winning streak.
Miami's play at home is quite impressive.
They're 37-4 at home and score an average of 106.4 points per game while holding opponents to just 95.7—an impressive number.
Not that it's surprising, but the Heat also get to the free-throw line roughly three more times per game when playing at home.
In order for the Bucks to come out and win Game 1, they'll need to prevent the Heat from scoring so easily and keep them off the free-throw line by any means possible.
In addition to preventing Miami from doing those things, they'll need to be efficient on offense and attack the hoop more frequently in hopes of getting to the line themselves.
At the end of the day, though, the Heat should come out motivated in front of the home crowd and win Game 1 in relatively easy fashion.
Prediction:
Heat 103, Bucks 91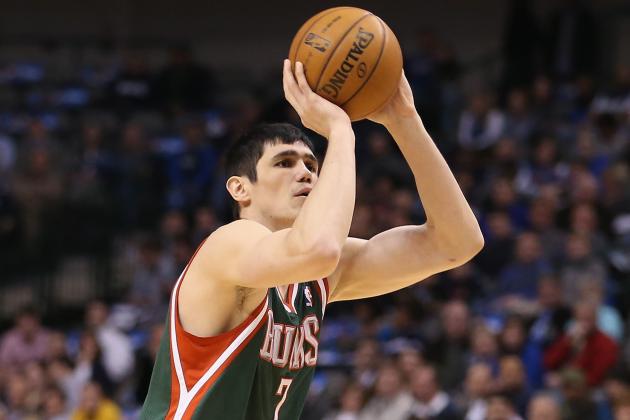 Ronald Martinez/Getty Images
Ersan Ilyasova must produce if the Bucks want to have a chance at winning.
When: Tuesday, April 23
Where: American Airlines Arena (Miami, Fla.)
Time: 6:30 p.m. CDT
Where to Watch: NBA TV, Fox Sports Wisconsin
Being down a game, the Bucks certainly won't have momentum on their side in Game 2.
Like Game 1, Milwaukee will need to play the best defense they've played the entire year. It's a repetitive notion, but it's one that is important to keep mentioning.
In their only win against the Heat this season, the Bucks put up 104 points on just 40.8 percent shooting from the field and 38.1 percent from three-point range.
Neither of those are particularly great, but what is impressive is the fact that the Bucks held the Heat to just 85 points that game on 43.4 percent shooting.
Also key for the Bucks was the contributions they got from their role players.
While Monta Ellis and Brandon Jennings both scored in double figures, so did three other players—Mike Dunleavy, Luc Mbah a Moute and Larry Sanders.
If the Bucks can get scoring and quality minutes from bench players, they'll put themselves in a position to win.
Unfortunately, with how well Miami plays at home, it's unlikely that they'll steal a game.
Prediction:
Heat 101, Bucks 95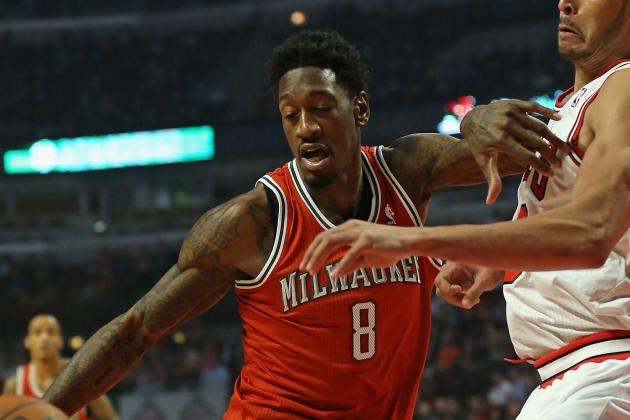 Jonathan Daniel/Getty Images
The presence of Larry Sanders in the paint is an advantage for Milwaukee.
When: Thursday, April 25
Where: BMO Harris Bradley Center (Milwaukee, Wis.)
Time: 6 p.m. CDT
Where to Watch: TNT, Fox Sports Wisconsin
Milwaukee's best chance of stealing a game from the Heat during this first-round matchup comes in Game 3.
With things moving to the Bradley Center—where they play better and have beaten Miami once—the Bucks have a legitimate shot at riding the momentum of what will likely be a raucous crowd to a victory.
While it will need to be done in each game, it's important that the Bucks relentlessly attack Miami's weak interior during the first game in Milwaukee.
Pounding the ball low to Larry Sanders and John Henson will put pressure on Chris Bosh defensively and open up potentially great looks for shooters like J.J. Redick and Mike Dunleavy.
Dribble penetration will also be key, as Jennings and Ellis have the quickness to get by almost anyone that defends them.
However, it's the decisions they make once they get into the paint that are most crucial.
If they can refrain from committing turnovers and turning down tough, altered shots in favor of easy passes that lead to easy points, the Bucks will be in a good spot.
Behind the energy of the crowd, strong post play and great shooting, Milwaukee wins Game 3, showing the Heat they won't go down without a fight.
Prediction:
Bucks 111, Heat 103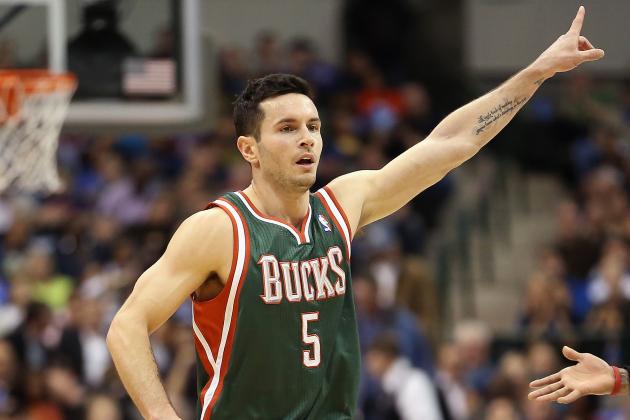 Ronald Martinez/Getty Images
Can Redick find his stroke and shoot the Bucks through the first round?
When: Sunday, April 28
Where: BMO Harris Bradley Center (Milwaukee, Wis.)
Time: 2:30 p.m. CDT
Where to Watch: ABC
In an effort to really make it a series, the Bucks will come out on fire in Game 4 at the Bradley Center.
For the first 24 minutes, they'll give the Heat everything they have—and more—and build a small halftime lead.
However, in the second half, things will start to come undone.
Much like what has been seen many times this season, Milwaukee can't seem to finish what they start and eventually succumb to defeat.
Whether it's because their shooting cools down or because their guards start making careless, boneheaded mistakes, the Bucks won't be able to sustain whatever success they might find in Game 3 for very long.
During the third and fourth quarters, the Heat will go on one of their signature runs and begin to pull away.
The Bucks will be able to keep it close throughout the fourth quarter by hitting an occasional three, but in the end, the Heat will be too much too handle and will end up getting revenge for the Bucks ruining a potential sweep.
Prediction:
Heat 107, Bucks 98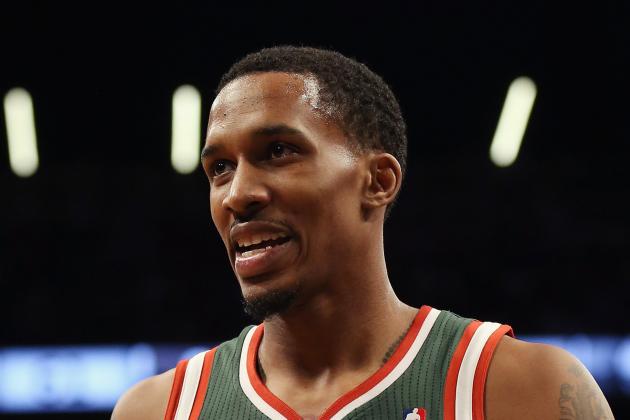 Bruce Bennett/Getty Images
Consistency for Jennings is the only thing that might help the Bucks compete.
When: Tuesday, April 30 (if necessary)
Where: American Airlines Arena (Miami, Fla.)
Time: TBD
Where to Watch: Fox Sports Wisconsin
Backed up all the way to the edge of the cliff, the Bucks will return to Miami in an elimination game in hopes of extending their season a little longer.
Unfortunately for them, Game 5 probably won't be a whole lot different from the first two games of the series played at American Airlines Arena.
With a Bucks win in Game 3, James, Wade and Bosh will all want to end this series as soon as possible so that they can turn their attention to the second round as quickly as they can.
Despite Jennings putting together a solid performance and Redick knocking down a barrage of threes, Milwaukee won't have enough offense in Miami to force a Game 6.
However, snagging one game in Milwaukee will be more than what most people predicted, and given the team they're going up against, the Bucks shouldn't hang their head if they are indeed eliminated in Game 5.
Milwaukee's season will end in Miami, but they'll benefit from the extra time, as many issues still need to be resolved for next season.
Just making the playoffs is a step in the right direction, though.
Prediction:
Miami 99, Milwaukee 87