The Miami Heat are overwhelming favorites to defend their NBA championship, and for good reason. They are loaded.
I also don't use overwhelming lightly here. Bovada, on April 18, has the Heat as a 5/8 favorite to win it all. Next up is the Oklahoma City Thunder at 17/4. They are followed by the team that will kick off this power ranking, the San Antonio Spurs, who have 10/1 odds.
*All stats Team Rankings.
No. 3: San Antonio Spurs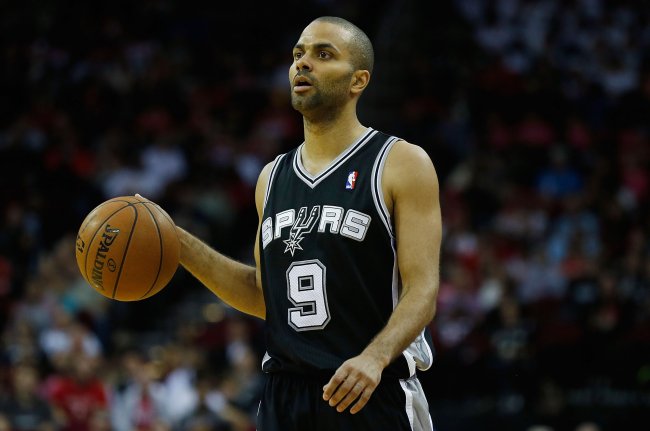 Scott Halleran/Getty Images
The San Antonio Spurs enter the playoffs as the West's second seed following an excellent 58-24 record. This is a balanced team that is excellent on both ends of the court.
They are seventh in the league in offensive efficiency and third in defensive efficiency. It's also important to note that the Spurs compiled these rankings while dealing with a multitude of injuries and with head coach Gregg Popovich always keeping an eye on the postseason.
Of course, that eye on the postseason is a very good thing because this aging Spurs team needed it. And that age is one of their biggest concerns.
As we saw last year, when the Spurs lost to the Oklahoma City Thunder in six games in the Western Conference Finals by losing the last four games, this team can get worn down and run out of the gym in a long series.
However, this team also has the shooting, ball movement and selfless play to beat any defense.
If the Spurs can keep their legs under them, stay healthy and keep a hot shooting touch, this team can beat any team it faces. However, it is still hard to see them advancing past our next team.
No. 2: Oklahoma City Thunder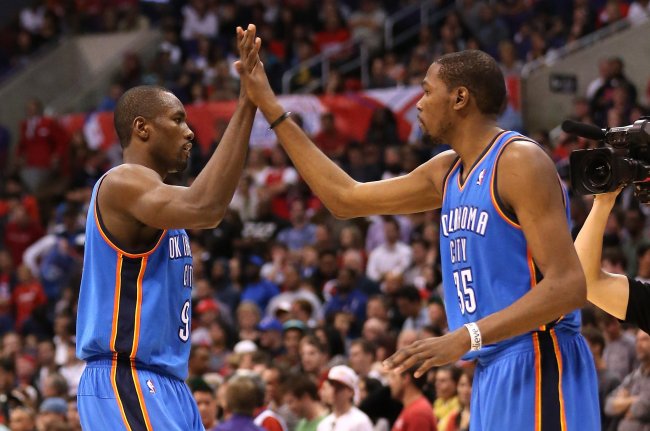 Stephen Dunn/Getty Images
The young and hungry Thunder are primed to take the final step of their progression and claim an NBA title, and they can certainly make a strong argument to do just that.
For starters, as the West's No. 1 seed, the Thunder will have the home-court advantage over all teams except the Miami Heat, and the Thunder went 34-7 on their home court this season. This team will have to stumble to not make the Finals.
The Thunder have a dynamic and explosive team that can put games away in a hurry with offense and defense. Their plus-9.4 point differential led the NBA by a whopping 1.5 points over the Miami Heat.
This team is solid on both ends of the court. Defensively, they have the length and athleticism to defend the perimeter, and bigs Serge Ibaka and Kendrick Perkins provide tremendous defense in the post.
With Kevin Durant and Russell Westbrook leading the offensive attack with the luxury of improved mid-range shooting from Ibaka, and the three-point prowess of Kevin Martin, this offense is a load to handle.
However, the Thunder still have one flaw that relegates them to second on this list.
This team can struggle with its ball movement in the face of pressure defense and suffer in the half-court game as a result, and that will doom them in a matchup with our next team.
No. 1: Miami Heat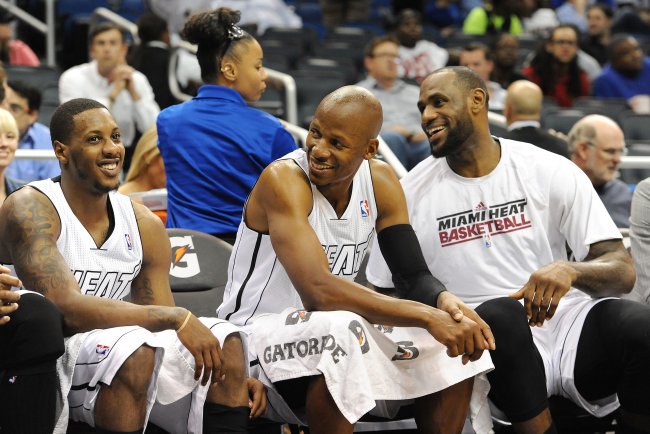 Gary Bogdon/Getty Images
The Miami Heat are a force to be reckoned with. They rattled off 66 wins and that was despite a relatively slow start and coasting to the finish line.
This team is ninth in defensive efficiency and first in offensive efficiency, which is no surprise. When LeBron James is on the roster, that team is going to be good at everything.
James just turned in one of the most dominant seasons in NBA history, and unlike entering previous postseasons, there is no questioning his ability to win the big one.
Things are not all rosy for the Heat though. Dwyane Wade has been slowed with injuries at the end of the season, and as good as LeBron has been, it is hard to see him carrying this team all the way to the title without Wade.
Also, the Heat are at a disadvantage in the post in almost every matchup, and they are 23rd in total rebounding percentage as a result.
Still, this team has the weapons, experience and drive to go for back-to-back titles. It would be risky to bet on anyone to beat them.