Twitter Reacts to the NFL's 2013 Schedule Release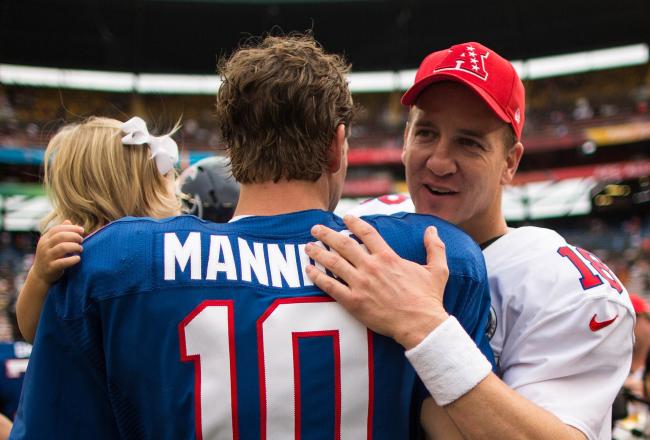 Kent Nishimura/Getty Images
It's now time to call up your employer and start requesting days off.
We've known for a while which opponents each NFL team was scheduled to play and where, but on Thursday, the juicy details were finally released.
You can take a look at the entire schedule here, where you'll find which matchups open the season, who will be featured on the Thursday, Sunday and Monday prime-time games and, most importantly, when your favorite teams play at home so that you can plan accordingly.
Unsurprisingly, with such an important event, Twitter was alive with all the usual info and wit you could hope for.
Twitter Reaction
Before we got to the actual schedule, the San Francisco Chronicle's Eric Branch decided to take a more nostalgic approach to his Twitter game:
As I recall, the NFL schedule would randomly appear on my newspaper's agate page one fine spring morning. Times have changed.

— Eric Branch (@Eric_Branch) April 18, 2013
The good ol' days. But now to the good stuff. The Delaware News Journal's Martin Frank has you prepped for what he's calling the "Andy Reid Bowl":
The Andy Reid Bowl looks like it'll be on a Thursday night, 9/19, when #Eagles face KC Chiefs.

— Martin Frank (@Mfranknfl) April 18, 2013
Only 143 days until the Andy Reid Bowl, folks.
And apparently, putting "Bowl" on the end of things still hasn't gotten old. NFL.com's Ian Rapoport points out another one:
#Jets vs. #Bucs on Week 1. That is art. #RevisBowl nfl.com/schedules?icam…

— Ian Rapoport (@RapSheet) April 19, 2013
SportsCenter's Twitter account, meanwhile, has some other important dates on the calender circled for your viewing pleasure:
2013 NFL schedule is out! Peyton returns to Indy Week 7. Champion Ravens open season vs Broncos. Week 1 MNF features Redskins vs Eagles.

— SportsCenter (@SportsCenter) April 19, 2013
In case you're a fan of really good quarterbacks throwing to talented receivers, or just funny facial expressions, the brother QBs will face off in Week 2 (via CBS Sports):
Broncos-Giants (Peyton Manning vs. Eli Manning) is Week 2. September 15 at 4:25 pm ET on CBS: cbsprt.co/2013NFLSchedule.

— CBSSports.com (@CBSSports) April 19, 2013
And here's a look at your Turkey Day schedule (via CBS Sports):
Thanksgiving Day games on November 28: Packers @ Lions (12:30), Raiders @ Cowboys (4:30), Steelers @ Ravens (8:30) - cbsprt.co/2013NFLSchedule.

— CBSSports.com (@CBSSports) April 19, 2013
Although every team will look much different in 2013, NFL.com's Jeff Darlington has some bad news for Panthers fans and opposite news for Broncos fans:
Based on 2012 @nfl results... No team will have a more difficult road to Super Bowl than Panthers. No team will have it easier than Broncos.

— Jeff Darlington (@JeffDarlington) April 19, 2013
This stat, courtesy of Grantland's Bill Barnwell, might have a little more relevancy behind it:
Teams playing their third consecutive road game are 49-76 (.392) since 1990. Sorry, Eagles and Titans.

— Bill Barnwell (@billbarnwell) April 19, 2013
This article is
What is the duplicate article?
Why is this article offensive?
Where is this article plagiarized from?
Why is this article poorly edited?