Florida State Football 2013 NFL Draft Tracker and Analysis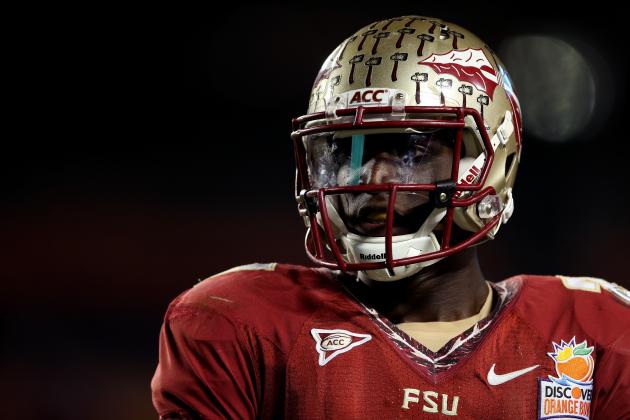 Streeter Lecka/Getty Images

Florida State once again has a draft class that has a little bit of everything.
The Seminoles are just one of those programs that continues to produce elite NFL talent regardless how the team is doing. It seems as if they could lose every game next season and still produce five or six players who could start on an NFL roster. You can count on one hand how many other colleges are capable of pulling that off.
The Seminoles have always had their fair share of success come draft day, and this year should be no exception.
Note: This slideshow will be updated as each Seminole is selected throughout the NFL draft.
Begin Slideshow

»
Where He Was Selected: First Round - 16th Overall to the Buffalo Bills
It is a surprise to see Manuel as the first quarterback selected. However, I love his upside and think he could be a respectable quarterback with a little bit of coaching. His size, athletic ability and the potential is there. Even with that said, this seems like a reach for Buffalo.
Height: 6'5"

Weight: 237 pounds
It happens every year. Teams began panicking when looking for a quarterback and one guy slips up a little higher than he should. This year that guy is E.J. Manuel.
I think Manuel will be a much better pro quarterback than he was in college. He has the tools to be a real good player once he gets comfortable. The size, the raw athletic ability and the arm strength are all there. Now he needs to work on his accuracy and decision-making.
Check out the video to see what type of music Manuel listens to on game day, and what NFL quarterback he compares himself to.
Where He Was Selected: First Round - 24th Overall to the Indianapolis Colts
Indianapolis needed help on the entire defensive line and Bjoern Werner will help provide that. A strong motor and a little versatility, he should bring that pass-rush and explosiveness back to this Colts defensive front. Werner could have easily gone a little higher in the draft, so there is great value with this selection.
Height: 6'3"

Weight: 266 pounds
Bjoern Werner is just one of the many Florida State defensive players who will be selected in the draft. His relentless motor and the way he never gives up on a play is the first thing that jumps off the screen when watching him play. He also has terrific first-step quickness.
That he's a relative newcomer to football almost makes his potential intriguing to NFL scouts. Werner already is easily one of the better players in this draft and has more upside than most of the players in this class.
Where He Was Selected: First Round - 25th Overall to the Minnesota Vikings
Surprising to see that the Vikings didn't go linebacker or defensive lineman, but Xavier Rhodes does have potential to pay off. A physical player, who can become a solid No. 1 corner with time, Rhodes will bring toughness to an inconsistent Minnesota defense. A little bit of a project, but you can't hate on the pick in the late part of the first round.
Height: 6'1"

Weight: 210 pounds
If you are a fan of an NFL team that needs a physical cornerback, Xavier Rhodes is your guy. With his above-average size for his position and the ability to jam guys at the line of scrimmage, Rhodes is an in-your-face corner. He has no problem helping out in run support when needed, and he does a fairly decent job at locating the ball as well.
The downside is that his awareness isn't the greatest, and he can struggle at times when playing man coverage.
Where He Was Selected: Second Round - 40th Overall to the San Francisco 49ers
If it wasn't for injury issues, Cornellius Carradine would have been selected in the first round. However, it all paid off for the defensive player, as he ends up on an absolutely loaded football team. There will be little pressure on him to succeed right away and he will fit in nicely on a championship caliber team.
Height: 6'4"

Weight: 275 pounds
Any time you go by the nickname "Tank", you must be a bad dude. Cornellius Carradine could be mentioned as a possible first-round player, but thanks to a torn ACL late in the year, teams are sure to be hesitant to pull the trigger come draft day.
When a team finally does decide to draft Carradine, they will be getting one of the more polished pass-rushers in this class. Able to turn the corner with his high motor and terrific athleticism, Carradine gets to the quarterback quickly and makes the quarterback pay. He can also play either side of the line and drop back into coverage once in a while.
Matt Miller likes this pass-rusher more than most.
My ranking of Tank Carradine (DE-FSU) may surprise people, but once healthy I see a dominant pass rusher. He's top 5 for me.

— Matt Miller (@nfldraftscout) April 5, 2013
The downside is that Carradine doesn't have much experience playing against elite competition. But as far as tools and upside, this defensive player has it all.
Where He Was Selected: Second Round - 42nd Overall to the Oakland Raiders
The Oakland Raiders needed depth on the offensive line, especially with Jared Veldheer soon to become a free agent. It is going to take some time for Menelik Watson to settle in as a full-time starter, but he could develop into a solid player in a year or two. Great athleticism and size, Watson brings value in the second round.
Height: 6'5"

Weight: 310 pounds
As Matt Miller mentions in the video, Menelik Watson is a raw prospect who is still learning the game and has a ton of potential. He is incredibly athletic for his size, has long arms and appears to be quite light on his feet when dropping back into pass protection.
The downside is that Watson isn't as polished in run blocking as you would like and can struggle to pick up what the defense is trying to do.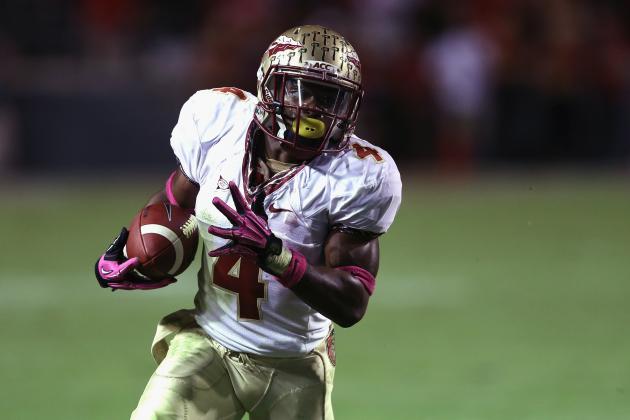 Streeter Lecka/Getty Images

Where He Was Selected: Fifth Round - 154th Overall to the Washington Redskins
Washington was able to hit the homerun a couple of years ago with the addition of Alfred Morris, maybe Chris Thompson is the next elite runner. Not very big, but he does bring playmaking ability and is a solid receiver out of the backfield. Due to injury issues and his small frame, Thompson wasn't on many NFL draft boards, but he has the potential to provide Washington was a decent running back if he can remain healthy.
Height: 5'7"

Weight: 192 pounds
Where He Was Selected: Fifth Round - 162nd Overall to the Washington Redskins
Washington must have really been watching a lot of Florida State film. Brandon Jenkins is a player who could have gone higher in the draft if it wasn't for injury issues. Athletic and a player with a high motor, Jenkins is a valuable addition to any defense. Assuming he is over his injuries, Jenkins is wonderful value in the fifth round.
Height: 6'2"

Weight: 251 pounds
Brandon Jenkins is the most interesting Florida State draft prospect this year. He has all of the tools to be a productive pass-rusher at the next level. From the size to his good technique, Jenkins is an athletic player who covers ground and makes plays. The problem is that he suffered a foot injury and missed all of last year. Jenkins also can struggle in run support thanks to his size and his tendency to play a little wild.
Jenkins has the talent to be a solid player at the next level.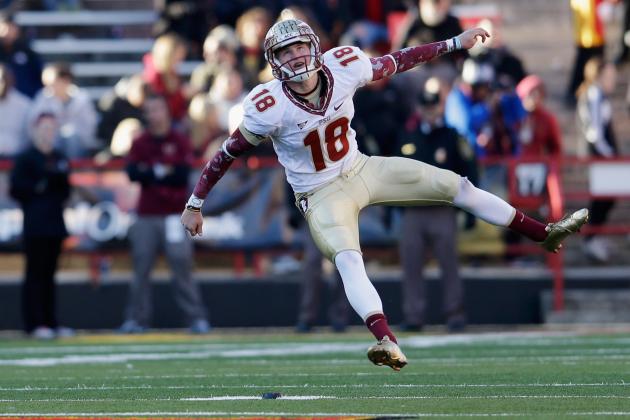 Rob Carr/Getty Images

Where He Was Selected: Sixth Round - 177th Overall to the Buffalo Bills
Widely considered the best kicker in this entire class, Dustin Hopkins will have a chance to become a starting kicker in the NFL. Although Rian Lindell signed a nice contract with Buffalo, he isn't getting any younger and it may be time for some fresh blood at the position.
Height: 6'2"

Weight: 193 pounds
If there is any kicker in this year's class who has a chance to be picked in the draft, it would be Dustin Hopkins. He has made more than 81 percent of his kicks in each of his last two seasons. Last season he was 5-of-6 on field-goal attempts of at least 50 yards. Hopkins was also solid on kickoffs, usually reaching the end zone and producing 43 touchbacks last year alone.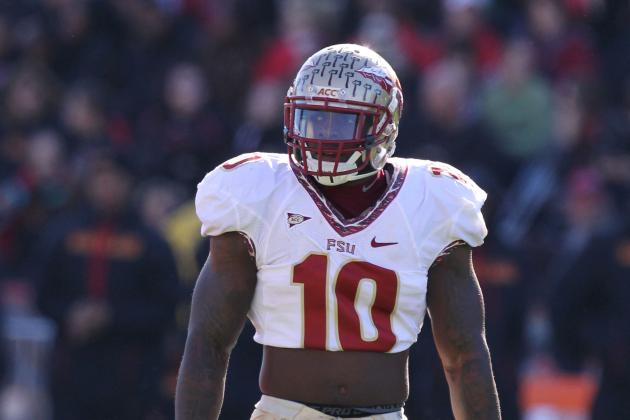 Mitch Stringer-USA TODAY Sports

Where He Was Selected: Sixth Round - 180th Overall to the San Francisco 49ers
Nick Moody is a bit small for the linebacker position, but you have to love the fact he is going into a great situation out west. A disciplined player who relies on instincts to make plays, he should fit in with the 49ers veteran defense. Moody also has a lengthy injury history which may have hurt his stock, but if he can shake those issues off, he has a chance to make an NFL roster and be a decent contributor over the years.
Height: 6'1"

Weight: 236 pounds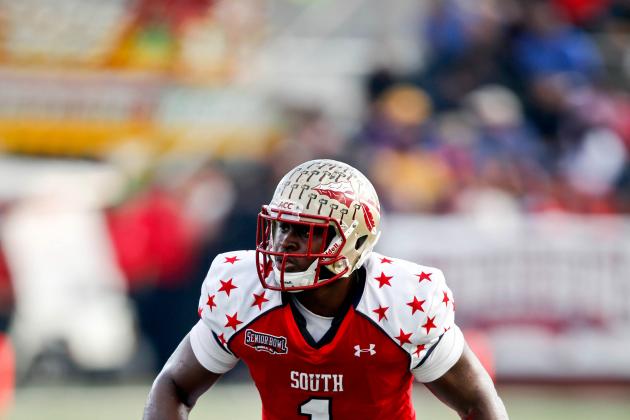 Derick E. Hingle-USA TODAY Sports

Where He Was Selected: Sixth Round - 206th Overall to the Pittsburgh Steelers
Not sure Vince Williams couldn't have ended up in a better situation. While his discipline and learning his assignment needs work, he ends up going to a team that loves to blitz and play defense like its hair is on fire. Certainly not an every-down player, but there is upside and the potential to make an NFL roster.
Height: 6'0"

Weight: 247 pounds
Vince Williams is an aggressive inside linebacker. He does a good job of reacting, finding the ball and relying on his instincts to make a play. Effective in run support, Williams does a good job of exploding through the hole, and he is always looking to drop the hammer on the ball-carrier. But much like his former teammate Everett Dawkins, Williams can sometimes play over-aggressively and end up missing the tackle or his assignment.
Williams must become a more disciplined player if he is going to have a consistent future at the next level.
Where He Was Selected: Seventh Round - 229th Overall to the Minnesota Vikings
Everett Dawkins slipping to the seventh round is surprising. We knew he had health concerns and wasn't effective against the run. However, his athletic ability and high motor made him a much better prospect than some who went before him. This is a great value pick for the Vikings in the last round and could pay off in the long run.
Height: 6'2"

Weight: 292 pounds
Everett Dawkins is a little small to be a defensive tackle in the NFL. He does have first-step quickness and uses his hands well, which allows him him to be a disruptive defender at times. On the other hand, Dawkins isn't effective against the run and can play out of control at times, resulting in him being a non-factor.
Where He Was Selected: Undrafted Free Agent
Height: 5'11"

Weight: 227 pounds
The fullback position in the NFL isn't nearly as important as it was a decade ago. But that does not mean that there isn't a future for a guy like Lonnie Pryor. This former Florida State runner is everything you look for in a fullback. He has that thick build that helps him in run blocking, but he can also be effective when running the football. He's not the fastest guy in the world, but Pryor has good lateral agility, can run between the tackles and also does a good job of catching the football.
Pryor will be one of the few fullbacks to hear his name called, as Matt Miller has him ranked as the best player at the position on his NFL big board.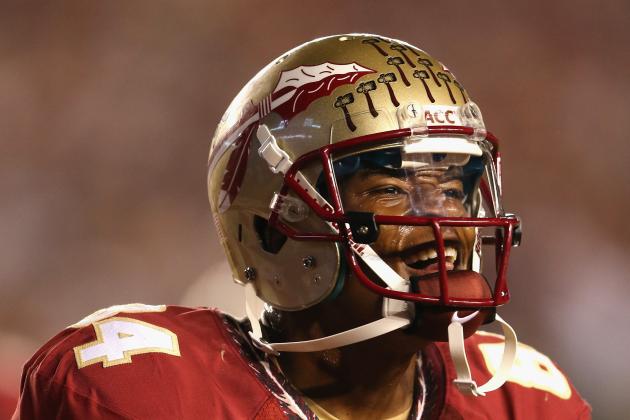 Streeter Lecka/Getty Images

Where He Was Selected: Undrafted Free Agent
Height: 6'4"

Weight: 225 pounds
Rodney Smith wasn't given many opportunities to prove himself in a Florida State offense that wasn't known for having a successful passing game. Still, receivers that are 6'4" don't exactly grow on trees. Smith has great body control for his size and does a good job of locating the football in the air. He has displayed good athleticism and has no problem getting his hands dirty when blocking for a running back.
You would like to see Smith take more advantage of his big frame and show consistently that he is capable of beating press coverage.
There is potential with this receiver in the later rounds. Matt Miller considers Smith to be the 25th-best receiver on his big board.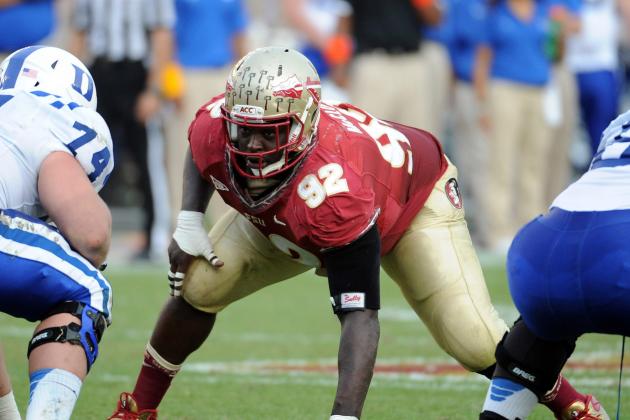 Melina Vastola-USA TODAY Sports

Where He Was Selected: Undrafted Free Agent
Height: 6'2"

Weight: 305 pounds
What you see is what you get with defensive tackle Anthony McCloud. He doesn't have much athleticism and you can't expect him to be much of a threat in the pass-rushing department. However, he does have great size, is extremely strong in the upper body and is difficult to move for any offensive lineman. Again, he isn't going to shed blocks or get into the backfield much, but he is a space eater and somebody who can make life easier for those around him.
There is a chance McCloud won't be drafted, but some team out there is sure to give him a chance as a free agent, especially teams running a 4-3 defense.
Matt Miller lists McCloud as the 18th-best defensive tackle in this year's draft.