The Biggest Disappointments Among Preseason Stanley Cup Favorites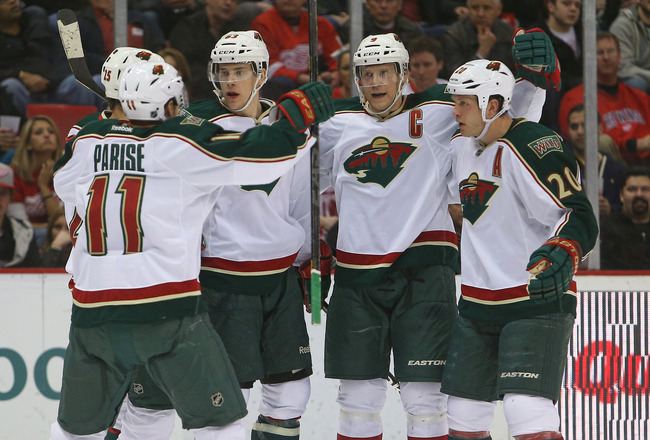 Tom Szczerbowski/Getty Images
The NHL standings grow more double-take-worthy as every day goes by, and teams that were considered Stanley Cup favorites during the preseason fall by the wayside as squads like the New York Islanders and Columbus Blue Jackets are charging hard for their piece of the playoff pie.
To say that the salary cap is working would be an understatement. To say that the NHL has been overtaken by parity and the death of dynasty would be accurate.
Long gone are the days of being able to buy a Stanley Cup, as are the days of being able to hold on to every single asset in the system. Some choices are tough and can hold a franchise back for decades.
The Islanders, for example, are just now digging out of the hole that Mike Millbury dug for them. The Blue Jackets are also fending off the repercussions of being arguably the worst drafting team in hockey over the last decade.
Yet these two underdog squads are fighting for their playoff lives while preseason Stanley Cup favorites—or at the very least, teams that were considered postseason locks—are on par with them or doing worse.
New York Rangers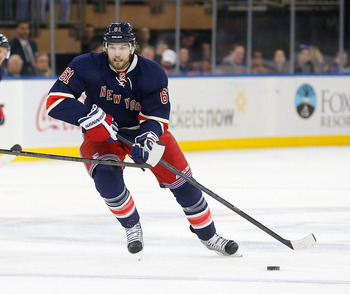 Paul Bereswill/Getty Images
Rick Nash was supposed to put the New York Rangers over the top after a 51-win, 109-point season in 2012. He was supposed to be the superstar that fans of the Pittsburgh Penguins and the New Jersey Devils lost sleep over. "How are we supposed to match up against Nash and Marian Gaborik and Brad Richards and Henrik Lundqvist?"
And to some degree, Nash has been all of these things. He's been one of New York's few consistent offensive performers and has scored the goals that the Rangers are paying him to score.
Yet what made this team so effective over the last few years seemed to missing in 2013. The depth was stripped in the deal for Nash, and while he hasn't been a disappointment, much more was expected from the Rangers as a whole this season.
New York is 27th in the league in goals scored per game—outlandish for a team that boasts the kind of firepower that the Rangers do. The term top-heavy was thrown around, which seemingly led to the Gaborik deal.
Trade away depth for Nash, then trade away Gaborik for depth.
They are still one of the best defensive teams in the NHL, but the pieces haven't come together in New York the way they were supposed to. This team wasn't supposed to be fighting with the suddenly-rival Islanders for a playoff berth.
New York was the sexy pick to win the Stanley Cup in 2013. As it stands right now it might not make the playoffs at all.
Carolina Hurricanes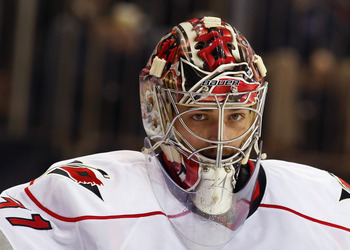 Bruce Bennett/Getty Images
There will be no Stanley Cup parade in Raleigh this year. There won't be any playoffs in Raleigh at all this year—an absolute stunner for a team that boasts the likes of Jordan and Eric Staal, Alexander Semin, Jeff Skinner and Cam Ward.
These Carolina Hurricanes aren't going to just barely miss the postseason. They are going to miss it by more than 10 points after posting only 17 wins with only a handful of games remaining. It's tough to do much worse in a lockout-shortened season, and only the Florida Panthers (who have iced an AHL lineup all season due to an injury plague) and Colorado Avalanche have had poorer seasons than Carolina so far.
The easy thing to do would be to blame the injury to Ward, but both Dan Ellis and Justin Peters have put up similar (equally as bad) numbers since the starter hit the IR.
The issue here might run a little deeper for the 'Canes. They made big moves in the offseason, dealing for Jordan Staal and signing Semin to a one-year deal. The added payroll has not resulted in wins, and the kids don't seem to be all right in Carolina.
Skinner has yet to tap into the 18-year-old version of himself. Justin Faulk has shown flashes of being great, but fellow youngsters Drayson Bowman and Zac Dalpe (while in the NHL) have failed to make an impact.
Locking up All-Stars is fun for the fans and good for the season ticket sales, but unless the younger players in Carolina can pick up their production in a big way next season it could just be more disappointment for a seemingly promising team.
Detroit Red Wings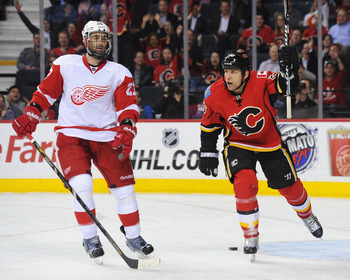 Derek Leung/Getty Images
There is a bad reality television show in here somewhere. It's easy to picture an executive pitching the premise: "let's round up a group of 30- to 38-year-old hockey players, only give them a week of training camp and then throw them into the best professional hockey league in the world. You know, to see how long their hamstrings will hold up."
If you've been watching the Detroit Red Wings on a regular basis this season, you've pretty much been watching this reality television show.
For the last decade-plus, pundits have been saying that the guys in Detroit were too old to get it done. Too soft. Too European. Too this or too that. The shortened 2013 season may end up being the first time that those pundits get to say "See? I told you so. I'm a hockey genius."
The injury bug chewed through Detroit's lineup early and in a hurry. Accounting for all of the players that have missed significant time for the Red Wings would be tiresome. Instead, consider that the entire third line of Todd Bertuzzi, Darren Helm and Mikael Samuelsson have played 12 games.
Total.
And apparently adjusting to life after Nicklas Lidstrom isn't easy either.
The Wings are still very much in the hunt for the eighth and final playoff seed in the Western Conference, and the upcoming three-way, winner-take-all Hell in a Cell death match between them, the Columbus Blue Jackets and Dallas Stars is shaping up to be a real barnburner.
Dallas and Detroit also happen to square off for the last game of their respective seasons on April 27. Circle that as a must-watch game. Just a hunch.
Nashville Predators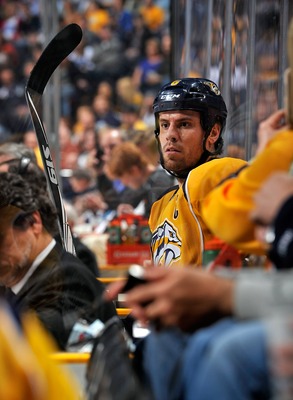 Frederick Breedon/Getty Images
The loss of Ryan Suter wasn't supposed to negatively affect the Nashville Predators this badly. Replacing a perennial All-Star and one of the top-10 defensemen isn't an easy task for any team in the NHL, but dropping from challenging for the division crown to challenging for the first overall draft pick is a plummet.
A plummet and an outright free fall that is very un-Nashville Predators-like.
Workmanlike hockey and succeeding despite limitations is what has made this the proud team that it is. The Preds have only missed the playoffs a single time over the last decade, and they have always found a way to just get it done.
This version of the Predators just hasn't had enough chomp to get by.
The offense hasn't been nearly good enough—not that anyone ever confused Nashville with an All-Star team that scores at will—but it's relied far too much on Pekka Rinne to steal them games. He's been outstanding, but the rest of the guys that call 501 Broadway home just haven't been.
Securing the services of Filip Forsberg in exchange for the downtrodden Martin Erat will most likely be what 2013 will be remembered for in Smashville. There isn't a whole lot else to like here besides the increasing odds of selecting one of the "big three" in the upcoming draft in June.
St. Louis Blues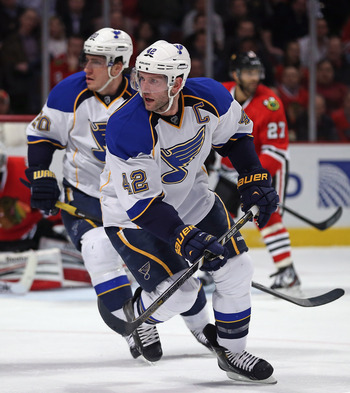 Jonathan Daniel/Getty Images
The will-they-or-won't-they St. Louis Blues.
This is a team that, through rough patches of the 2013 season, has seemed to be trying really hard to miss the playoffs. From the disappearing act of Vladimir Tarasenko to the scoring woes of Captain David Backes, St. Louis has struggled to find consistency all season long.
Not usually the trademark of Ken Hitchcock teams.
The seemingly impenetrable duo of Jaroslav Halak and Brian Elliot has fallen off in a big way this season, and they have even given up a few strings of starts to youngster Jake Allen. Halak has been on the shelf since the beginning of April, but even when he's been healthy he has been below average. (per Chris Nichols of SportsNet)
Different things have been going for the Blues at different times this season, but the team has yet to truly put it together. They are currently on a 7-3-0 run which suggests that they could be heating up just in time for the playoffs, but which St. Louis team are we going to get?
The one that started off the 2013 season in a similar fashion, or the one that fell of a cliff promptly after that?
Minnesota Wild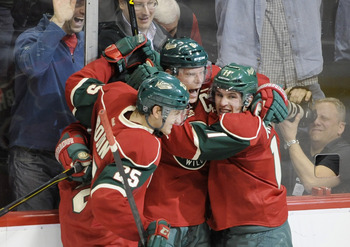 Hannah Foslien/Getty Images
The Minnesota Wild appear headed for a postseason berth, but up until two or three weeks ago the playoffs seemed more like a mirage than a certainty. Since then the squad has put together a solid run and fought its way into the middle of the pack in the Western Conference.
Yet hanging loosely in sixth place in the conference must feel a little empty to a team that has clear Stanley Cup intentions.
After going out and dropping mega-wads of cheddar on free agents Zach Parise and Ryan Suter, a division banner was in sights and "will we or won't we make the postseason" wasn't a discussion anyone in Minnesota was having.
Were hiccups expected when adding that much new blood (and payroll) to a locker room? One would assume so. But the Wild have been one of the most bi-polar teams in the NHL in 2013, dominating the opposition on one night and then turning out a stinker in the second game of a home-and-home the next.
They are still only a small cold streak away from missing the playoffs entirely—two or three bad games and suddenly that two point cushion vanishes and the Columbus Blue Jackets, Detroit Red Wings and Dallas Stars are all chomping at their heels.
That would be an unacceptable outcome for the Wild.
The elite teams in the NHL have found a way to create space for themselves in the standings. The Chicago Blackhawks, Anaheim Ducks and Pittsburgh Penguins (just to name a few) have carved out nice leads and have found ways to win hockey games.
So far in 2013, Minnesota has been anything but elite. It's been mostly average, which is a disappointment based on the clear aspirations of this club.
Franklin Steele is an NHL Featured Columnist for the Bleacher Report. Follow him to pre-order his autobiography, due out sometime in 2055. Follow @FranklinSteele
Keep Reading