6 Biggest Takeaways from This Week's MLB Action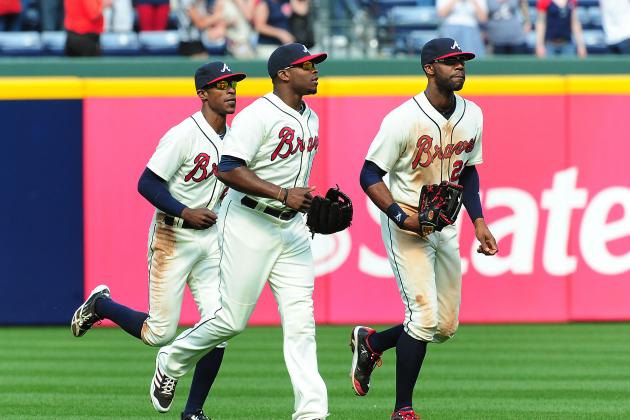 Scott Cunningham/Getty Images

Each week in Major League Baseball brings a different set of storylines. Last week's heroes can become old news overnight and last week's goats can become trending topics in a heartbeat.
The storylines also involve rumors, speculation and at times not so good clubhouse news. That's the beauty of baseball—which with each set of games every night there's never a dull moment.
The 2013 MLB season thus far has certainly been anything but dull. Perfect games have almost been thrown, no-hitters broken up at the end of games and former stars have resurrected their careers.
In every case, whatever the news is, it creates its own separate universe that exists and thrives courtesy of social media and the web. A story that may have taken days to grow and materialize as little as 20 years ago now takes literally nanoseconds to find a huge audience.
Each takeaway from game action in baseball is important both for fans and us media types who spit out articles ad nauseum about the ramifications and consequences of each piece of action.
But because of modern technology, we have the ability to drone on and on about whatever happens. And in MLB, the action is never-ending.
Here then is a look at what has transpired this week in MLB.
Begin Slideshow

»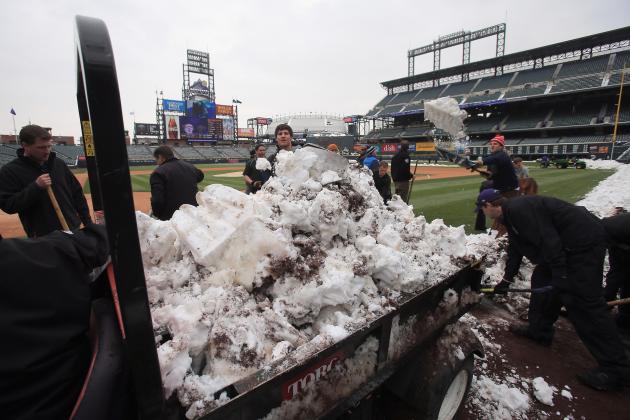 Doug Pensinger/Getty Images

MLB teams have been playing games in April for many decades, so it's not unusual to see players bundled up against the elements.
But this past week took that to new heights.
Monday's game at Coors Field between the New York Mets and Colorado Rockies was called because the field was blanketed with several inches of snow. The decision was made to play a doubleheader the following day.
On Tuesday, every available clubhouse worker along with team officials from both teams and even coaches participated in the clearing of snow just to be able to get the field back into playable condition.
The Rockies and Mets got both games in, but it was certainly a bizarre scene.
They couldn't play the third and final game of the series on Wednesday because of—you guessed it—more snow.
After the snow that blanketed Target Field last week—a series that also involved the Mets—players are no doubt ready for the dog days of summer.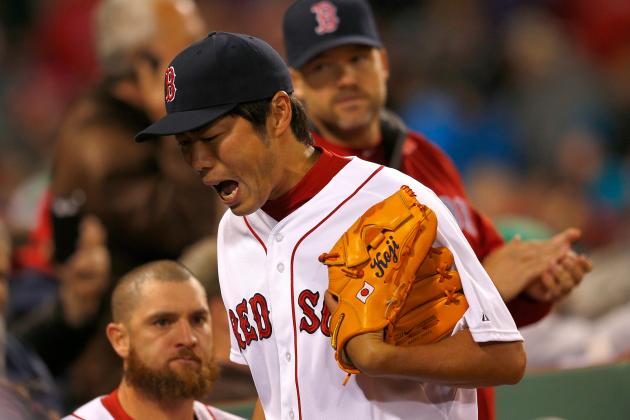 Jim Rogash/Getty Images
Koji Uehara's exuberant demeanor has been fun to watch.
Since September 2011, the Boston Red Sox and their fans have had to deal with a series of stories that rocked the organization to its very core.
From the collapse in the final month of the 2011 season, the clubhouse scandal that followed, the changes in the front office, the controversial hiring of Bobby Valentine, the worst season in 47 years and another new manager, the news has been nothing but miserable.
But the Red Sox are currently the second-best team in the American League, and they're certainly doing all they can to make fans forget about the past.
First-year manager John Farrell has turned around a starting rotation that helped lead to last year's dismal showing. Red Sox starters have now gone 15 straight games in which a starter has allowed three earned runs or less.
It starts with pitching, and Farrell—who was the pitching coach for the Sox from 2007-10—has been the perfect answer to those woes. Jon Lester and Clay Buchholz are a combined 6-0 with a 1.13 ERA. No. 3 starter Ryan Dempster has looked solid with a 2.65 ERA despite his 0-1 record and the bullpen, save for Joel Hanrahan, has been outstanding.
A team that looked like it was entering a rebuilding phase suddenly looks like a contender again. And Farrell has clearly infused a new attitude and an atmosphere that's now fun and festive.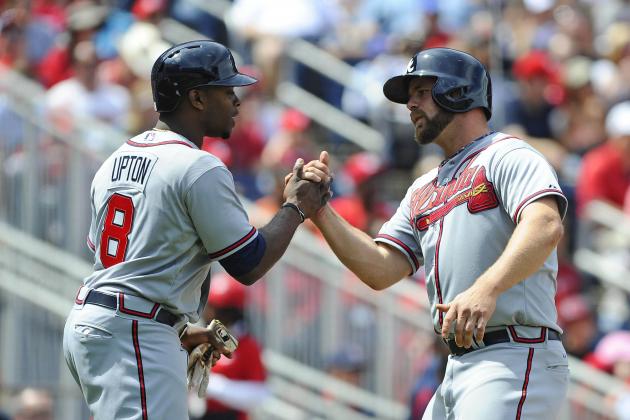 Brad Mills-USA TODAY Sports

The Atlanta Braves are now a major league-best 13-2 after their victory over the Pittsburgh Pirates on Wednesday night.
The hot start can't be credited to any one particular phase of the game, either. Every single member of the Braves has played a key role since Opening Day.
The vaunted bullpen has been as advertised. Closer Craig Kimbrel picked up his seventh save of the season against the Pirates; he's posted a 0.00 ERA and gave up just two hits in eight appearances.
The rotation has been solid, headed by junkball-throwing southpaw Paul Maholm.
Justin Upton now has nine home runs in 15 games. Backup catcher Evan Gattis has been a more-than-pleasant surprise in filling in for the injured Brian McCann. And Chris Johnson and Juan Francisco have provided an excellent platoon thus far at third base.
Everything is clicking for the Braves right now. If they continue excelling in all facets of the game throughout the rest of the season, the rest of the National League should be very worried.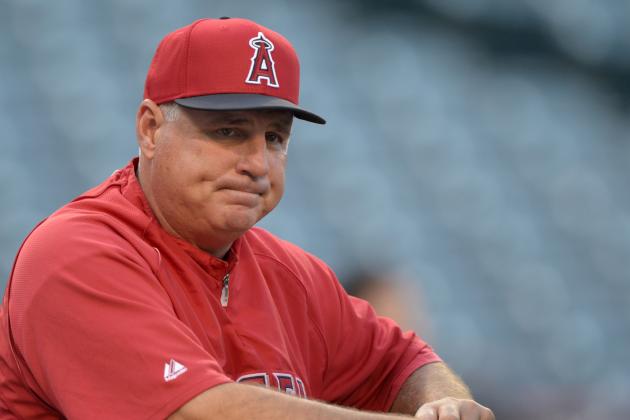 USA TODAY Sports

Now in his 14th season, Los Angeles Angels manager Mike Scioscia is the longest-tenured manager in the majors.
However, that may not last much longer, depending on who you believe.
Earlier this week, former manager Tony LaRussa was forced to dispel rumors that he was considered a leading candidate for the Angels, should owner Arte Moreno decide to dismiss Scioscia.
LaRussa told Ken Rosenthal of FOXSports.com that he has no intention of guiding another team.
"I'm not going to manage again," La Russa said. "I'm going to work for a team someday. But it won't be managing."
The Angels are limping home with a 4-10 after dropping two games to the Minnesota Twins. The offense has yet to fully click, the pitching has been erratic and sloppy play has been more the norm rather than the exception.
With a payroll at about the $150 million mark, this is obviously not what Moreno envisioned.
Scioscia is not the type to be looking over his shoulder, but it's clear that the dismal showing by his team has his days numbered.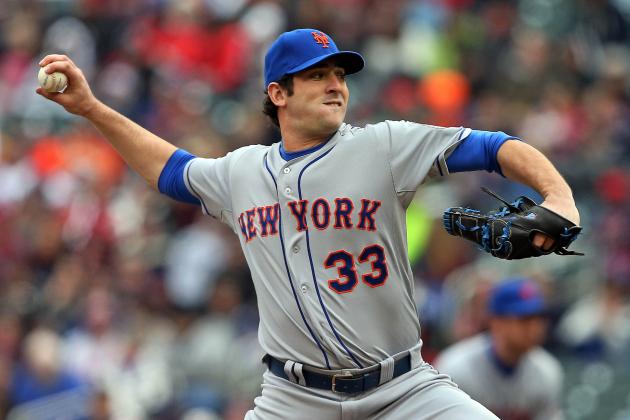 USA TODAY Sports

On Friday, the baseball world will get a highly anticipated matchup of two young arms.
The Washington Nationals travel to Citi Field to take on the New York Mets. Stephen Strasburg will start for Washington, and he'll oppose young fireballer Matt Harvey.
Both are 24 years of age, and both have the ability to blow away their opposition. Harvey is off to a 3-0 start, allowing just two earned runs in 22 innings, striking out 25.
Strasburg won his Opening Day start but dropped his next two decisions. His 7.4 K/9 rate is lower than expected, and he easily could have won his last start (six innings, no earned runs, seven strikeouts), but the sizzling Braves scored two unearned runs off the Nationals ace and eventually won 3-1.
No doubt fans will be anticipating this huge matchup between the two young guns.
It hasn't just been Strasburg and Harvey that have made news, however.
Tony Cingrani made his first major league on Thursday and showed no signs of nervousness. Cingrani allowed just one run on five hits in five innings while striking out eight in stepping in for the injured Johnny Cueto.
Jose Fernandez had his first rough start for the Marlins, allowing five runs on six hits in picking up his first major league loss. Feranandez wowed the baseball world with his first two starts earlier this season.
All things considered, the youngsters on the bump have gotten it done thus far.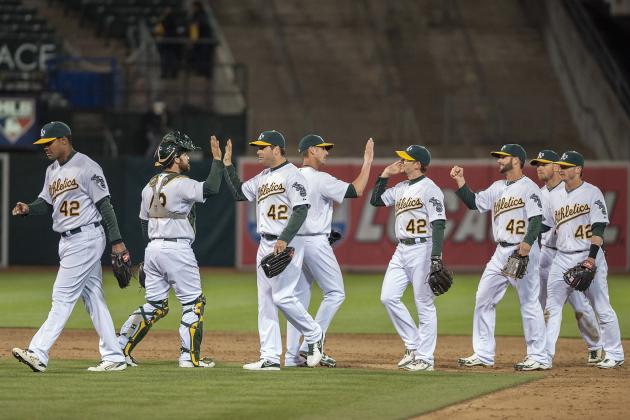 Ed Szczepanski-USA TODAY Sports

The Oakland Athletics were the surprise winners of the AL West Division title last year and came within one game of getting to the ALCS.
Early this season, they're out to prove that they are in fact for real.
Off to a 12-4 start, the A's have gotten it done with an offense that has capitalized on its opportunities and a bullpen that is helping them win close games.
Oakland doesn't have an established ace, and aside from Yoenis Cespedes it doesn't have anyone who would be classified as a superstar.
The A's are a team that appeals to the working class for sure.
Doug Mead is a featured columnist with Bleacher Report. His work has been featured on the Seattle Post-Intelligencer, SF Gate, CBS Sports, the Los Angeles Times and the Houston Chronicle.