Arkansas Football 2013 NFL Draft Tracker and Analysis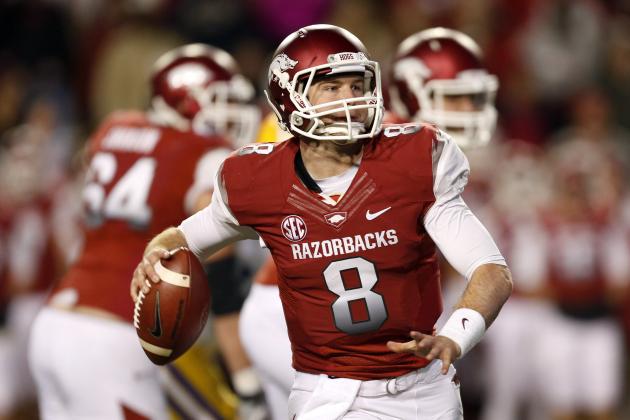 Wesley Hitt/Getty Images

Arkansas faced a tough year in 2012 with the loss of its head coach and whirlwind that came with the media frenzy that followed the dismissal. The team suffered, but these soon-to-be draft selections rose above the fold regardless of circumstances.
This is your guide to Arkansas' 2013 draft class.
Tyler Wilson was expected to headline the group, but huge winter sessions from Alvin Bailey and Chris Gragg have pushed them into the spotlight. Here are the six players looking to hear their names on draft weekend.
Note: Player profiles will be updated once drafted
Begin Slideshow

»
Where He Was Selected: Fourth round - 112 Overall to the Raiders
Height: 6'2"
Weight: 215 pounds
The Arkansas Razorbacks struggled to find an identity on offense in 2012, hurting Tyler Wilson's name recognition, but heading into the draft he is as solid as any passer in the cycle.
Over the past two seasons he has been a steady performer dumping 3,000-plus yards through the air in both years. He has always had solid surrounding talent, but he has played in a pro-style system and shown proficiency.
He has a very good arm, but he will rely on it too much, providing turnover opportunities for the defense. Once he learns to be selective, Wilson can be one of the more proficient quarterbacks in the NFL.
A lot can be said about Wilson and his prospects as a draftee, but there are some major mechanical flaws that need to be fixed at the next level. It will take him a few years to settle into a system before he becomes productive.
Where He Was Selected: Sixth round - 197 Overall to the Cincinnati Bengals
Height: 6'2"
Weight: 215 pounds
Cobi Hamilton is a sizable receiver with a lot of power to match. He can create separation with defensive backs, and he can break tackles once he has made the catch.
He became a premier receiver for the Razorbacks this past fall after serving in a reserve role over the past three seasons.
His lack of consistency as a starter has led to concerns, but his big-play ability as an outside receiver will keep him in the conversation for teams. In his one season as a premier starter he rewrote the record books for Arkansas.
This is a player that is still growing into his position, and he will become a steady performer in the NFL once he fits into a system.
Where He Was Selected: Seventh round - 222 Overall to the Buffalo Bills
Height: 6'3"
Weight: 244 pounds
Chris Gragg was a moderate performer in his time at Arkansas, as a position change and a string of injuries limited his impact. He walked into the combine as a low expectation guy and stole the show.
Gragg posted a 4.5 40-yard dash, a 37.5 inch vertical and a 7.08 3-cone drill—all position leading scores (h/t NFL.com).
His athleticism in the open field make him a big-bodied receiver on certain routes. He began his college career as a receiver which helped him become a fluid route-runner.
To become an elite level tight end in the NFL and three-down performer, Gragg will have to improve as a blocker. If he doesn't improve, it will limit his career impact.
Where He Was Selected: TBD
Height: 6'3"
Weight: 312 pounds
Alvin Bailey has become one of the best interior linemen in the college game over the past few years. He has been a steady performer for the Razorbacks filling in at both left and right guard.
It was a surprise when he entered the draft (via Matt Miller Twitter), but he has gained ground since announcing:
#Arkansas OG Alvin Bailey enters 2013 draft. Have him as a mid-round guy, but will be going back to re-watch. Didn't see him entering.

— Matt Miller (@nfldraftscout) December 20, 2012
He is projected as a Round 3 pick to the Miami Dolphins in Matt Miller's latest mock draft.
Bailey is a quick lineman that is able to control most defensive linemen well in both pass and run blocking. He will be able to fill in for a squad within his first year in the league—likely in reserve play.
His solid frame and solid base makes him a tough anchor to move when defensive linemen are trying to force penetration.
He has some issues with making second-level blocks, but as an NFL guard he will be a solid performer and should put in a number of years of service.
Where He Was Selected: TBD
Height: 5'10"
Weight: 227 pounds
Knile Davis is an intriguing prospect in this draft cycle. He was expected to be among the elite in the SEC in 2011, but an injury ended his year and forced a medical redshirt. His senior season was a disaster.
Davis has been injured nearly every year of his college career, and his upright running style add to health concerns. He also had major turnover issues in 2012 as eluded to by Matt Miller (via Twitter) here:
If only RBs could run their 40 holding the ball, you'd all be saying different things about Knile Davis right now. #fumbles

— Matt Miller (@nfldraftscout) February 24, 2013
Miller has Davis going in Round 4 to the Bengals in his latest mock draft besides those concerns.
The talent is there for Davis to become an elite running back—his 4.37 40-yard dash and 31 bench reps show that—but he has to become more consistent or he will wash out in a few seasons.
Where He Was Selected: TBD
Height: 5'6"
Weight: 196 pounds
Dennis Johnson is a pinball type running back that has put together two solid seasons for the Razorbacks. He is projected as a Round 6 selection by the Seahawks in Matt Miller's latest mock draft.
Johnson has a strong power base and runs well between the tackles. He will fit in well as an every-down back at the next level, as he rarely takes full body hits because of his size.
He will not outrun a defense, but he does have a deceptive breakaway gear that can lead to long runs. Johnson has been able to make plays in the passing game at times over the years, but he will need to hone that skill to be an all-around threat in the NFL.
Johnson doesn't have a lot of fanfare surrounding him entering the draft, but his durability could push him higher in the draft if a team gets antsy looking for a ground-and-pound type runner.