With the 2012-13 NBA regular season officially behind us, the NBA playoffs are officially upon us. With the seeds decided and the first-round matchups set, we now move forward with eight postseason series that should provide us with nothing short of thrills and heartbreak.
The question is, what makes for the most intriguing first-round matchups?
When it comes to the playoffs, you could make the case that every series offers intrigue. The fact of the matter is, we'd be remiss to ignore the factors that push a seven-game series over the top and make it must-see television.
Without any insult focused on the other series, these are the battles that are capturing our attention.
No. 1 Oklahoma City Thunder (60-22) vs. No. 8 Houston Rockets (45-37)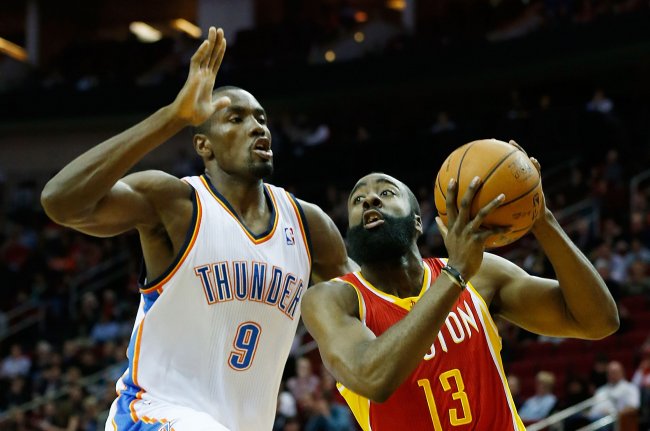 Scott Halleran/Getty Images
On the surface, this matchup pairs two of the NBA's most high-octane offenses in a battle for supremacy. The Oklahoma City Thunder rank third in scoring offense and third in three-point field-goal percentage, while the Houston Rockets lead the NBA in points per game and are second in three-point field goals made.
With that being said, let's cut through the hype and get to what truly matters—James Harden going up against the team that traded him away.
Who will win this first-round series?
Merely months removed from winning the 2012 NBA Sixth Man of the Year award, the Thunder controversially traded Harden to the Rockets. This came after months of contract talks which eventually led to OKC's decision that they couldn't afford The Bearded One's services.
Houston gladly took on Harden's financial needs and they haven't regretted the move for a moment.
Removed from the shadows of Kevin Durant and Russell Westbrook, Harden is averaging 25.9 points per game. Without Harden splitting ball-handling duties, however, Westbrook too has improved his game and reached 7.5 assists per contest.
The storylines are endless in this one, but nothing is quite as intriguing as Harden versus his former team—perhaps the most intriguing first-round matchup of all.
No. 2 New York Knicks (54-28) vs. No. 7 Boston Celtics (41-40)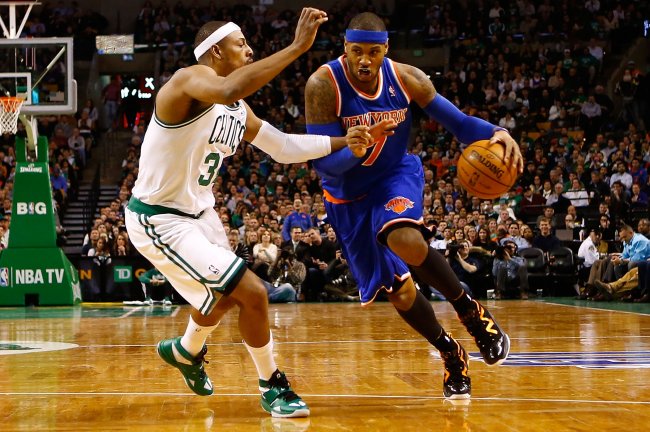 Jared Wickerham/Getty Images
Let's put the records aside and acknowledge this series for exactly what it is: a clash between two of the most fierce rivals in NBA history.
The New York Knicks have watched the Boston Celtics dominate the NBA since its inception, winning a title in every decade but the 1990s. In that time, the Celtics have won 21 division titles and 17 NBA championship while the Knicks have won five division crowns and two NBA titles.
It just so happens that lucky No. 5 came in 2013.
Who will win this first-round series?
The tables have turned in this rivalry, as the Knicks are suddenly the on-paper favorite. They won 54 games this season, have dominated the opposition while playing at Madison Square Garden and the Celtics enter this series without franchise point guard Rajon Rondo.
The question is rather simple—do we actually believe that the mighty Celtics will fall in the first round?
No matter how many injuries they may have sustained, the NBA universe can unanimously agree that we'll need to see it to believe it. As for why, note that the Celtics have made it out of the first round in every season since 2008.
That includes an NBA championship, two NBA Finals appearances and three berths in the Eastern Conference finals.
As for the Knicks, they're fighting history. They haven't won a postseason series since 2000 and are in prime position to continue that streak against a bitter rival.
Let the New York versus Boston rivalry resume.
No. 2 San Antonio Spurs (58-24) vs. No. 7 Los Angeles Lakers (45-37)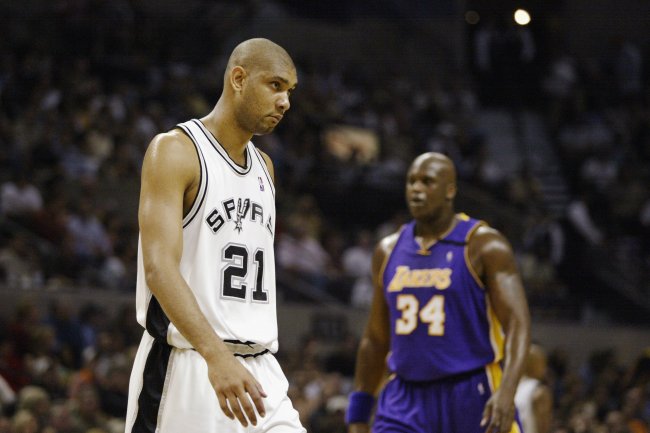 Brian Bahr/Getty Images
Kobe Bryant is sidelined by an injury, Shaquille O'Neal and Bruce Bowen have retired and Derek Fisher is on the Oklahoma City Thunder. Even with this knowledge in mind, we'd be remiss to ignore one simple fact.
This is the 11th time the San Antonio Spurs and Los Angeles Lakers have met in the NBA playoffs.
Who will win this first-round series?
For a more recent dose of history, this is the seventh time that the Spurs and Lakers have met in the postseason since 1999. In that span, the Lakers have gone 4-2 in terms of series wins against their San Antonio foes.
How much more history could you possibly ask for?
This is the latest chapter in what should live on as a legendary rivalry, as Dwight Howard leads the Lakers against the ageless Spurs. More specifically, D-12 will face Tim Duncan and Steve Nash will face Tony Parker.
Can you say legendary?
Perhaps most intriguing of all is the fact that the Lakers are without Kobe in a postseason series for the first time since 1996. This leaves L.A. with a matchup nightmare against three-time NBA champion Manu Ginobili.
With this in mind, who's going to take on two-time NBA champion Pau Gasol for the Spurs? Let the matchup discussions begin.
Whether you love or hate these two teams, there's no way to take your eyes off of the latest chapter in this rivalry.
No. 3 Denver Nuggets (57-25) vs. No. 6 Golden State Warriors (47-35)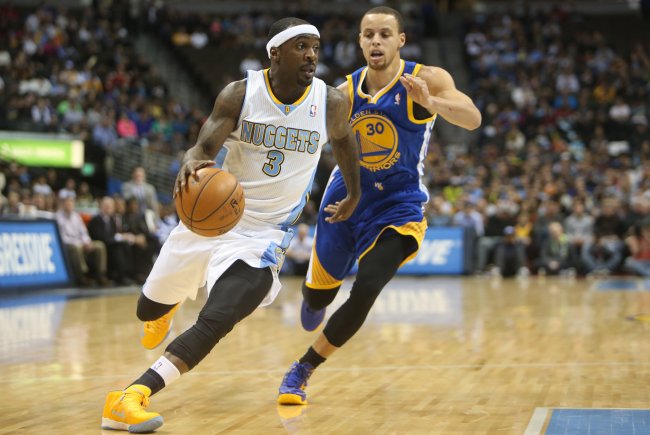 USA TODAY Sports
On paper, this appears to be a clash between two of the best offensive teams in the NBA. The Denver Nuggets are first in terms of scoring offense, while the Warriors are seventh in said category.
The question is, whose offense is more powerful?
The Nuggets are averaging 106.1 points per game and rank fifth in the NBA in field-goal percentage. They also rank second in possessions per game and lead the league in points in the paint at 58.0 per game—second is the Detroit Pistons at 46.5.
Who will win this first-round series?
Need we say more?
As for the Warriors, they check in at 101.2 points per contest and lead the league in three-point field-goal percentage at 40.3 percent. They're also eighth in three-point field goals made, with point guard Stephen Curry having set the individual record for three-point field goals made in one season (via ESPN).
Just don't sell Nuggets point guard Ty Lawson short, as he's averaging 18.8 points on 50.4 percent shooting since the 2013 NBA All-Star break.
So what separates this from the rest in terms of intrigue? The potential for an upset.
The Warriors are first in three-point field-goal percentage and fourth in free-throw percentage. The Nuggets are 25th in three-point field goal percentage and 28th in free-throw percentage.
It doesn't help that Denver's leader in three-point field goals, Danilo Gallinari, is out for the season with a torn ACL—consider this your upset alert.