The landscape of the first round of the 2013 NFL draft comes down to how the top 10 picks play out. The number of quarterbacks and offensive tackles who are selected early will open up the rest of the first round with tons of talent or remove some of the elite players from the board, putting pressure on teams with definite needs.
The teams focused on in this article are the clubs that have the most potential to determine the rest of the round.
Here is a look at the the first round of the draft.
Highlighted teams are marked in italics.
1. Kansas City Chiefs (2-14): Luke Joeckel, OT, Texas A&M
Who will the Chiefs take with the first pick?
This pick seemed like a no-brainer just months ago. Since then, Eric Fisher, Dion Jordan and others have proved to be potential options for Kansas City. The Chiefs need to improve their offensive line to help out new quarterback Alex Smith and returning running back Jamaal Charles.
Whether the Chiefs take Luke Joeckel or Fisher won't make much of a difference in how the rest of the round shapes up. If they were to surprise everybody and take Jordan or another player, then the rest of the top 10 would definitely be altered.
2. Jacksonville Jaguars (2-14): Sharrif Floyd, DT, Florida
The Jaguars have a need along the defensive line as they struggled mightily last season. They finished with the third-most rushing yards allowed and the third-most yards allowed. Sharrif Floyd can come in and help get more push up front to take pressure off the rest of the defense.
3. Oakland Raiders (4-12): Geno Smith, QB, West Virginia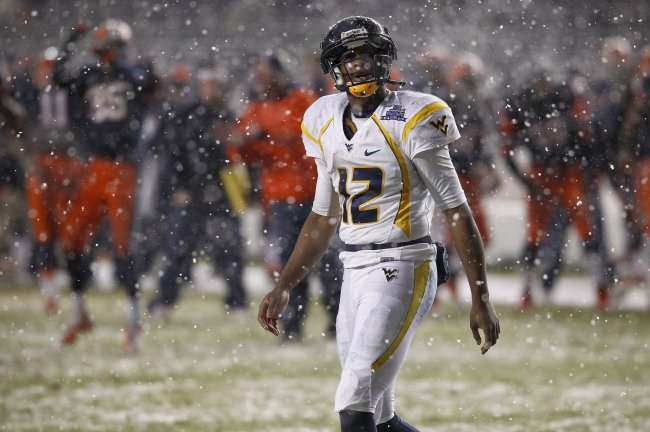 Jeff Zelevansky/Getty Images
The next big piece of the puzzle in the first round is which team selects Geno Smith. The Raiders added Matt Flynn from the Seattle Seahawks, but Smith gives them a quarterback of the future. Even if Flynn plays next season, Smith still would be a valuable pick down the road.
While Smith might not be at the same level of Andrew Luck or Robert Griffin III heading into his pro career, he has the skills to become a solid NFL quarterback. With the Raiders taking Smith off the board, there are players in the trenches who should fall.

4. Philadelphia Eagles (4-12): Dion Jordan, DE, Oregon
Dion Jordan is exactly the type of athlete that head coach Chip Kelly wants to bring to Philadelphia. He's extremely familiar with Jordan because of their time together in Oregon. Jordan adds length and athleticism to the Eagles' squad.

5. Detroit Lions (4-12): Eric Fisher, OT, Central Michigan
The Lions are in a position to get the best overall player left on the board when they get on the clock. With the choices above, the best value for them with the fifth pick would be Eric Fisher. The offensive tackle prospect is a better athlete than Joeckel, but he's more raw, having played against weaker competition.

6. Cleveland Browns (5-11): Dee Milliner, CB, Alabama
The Browns' defense improved dramatically last season and was surprisingly good. Adding another solid cornerback would make it even better and perhaps take it to the next level.

7. Arizona Cardinals (5-11): Ezekiel Ansah, DE, Brigham Young
The Cardinals will have a big decision with the seventh pick that will shape the rest of the round. They could go in various directions, most notably selecting a quarterback or offensive lineman with their pick. Instead, they go with the best athlete left on the board and add Ezekiel Ansah.
It's an interesting choice because of what it means for the rest of the round. There are three top offensive tackle prospects in the class: Joeckel, Fisher and Lane Johnson. Passing on Johnson and a quarterback to get Ansah is a risk, but it will pay off if Ansah reaches his outstanding potential.
8. Buffalo Bills (6-10): Ryan Nassib, QB, Syracuse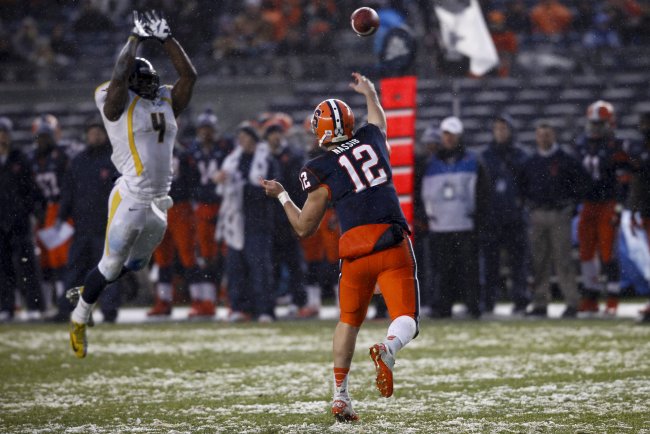 Jeff Zelevansky/Getty Images
The Bills also are in a position to dictate how the rest of the round plays out. They could look to add a defensive player or an offensive weapon. Having released Ryan Fitzpatrick, the Bills are in need of a quarterback and Ryan Nassib seemingly could be the guy.
With two quarterbacks going in the top eight picks, there will be players who are considered top 10 talents who will drop. It might be considered a reach, but if the Bills really like Nassib, they have to be sure that they land him.

9. New York Jets (6-10): Star Lotulelei, DT, Utah
The Jets are one of the teams that will benefit from two quarterbacks being selected ahead of them. With Star Lotulelei falling to them at nine, the Jets are able to add a huge anchor in the middle of their defense.
10. Tennessee Titans (6-10): Jonathan Cooper, OG, North Carolina
The Titans need to get a guard for their offensive line following the retirement of Steve Hutchinson. Jonathan Cooper has the highest ceiling of guards in the draft class and provides a great chance for the Titans to fill a need without reaching too much.

11. San Diego Chargers (7-9): Lane Johnson, OT, Oklahoma
The Chargers are another team that will benefit from the run of quarterbacks and defensive players. They need an offensive tackle that can protect Philip Rivers. They gave up the fourth-most sacks in the league with 49 last year.
Lane Johnson ranks behind Joeckel and Fisher because of a lack of athleticism and consistency, but he's a step above the rest of the offensive tackles in the class. Adding Johnson fills a big need and gives the Chargers outstanding value.
12. Miami Dolphins (7-9): D.J. Fluker, OT, Alabama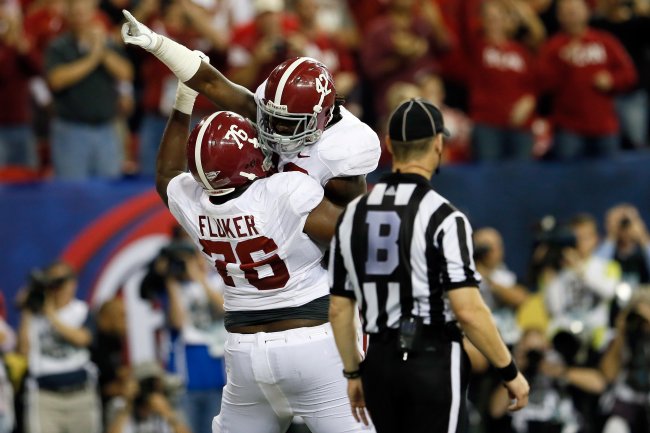 Kevin C. Cox/Getty Images
The Dolphins put some pieces together last year and during free agency, but they need to improve their offensive line. Getting D.J. Fluker with the 12th pick can be viewed as a reach, but it could pay off.

13. Tampa Bay Buccaneers (7-9): Xavier Rhodes, CB, Florida State
The Bucs couldn't stop anybody through the air last season as they allowed the most passing yards in the league. While Darrelle Revis is an option via trade, Xavier Rhodes also is a viable option to improve their horrid pass defense.
14. Carolina Panthers (7-9): Sheldon Richardson, DT, Missouri
The Panthers' defense was decent last year, but could be much better with some additions. Sheldon Richardson is incredibly athletic for his size, and his explosiveness would add a lot to the Panthers' defense. His presence would take pressure off the rest of the defense.
15. New Orleans Saints (7-9): Barkevious Mingo, OLB, LSU
The Saints need a new identity on defense following the turmoil of last season. Adding Barkevious Mingo gives them a mean streak without any controversy. Mingo's injury concerns drop him on the board, but the value is too good for the Saints to pass up.

16. St. Louis Rams (7-8-1): Tavon Austin, WR, West Virginia
The Rams have made a point of adding talent to put around Sam Bradford. Tavon Austin presents them with a chance to make their offense that much better. The Rams have young talent with plenty of potential. Austin just furthers that.
17. Pittsburgh Steelers (8-8): Bjoern Werner, DE, Florida State
The Steelers need to add new talent and youth to their defense. They allowed the fewest yards in the league, but lacked a strong pass rush. Adding Bjoern Werner at defensive end should give them youthful athleticism to keep their defense among the league's elite.
18. Dallas Cowboys (8-7): Sylvester Williams, DT, North Carolina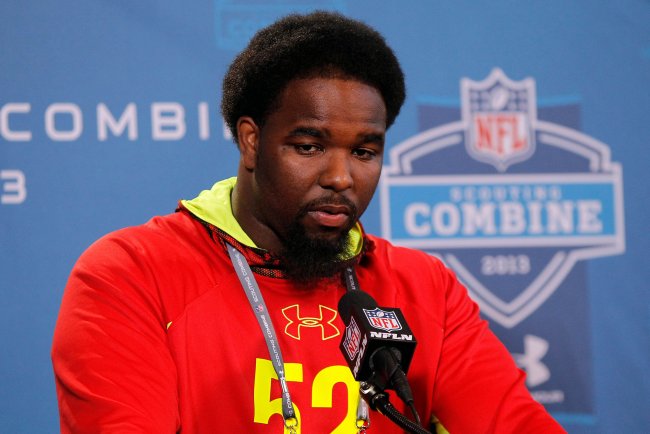 USA TODAY Sports
The Cowboys could be in the market for a player to eventually replace Jay Ratliff. Sylvester Williams has the size and power combination needed to be an impact player in that defense.
19. New York Giants (9-7): Chance Warmack, OG, Alabama
The Giants' offensive line was a big problem last season, both in terms of run blocking and pass protection. Adding Chance Warmack should open plenty of rushing lanes for David Wilson and offer an upgrade in protection as well.
20. Chicago Bears (10-6): Desmond Trufant, CB, Washington
The Bears have a good amount of established and talented cornerbacks, but Desmond Trufant offers them great value. He has potential to be one of their cornerbacks of the future as Charles Tillman (31), Tim Jennings (29) and Kelvin Hayden (29) get older.
21. Cincinnati Bengals (10-6): Menelik Watson, OT, Florida State
The Bengals have strong offensive talent in place with Andy Dalton, A.J. Green and BenJarvus Green-Ellis. In order to keep that core together and healthy, the Bengals must improve their offensive line. Menelik Watson offers them a chance to do so.
22. St. Louis Rams (via Washington Redskins 10-6): Kenny Vaccaro, S, Texas
The Rams' secondary must replace Quintin Mikell, and they should have the opportunity to do so with the best safety in the first round. Kenny Vaccaro has great range and play-making ability that would add to the Rams already talented secondary.
23. Minnesota Vikings (10-6): Cordarrelle Patterson, WR, Tennessee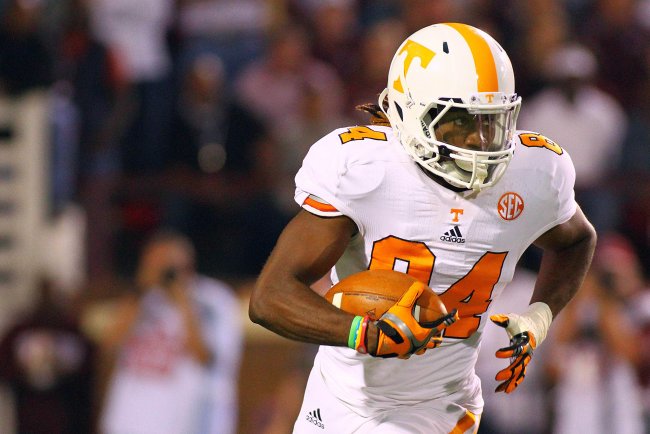 Spruce Derden-USA TODAY Sports
Despite adding Greg Jennings, the Minnesota Vikings are in dire need of wide receiver help. In order to get the most out of Jennings and quarterback Christian Ponder, the Vikings need more options in the passing game. Cordarrelle Patterson has character issues and his game is raw, but his potential is through the roof.

24. Indianapolis Colts (11-5): Jarvis Jones, LB, Georgia
The Colts are in a position of getting the best player available after last season's strong rebuild has them in good shape. The best value at the 24th pick is likely to be Jarvis Jones. There are concerns, but the potential makes him worth the selection.
25. Minnesota Vikings (via Seattle Seahawks 11-5): Datone Jones, DE, UCLA
The Vikings could use help on the defensive line and Datone Jones has plenty of potential. At defensive end, the Vikings would seem to be in good shape with Jared Allen, Brian Robison and Everson Griffen. But all three are set to be free agents next season and with Allen, 31, and Robison, 29, age could become a concern.
26. Green Bay Packers (11-5): Jonathan Cyprien, S, Florida International
The Packers need help in the secondary as neither M.D. Jennings nor Jerron McMillian have stuck next to Morgan Burnett. Instead of waiting another year to see if they develop, the Packers can pick Jonathan Cyprien to add a hard-hitting attitude to their defense.
27. Houston Texans (12-4): Keenan Allen, WR, California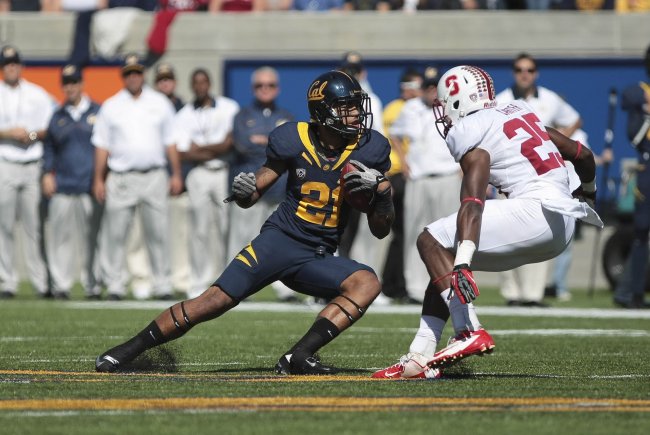 Kelley L Cox-USA TODAY Sports
The Texans are in need of a player who will improve their offense and take pressure off Andre Johnson. Keenan Allen adds speed and comes in a well-rounded package that will allow him to contribute from the start of training camp.
28. Denver Broncos (13-3): Cornellius Carradine, DE, Florida State
The Broncos could use a defensive end that will make life easier for the talented Von Miller. Cornellius Carradine has top 10 potential, but an ACL injury suffered in November could see him drop into the hands of the Broncos.
29. New England Patriots (12-4): Johnathan Banks, CB, Mississippi State
The Patriots' secondary was brutal at times last season, and it was big reason their season ended short of a Super Bowl appearance. Johnathan Banks has multiple skills but also is a bit raw. He will have a chance to compete and improve during the year.
30. Atlanta Falcons (13-3): Tyler Eifert, TE, Notre Dame
The Falcons are a team that is loaded with picks and could look to trade up in the first round. If they stay at 30 and let the value come to them, the Falcons could end up with Tyler Eifert. Getting the best tight end in the draft, the Falcons could let him learn under Tony Gonzalez and replace the legend next season.
31. San Francisco 49ers (11-4-1): Jesse Williams, DT, Alabama
The 49ers could use a beast on the defensive line as their defense struggled down the stretch with an injury to Justin Smith. Jesse Williams offers them an athletic, big-bodied player to provide support to an already fine defense.
32. Baltimore Ravens (10-6): Kevin Minter, LB, LSU
Ray Lewis' level of play decreased dramatically last season, and the Ravens could see immediate improvement with Kevin Minter. He won't have the career of Lewis, but Minter in 2013 has a chance to be better than Lewis in 2012.