Pittsburgh Penguins: Which Players Will Leave in the Offseason?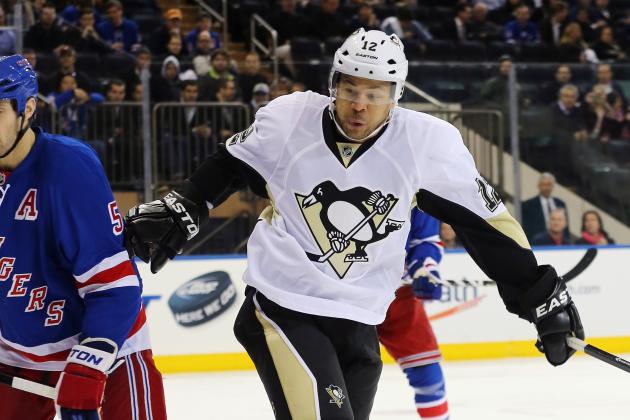 Bruce Bennett/Getty Images

The Pittsburgh Penguins pretty much cleared out the rental section of the NHL store at this year's trade deadline.
Jarome Iginla, Douglas Murray and Brenden Morrow are all players whose contracts will expire at the end of this season.
In my view, though, not every player with an expiring contract will be out the door. Indeed, Pittsburgh will prioritize several players with an eye toward bringing them back next season, but it's unlikely that the salary cap will allow the Pens to hang on to everyone.
Let's go through a player-by-player breakdown and see how the offseason will play out.
Begin Slideshow

»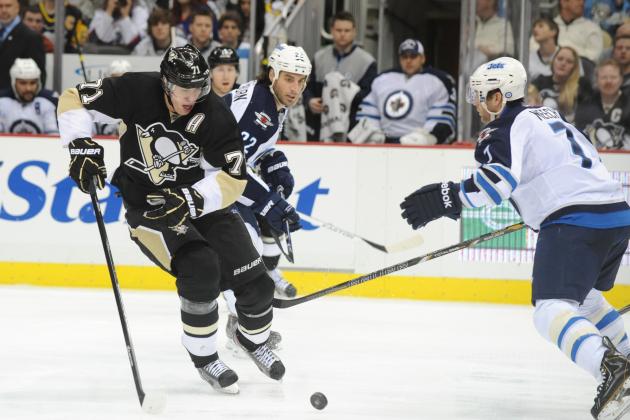 Vincent Pugliese/Getty Images

Staying
I know Evgeni Malkin's contract doesn't expire until after next offseason, but he's the biggest domino that determines how the others will fall.
Let me put the fears of Penguin faithful to rest and deflate the hopes of other NHL teams: Evgeni Malkin is not going anywhere. He is going to sign a mega-deal and stay in Pittsburgh for a long time. Sidney Crosby wants it, management wants it and presumably his parents, whom Pittsburgh has welcomed into the community, want it.
This is happening, and there's no other possibility. Everything that we will discuss after this slide hinges upon the acceptance of this fact: Malkin is staying put. He's too valuable and too comfortable here for the team to let him get away.
This deal will be almost as easy to hammer out as Crosby's was.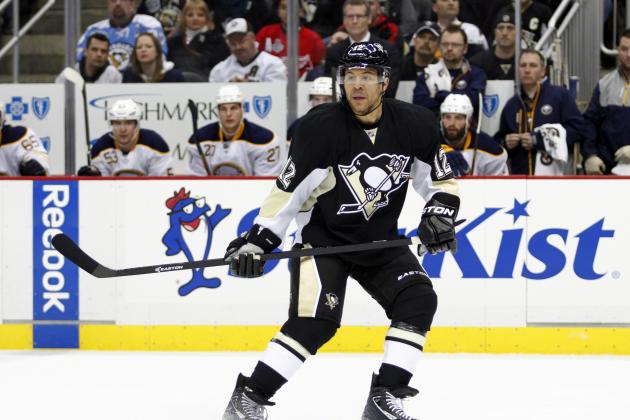 Justin K. Aller/Getty Images

Staying
Iginla knows that championship chances like the one he's gotten in Pittsburgh don't come around very often. I'm thinking that if he has his way, he'll stay a Penguin, especially if both the team and the player have playoff success this year.
Iginla won't be making $7 million like he did this season, but for an affordable deal he can finish out his career alongside the two best centers in hockey.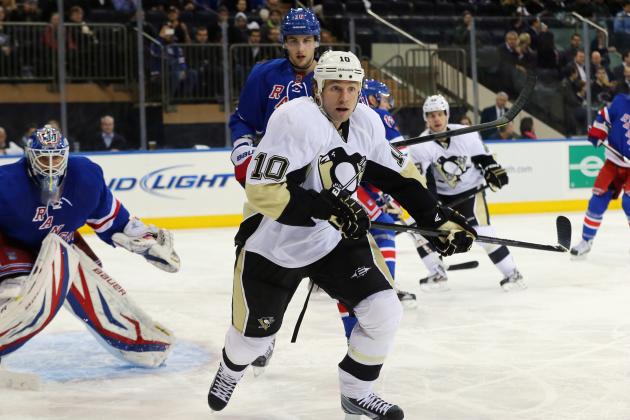 Bruce Bennett/Getty Images

Leaving
The first tough call of the offseason, it actually wouldn't surprise me at all if Morrow did end up staying in Pittsburgh. He seems like a great team fit. I just don't see it happening at this point.
Morrow provides a grit that Pittsburgh has lacked in the Crosby/Malkin era (not blaming them, by the way), and he has recently found his scoring touch as well. With so many players due new contracts, someone has to be the odd man out.
Barring an extremely team-friendly deal, Morrow is likely a true seasonal rental.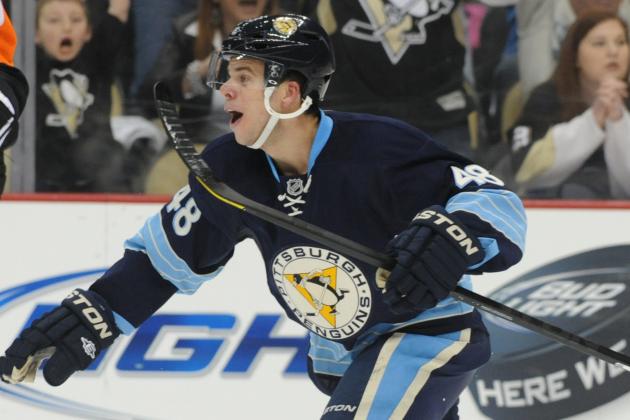 Vincent Pugliese/Getty Images

Staying
I'm not thrilled about this. TK has a booming shot and some nice speed, but I think he's a bit overpaid as a grinder. The Penguins organization loves him, though.
Penguin fans would cringe if he signed a contract that would hinder the team from bringing back the next player on this list. Still, Kennedy knows the Penguins system and has been in the trenches with these guys for a long time.
He's likely coming back.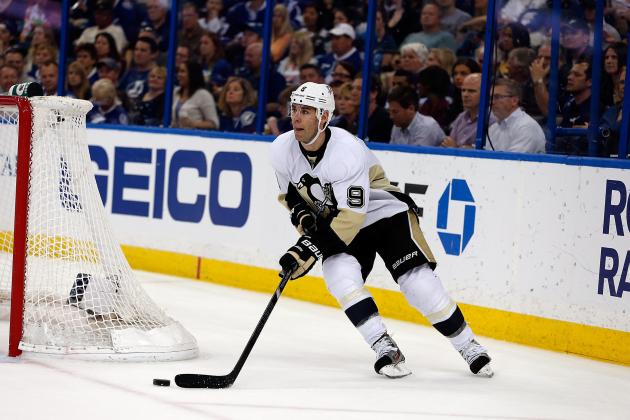 J. Meric/Getty Images

Leaving
That was tough to write.
Still, the speedy Dupuis has played himself into a position where a team will give him a nice deal even at the age of 34. As with most of the guys on this list, it will come down to whether Duper wants to stay in Pittsburgh for less or leave for more.
Dupuis has enjoyed a stellar run alongside Sidney Crosby, and I believe that he's about to cash in on that success.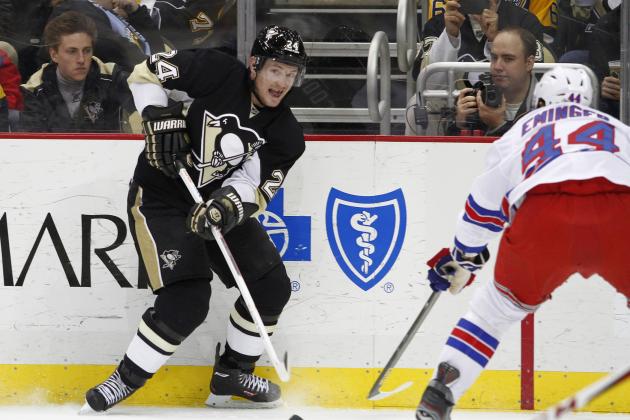 Justin K. Aller/Getty Images

Leaving
This is probably the toughest decision to predict. On one hand, Pittsburgh has to want to sign one of their top penalty killers, most willing hitters and "glue" players. On the other hand, he is in his mid-thirties and is in the midst of a good statistical season.
I think that Cooke is likely going to get more money than the Penguins are comfortable spending.
He's out.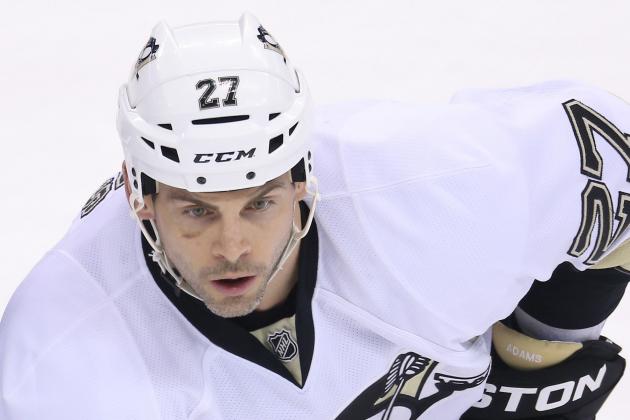 Tom Szczerbowski-USA TODAY Sports

Staying
Adams fills so many roles for the Penguins, and for pennies on the dollar. Whether the team needs a big hit, a crucial penalty kill or a faceoff win, Adams is up to the challenge.
He'll be back for a similar amount that he's making this year, less than $700,000. That's a great bargain for Pittsburgh.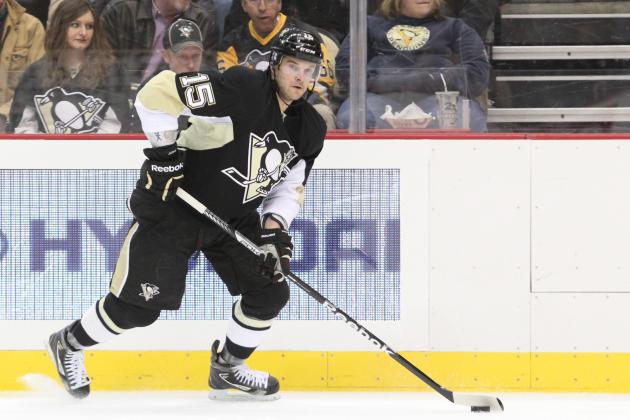 USA TODAY Sports

Leaving
I just can't see Jeffrey getting any more chances in Pittsburgh.
Even for a bargain, I feel like the team has had ample time to evaluate Jeffrey as a player. If Pittsburgh doesn't sign him, it's likely that other squads will think twice before giving him a shot.
He's been okay as an emergency center and as injury insurance for Crosby and Malkin, but I think that Pittsburgh will let him go.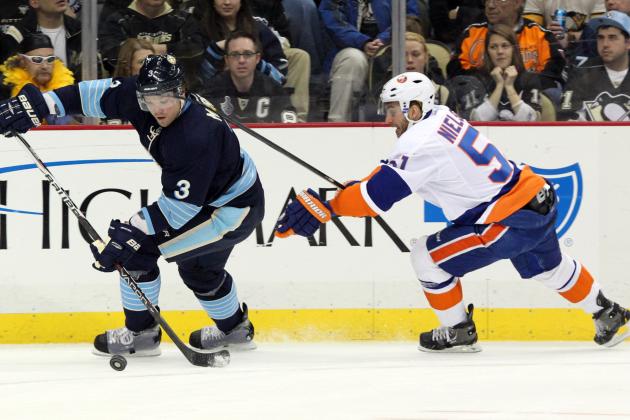 Charles LeClaire-USA TODAY Sports

Leaving
Before Morrow's offensive renaissance, Murray was the most visibly effective of the Penguins' trade-deadline pickups.
He's a fearsome hitter, he's a stay-at-home blueliner who adds toughness and he clears the crease. What more could you ask for?
As with some of the other names on this list, I think that Murray has played his way into a new contract, and some other team will definitely have a lot of interest in him. The Penguins have been lacking a player like him since Hal Gill left, though, and I'm curious to see how highly they value him in contract negotiations.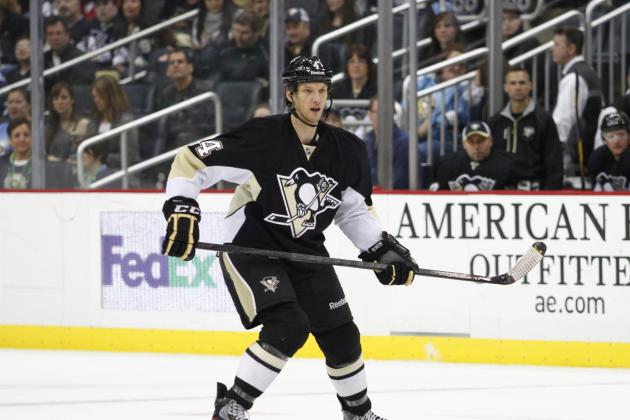 Justin K. Aller/Getty Images

Staying
His game isn't pretty, but the numbers don't lie: the Penguins are better when Mark Eaton plays. He blocks shots, he gets in passing lanes, he kills penalties and he can chew up minutes when needed.
He won't command a premium contract, and I think that the Penguins value him enough to bring him back again.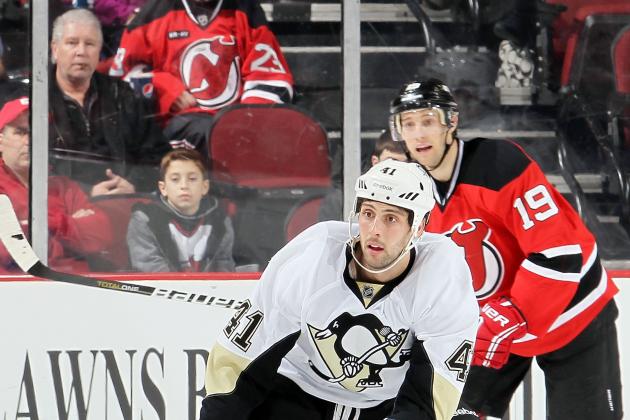 Jim McIsaac/Getty Images

Staying
He's not a full-time player yet, and he definitely has some growing to do. However, Robert Bortuzzo is part of a bright young defensive corps in Pittsburgh, and I think he'll definitely be back come next season.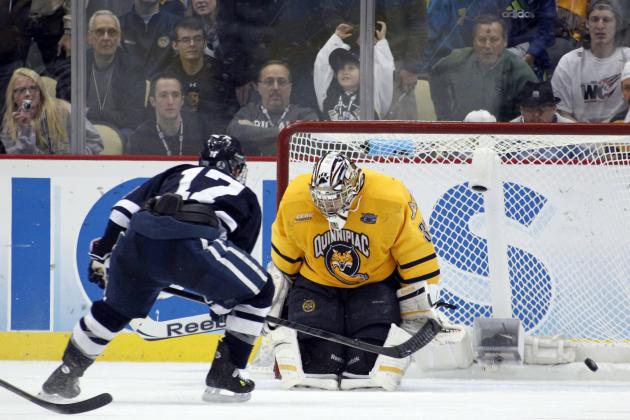 Justin K. Aller/Getty Images

Staying
I think the Penguins see something in the former Quinnipiac netminder, and it's possible that they keep him within the system. It's premature to say that he'll compete with Tomas Vokoun for the backup goalie job, but the Pens rarely sign players for no good reason.