Minnesota Vikings 2013 Mock Draft: Full 7-Round Predictions, 1 Week Before Draft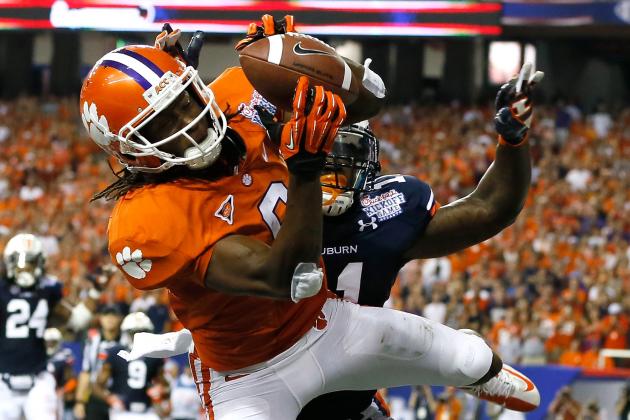 Kevin C. Cox/Getty Images

The countdown to the 2013 NFL draft continues to wind down with Minnesota Vikings fans eagerly awaiting the Vikings' first selection on April 25.
With that excitement comes intense speculation of how general manager Rick Spielman will best utilize the team's 11 selections, which includes one pick in each round of the draft.
The spotlight over the past week has been on linebacker Manti Te'o, who reportedly dined with Spielman prior to his pro day for Notre Dame on March 26. The Vikings also interviewed Te'o at the scouting combine in February and met with him earlier this month for the team's Top 30 event at Winter Park.
The Vikings have had an affinity for Notre Dame players over the years, including safety Harrison Smith in the first round of last year's draft and safety Robert Blanton in the fifth round.
Minnesota actually leads the NFL with five former players from the Fighting Irish. Kyle Rudolph, John Sullivan and John Carlson round out the list of those players from South Bend.
Still, will the Vikings' need for a middle linebacker coupled with Te'o's choice of college land him in Minnesota or is Spielman generating the kind of interest that could see the former Heisman candidate selected earlier in the first round?
The Chicago Bears are also in need of a middle linebacker after parting ways with Brian Urlacher. The Vikings' division rival selects three spots earlier at No. 20.
In addition to linebacker, Minnesota will look to upgrade at cornerback after losing Antoine Winfield to the Seattle Seahawks—the same team the Vikings traded Percy Harvin to in March. Wide receiver and defensive tackle are the other two needs Spielman must address in the draft.
Whether it is the first round or later in the draft, Minnesota's front office has the ability to improve in each of those four major positions with enough ammunition to add depth and developmental prospects to the team.
Here is the latest preview of how things could shake out for the Vikings on draft day.
All combine results courtesy of NFL.com.
Begin Slideshow

»
Arthur Brown may not garner the national attention of Manti Te'o, but he fits the Vikings' defense extremely well as a versatile playmaker who has played both, inside and outside linebacker.
Brown started his college career with the Miami Hurricanes in 2008, but later transferred to Kansas State in 2010 and redshirted his first year. As a team captain in 2011, he started all 13 games and recorded 101 tackles (9.5 for loss) with two sacks.
His lone interception of 2011 came against Robert Griffin III, marking the Heisman trophy winner's first interception of the year and only second-half interception all season (video here).
Brown finished 2012 with similar numbers, posting 100 tackles (seven for loss) and one sack. He had two interceptions, including the first of the season for West Virginia quarterback Geno Smith.
Although limited at the combine due to a shoulder injury, the 6'0", 241-pound linebacker impressed scouts at his pro day in the 40-yard dash with times between 4.56-4.66.
Brown's speed and size helps fill a void left by Jasper Brinkley, who signed with the Arizona Cardinals in free agency. The former Wildcat drops back well into coverage and is a sure-tackler in the open field. His quickness to ball-carriers and constant motor provides the Vikings an excellent complement to strong-side linebacker Chad Greenway.
Honorable Mention
CB Desmond Trufant, Washington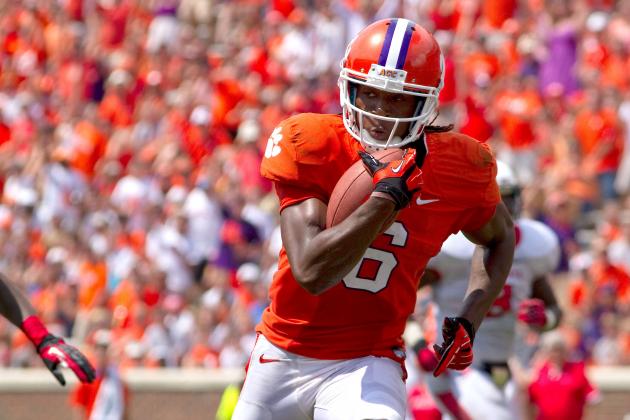 Joshua S. Kelly-USA TODAY Sports

DeAndre Hopkins has been climbing draft boards over the past weeks and the Vikings are in a position to select one of the most well-rounded wide receivers in the draft.
With a relatively deep class at the position, Spielman may consider waiting until the second round to add a weapon for Christian Ponder across from newly acquired Viking Greg Jennings.
However, with 26 selections before the team's next pick in the second round, top-tier receivers like Hopkins and Keenan Allen will be off the board. Rather than risk missing out on a top playmaker for an offense that ranked 31st in passing yards last season, the Vikings should pull the trigger on receiver in the first round.
Hopkins ran a 4.57 in the 40-yard dash at the combine and had a 36-inch vertical jump. He excels in making difficult catches in traffic with superior concentration and ball control. He runs crisp routes and uses his hands well to break press coverage.
The junior out of Clemson has also demonstrated good skills as a run-blocker, characteristics Adrian Peterson will certainly welcome to the team.
Honorable Mention
WR Keenan Allen, California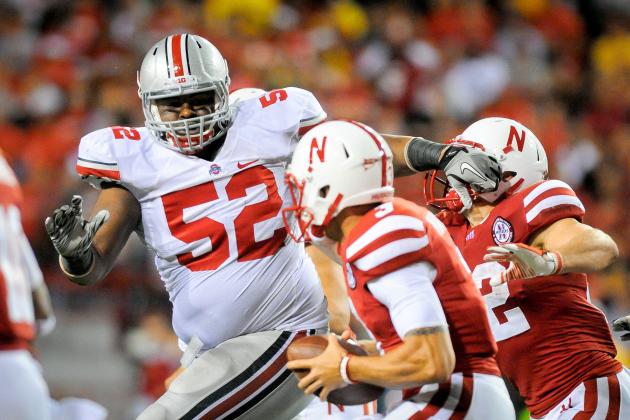 Eric Francis/Getty Images

Similar to wide receiver, the draft class at defensive tackle is relatively deep, offering the Vikings good value with the 52nd overall pick.
Johnathan Hankins has drawn comparisons to former Viking Pat Williams as a pure run-stopper with good balance and the ability to shed blockers. Williams played his last season with Minnesota in 2010, effectively tearing down the "Williams Wall" that he and defensive tackle Kevin Williams helped solidify.
While the Vikings need an upgrade from five-year veteran Letroy Guion, the team also needs to start adding depth behind Kevin Williams, who turns 33 in August and recently renegotiated his contract to only run through 2013.
Hankins stands at 6'3", 320 pounds and uses good hand-technique to maneuver against defenders. Although only average at rushing the quarterback, his agility and great footwork helps to mirror the quarterback and make passing lanes difficult.
Honorable Mention
DT Kawann Short, Purdue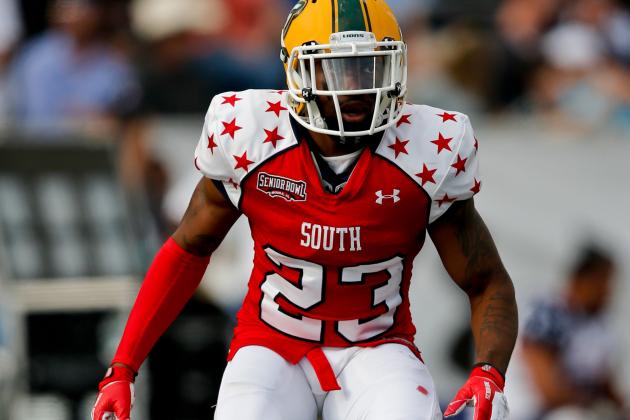 Derick E. Hingle-USA TODAY Sports

Robert Alford was among the top of his class in nearly every event at the combine. He ran a 4.39 40-yard dash and had a 40-inch vertical and 11-foot broad jump.
In addition to pure athleticism, Alford excels in both press coverage and zone defense, with a solid backpedal and excellent quickness to break on the ball. While only possessing average height at the position (5'10"), his vertical and physical nature helps against taller receivers.
The redshirt senior fits the Vikings Tampa 2 defense extremely well, with strong tackling skills and versatility to play outside and in the slot. With the departure of Antoine Winfield, Alford would be an instant starter alongside cornerback Chris Cook.
Honorable Mention
LB Kiko Alonso, Oregon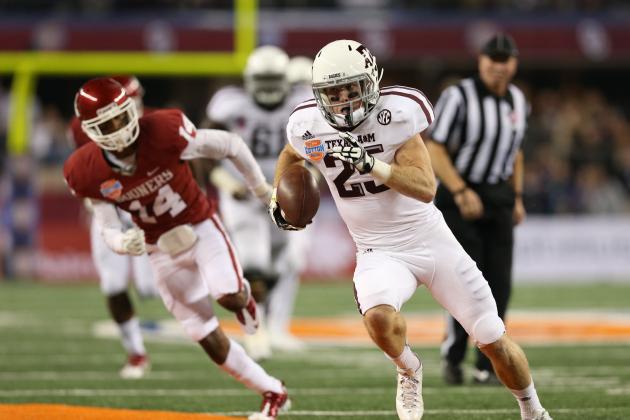 USA TODAY Sports

With the Vikings selecting Hopkins in the first round, Rick Spielman can wait until Day Three to draft an addition weapon for Christian Ponder.
Ryan Swope can absolutely fly in straight-line situations, posting a 4.34 40-yard dash at the combine. He possesses reliable hands and can tear apart defenses in underneath routes—something Ponder and Percy Harvin succeeded at when the receiver was still with the team.
Although successful in the slot, Swope can also play outside and attacks the ball at its highest point. He posted a 37-inch vertical at the combine which showcases how the 6'0" senior can play taller than his height indicates.
In his last two years of college, Swope hauled in 161 receptions for 2,120 yards and 19 touchdowns.
Swope has also demonstrated the ability to make those around him better, including his quarterback. After Ryan Tannehill became the eighth selection in last year's draft, Swope helped propel Johnny Manziel to the top of the Heisman race, becoming the first freshman to win the award.
While the Vikings drafted Jarius Wright last year and he is a strong prospect in the slot position, the team should not pass on a player who would make Ponder a better quarterback in several areas on offense.
Honorable Mention
WR Cobi Hamilton, Arkansas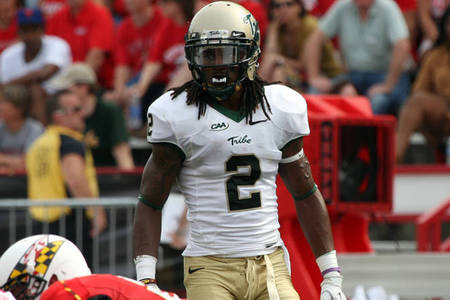 www.tribeathletics.com
William & Mary standout B.W. Webb becomes the second cornerback taken by general manager Rick Spielman. The move that reinforces the need to add talent in order to improve a defense that ranked 24th last year in passing yards allowed.
Webb was as much a combine warrior in February as Robert Alford. While not quite as fast in the 40-yard dash at 4.51, he led all cornerbacks in the 20-yard shuttle at 3.84 seconds. His vertical jump of 40.5" and broad jump of 11 feet were tied for first at his position.
The redshirt senior broke onto the college scene as a starter in 2009. He had three interceptions, including a 50-yard return for a touchdown, in an upset win over Virginia. Over his college career, Webb recorded 151 tackles (7.5 for loss), 30 passes defended and 11 interceptions.
His excellent hands and ability to break on the ball are valued assets on a Vikings' defense that demands solid zone coverage. Webb's strong tackling ability fills out a complete package for Minnesota, which is a rare find as a mid-round prospect.
Honorable Mention
LB Jon Bostic, Florida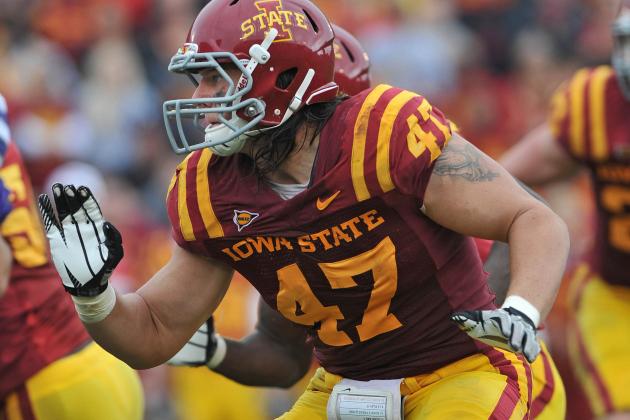 Peter G. Aiken-USA TODAY Sports

With the selection of Arthur Brown in the first round, the Vikings cemented their starting lineup consisting of Chad Greenway, Erin Henderson and Brown. However, A.J. Klein provides depth and special-teams play that warrants another selection at linebacker in the fifth round.
The Iowa State senior played all three linebacker positions in college—strong, middle and weak—demonstrating leadership and a non-stop motor. He has the ability to move through blockers with excellent vision and instincts.
Klein was named first-team All-Big 12 in both his junior and senior year, recording consecutive 117-tackle seasons and posting a combined 11 tackles for loss and two interceptions.
Few players receive the type of praise as Klein for his work ethic and level of intensity on the field. The Vikings would be adding an instant starter on special teams and a player who could develop into a starter at any of the three linebacker positions down the road.
Honorable Mention
LB Kevin Reddick, North Carolina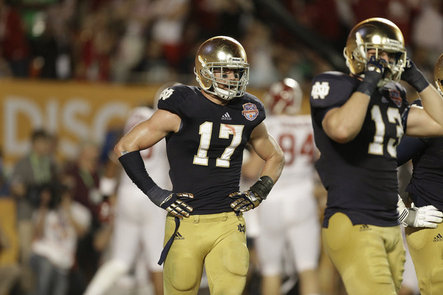 Chris O'Meara/Associated Press
Zeke Motta continues the trend of Notre Dame players drafted by the Vikings, adding the former teammate of 2012 first-round selection Harrison Smith.
As a starter his senior year, Motta recorded 77 tackles (three for loss) and had three passes defended. He respects his assignments and rarely allows receivers behind him. While not as athletic as Smith, he is an intelligent player with good coverage skills.
Motta also projects well as a special-teams contributor and is a strong tackler. He will need to get stronger at the next level and improve tracking the ball in the air, but would find himself back with an excellent mentor if joining the Vikings.
Honorable Mention
CB Micah Hyde, Iowa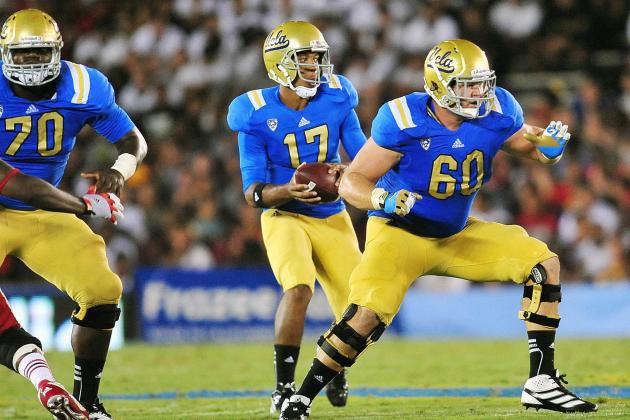 Gary A. Vasquez-USA TODAY Sports

Offensive guard may not jump off the pages as a top need for the Vikings, especially after Adrian Peterson ran for a league-leading 2,097 yards in 2012 and the offensive line ranked 11th in sacks allowed with 32.
However, additional depth and potential upgrade for either left guard Charlie Johnson or right guard Brandon Fusco would be a smart move late in the draft.
Jeff Baca has played both tackle and guard at UCLA, receiving second-team All-Pac 12 honors as a senior in 2012. At 6'3", 302 pounds, he possesses the size and strength that translates to the NFL and has an impressive push off the line to knock defenders backwards.
With good quickness as a pulling guard and the ability to keep rushing defenders in front of him, Baca should hear his name called in the seventh round, preferably by the Vikings.
Honorable Mention
OG Sam Brenner, Utah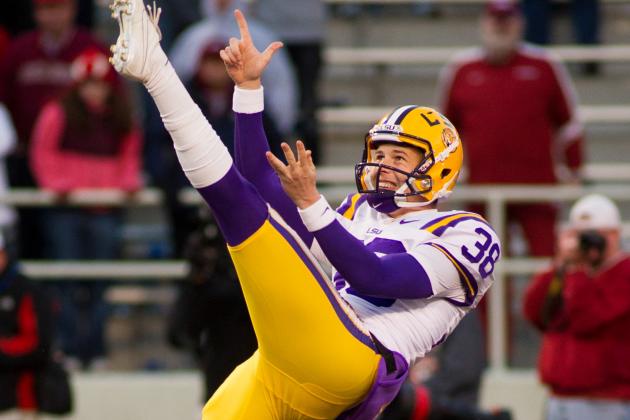 USA TODAY Sports

Generally an overlooked position in the NFL draft, the Vikings appear primed to select a punter for security behind current right-footed specialist Chris Kluwe, who enters the final year of his contract.
According to Wing's Twitter account, it appears the Australian-born punter had a private workout with the Vikings on April 4:
Had a good workout today! #blessed

— Brad Wing (@bwing38) April 4, 2013

Good luck @bwing38 with your workout with the Vikings today . Your family is behind you all the way #dream big boy from Melbourne #LOVE

— Kathleen Wing (@kathwing18) April 4, 2013
Wing brings some slight baggage with him, being suspended from the Chick-fil-A Bowl after failing a drug test. The redshirt sophomore had a strained hamstring during his pro day in March, most likely the catalyst for a workout with the Vikings a week later.
After surprise-selection Blair Walsh paid dividends from last year's draft, expect Spielman to make a similar move on special teams. The strong-footed Wing had two 60-plus-yard punts in 2012 and a 73-yard punt in 2011. He gets the ball off quickly and is an excellent directional kicker.
Honorable Mention
P Quinn Sharp, Oklahoma State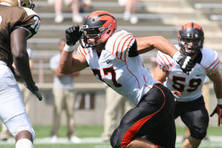 Courtesy: Beverly Schaefer
Mike Catapano is another late-round prospect who has been tied to the Vikings. In addition to having a private workout with Minnesota on March 26, the Princeton defensive end was also reported to have met with Rick Spielman and Vikings coaches on April 2.
At 6'3", 271 pounds, Catapano is an athletic pass-rusher with good technique on the end. In 2012, he recorded 41 tackles, 12 sacks and three forced fumbles.
During his pro day, Catapano ran the 40-yard dash in 4.75 seconds and had a 37.5" vertical. The redshirt senior would add depth behind Brian Robison and Jared Allen, who enters the final year of his contract in 2013.
Honorable Mention
DE Wes Horton, USC
Follow me on Twitter and Google+