UFC on Fox 7 Preview: Who's on the Hot Seat on Henderson vs. Melendez Card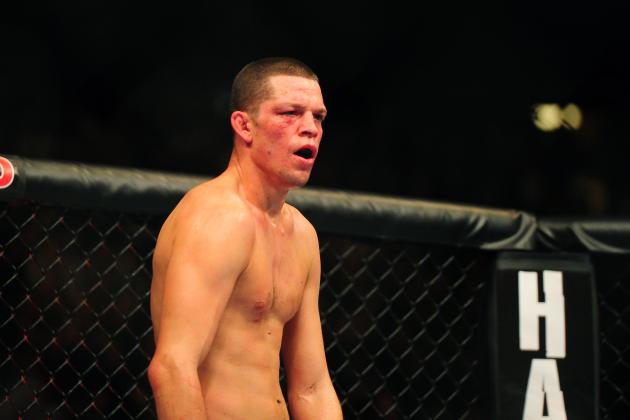 Mark J. Rebilas-USA TODAY Sports

The UFC will roll into San Jose, Calif. on Saturday, April 20 for the seventh UFC on Fox fight card. Headlining the event will be a matchup between UFC lightweight champion Benson Henderson and Gilbert Melendez—the man who is not only the No. 1 contender but possessor of the Strikeforce lightweight title.
Also of interest will be former UFC heavyweight champion Frank Mir squaring off against Strikeforce import Daniel Cormier, who brings an unbeaten 11-0 record into his UFC debut.
Long story short, this card is stacked from top to bottom, and there are very few, if any, fighters who need to worry about being pink-slipped with a loss. But that doesn't mean that there's no pressure to be found.
In fact, with so many highly ranked fighters, the pressure to win may be even greater. These fighters aren't merely fighting to live another day in the UFC but for so much more.
Begin Slideshow

»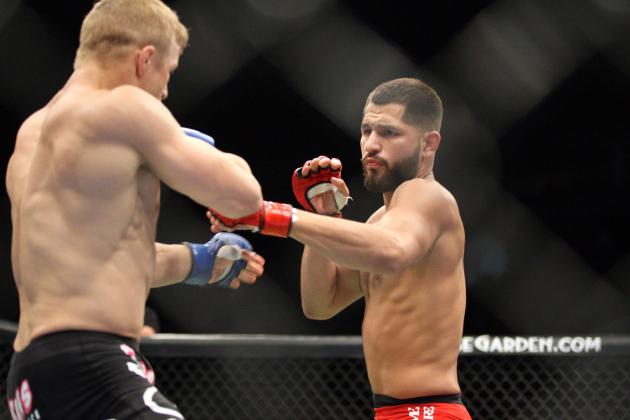 Scott Olmos-USA TODAY Sports

Jorge Masvidal has been competing as a professional mixed martial artist since 2003. During that time, he has competed for BodogFight, Bellator, Sengoku and most recently Strikeforce, where he battled Gilbert Melendez for the lightweight title, losing a five-round unanimous decision to the champ.
Masvidal (23-7) will make his UFC debut in San Jose against Tim Means (18-3-1), who is riding an 11-fight winning streak (two in the UFC). Masvidal seems to be approaching this bout and his UFC employment with a bit of a cavalier attitude, telling MMAJunkie that he's figuring his future earnings and career trajectory based on the bonus money he is certain he will earn in the UFC.
Confidence is a nice thing to have, and perhaps with his background and experience, Masvidal is confident that the UFC is just another cage to fight in. But it's not, and fighters with bigger names have wilted under the bright lights in the past.
Gary A. Vasquez-USA TODAY Sports

It's somewhat surprising that the No.1 ranked flyweight (behind champion Demetrious Johnson) in the UFC is fighting on the preliminary portion of the UFC on Fox 7 card, but that's where Joseph Benavidez will find himself when he faces Darren Uyenoyama in San Jose.
Benavidez has three losses, but two of those defeats were in title fights and both were via split decision. He first fell to WEC bantamweight champion Dominick Cruz and later to UFC flyweight champion Johnson. Benavidez's other defeat was a "Fight of the Night" unanimous-decision defeat to Cruz at WEC 42.
You'd be hard pressed to find anyone outside of Uyenoyama's camp who gives him more than a minimal chance of pulling off the upset, but that's exactly what makes him so dangerous. Uyenoyama has nothing to lose and everything to gain when he steps in against Benavidez.
All the pressure is on Benavidez in this one. Can he do enough to get back to main card bookings as well as keep his name at the top of the flyweight rankings?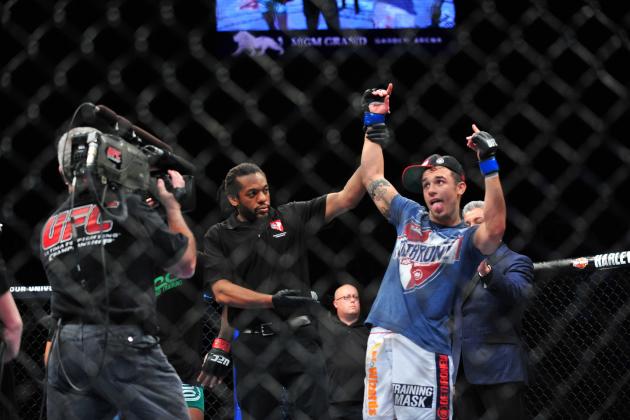 Gary A. Vasquez-USA TODAY Sports

When a fighter is riding a significant winning streak, especially if that fighter is not yet a household name, every fight can feel like a championship fight. Win and the unblemished record can open doors—lose and it's back to the drawing board.
That's the situation 11-0 Myles Jury finds himself in heading into UFC on Fox 7.
Michael Johnson was on a three-fight winning streak and looking like a developing star when Jury defeated the Blackzilians product by unanimous decision in December 2012. In San Jose, Jury will meet another fighter on a three-fight winning streak, Ramsey Nijem.
So far, Jury's streak is flying under the radar. If he wants to raise his profile, he's going to have to extend the streak to 12 overall and three in the UFC—something that Nijem will have no interest in helping him to attain.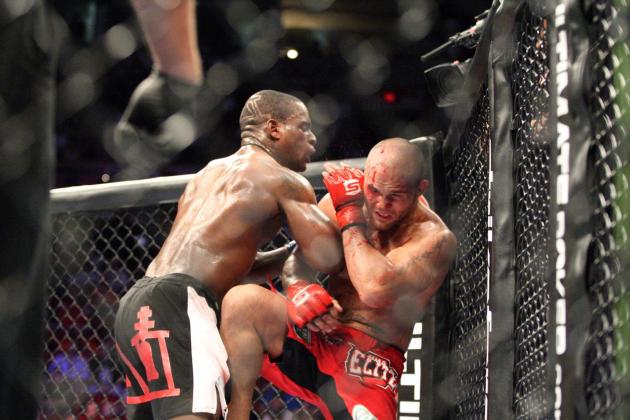 Scott Olmos-USA TODAY Sports

You may remember when Lorenz Larkin got down on his knees inside the Strikeforce cage and begged UFC president Dana White to extend the "Fight Night" bonuses to fighters who were competing for the recently-purchased-by-Zuffa promotion.
Or maybe you remember when Larkin blasted Strikeforce middleweight champion Luke Rockhold for withdrawing from two scheduled title fights.
Whatever the case, odds are that you don't remember Larkin for his win over Robbie Lawler in July of last year, and that's a damn shame. It was an impressive performance for a fighter who was making his debut at middleweight.
Larkin has talent, but he may have also put a little asterisk next to his name as a potential troublemaker. The UFC brass can tolerate trouble-making as long as winning goes with it, but rack up a couple of straight defeats and make waves and the leash may shorten.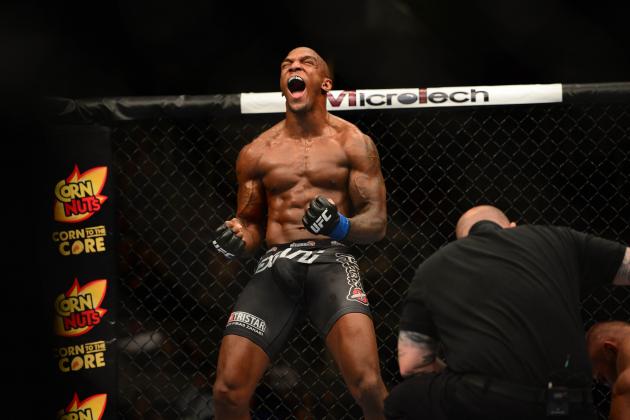 Kyle Terada-USA TODAY Sports

Francis Carmont will enter his UFC on Fox 7 bout against Lorenz Larkin on a nine-fight winning streak, with four of those wins taking place inside the Octagon. The Tristar product is coming off wins over Karlos Vemola and Tom Lawlor in his last two bouts and will look to use Larkin as a stepping stone to move out of the shadow cast by his teammates Georges St-Pierre and Rory MacDonald.
No one wants to live in the shadows, even in the shadow of one of the all-time greats. If Carmont wants to be remembered as more than that guy whom GSP cornered, he needs to keep winning.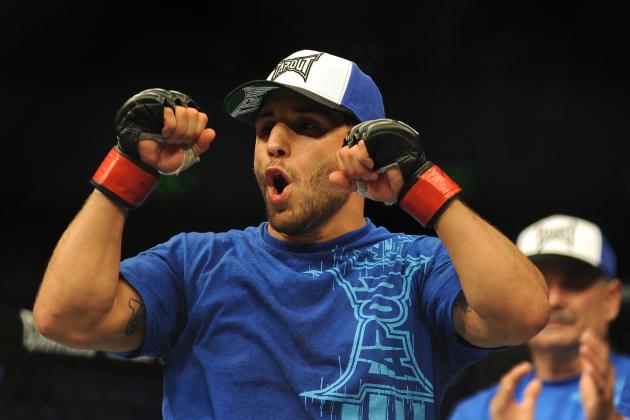 Matt Roberts/Getty Images

Chad Mendes is in a similar situation to Joseph Benavidez: He's the No. 1 contender in his division yet is competing on the preliminary card against an opponent with nothing to lose. In Mendes' case, that opponent is Darren Elkins.
The difference between Mendes and Benavidez is that while Benavidez is clearly the top contender in the flyweight division—biding his time until he gets another shot at champion Demetrious Johnson—a lot of talented fighters are nipping at Mendes' heels and looking to stake their claim as the No. 1 featherweight.
Not only does Mendes need to win on Saturday night, he needs to win in a way that will keep his No. 1 ranking secure. That's a tall order against the surging Elkins.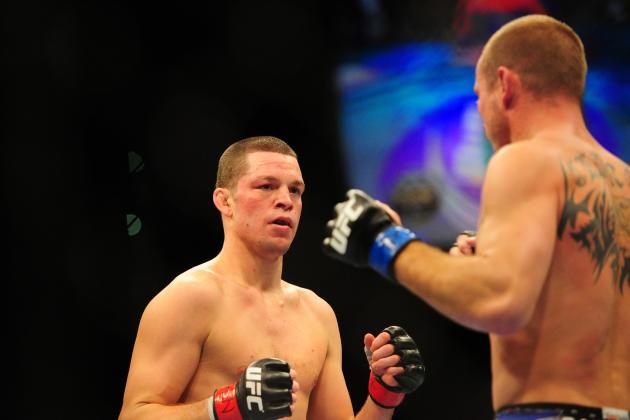 Mark J. Rebilas-USA TODAY Sports

Nate Diaz tried his hand in the UFC's welterweight division for a while, and it didn't end well for him. Diaz's run at 170 ended with two unanimous-decision defeats to Dong Hyun Kim and Rory MacDonald.
After the MacDonald loss, Diaz decided to head back down to lightweight, where he turned into a one-man wrecking crew. In his first return bout at 155, he earned "Submission of the Night" honors in his victory over Takanori Gomi. He followed that up with a "Fight of the Night" win over Donald Cerrone and then racked up another "Submission of the Night" by defeating Jim Miller.
That run earned Diaz a shot at UFC lightweight champion Benson Henderson, who dominated Diaz for five rounds and earned a 50-43 score on one judge's card. It was a masterful performance from Henderson that left Diaz, no matter how game he was, looking like he didn't belong in the Octagon with the champ.
If Diaz hopes to get another shot at lightweight gold, he needs to defeat Josh Thomson in San Jose.
The other wild card in this bout is that Diaz is fighting on 4/20—that's a risky proposition.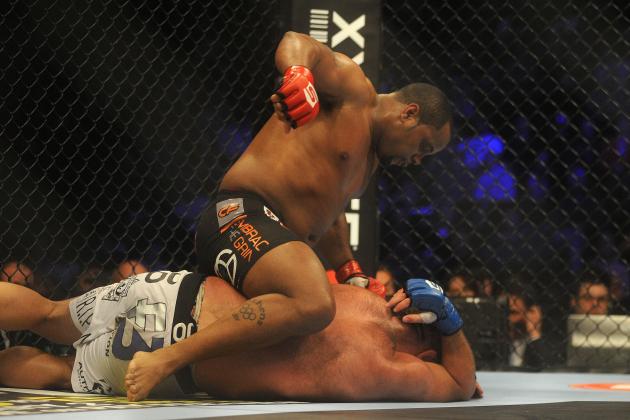 USA TODAY Sports

As far as fighters making their UFC debut on the Fox 7 card, Daniel Cormier may be the one whom fans and pundits are most looking forward to seeing. Cormier has been talked about as a fighter who could compete for UFC gold in both the heavyweight and light heavyweight divisions.
The former Olympic wrestling team captain has had nothing but success in his MMA career, running up a record of 11-0 and taking home the Strikeforce World Heavyweight Grand Prix title.
Cormier isn't getting an easy welcome to the UFC, as he will face former UFC heavyweight champ Frank Mir. If he can add Mir to his growing list of victims, the next step may be a UFC title shot in whichever weight division Cormier chooses.
Confidence has never been a problem for Frank Mir. In fact, he tends to come off a bit cocky and condescending. However, his resume gets him a little bit of leeway in that department; after all, Mir did wear the UFC heavyweight title as well as the interim title.
Speaking to Bleacher Report's "The Ultimate Show," Mir pretty much waved off the accomplishments of his UFC on Fox 7 opponent, Daniel Cormier.
Mir has never been shy about voicing his opinion. Heading into UFC on Fox 7, he's written some big checks, and it will be interesting to see if he can cash them on April 20.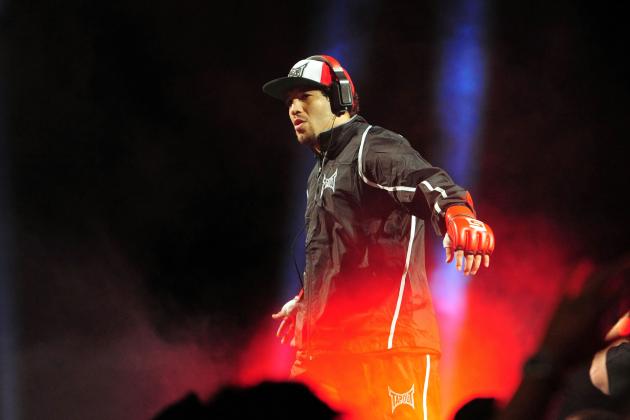 Kyle Terada-USA TODAY Sports

Gilbert Melendez comes into the UFC on Fox 7 card as the Strikeforce lightweight champion and No. 1 contender for Benson Henderson's UFC lightweight belt.
Some will opine that Melendez's best days are behind him, while others will tell you that he fought down to his level of competition while he reigned as Strikeforce champion.
If Melendez wins in San Jose, his ranking will be justified; if he loses, he'll hear about how he was just another overrated fighter who beat up middle-of-the-road opponents outside of the UFC.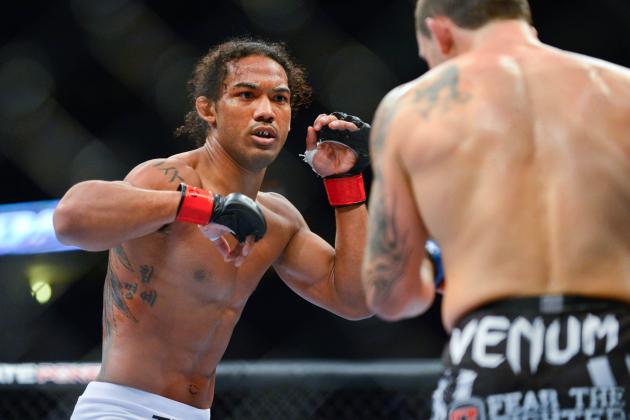 Ron Chenoy-USA TODAY Sports

Benson Henderson has said that his long-term goal is to hold the record for most title defenses in UFC history. That record is currently held by middleweight champion Anderson Silva, who has defended his crown 10 times and counting.
There's no doubt that Henderson is a talented fighter, but that is a lofty goal. He may be getting ahead of himself considering the Melendez bout will be just his third attempted title defense. But hey, all streaks have to start (and end) somewhere, right?