Jawan Jamison: Video Highlights for Former Rutgers RB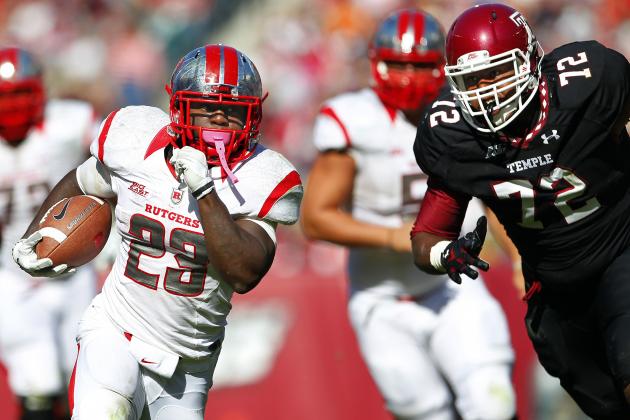 Rich Schultz/Getty Images

Every season, a few redshirt sophomores buck conventional wisdom and declare themselves eligible for the NFL draft.
This year, the most prominent of those early entrants is North Carolina running back Giovanni Bernard, but Bernard isn't the only ball-carrier making the quick jump to the NFL in 2013.
Rutgers tailback Jawan Jamison, who gained 1,398 total yards in 2012, also entered the draft. Here's a look back at some of Jamison's highlights from his time with the Scarlet Knights.
Begin Slideshow

»
The fact that Jawan Jamison gained over 1,000 yards on the ground is all the more impressive when you consider that the 5'7", 203-pounder battled an ankle injury for much of the year.
That ankle injury didn't seem to be bothering Jamison much in a November win over Army, at least judging from this play.
In this highlight, Jamison shows good burst in getting through the hole quickly. He keeps his legs driving on contact, moving the pile.
At only 5'7", Jamison is considered rather diminutive for a running back, leading many to question how he would hold up under a full workload in the pros, especially given his injury issues a year ago.
However, there's a flip side to that coin. Not only does Jamison possess good agility, but his low center of gravity only contributes to his shiftiness.
That cutback ability was on display in a November win over Cincinnati. As this series of plays shows, the ankles of Bearcats defenders were just as sore as Jamison's after the tailback finished juking his way through the Cincinnati defense.
In addition to topping 1,000 yards on the ground in 2012, Jawan Jamison chipped in another 300-plus yards on receptions for Rutgers.
This highlight showcases Jamison's ability to hurt teams out of the backfield as a receiver, as Jamison turns a dump-off into a considerable gain for the Scarlet Knights.
NFL teams that view Jamison as a third-down or change-of-pace back will no doubt find the skill set shown in this clip appealing.
It sometimes falls onto every running back's shoulders to make something out of nothing, and that becomes doubly important when a team is backed up near its own goal line.
That's exactly the situation Jamison found himself in during a September game against Arkansas. On a run from his own end zone, Jamison hit a wall of bodies at the line of scrimmage.
Jamison, who carried the ball a whopping 33 times for 118 yards in a Rutgers win that day, breaks the run outside, turning no gain into a first down for the Scarlet Knights.
Since Jawan Jamison found paydirt six times in 2012, it seems only fitting that we close this highlight reel with one of those trips to the end zone.
The clip comes courtesy of a September win over South Florida, a game in which Jamison carried the ball an eye-popping 41 times for a season-high 151 yards.
The carry in this highlight was the biggest of that bevy of totes, as Jamison bursts through a hole up the middle, spins out of a tackle, turns on the afterburners and that's all she wrote.