Dallas Cowboys 2013 Mock Draft: 7 Round Predictions, 1 Week Ahead of the Draft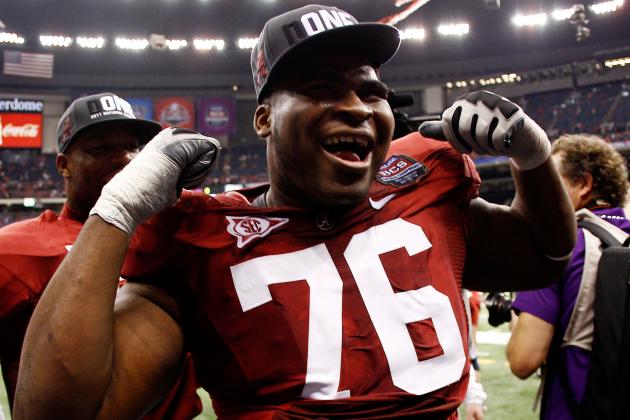 Chris Graythen/Getty Images

Over the last three months, I have found myself going in several directions regarding the players or positions to be targeted by the Dallas Cowboys in the upcoming NFL draft. With exactly a week remaining, I still have no idea who will be chosen in the first round—and I'll bet that owner and general manager Jerry Jones doesn't either.
We're now a week away from the draft and things have narrowed quite a bit over the last month. The free-agent market has answered questions for some teams and some trades have also begun to piece the draft puzzle together.
But with a team like Kansas City, owner of the first-overall selection, reportedly trying to trade that pick, you have to wonder if other teams also want out of the top 10 area.
In my previous mock drafts, I have explored the possibility of Dallas staying put with the 18th pick, trading down in the first round and also trading up. I really believe that anything is possible where the Cowboys are concerned, especially with Jones in the war room at Valley Ranch.
Most pressing needs clearly involve the trenches on both sides of the ball.
The Cowboys could address offensive tackle, the biggest true need on the roster, or offensive guard, another area badly in need of an upgrade or two. Even center doesn't look like a sure thing given the players currently aspiring to man that position next season.
Then there's the defensive line, an area that could use a young 4-3 defensive tackle or defensive end for new defensive coordinator Monte Kiffin's new alignment.
Either way, I don't believe that Dallas will choose at the 18th pick as scheduled.
But for this mock, I'll go against my intuition and simply try to place the best players with Dallas based on their six selections—remember that backup center Ryan Cook is essentially your seventh-round pick this year.
So these six picks have to really count; there's simply no room for long-term projects and luxurious depth in this draft.
All combine results courtesy of NFL.com
Begin Slideshow

»
As I pointed out in a previous mock draft earlier this month, the offensive line should get the nod with Dallas' first selection based simply on quarterback Tony Romo's contract extension last month. Assuming it's at the 18th position, Alabama right tackle D.J. Fluker would be as safe a pick as any.
I don't believe Dallas will take a guard, but it certainly should if either Fluker's teammate Chance Warmack or North Carolina's Jonathan Cooper are available. But with a lack of NFL-ready quarterbacks available to push guys like that down, I think a number of teams will truly take the best player available early on. So don't expect the top guards and tackles to make it past the 15th pick next week. The unofficial total right there is at least five players.
Fluker brings two elements to the Dallas offensive line that are both needed and somewhat rare: mass and versatility.
Fluker projects as a right tackle in the NFL, and he represents the beginning of the unofficial second tier of tackles that will be available.
In other words, the beginning of the right tackle-only prospects.
But some, like myself, feel that Fluker's best position might be inside at guard, which is an area where Dallas is hurting right now, especially with 2012 free agent Mackenzy Bernadeau now having had three surgeries since signing with the Cowboys just over a year ago.
Yes, Dallas has guards on the roster but tackle is the real area of limitation, especially concerning numbers, that outranks the interior.
Will current starting right tackle Doug Free take a pay cut?
Will Free be released?
These are big questions moving forward and the tackle position has to be figured out. Free is scheduled to earn $7 million in 2013 and this simply isn't going to happen. Even if he does stick around for another year, Dallas would be wise to have an upgrade at either tackle or guard just to be safe.
It's a valid argument that Jones won't rely on a rookie to protect Romo—but only on the left side.
Fluker has played the position before, and he also represents immediate improvement in a running game that just stinks. You certainly can't argue with Fluker's college credentials either.
Fluker, in this case, would be chosen in about the right spot, and the Cowboys could count on their first player chosen to be an immediate contributor at one position or the other.
Alternative selection: Menelik Watson, RT, Florida State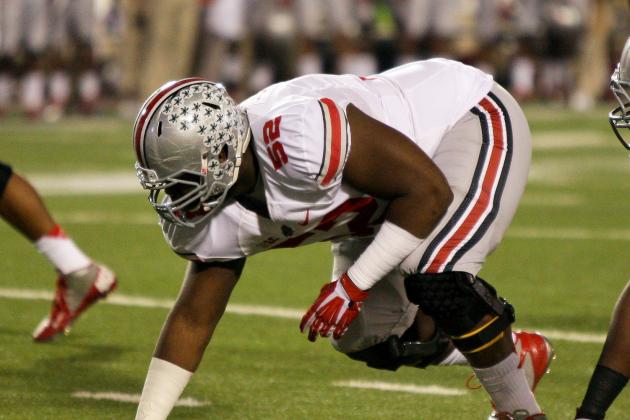 Pat Lovell-USA TODAY Sports

As much as I'd like to place another offensive lineman with Dallas in the second round, I just can't bring myself to do so. Granted, it should come away with blue-chip prospects at tackle and guard in the first two selections, but history all but eliminates this possibility.
In a draft as deep in the trenches as the 2013 selection meeting is, it will be hard for the Cowboys not to get off to a strong start after the first round.
But that all-important second selection is where things get really interesting.
Kiffin's 4-3 defense will need a highly disruptive defensive tackle that frequently collapses the pocket and also provides some mass for defending the run.
Enter Johnathan Hankins of Ohio State.
Hankins is a big dude.
He stands 6'3'' and weighs 320 pounds. He was unquestionably the best player on a Buckeyes team that went undefeated in 2012, only missing the BCS National Championship Game against Notre Dame due to sanctions brought forth by the draconian NCAA.
Hankins might offer the best combination of power, quickness and size of any tackle in the draft. He won't be as quick as a prospect like Florida's Sharrif Floyd or Missouri's Sheldon Richardson, but he offers enough to be a three-down player.
On the flip side, he's not as massive as Georgia's Jonathan Jenkins and Kwame Geathers, two interior linemen who have 3-4 nose guard written all over them.
When you consider that the Cowboys appear to be planning on having a pair of smaller defensive ends in DeMarcus Ware and Anthony Spencer, assuming the latter is not traded, it only makes sense that Dallas finds a young stud with some bulk to enter Kiffin's expected rotation of linemen and pass-rushers.
Now, sacking the quarterback isn't going to be Hankins' top priority in Dallas, although he has the ability to beat double-teams and apply frequent pressure. Hankins could be asked to play a similar role that Anthony McFarland did under Kiffin and defensive line coach Rod Marinelli some 10 years ago when the Tampa Bay Buccaneers fielded the best defense, talent-wise, in the NFL.
Or perhaps ''Big Hank'' is the next Warren Sapp.
Either way, Dallas has to get serious about having a dominant defense again. We can't just assume that everybody currently on the roster is easily translated from the now-scrapped 3-4 debacle to the new, yet more traditional 4-3 alignment employed by the Cowboys.
Alternative selection: Kawann Short, DT, Purdue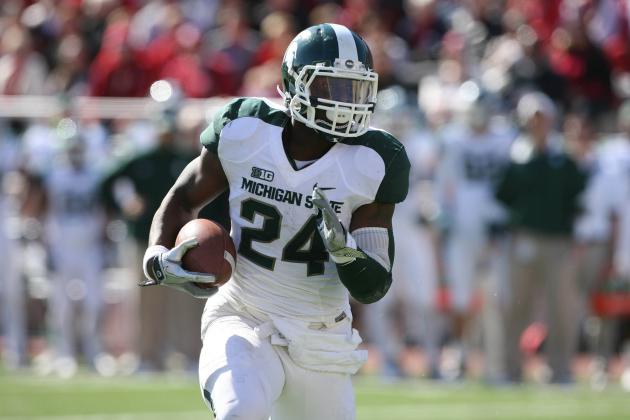 Brian Spurlock-USA TODAY Sports

Having addressed both lines to this point, Dallas is free to look in the direction of a skill position player that will contribute right away.
A number of talented running backs exist in this draft despite the fact there is no Barry Sanders or Adrian Peterson. The third round is where the last of the proven commodities at tailback are likely to be swiped up.
Le'Veon Bell of Michigan State represents the kind of running back that one day could start for the Cowboys. Nothing against DeMarco Murray, a player that I really like a lot, but durability and contract status might make him a short-timer in Big D, similar to the path 2008 first-round flop Felix Jones has taken—although Murray is a much better player than Jones.
Bell has carried the football a lot. In the possible absence of Murray, who's yet to play a 16-game schedule after two seasons as a pro, Bell is a back that can definitely carry the ball 25 times in a contest. Hopefully the Cowboys are involved in more games where that kind of effort is necessary next season.
Bell is a massive back who stands 6'1'' and weighs 230 pounds—but Bell runs like he weighs 220 pounds.
This underclassman averaged 29 carries per game in his first season as the Spartan's featured back. His 382 carries in 2012 totaled 1,793 yards and 12 touchdowns.
Bell is simply a bruiser that reminds me of a young Marion Barber with a little more burst in his step. This is precisely what the Cowboys could use in their backfield on short-yardage and goal-line situations, especially with an offensive line that should perform better in 2013 than it did last year.
Romo can't do it alone, and it's been clear for years that asking him, or any other quarterback, to sling the ball around the yard 50 to 60 times per game is just flat stupid. Sometimes the best pass protection possible is a dominant running game.
A rushing combo of Murray and Bell would instantly change the Cowboys' offensive fortunes as this franchise attempts to become a contender once again.
For those wondering why a safety hasn't been chosen yet, consider this fact: Dallas has four safeties on the roster heading into the draft. Murray is the only running back that can carry the ball in a football game.
Enough said on that.
Alternative selection: Giovani Bernard, RB, North Carolina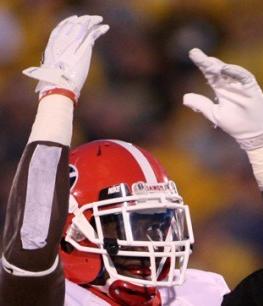 Courtesy of www.redandblack.com
The Georgia Bulldogs featured a defense that was probably better than that of SEC rival and eventual BCS champion Alabama. The problem was that it wasn't quite good enough to stop the Crimson Tide offense.
Georgia strong safety Bacarri Rambo might be among the more highly rated safeties in the draft, but I'm not sure that his counterpart, Shawn Williams, isn't a better prospect long-term—especially in Dallas.
Lost amongst other names like Kenny Vaccaro, Eric Reid and Matt Elam is the fact that Williams actually ran the fastest 40-yard dash of any safety at the NFL scouting combine in February.
While most feel that Williams will play strong safety in the NFL, which he could, the Cowboys could be fascinated by having a guy with his speed and aggressiveness. Imagine Williams playing free safety next to strong safety Barry Church, provided the latter returns from last year's Achilles injury.
And what if Church doesn't return to form? It's not like he has a ton of playing experience either.
Williams can clearly play either position, and at 6'0'' and 213 pounds, he's well built to offer the kind of versatility that Kiffin wants his top safety to have. This is much like the intangibles once possessed by strong safety John Lynch during his days with Kiffin in Tampa Bay.
A 40-yard dash run in 4.46 seconds is an awesome time by just about any standard beneath world-class speed. But for a safety who weighs well over 200 pounds to be doing it is more rare than you might think.
Young players like Church, Matt Williams and Micah Pellerin are already on the roster. Veteran Will Allen is also in the mix, likely as free safety or simply as depth.
But drafting a player such as Williams, who can play either spot, would make a whole lot of sense.
Because of those names just mentioned that already reside on the Dallas roster, safety isn't as big a need as some seem to think. But there's definitely room for an upgrade seeing as how the Cowboys haven't had a difference-maker at safety in a long, long time.
Williams might not seem like the best cover safety available—right now. But his speed shows that in the right system he'll be able to get deep enough for the Tampa 2 whenever needed.
There's no question about his ability in run support.
Alternative Selection: Tony Jefferson, S, Oklahoma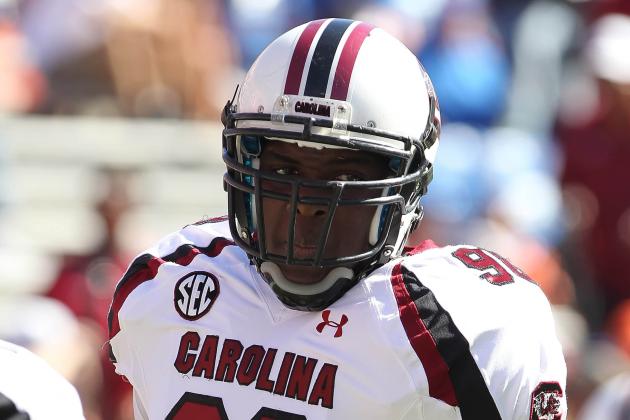 Kim Klement-USA TODAY Sports

It's tough to scout South Carolina defensive end Devin Taylor because of the presence of his counterpart Jadeveon Clowney, already projected as a top-three selection in the 2014 NFL draft. But Taylor is a player to notice and he's a perfect fit for the Dallas defensive line.
Taylor stands 6'7'' and has the wingspan of a classic left defensive end. You might compare him to a poor man's Ed ''Too Tall'' Jones of glory years' past. Taylor weighs 266 pounds which gives him plenty of room to add weight and strength in the next couple of years.
Spencer, previously an outside linebacker, is a less-than-ideal fit for strong-side defensive end at only 250 pounds. Spencer's age also makes his rumored long-term extension not a good idea—precisely the reasons I don't believe he is the future opposite Ware at defensive end.
Even if Spencer does end up the starting left end, Taylor would have some time to acclimate to the NFL game and also serve as a situational pass-rusher if and when Spencer's ability tails off or he's simply no longer in Dallas.
While Taylor's career stats with the Gamecocks don't make your jaw fall open, you have to remember that sacks aren't the only job of a defensive lineman. Taylor picked off two passes while at South Carolina and returned both for touchdowns. He also managed to bat away six passes as a fifth-year senior in 2012.
Remember that a deflected pass on third down is almost always as good as a sack.
Perhaps best of all, Taylor would join a defensive line that also features the coaching of Marinelli and other players like Ware, Jay Ratliff and Jason Hatcher.
I think there's a ton of upside to Taylor and his work ethic is not a question at all. Taylor was a top performer in a total of four drills at the scouting combine in February, and his 35-inch vertical leap exemplifies his athleticism as much as anything else.
The Cowboys can't continue playing so small on the defensive line, the primary reason that the 3-4 era was doomed to fail each and every year it was in play. During those years, it was the middle of the three-man line, namely Ratliff, that was never able to hold off double-teams or simply plug the A-gap in order to redirect the opposing rushing attack. Among the biggest running plays ever given up by the Cowboys occurred during those awful years.
Now, Dallas is in danger of shifting the lack of bulk from the middle to both edges with Ware and Spencer. This is a big reason why I mocked Hankins to Dallas in Round 2—and also because Kiffin is known to like some beef in the interior.
Taylor offers a better option, long term, having come from a program that has risen in prominence under head coach Steve Spurrier.
Finally, Taylor would play the same position with the Cowboys that he did in college.
Not much of an experiment here.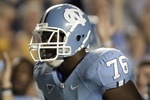 Courtesy of www.northcarolina.rivals.com
There's no doubt that Alabama had the best offensive line in college football.
But what college team had the next best group of blockers?
My money is on North Carolina.
Former Tar Heels such as Cooper and Bernard are often linked to the Cowboys in numerous mock drafts—and let's not forget that right tackle Brennan Williams, also among the top prospects at his position, is also a possibility as a future offensive tackle in Dallas.
But let's look at another North Carolina offensive lineman that we haven't heard much about: offensive guard Travis Bond.
Bond is nicknamed ''Tree Top'' for a reason. At 6'6'' and 330 pounds, he's easily the largest lineman coming out of Chapel Hill and into the NFL.
Granted, he doesn't have the power or athleticism that Cooper has, otherwise he'd be ranked higher. But Bond is potentially a road grader if he can manage his weight, which has been as high as 270 with the Tar Heels. It would be good to see a little more strength than his 22 reps on the bench press at the scouting combine illustrate as well.
As I stated before, Dallas has plenty of potential guards on the roster at this time. In fact, the Cowboys have as many as seven players with the letter 'G' or 'C/G' next to their name at DallasCowboys.com.
This is why I don't think that even if Cooper or Warmack fall to the 18th pick that Dallas will take either, despite the fact that they probably should. The guard position, in most drafts, isn't even a possibility for most teams until the top 20 picks are gone—or even later.
In the sixth round, should he last that long, Bond would be a player worth developing and would also serve notice to other veterans, namely Nate Livings and Bernadeau, that there's younger and bigger options available.
Also, at this point in the draft, a guard prospect with Bond's upside would not be considered a reach by any means. On the other hand, he likely would not be able to start in the NFL in 2013—but let's not remove that possibility from the table.
Yes, there's room for upgrades on the interior of the Dallas offensive line, even if one isn't selected right away next week in New York City.
Courtesy of www.gridironfans.com
Well, since Dallas has no seventh-round selection I thought I would at least illustrate, in detail, exactly why this is the case.
Cook was acquired during last season's massacre of injuries that, in this case, kept veteran Phil Costa on the bench for most of the season.
I can't say that Cook made a huge impact on the offensive line, but one thing is for sure: Cook is a big dude. At 6'6'' and 325 pounds he can easily man the center position, if needed, next season. Cook also couldy be one of the better candidates to help fix the apparent double-downgrade at guard last year with free agents Livings and Bernadeau.
This is where reaching so high for a guy like cornerback Morris Claiborne in last year's draft starts to sting a little bit.
Was Claiborne's single interception as a rookie worth losing out on top guard prospects like Stanford's David DeCastro or Wisconsin's Kevin Zeitler? Yes, they were readily available to the Cowboys at their original 14th selection in the first round.
No, I don't care that money had already been blown on other veteran offensive linemen that other teams didn't want.
Plus, a second-round pick was lost also lost in the process of getting the top-rated cornerback on the board.
Throw in some bad luck with injuries and you're trading for a guy like Cook, who might pay dividends this year, but it also costs you the very draft prospect that should be at this position.
Then again, it's made my mock drafts a little shorter this year.
So here we are, a year later, still trying to figure out how to protect a franchise quarterback and also run the ball better.
In a week we'll begin finding out how the Cowboys make up for lost time and poor priorities. Remember that owner and general manager Jerry Jones is trying to avoid missing the playoffs for four consecutive seasons for the first time during his reign.
This is a huge draft for America's Team.