Marquise Goodwin: 5 Things You Need to Know About the Texas WR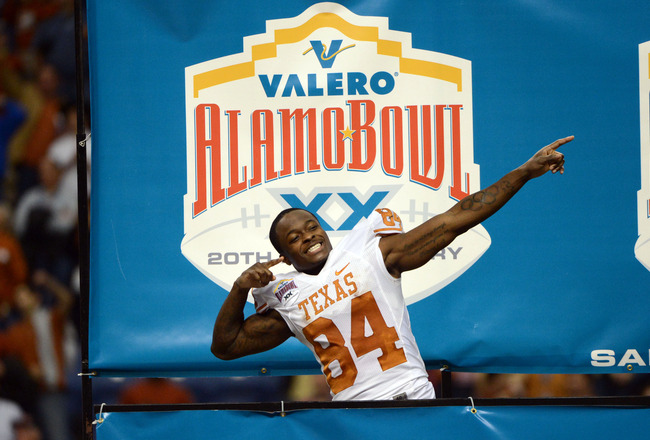 Brendan Maloney-USA TODAY Sports
It's no mystery that the National Football League loves speed—speed kills. In the pros, various teams place more emphasis on it than others, where organizations like Oakland have philosophized around it almost entirely.
But in past drafts, teams like Philadelphia and Tennessee have gambled on speed-performers and have come out aces. DeSean Jackson and Chris Johnson are two of the most prolific players in the NFL, and out their foundation, they are track stars.
A large part of their success is due to the NFL having the best coaches in the nation, but I digress.
In the upcoming draft, University of Texas representative Marquise Goodwin is exciting head coaches and general managers with his world-class athleticism. This is a raw player with loads of upside merely because nine out of 10 times, he'll be able to outrun the rest of the players on the field.
The NFL is about operating in space, and with Goodwin's speed, there is value to be had.
Right now, there is a great deal of chatter floating around the Texas native turned U.S. Olympic track star. Head through the following slides for all you need to know about 2013 draft prospect Marquise Goodwin.
Background

Matt Miller Breaks Down Marquise Goodwin

Hometown: Garland, Texas
Birthday: November 19, 1990 (22)
High School: Rowlett High School
University: Texas
Major: Applied Learning Development/Youth and Community Studies
Year: Senior
Going back to his high school days, Goodwin established himself as a world-class athlete, breaking state and national records in track and field. Though he played high school football, he was far more decorated as a track star.
After fielding college offers nationwide, Goodwin elected to remain in his home state, committing to the University of Texas. As an all-around student athlete, Goodwin would double-major and stay all four years, starring for the Longhorns track and football programs.
Despite their illustrious history, Marquise Goodwin would become one of the most polished athletes to ever represent Texas.
Statistics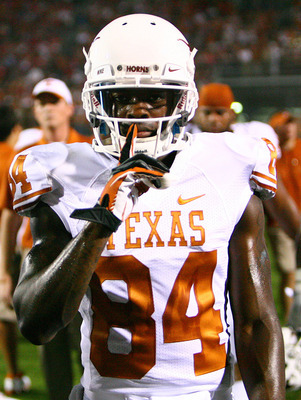 Spruce Derden-USA TODAY Sports
2009: 12 games, 30 catches, 279 yards, 1 touchdown, 23.2 YPG
2010: 11 games, 31 catches, 324 yards, 1 touchdown, 29.4 YPG
2011: 10 games, 33 catches, 421 yards, 2 touchdowns, 42.1 YPG
2012: 12 games, 26 catches, 340 yards, 3 touchdowns, 28.3 YPG
In 2013, Goodwin is more like a popular NBA prospect because he will be drafted based only on potential. When you look at his career numbers at Texas, there is not a great deal of production staring you in the face. In fact, his statistical output is very pedestrian, which has kept him out of early-round consideration.
However, teams are going to look at the character and physical ability Goodwin brings, banking on the fact that they can better utilize his skill set. As a returner and slot receiver, pro coaches are going to scheme ways to get Goodwin the ball in space.
At the next level, competent coaching partnered with a systematic fit will be vital to whether or not Goodwin reaches his ceiling. And it is for this reason that the former Longhorn will be a project player as a rookie.
Draft Process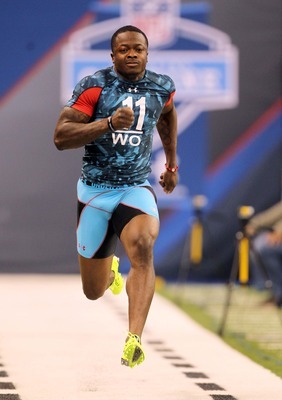 Brian Spurlock-USA TODAY Sports
Measurables
Height: 5'9"
Weight: 183 pounds
Arm Length: 31 1/2"
Hands: 8 5/8"
Combine Results
Grade: 68.5
40-Yard Dash: 4.27 seconds
Bench Press: 13 reps
Vertical Jump: X
Broad Jump: 132.0 inches
3-Cone Drill: X
20-Yard Shuttle: X
Pro Day Results
Vertical Jump: 42 inches
20-Yard Shuttle: 4.09 seconds
3-Cone Drill: 6.66 seconds
NFL draft analysts Dane Brugler reported on Goodwin from the Texas pro day (h/t NFL Draft Scout):
Wide receiver Marquis Goodwin decided to rest on his blazing 4.27 40-yard dash from the combine, but did impress with a 42-inch vertical jump. He stood out catching the ball as well with the route quickness and vertical speed to make plays underneath and down the field.
At the NFL scouting combine, Goodwin's lightning 4.27 40-time set him apart, ranking him second all time, per Marc Sessler of NFL.com. He is No. 2 only to Tennessee Titans running back Chris Johnson and his unbelievable 4.24 40 ran back in 2008.
The combine results—which seem to infatuate so many these days—have given Goodwin life in the 2013 draft.
With the proliferation of wide-open, space-based NFL, it becomes hard to ignore that type of speed. Whether you are a team that likes to go vertical or a precision West Coast attack, there is always room for sub-4.3 speed.
When he has the ball in his hands, Goodwin can break a game open, taking it to the house on any given touch. And very simply, that is one of the great lures about his game.
Interesting Facts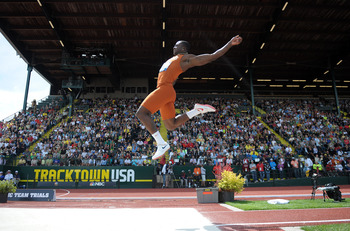 Kirby Lee-USA TODAY Sports
In three straight years in college (2010-2012), Goodwin was named a first-team Academic All-Big 12 selection. Aside from being an unbelievable athlete, Goodwin evidently applied himself in the classroom as well. He was even a Texas Scholar.
And when he wasn't studying or building himself in the weight room, Goodwin got involved with the community.
He visited with kids from Dell Children's Medical Center, volunteered to help clean up Lake Ray Hubbard and spent time visiting and speaking with elementary school kids.
And being the busy man that he is, Marquise Goodwin is also a member of the Kappa Alpha Psi fraternity at the University of Texas. Being a part of Greek Life comes with certain obligations, like maintaing a respectable GPA and giving back to the community.
This is something Goodwin did in spades.
As for his brothers representing the ΚΑΨ shield in pro sports; the list includes but is not exclusive to:
Kenny Lofton, former MLB Player
Wilt Chamberlain, NBA Hall of Famer
Allan Houston, former NBA Player, Olympic Gold Medalist
Penny Hardaway, former NBA Player, Olympic Gold Medalist
Bill Russell, NBA Hall of Famer
Nnamdi Asomugha, NFL Player
Eric Davis, former NFL Player, Super Bowl Champion
Jim Caldwell, NFL Coach
Colin Kaepernick, NFL Player
Brandon Marshall, NFL Player
Gale Sayers, NFL Hall of Famer
Mike Tomlin, NFL Coach, Super Bowl Champion
Darren Sharper, former NFL Player, Super Bowl Champion
John Henry Johnson, NFL Hall of Famer
Earl Thomas, NFL Player
Factoids (h/t Mack Brown Texas Football)
Nickname(s): Quise, Pookie
During pregame, I like to: Pray
Favorite book: "Uncommon" by Tony Dungy
Favorite movie: Love & Basketball
Favorite TV show: The Jamie Foxx Show, The Fresh Prince of Bel-Air
Favorite food: Dorito casserole
Sports hero: Jesse Owens
Favorite music: R&B, Rap, Gospel
Nobody knows I can: Draw
Olympics
And last but certainly not least, Marquise Goodwin also happens to be an accomplished U.S. Olympian.
Goodwin won the U.S. Olympic Trials' long jump, posting a career-best leap of 8.33 meters (27-04.25). This mark ultimately earned him a trip to the Olympic Games in London in 2012 wherein Goodwin finished 10th.
Though it should be noted that his career-best would have been enough for gold at the following Olympics. Goodwin then had the top mark of 8.11 meters (26-7.25) in the qualifying round at the Olympics, making him just one of two automatic qualifiers for the finals.
It almost goes without saying that Goodwin was the most prominent track athlete in the school's history. Officially, Goodwin is the first Longhorn ever to reach the long jump finals on the Olympic stage.
And continuing to dominant the college track scene, Goodwin won a second long jump NCAA Championship with a mark of 8.23 meters (27-00). This cemented him as the first collegian to win both the Olympic Trials and the NCAA Outdoor long-jump competition in the same year.
Observations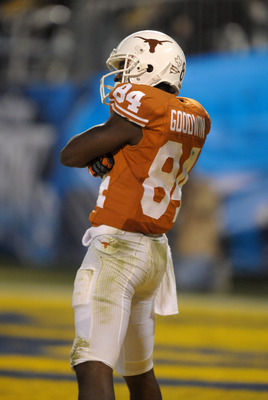 Kirby Lee-USA TODAY Sports
B/R draft analyst Sigmund Bloom illustrates Goodwin's on-field strengths in this column (via Bleacher Report):
Speed, speed and more speed. Goodwin is going to instantly be one of the ten fastest wide receivers in the NFL—if not ten fastest players, period. He is the kind of player who has to be accounted for on every play, because he turns minor mistakes by defensive backs into touchdowns. Deep separation is effortless for Goodwin, and tacklers consistently take poor angles when he is on the run.

Goodwin also changes speed in his routes well enough to create separation on short and intermediate routes. He adjusts to the ball in flight well as long as he doesn't have to track it over his shoulder. Goodwin is physical and not afraid to hit or be hit.
According to sources, Goodwin is on the Philadelphia Eagles' radar heading into the NFL draft. With newly inducted head coach Chip Kelly and his speed-based, up-tempo offense, this is not a startling development.
Pat Kirwan of CBS Sports believes the Texas speedster would be well suited in black and yellow, helping replenish the losses facing the Pittsburgh Steelers. In total over the past two seasons, the Steelers are recovering from the departure of Mike Wallace and Hines Ward.
Pittsburgh could auction a Day 2 or 3 pick for Goodwin, adding speed and playmaking ability around quarterback Ben Roethlisberger.
Then there is the Oakland Raiders.
A team that is always entranced by speed may also have a certain level of interest in Goodwin this year. Coach Dennis Allen had this to say (h/t the Charlotte Observer):
I felt really good about Marquise. We all know what type of explosive athlete he is and how fast he is. But I think just getting a chance to know him a little bit and really watching him as a route runner, I was really impressed with him as a route runner. That's one of the things you don't always think about with those guys who are really, really fast - just how precise they run a route. I think he's got a good foundation for moving forward in the NFL.
Goodwin makes sense for a team like Oakland that is once again in transition. The organization said farewell to former high first-rounder Darrius Heyward-Bey (via Pro Football Talk), and will perusing new talent at the WR position.
Clarence Hill of the Star-Telegram reported that Goodwin was very impressive at his Dallas Day workouts. Moreover, citing the Cowboys' needs in order of importance, Hill believes Goodwin could be a fit as a mid-rounder.
His speed and ability to be a game-changing kick return like Jacoby Jones will be tempting for a lot teams, including the Cowboys. A native of Garland, who attended high school in Rowlett, Goodwin has followed the Cowboys all his life.
Re: WR Marquise Goodwin, Mike Mayock: He reminded me of Mike Wallace. Had a good Senior Bowl Week. No way he gets out of the 3 round.

— NFL Media PR (@InsideNFLMedia) April 18, 2013
Pro Comparison, via NFL.com: Mike Wallace (WR – Miami Dolphins)
Keep Reading

Buffalo Bills: Like this team?