Utah Jazz vs. Memphis Grizzlies: Live Score, Results and Game Highlights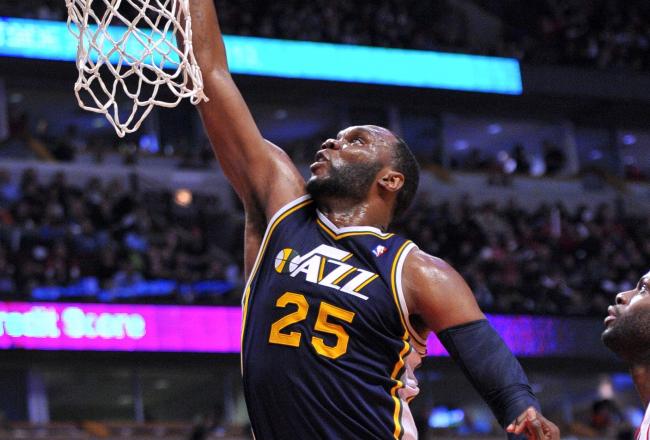 The Utah Jazz's season ended tonight with their 70-86 loss to the Memphis Grizzlies. The game likely marks the end of Al Jefferson and Paul Millsap's time together in Utah, and the Jazz will look to begin to rebuild their team moving forward.
The Grizzlies, meanwhile, closed out a 56-win season and they'll look to do some damage in the playoffs as a team that seems to perpetually be everyone's sleeper.
Live commentary on the Jazz-Grizzlies contest from Energy Solutions Arena in Salt Lake City, UT on April 17, 2013.
3 Keys to the Grizzlies Win:
1) Hustle: The Grizzlies battled as though they were the ones with the do-or-die game tonight, while Utah wilted under the pressure. Memphis out-hustled Tyrone Corbin's team to loose balls, and they also pulled down 17 offensive rebounds. Every Grizzlies starter except Tayshaun Prince had at least one offensive rebound, and all the extra possessions allowed the Grizzlies to attempt six more field goals on the night than Utah did.
2) Z-Bo: Zach Randolph had the only good shooting night of any player in the game (save Mike Conley's 5-of-11 FG). Randolph hit 10-of-20 from the floor en route to 25 points. He also grabbed 18 rebounds, six of which came on the offensive end. The Grizz were plus-16 with their starting 4-man on the court tonight.
3) Took Care of Basketball: The Grizzlies committed a reasonably low 11 turnovers, while assisting on 22 of their 34 field goals. Of the 11 Grizzlies that played tonight, all but Ed Davis, Darrell Arthur and Quincy Pondexter had at least one dime. Sharing the ball is what has helped Memphis remain an elite team without an over-abundance of great scoring options, particularly after trading their leading scorer Rudy Gay in February.
This Grizzlies team is still one that can make some noise.
GRIZZLIES 86, JAZZ 70 — FINAL
Grizzlies: "Here, let us get the door for you." Jazz: "No, no, we insist, we're talking to our travel agent about our vacation anyway."

— Eye on Basketball (@EyeOnBasketball) April 18, 2013
I wonder where the Jazz players are planning to fly off to after this game. It won't be Oklahoma City, for sure.
GRIZZ 81, JAZZ 67 — 2:36 4th, Utah Timeout
For those of you interested in irrelevant details as this game winds to its inevitable conclusion, I was originally scheduled to cover the Chicago Bulls and Washington Wizards tonight, but was switched to this game because I felt it would be a better game with more implications.
Well, the game has been equally as bad as any Bulls-Wiz snoozefest, and possibly worse since this was supposed to be a game that defined Utah's season.
Meanwhile, the Wizards lead the Bulls by two, and I'm only mildly curious as to why Tom Thibodeau's squad is letting the Wizards stay in it given the fact that a Bulls win could ensure a much easier first round playoff matchup.
If the Bulls win, they'll square off against the Brooklyn Nets, a team they match up with favorably. A loss, however, will see the Bulls draw arguably the best defensive team in the league in the Indiana Pacers.
Game update: A Jarryd Bayless three pointer extends the Grizzlies lead to 13 with just a few minutes to go, and that's what we call a dagger, ladies and gentlemen.
GRIZZ 78, JAZZ 65 — 3:30 4th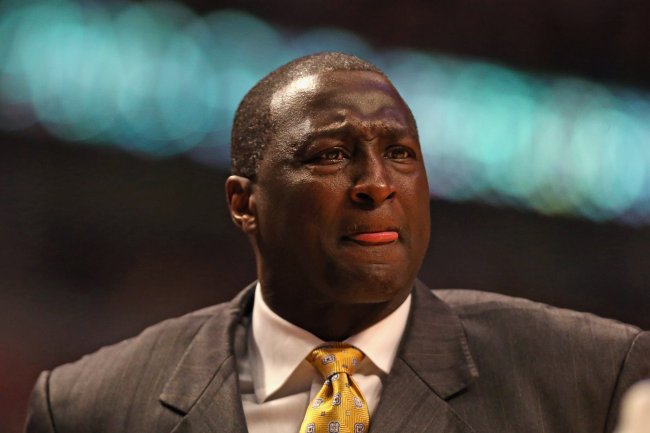 Jonathan Daniel/Getty Images
Tyrone Corbin is a pretty underrated coach, because outside of two very good frontcourt players who are on the verge of departing, there's not a lot on this Jazz team which indicates they should be fighting for the playoffs in the tougher of the two conferences.
It's not to say the Jazz have a horrible roster; there is some talent, but I'd venture to say that going .500-plus is the ultimate upside for this team, and Corbin helped them achieve it. It should be interesting to see what Ty can do if he gets a roster with some more firepower and talent on it.
Jazz management should certainly be wise enough to realize that their team's struggles have nothing to do with coaching, at least.
GRIZZ 73, JAZZ 61 — 5:56 4th, Memphis Timeout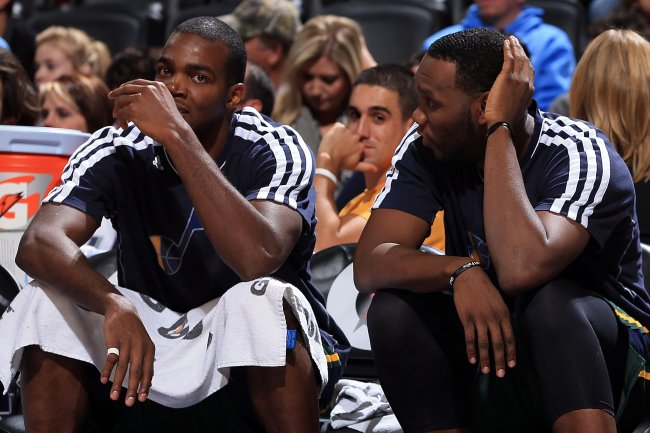 Doug Pensinger/Getty Images
It must be somewhat frustrating to Jazz fans that their team's hey day didn't feature any banners being hoisted to the Delta Center, or Energy Solutions Arena.
Michael Jordan's dominance thwarted the championship dreams of a number of fan bases, and with the team looking now like it's on the verge of being deconstructed after this season, it may be another few years before the Jazz return to the postseason. It's hard to call this the end of anything special, but it is certainly the end of the "Millsap/Jefferson Era."
GRIZZLIES 73, JAZZ 56 — 8:18 4th, Utah Timeout
The Utah Jazz have allowed 15 Grizzlies' offensive rebounds. That shouldn't happen on a night when a team is fighting for their playoff lives.
GRIZZLIES 67, JAZZ 53 — 10:20 4th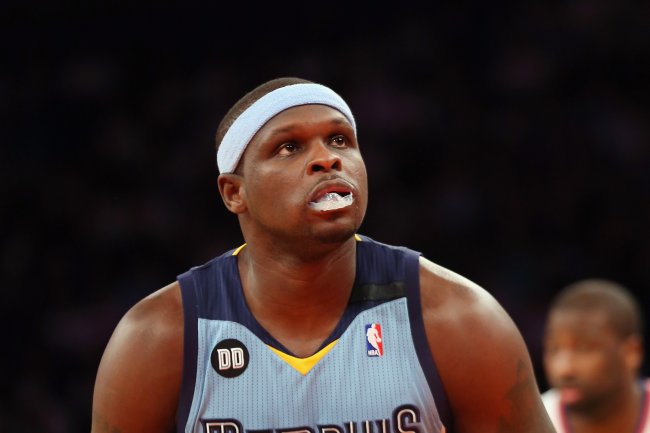 Bruce Bennett/Getty Images
The Jazz will enter the final period down big, and their season is looking like it is about to come to its end. Utah had four turnovers and hit just 4-of-18 shots in the third period as the Grizzlies outscored them by 12 in the quarter.
Zach Randolph is on the verge of turning in a patented 20/20 game, with 20 points through three quarters on 8-of-16 shooting and 15 boards (five offensive).
GRIZZLIES 65, JAZZ 51 — End of 3rd
"This is not a pretty possession" -- things you can say about every possession in this Jazz-Grizz game

— SBNation NBA (@SBNationNBA) April 18, 2013
This pretty much sums the game up, indeed. ESPN is torn that they had to televise such an awfully played basketball game just due to its major playoff implications in the West.
The Grizzlies are shooting 41 percent from the floor, and that's good enough to have a double digit lead. If any Jazz fans feel confident about their chances when an opponent is doing that, I sincerely both worry about them and pity them.
GRIZZLIES 59, JAZZ 49 — 3:22 3rd
There are two teams with one phrase on their mind tonight, "Win or go home." #Jazz #Lakers

— ESPN (@espn) April 18, 2013
Despite the "win or go home" nature of this game for Utah, their effort seems only ordinary. They should be willing to dive through the floor for loose balls and run until their lungs collapse. That kind of effort just hasn't been shown, and the Grizzlies have outscored Utah 12-9 in this third period.
GRIZZLIES 52, JAZZ 47 — 5:24 3rd, Timeout In Play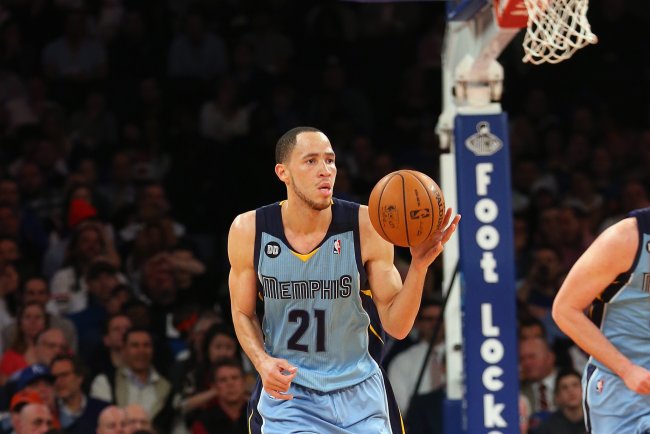 Bruce Bennett/Getty Images
It's pretty fortuitous for the Grizzlies that a cap clearing move didn't end up hurting them at all...The trade which sent Rudy Gay to Toronto was done purely for monetary reasons, but Gay's replacement Tayshaun Prince is able to give Memphis just about everything they need from their starting small forward position.
The Grizz have run a couple sets early in this second half which featured the former Kentucky Wildcat running the offense; you know, without any temptation to buck the play and take the shot himself.
Gay is helping improve the Raptors, but his status as a max-contract type of guy has been a little dubious since Memphis tendered him the offer which he still is currently on.
Prince, meanwhile, makes a much more reasonable $6.7 million this season, and for a veteran whose defensive talents are still strong that's a pretty nice value. Prince has two points, three rebounds and an assist in 22 minutes of play, but he's committed two costly turnovers, as well.
GRIZZ 50, JAZZ 46 — 6:14 3rd
The second half thus far has proven to be equally as enthralling as the first. The teams had battled to a 2-2 standstill through the first two minutes of the quarter before a Mike Conley steal and transition three-point play just ramped the Grizzlies up to five third quarter points.
But it's pretty evident to say the least that neither team will come close to the century mark tonight.
GRIZZLIES 45, JAZZ 40 — 9:00 3rd
VIDEO: Here are the highlights (if you want to call them that) from Grizzlies/Jazz so far. bit.ly/ZAHquK

— NBA Sports City (@NBASportsCity) April 18, 2013
Brace yourself if you missed the first half on ESPN. The first half was loaded with real jaw dropping plays in the shootout.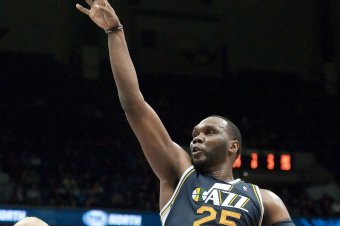 Greg Smith-USA TODAY Sports
Al Jefferson leads all scorers with 10 points, but after his performance is taken out of the pool, his teammates are shooting 33 percent (11-of-33) from the floor on the evening. While the Memphis Grizzlies haven't exactly been on fire either, having shot just 40.9 percent from the floor, this game means a lot more to the Jazz given that a loss tonight ends their season.
Maybe that fact will stir Tyrone Corbin's team to come out with a lot more intensity in the second half, as they prepare for what could potentially be their last game together (as currently constructed).
GRIZZLIES 40, JAZZ 38 — Halftime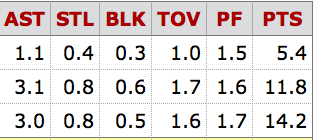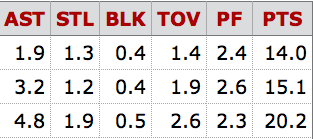 When Gordon Hayward was drafted out of Butler, I wrote that his super ultimate upside was that of Hall of Famer Chris Mullin. The low upside of his potential I equated to be that of Kyle Korver. Well, Hayward is already a better defensive player than both Mullin was and Korver is now.
Offensively, Hayward is starting after three seasons to reach about the point Mully was at in year two. So, he's only slightly behind. As to whether Hayward can continue that curve and become a talent equivalent to Mullin is difficult to say, but the Jazz have been pleased with his progression.
It is worth noting, though, that Chris Mullin was 22 years old as a rookie, while Hayward just turned 23 his third season in the league. Considering that, the chasm between them is pretty darn narrow.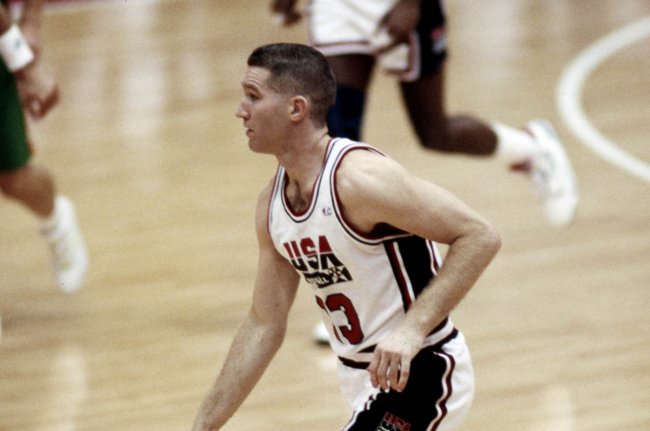 Richard Mackson-USA TODAY Sports
He has just two points (1-of-2 FG), an assist and a steal in 10 minutes of play tonight. If Utah is to battle back in this game, and make the playoffs, Hayward is going to have to be more Mullin than Korver for the rest of this one.
And while I've tried hard to break the age old habit most writers have of always comparing a white guy to other white guys, Mullin and Korver are pretty good high/low comparisons, I think you'd agree.
GRIZZLIES 38, JAZZ 31 — 2:05 2nd
TURNOVERS: JAZZ 4, GRIZZLIES 3
REBOUNDS: 14 EACH
FIELD GOAL PERCENTAGE: UTA 37.5% , MEM 33.3%
Tell me that's not some deadeye shooting. Newly appointed DPOY Marc Gasol leads the futility charge, having connected on just one of his six shots so far.
GRIZZ 26, JAZZ 25 — 5:51 2nd, Timeout In Play
Bench Scoring: GRIZZLIES 7, JAZZ 6
JAZZ 23, GRIZZ 22 — 7:46 2nd
I like to play this game with myself when guys get towards the end of their careers where I try to imagine what they would be doing if they were still in their primes. Watching Utah's Jamaal Tinlsey, I'm having a lot of trouble remembering how good he once was.
But I know he was, and I want you to know, too, so I found this video. It's highlights from a 23 point, eight rebound and eight assist game he had while with the Pacers some seven years ago.
Tinsley has not attempted a single field goal in his six minutes of play tonight, but does have an assist and has yet to turn the ball over. The days of posting 23/8/8 are long gone, though, to be sure.
GRIZZ 20, JAZZ 19 — 8:50 2nd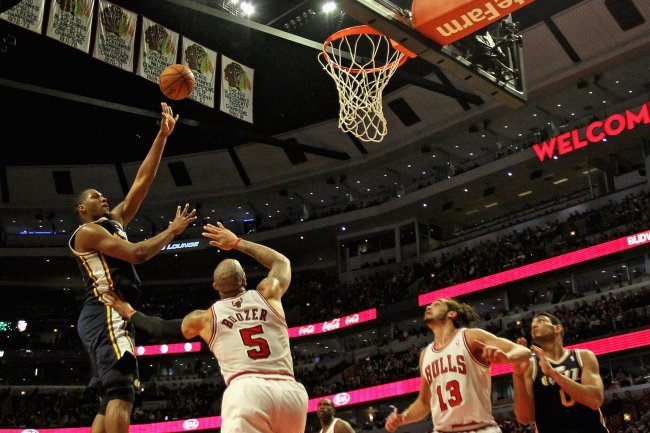 Jonathan Daniel/Getty Images
Ty Corbin drew up a nice inbounds play which culminated in Derrick Favors making a nice cut to the basket to score at the first quarter buzzer and tie the game.
IT'S AN OFFENSIVE EXPLOSION IN MEMPHIS. Grizzlies, Jazz tied up 17-17 at the end of the 1st.

— NBA Sports City (@NBASportsCity) April 18, 2013
Favors has two points, three boards and a block in his first five minutes off the Utah bench tonight. This may be the last game he has to come off the bench for Utah, with Al Jefferson and/or Paul Millsap finishing out their current contracts this season.
JAZZ 17, GRIZZ 17 — End of 1st
All five Grizzlies starters have scored and the team is off to an early lead, but somehow is still shooting just 38 percent of the floor. The fact that the Jazz have missed 10 of their last 11 from the floor probably has a little something to do with it, though.
Utah is shooting 25 percent from the floor (4-of-16), leading to Tyrone Corbin to call a late first quarter timeout.
It's mostly cold shooting, though the Grizzlies defense is doing its usual good job of preventing driving lanes from opening up. The fact that the Jazz have no one to take advantage of defensive lapses helps the Grizzlies quite a bit, too, though.
GRIZZLIES 15, JAZZ 11 — 2:05 1st, Utah Timeout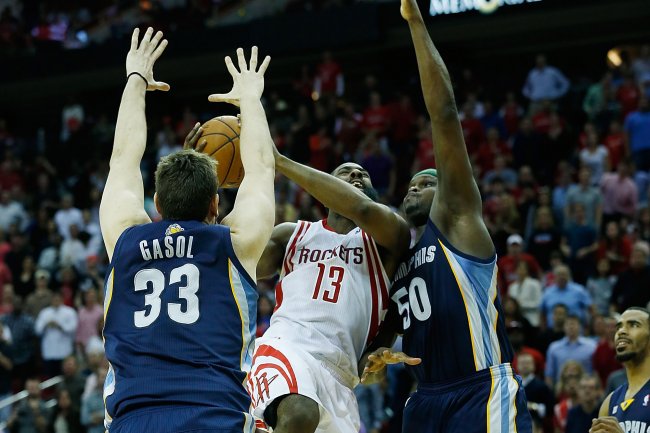 Scott Halleran/Getty Images
Al Jefferson gets to match up against ESPN's DPoY tonight, Marc Gasol: es.pn/13jzORj #UTAatMEM

— Clint Peterson (@Clintonite33) April 17, 2013
When Marc Gasol was throw into the trade that brought his more renown brother to Los Angeles, I wouldn't have believed it had someone said that the younger Gasol would be a Defensive Player of the Year. But he is.
Al Jefferson is 2-of-4 against the DPOY tonight.
GRIZZ 12, JAZZ 11 — 3:00 1st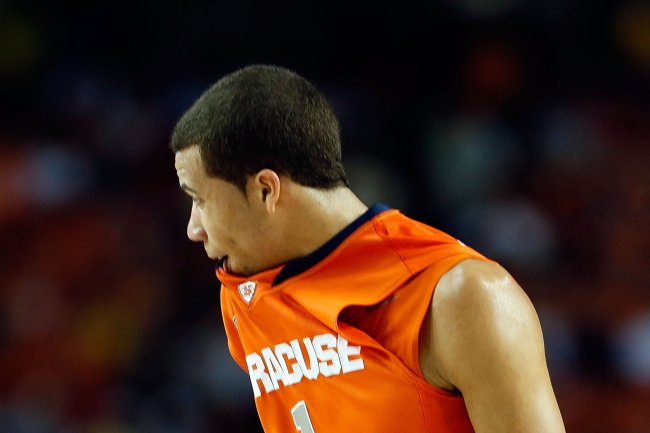 Kevin C. Cox/Getty Images
The most certain thing in Utah's future "rebuilding" effort is that the team needs a young and starting caliber NBA point guard. Mo Williams was a decent shoot first floor general in his prime, but has declined considerably since the days he shared the ball with LeBron James in Cleveland.
Jamaal Tinsley was a very good player—as in, an entire decade ago—but other having a good understanding of the game, he doesn't accomplish much that head coach Tyrone Corbin couldn't do himself.
#Jazz fans, wouldn't it be better to miss the playoffs and land a late lottery pick to draft Michael Carter-Williams than be swept again?

— Brett David Roberts (@BDRHoops) April 18, 2013
There aren't a lot of great point guards in the 2013 NBA Draft, though. With Marcus Smart of Oklahoma State not having entered the draft, the best available floor generals are Michael Carter-Williams of Syracuse and Trey Burke of Michigan.
Burke is projected by NBADraft.net to go No. 6 overall, so at this point the Jazz can likely count out his falling to them.
But Carter-Williams is quite different. He should go in the late lottery, and the Jazz will stand a much better chance of drafting the 6'6" guard if they happen to miss the playoffs.
Considering what the result was last season when the Jazz squared off against the top ranked Spurs, it's difficult to see the benefit in returning to the postseason with a team whose face is about to change radically anyway.
GRIZZLIES 10, JAZZ 9 — 5:21 1st, Timeout In Play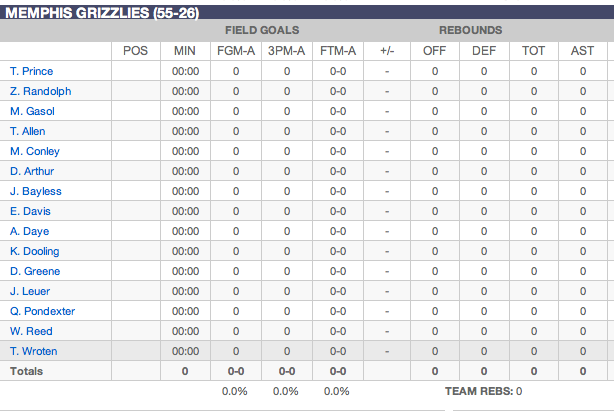 MEMPHIS LINEUP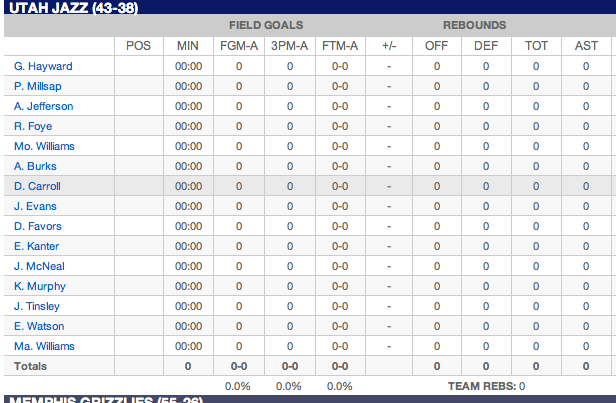 UTAH LINEUP
The Memphis Grizzlies' 2013 playoff opponent is yet to be determined. The Grizz are 55-26 and could potentially face the LA Clippers, Golden State Warriors, Rockets or Lakers.
The worst-case scenario is that the Grizzlies remain in fifth position and face Vinny Del Negro's Clippers in the first round without homecourt advantage.
The Clips are 32-9 at home and present numerous matchup problems, particularly in the frontcourt where Zach Randolph has nowhere near enough speed and athleticism to provide any type of defensive coverage against the dynamic Blake Griffin.
By the end of Wednesday's game, we'll know which team will face the Jazz are, if they get in, and we'll also know which squad the Grizzlies will draw. The game has a lot of implications for seedings for Memphis, so they won't be resting starters in this one.
The cluster of teams in the West could shake out any number of ways, and it's worth taking a look at.
The 43-38 Utah Jazz and LA Lakers have taken their battle for the eighth seed down until the season's final game, but the Jazz need to do more than beat the Memphis Grizzlies on Wednesday night to reach the playoffs. They also need the Lakers to drop their game against the Houston Rockets.
For Tyrone Corbin's Jazz, the prospect of sneaking in as an eighth seed just to be swept is familiar—it happened last season, when the San Antonio Spurs made quick work of a Jazz team that may look quite different by the beginning of next season.
With both of their best two players being unrestricted free agents, the Jazz may watch Paul Millsap and Al Jefferson take their talents elsewhere.
Surprisingly, neither player was dealt at the trade deadline, but Utah has Enes Kanter and Derrick Favors waiting in the wings. Both could be had on more reasonable contracts while also being significantly younger.
This article is
What is the duplicate article?
Why is this article offensive?
Where is this article plagiarized from?
Why is this article poorly edited?