NHL Awards Tracker: Ranking the Leading Candidates for the Norris Trophy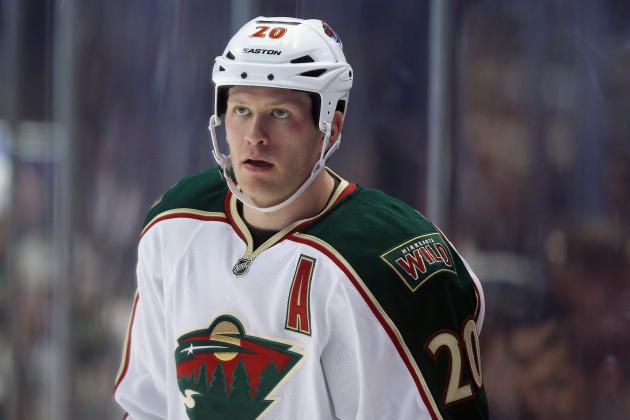 Jeff Gross/Getty Images

With another NHL regular season just about in the books—albeit a shortened, 48-game season—it's time to take a look at the leading candidates for the league's top awards.
In this article, we'll take a look at who is most deserving of the 2013 Norris Trophy, an award that honors the league's top defenseman.
The 2013 season has seen several defensemen make a case to be the league's top blueliner with many familiar faces in the hunt.
One thing is certain, however, we will see a new winner in 2013 due to defending Norris Trophy winner Erik Karlsson's gruesome Achilles tear early in the season.
Here are 2013's top candidates for the Norris Trophy.
Begin Slideshow

»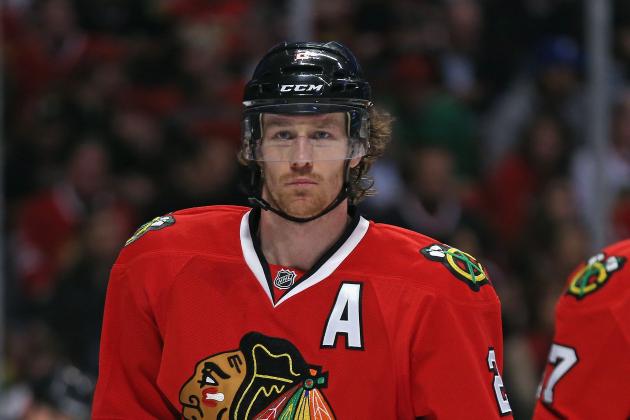 Jonathan Daniel/Getty Images

Zdeno Chara, Boston Bruins
A perennial all star, Zdeno Chara is renowned for having the fastest shot in the league.
At 6'9" (without skates), Chara is an incredibly imposing figure for opposing players. With 17 points, a plus-13 player rating, 99 shots on goal and 94 hits, Chara has again proved that he's one of the game's best defenders.
Drew Doughty, Los Angeles Kings
Averaging more than 26 and a half minutes per game, Drew Doughty is undoubtedly the defending Stanley Cup champion Los Angeles Kings' most important player on the back end.
With 20 points, plus-three player rating and 115 hits (a number that places him among the top-10 NHL defensemen in that department), Doughty has made the most of his minutes and has led his team to a 24-14-5 record, one that will almost certainly see it make the postseason again in 2013.
Duncan Keith, Chicago Blackhawks
Duncan Keith is, for all intents and purposes, the No. 6 defensemen on this list.
I'd almost say he is tied for fifth with the man in the next slide.
Keith has had another sensational season for the NHL's best team, the Chicago Blackhawks. Leading his team in ice time at nearly 24 minutes per game and being tied for second in plus-minus with a player rating of plus-18, Keith has shown that he is one of the league's elite blueliners.
With 23 points and 80 shots on goal, Keith has been no slouch on offense either.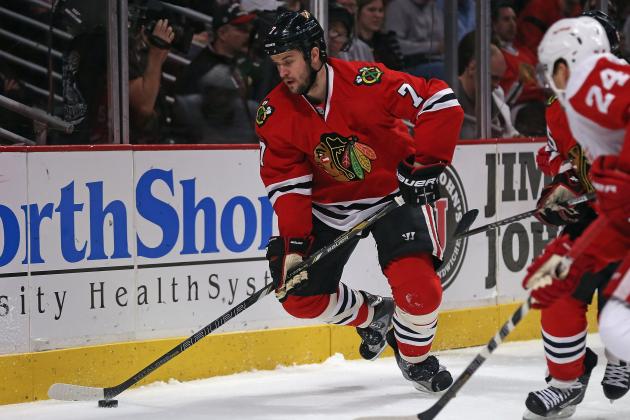 Jonathan Daniel/Getty Images

Placing Brent Seabrook in the top five over his teammate Keith wasn't easy.
The two are outstanding players who have similar stats.
This season, Seabrook has been a force at both ends of the ice, accumulating 18 points and a plus-12 player rating in just over 22 minutes of ice time per game. Plus, he has 96 hits (which ties him for the team lead) and 88 blocked shots (one behind team leader Niklas Hjalmarsson).
It's the physical presence and blocked shot totals that put him slightly ahead of Keith in my book.
Either way, these two make one heck of tandem on the back end for the Blackhawks.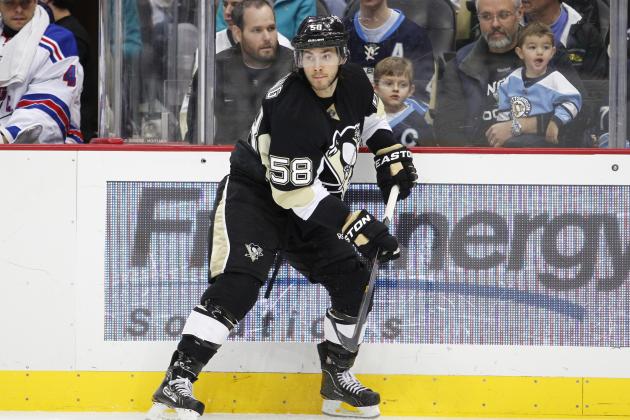 Justin K. Aller/Getty Images

It's a shame that Kris Letang hasn't been able to play lately for the Pittsburgh Penguins.
Thanks to a broken toe, Letang has been limited to 30 games this year.
And though he's just returned to the lineup, anytime you miss a third of your team's season it hurts your chances of being able to win any award.
In the games he has played, however, Letang has been unbelievably good.
He's one of just two defensemen to average a point-per-game in 2013, and his player rating of plus-14 isn't too shabby either.
With 78 shots on goal through just 30 games, Letang also has given the Penguins a strong presence in the offensive zone from the blue line (not like they need it).
As for blocked shots, Letang ranks fourth among all Pens players with 49 despite missing so much time.
If it weren't for an unlucky break (no pun intended), Letang would certainly be much higher on this list.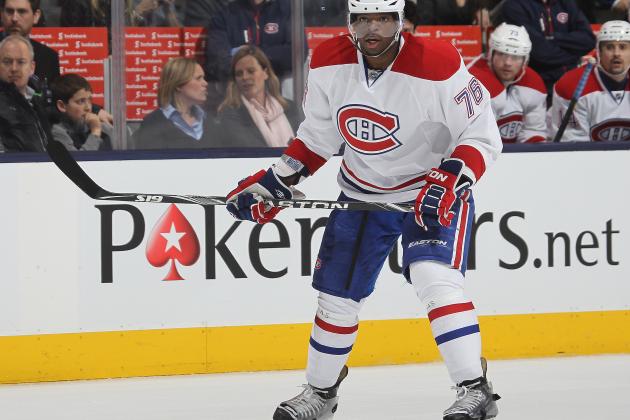 Claus Andersen/Getty Images

The fact that P.K. Subban leads all NHL defensemen in scoring with 36 points (in just 36 games no less) automatically pushes him into the discussion for the Norris Trophy.
With 25 power-play points, Subban is absolutely deadly when his team is a man up.
Just as Letang is a catalyst on the back end for the Penguins, Subban is the same for the Montreal Canadiens. What makes Subban's performance more impressive than Letang's this year is that he doesn't have the talent up front that Letang does to help him out.
The fact that Subban has 107 shots on goal proves just how much Montreal relies on him when it's on the attack.
His plus-nine player rating also proves he's reliable in his own end, and with 44 hits and 45 blocked shots, Subban also can play a more physical game and take away opponents' shooting lanes.
It's undeniable that Subban is incredibly important to his team. But just being the highest-scoring defenseman won't (or shouldn't) win you the Norris by itself.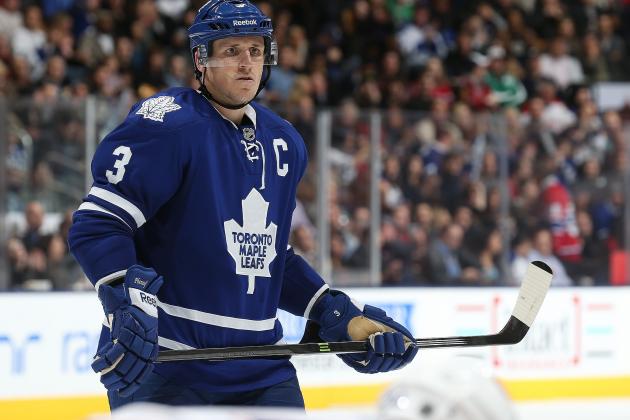 Claus Andersen/Getty Images

This one might come as a shocker to most, but Dion Phaneuf definitely deserves to be considered for the Norris Trophy.
Despite a slow start, Phaneuf has rebounded and has led his Toronto Maple Leafs to their first playoff appearance in nearly a decade (barring an epic collapse).
Other than his player rating, which comes in at an even zero (though if one takes a look at who's he played with most of the season, it's certainly forgivable), Phaneuf has been a machine for the Leafs.
He sits in a tie for fifth among all defensemen in hits with 117 (and has more than any other player on this list) as well as seventh among all defensemen in ice time at over 25 and a half minutes (though only two others mentioned in this article have played more than Phaneuf this season).
With 26 points, Phaneuf also ranks fifth among all NHL defenders in that category, and he places fifth among all blueliners in penalty-killing minutes (first among all players on this list).
The fact that he's also a shot-blocking machine (he's second among all Leafs with 83 this season) is just icing on an already impressive cake.
To deny that Phaneuf should be in the discussion for the Norris Trophy would be absurd.
If it weren't for the fact that Phaneuf has turned the puck over 47 times (the most among all defensemen) this season, he'd probably be my choice right now to take home the Norris Trophy in 2013.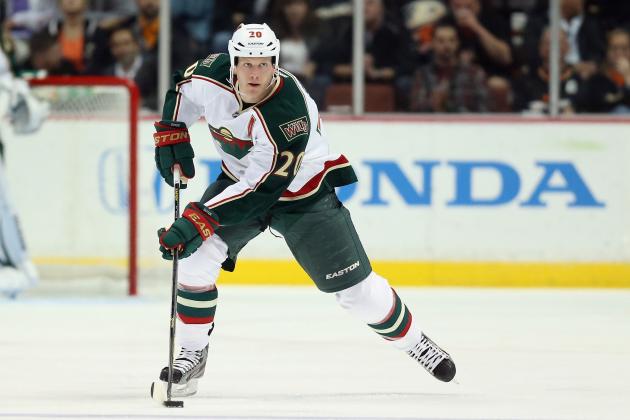 Jeff Gross/Getty Images

What can be said about Ryan Suter other than he is a workhorse?
Suter is another player who is a force in his own zone as well as in the offensive zone.
In fact, he ranks second among all NHL defensemen in points and leads all defensemen in ice time this year with more than 27 minutes played per game.
With 62 blocked shots, Suter also leads all Minnesota Wild players, and he's also his team's leading penalty killer by a wide margin, having spent more than 98 minutes on the penalty kill, compared with just 87 minutes for the next closest Wild skater.
Year in, year out, Suter is one of the league's top blueliners and 2013 is no different.
Right now, Ryan Suter is my pick for the Norris Trophy.
All stats in this article include games up to and including April 16.
Don't agree with the rankings? Feel someone was left off the list? Sound off in the comments section below.