NHL Awards Tracker: Breaking Down the Race for the Art Ross Trophy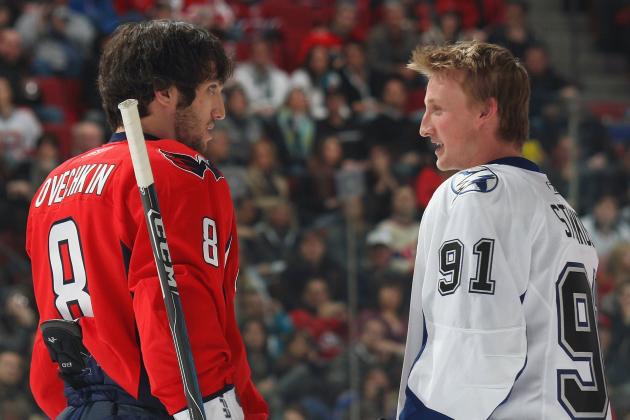 Bruce Bennett/Getty Images

The Art Ross Trophy is one of the only NHL awards that is not voted on, and although Sidney Crosby has held the top spot for weeks, it appears he will be overtaken by a few players from the Southeast Division. Crosby is the league leader with 56 points, and he would have run away with the trophy if he didn't get his jaw broken.
Steven Stamkos, Martin St. Louis and Alex Ovechkin have surged as of late, but who will take home the award this year? Here is a close look at the race for the Art Ross Trophy featuring the top five candidates.
Begin Slideshow

»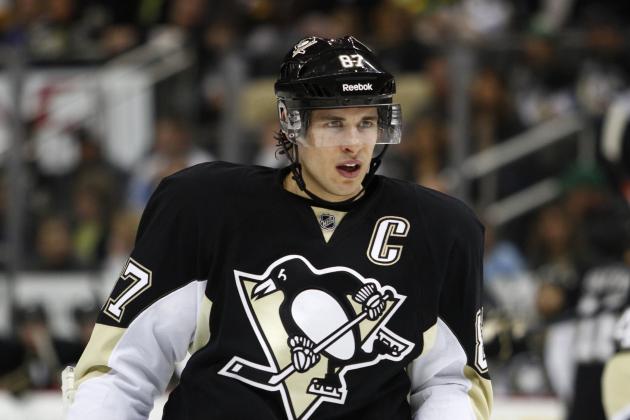 Justin K. Aller/Getty Images
Crosby returned to elite form this season.
Sidney Crosby's regular season appears to be over because of a broken jaw, but according to the Pittsburgh Post-Gazette, the Pittsburgh Penguins' captain has been skating with the team recently. Crosby is currently the leader in the Art Ross Trophy race with 56 points, and a close look at his stats indicate that he was on pace for greatness.
| | | | | |
| --- | --- | --- | --- | --- |
| Games | Goals | Assists | Points | PPG |
| 36 | 15 | 41 | 56 | 1.56 |
Crosby was on pace for over 70 points when he was sidelined with his injury, and that would have given him the record for most points during a shortened season. During the 1994-95 season, both Jaromir Jagr and Eric Lindros had 70 points, but Jagr won the Art Ross because he had a superior goal total.
If Crosby can return, he will have a chance to widen the gap. But at this point, it looks like he will rest for the playoffs and fall short of winning his second Art Ross Trophy.
Steven Stamkos has surged into the Art Ross race since Sidney Crosby's injury, and he is also fiercely contending for the Rocket Richard Trophy. Stamkos is having another dominant season, and it is impressive that he has scored 27 goals in a shortened season. Peter Bondra holds the record for most goals in a shortened season with 34.
In a normal, 82-game season, Stamkos would be on pace for 52 goals—only eight goals less than last season. However, Stamkos has been a more complete player this year, and he has 26 assists through 43 games after recording only 37 in 2011-12.
The increase in assists definitely explains his "drop" in goal production, but here are his numbers for 2013.
| | | | | |
| --- | --- | --- | --- | --- |
| Games | Goals | Assists | Points | PPG |
| 43 | 27 | 26 | 53 | 1.23 |
At this point, Stamkos seems like the favorite to take home the Art Ross in Crosby's absence. But there are a few other contenders, and one of them is Stamkos' linemate.
Martin St. Louis is like a fine wine in the sense that he keeps getting better with age. The 5'8" forward is still one of the league's most dominant two-way scoring threats at age 37, and he is currently one of the top contenders in the Art Ross Trophy race. Year after year, St. Louis is among the leaders in assists and total scoring, and 2013 is no different.
St. Louis is a great passer with 570 career assists, and he is a member of a great offensive tandem with Steven Stamkos. Here is how St. Louis has performed thus far in 2013.
| | | | | |
| --- | --- | --- | --- | --- |
| Games | Goals | Assists | Points | PPG |
| 43 | 12 | 41 | 53 | 1.23 |
St. Louis is having a great season with Tampa Bay, and he only has eight fewer assists this year than he did in all of 2011-12. When you consider how good St. Louis and Stamkos have been, it is hard to comprehend that the Lightning won't make the playoffs, but that won't stop each player as they chase after the Art Ross Trophy.
Alex Ovechkin has bounced back in a huge way this season, and even if he falls short of winning the Art Ross Trophy, he is a shoe-in to win "Zinger of the Year." A few weeks ago, Ovechkin spoke to Stephen Whyno of The Washington Times, and the "king of the world" had this to say.
I just try to do my best, Ovechkin said. Right now I'm scoring goals and I'm the king of the world. And a couple weeks ago I was almost in the toilet. So maybe you just forget to flush me.
That zinger was very poignant, as Ovie was coming off a stretch in which he had recorded seven goals, four assists and 11 points in his past seven games. Weeks earlier, pundits had deemed that Ovechkin was washed up, but the Great Eight went out and proved them wrong. Ovechkin is currently the leader in the Rocket Richard Trophy race, but there is a chance he could make a run at the Art Ross.
Here is how Ovechkin has performed thus far in 2013.
| | | | | |
| --- | --- | --- | --- | --- |
| Games | Goals | Assists | Points | PPG |
| 43 | 28 | 20 | 48 | 1.12 |
The Washington Capitals are still fighting hard to secure their playoff spot and division title, so it is fair to say that Ovechkin may pick up some ground as the team finishes out its regular-season schedule.
Patrick Kane is only 24 years old, but he is in his sixth year with the Chicago Blackhawks. Kane has had a nice comeback season after two straight years full of declining production. This season, Kane has been a dual threat for the Blackhawks, and his stats show he has a chance to get back into the Art Ross race.
| | | | | |
| --- | --- | --- | --- | --- |
| Games | Goals | Assists | Points | PPG |
| 42 | 20 | 27 | 47 | 1.12 |
Kane and the Blackhawks have had their playoff ticket punched for a while, but Kane is going to play hard for the rest of the season because of his chances to contend in the Art Ross Trophy race. In order to improve his odds, he is going to need to step up his game and hope all scorers ahead of him stumble.
Although he trails Sidney Crosby by nine points, Kane has a better chance than Crosby's teammate, Chris Kunitz, even though both are tied with 47 points. The last few games of the season should be interesting, but Kane is capable of closing the gap.