Complete Guide to the Minnesota Wild's Playoff Push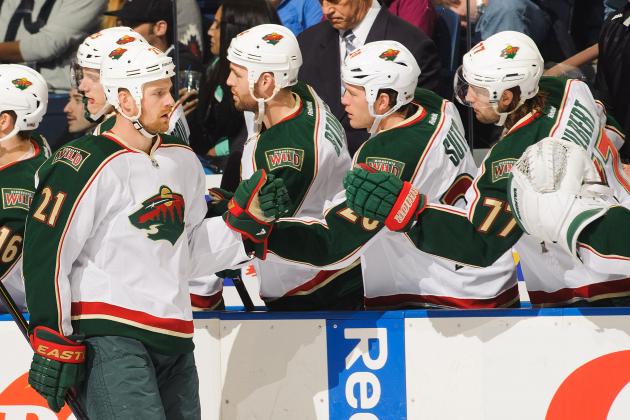 Derek Leung/Getty Images

The Minnesota Wild have to make the playoffs.
Realizing that the return of the NHL to the State of Hockey honeymoon had worn off, Wild management went out and spent nearly $200 million on Zach Parise and Ryan Suter in the offseason and revamped the farm system.
After a slow start, which is to be expected in a year with no training camp or exhibition games, Minnesota has remained in the playoff picture for most of the season. In fact, the team started releasing commercials with footage from the 2003 playoff run to the Western Conference Finals that ends with the team telling fans that there will be new playoff memories this season.
Those memories cannot be formed if Minnesota slips right now.
In order to avoid a late-season collapse, the top line must score, the No. 1 defensive pair has to play big minutes and everyone else, young and old, big or small, has to contribute if the Wild want to position themselves for a playoff run this year.
Begin Slideshow

»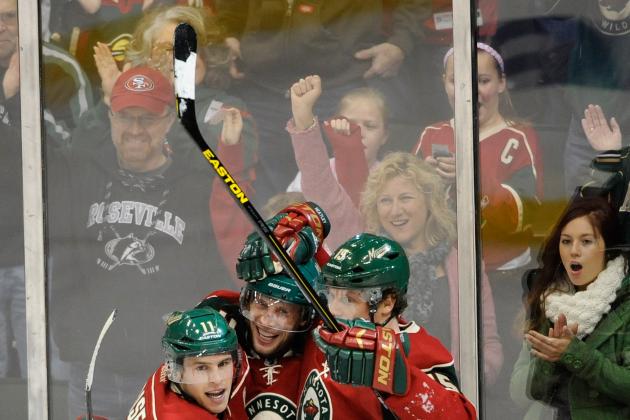 Hannah Foslien/Getty Images

This goes without saying, but this line has to set the offensive tempo for the Wild.
All three players on this line are, or were, captains during their NHL careers. Mikko Koivu is currently the team captain, Zach Parise was the Devils captain and Jason Pominville wore the 'C' in Buffalo. Therefore, all three players know that the best way to lead is by example.
Parise has done so this year. He has 16 goals and 35 points in the shortened season.
Koivu has nearly as many points as Parise but has slumped recently. His goal against the Edmonton Oilers on Tuesday night was his first point in eight games. He needs to get on the board more regularly than that.
Pominville has been a point-per-game player since joining the Wild at the trade deadline.
It is difficult building chemistry with new teammates in the middle of a playoff push, but the longtime Sabre has done exactly that.
As long as Koivu gets things going and starts feeding Parise and Pominville, this line should be in good shape down the stretch.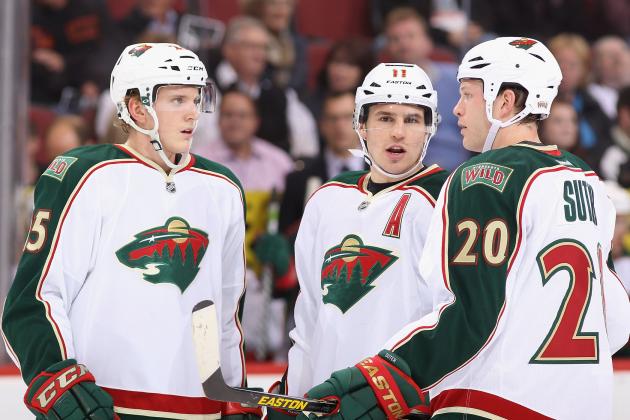 Christian Petersen/Getty Images

Ryan Suter leads all defensemen with over 27 minutes of ice time per night, and Jonas Brodin's 23-plus minutes per night is the most among rookies.
This trend must continue.
Not only are Suter (plus-2) and Brodin (plus-7) responsible blue liners who are smart with the puck and also clear opponents away from the net, that is to say that they stand out by fitting in, but there is some uncertainty with the depth behind them.
Tom Gilbert is a large veteran player who has had his fair share of success in the NHL, but Clayton Stoner has made his fair share of blunders this year (he essentially assisted on the Chicago Blackhawks' lone goal last time the two teams met), and Nate Prosser (26), Justin Falk (24) and Jared Spurgeon (23) are all very young.
Suter and Brodin are the most reliable defensive pair on the club and need to maximize the time that they are allowed to play on any given night.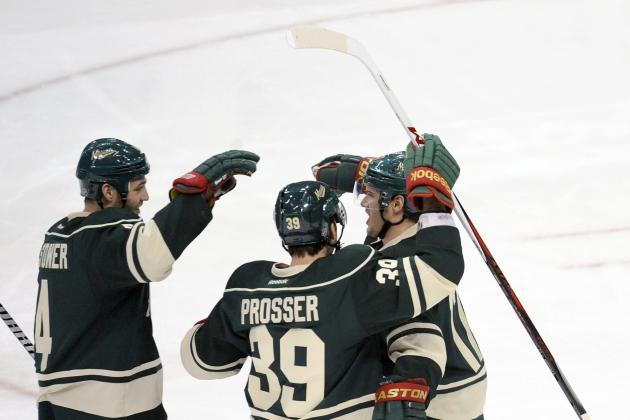 Hannah Foslien/Getty Images

Piggybacking off of that last slide, the Wild need to figure out who works best on the second line.
Stoner has drawn the ire of the Wild faithful for that errant pass against Chicago, but at 6'3", 213 pounds, he has good size and is good at clearing both pucks and players away from the net. In fact, his play has been better than people realize. It's just that errors always stand out more than sound play for defensemen.
Gilbert would be a natural fit with Stoner. The 30-year-old veteran has good size as well (6'4", 204 pounds) but is probably better paired with a younger player like Spurgeon, Prosser or Falk.
The team could, of course, keep Prosser and Falk on the bench and play 36-year-old Brett Clark, although the 6'5", 215-pound Falk and 6'2", 205-pound Prosser provide a lot more size.
Spurgeon has played well with Stoner this year and provides an offensive punch to the second pair. He will remain there as long as the 5'9", 185-pound defenseman does not become a defensive liability.
If he cannot hold his own against a larger team, say the Los Angeles Kings, it's up to Stoner and Gilbert to be a steady pairing when Suter and Brodin are off the ice.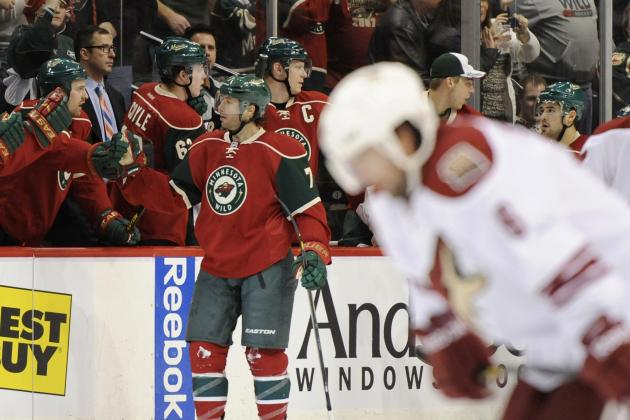 Hannah Foslien/Getty Images

Matt Cullen has to stay healthy.
Not only has he been a great influence on rookie Jason Zucker, which is difficult to measure, but winger Devin Setoguchi has also been lost without him.
The former San Jose Shark has put up good numbers this year, scoring 12 goals and recording 25 points in the shortened season, but was absolutely lost without Cullen centering the second line.
Setoguchi only recorded one point in Cullen's six-game absence. He has yet to find the twine since Cullen's return and needs to get going in the team's last few games, as secondary scoring is vital if this team wants to make the playoffs.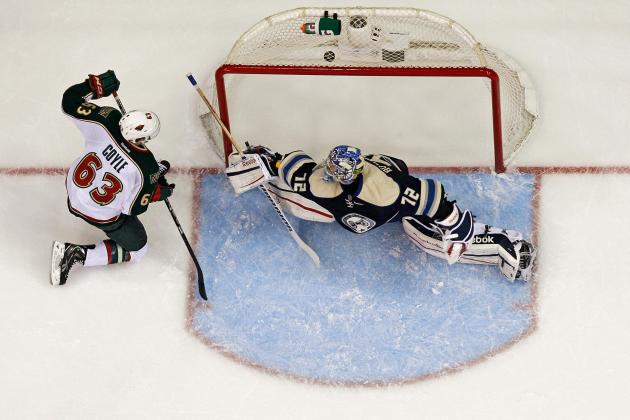 Kirk Irwin/Getty Images

Wild fans know about Brodin and how well he has played, but fellow rookies Charlie Coyle, Jason Zucker and Mikael Granlund will also be important factors down the stretch.
Coyle has been the best of the bunch. He's been more productive, played more minutes per game and been available in more contests than the other two players.
He also plays older than he is: getting pucks deep, being decisive with the puck and responsible defensively.
Zucker played well until Corey Perry, of the Anaheim Ducks, delivered an illegal hit on him back on March 13 and only recently has been cleared to return. He has hounded the puck since his return on April 13 and needs to continue to do so if the Wild are going to be successful.
Finally, Granlund was supposed to have a phenomenal rookie season this year given that he would not have to play on the top line, and the Parise and Suter deal would take the pressure off of him.
Instead, the 20-year-old former first-round draft pick scored his second goal of the year, the first since opening night, on Tuesday and has had his fair share of growing pains.
With Setoguchi and Cullen presumably anchoring the second line, Granlund will not be expected to be a volume scorer, but he must pitch in for the Wild to have success this time of year.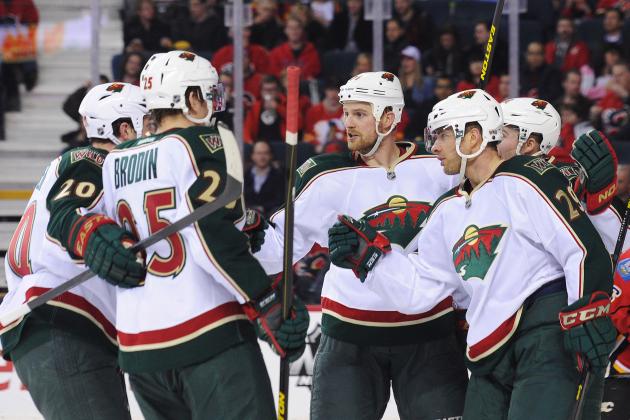 Derek Leung/Getty Images

The Wild are connecting on 18.3 percent of their power-play chances, which puts them in the middle-of-the-pack when it comes to production around the league.
That number should increase now that Parise, Koivu and Pominville are developing chemistry on the top line and Suter and Spurgeon continue to be a productive pairing on the back end.
The team will tinker with the second defensive pair, but the real question is which other forwards should get power-play time?
If Setoguchi and Cullen get their timing down, they appear to be shoo-ins on the second unit, but, if they don't, do Zucker and Granlund join Coyle? What about Pierre-Marc Bouchard, a speedy playmaker who can also score?
Head coach Mike Yeo needs to figure out who he wants out there on special teams in order to take advantage of penalties taken by the opposing teams.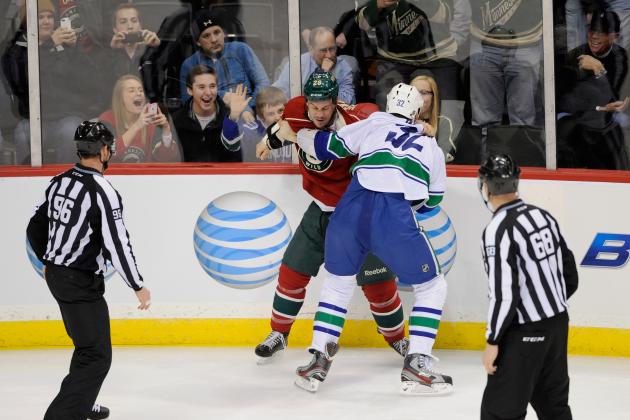 Hannah Foslien/Getty Images

Guys like Zenon Konopka, Mike Rupp and Kyle Brodziak often go overlooked because they do not play as many minutes as their superstar teammates, but they will play a vital role in whether or not this team makes the playoffs and, if they do, where they will be seeded.
Konopka gets typecast as a bruiser, but he's got soft hands in the faceoff circle and is a vocal leader in the locker room. His physical play and ability to win draws has been dearly missed in his recent absence.
Originally a first-round pick by the New York Islanders back in 1998, Rupp is one of a few players to be drafted twice (he went No. 76 to New Jersey in 2000) and never became an elite scorer worthy of a first-round pick.
With a big body (6'5", 243 pounds), Rupp is not afraid to go into the dirty areas and stick up for smaller teammates, however, and the Cleveland native brings momentum-swaying grit to the ice every night. The team will need a grinder like him to set the physical tone in do-or-die games at the end of the year.
Finally, Brodziak is strong in the faceoff circle, like Konopka, but is also capable of providing secondary scoring. He scored a career-high 22 goals last year and while his scoring touch may not be as refined as Parise or Granlund, he gets the job done and plays an underappreciated role on this team.
Christian Petersen/Getty Images

Minnesota should make the playoffs this year. They have bona fide superstars in Zach Parise, Ryan Suter and Mikko Koivu, great depth guys like Matt Cullen and Kyle Brodziak as well as gifted youngsters like Jonas Brodin, Charlie Coyle, Jason Zucker and Mikael Granlund.
This is the deepest, most talented and motivated Wild team the Twin Cities has ever seen. They have battled through injuries to guys like Dany Heatley, Zenon Konopka and Zucker and have done enough to put themselves in a position to make the playoffs for the first time since winning the division in 2007-08.
At this point, they just have to make it happen.
Tom Schreier covers Minnesota sports for Bleacher Report and writes for TheFanManifesto.com. Visit his Kinja blog to see his previous work.