NFL Draft Projections: Predicting Landing Spots for the Draft's 25 Biggest Stars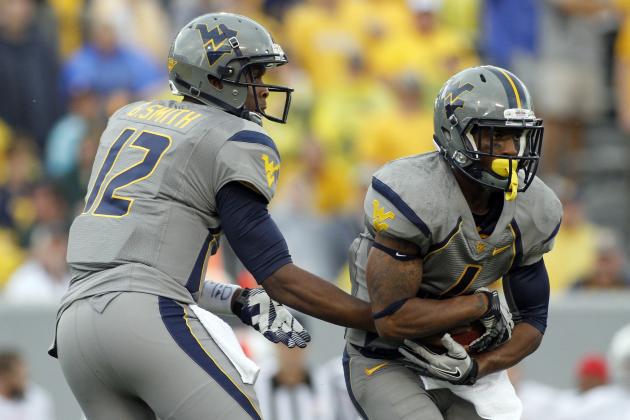 Justin K. Aller/Getty Images

You've probably read somewhere between 463 and 758 mock drafts at this point, so let's take things in a slightly different direction. Instead, let's take a look at the 25 biggest stars involved in this year's NFL draft and then project where they might wind up.
Essentially, this is still a large chunk of a first-round mock draft but with looser guidelines. In other words, we needn't account for inevitable trades and can still be accurate in our predictions.
Of course, there's a good chance we'll still be wrong much more often than we're right, but being way off is part of a longstanding tradition in the lead-up to the draft.
This might at least offer a new perspective on what might go down next Thursday, Friday and Saturday at Radio City Music Hall in New York City.
Begin Slideshow

»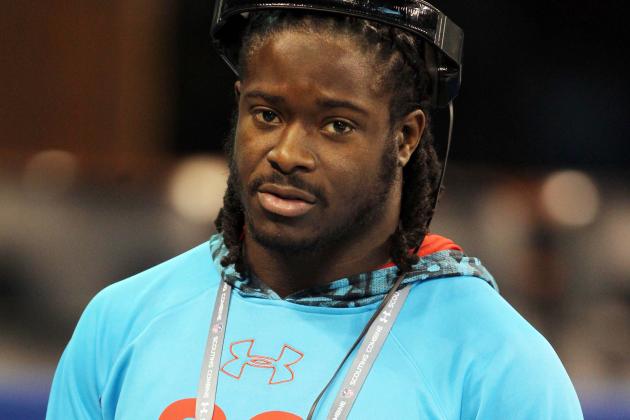 Brian Spurlock-USA TODAY Sports

There was a time when a talented running back like Eddie Lacy would have been a top-10 candidate. But with backs losing their luster on draft boards, the offensive MVP of the BCS Championship Game might slide into the second round.
If Lacy does fall that far, I wouldn't expect him to get past Cincinnati in the No. 37 spot. In fact, with the Bengals truly in need of help in the backfield, it wouldn't shock me to see Lacy go to Cincy with the No. 21 overall pick.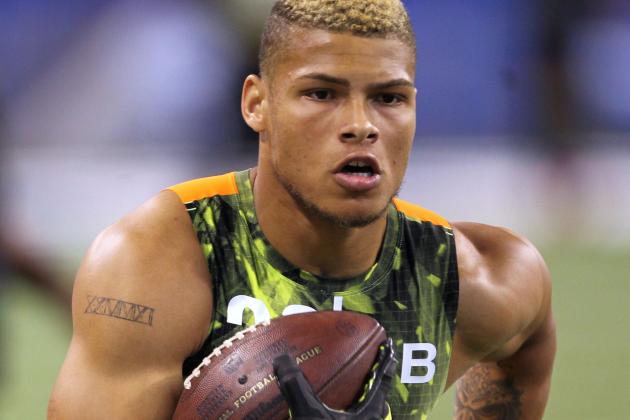 Brian Spurlock-USA TODAY Sports

It's unclear where Tyrann Mathieu will be picked, because the 2011 Heisman Trophy finalist has so much baggage. But the Honey Badger is a playmaker with a ton of upside, and someone will inevitably take a flier on him.
No team takes chances on guys like Mathieu as much as the Bengals do, and they've reportedly already hosted him at their facility. I'd bet on Cincinnati to take the former consensus All-American in Round 3 or 4.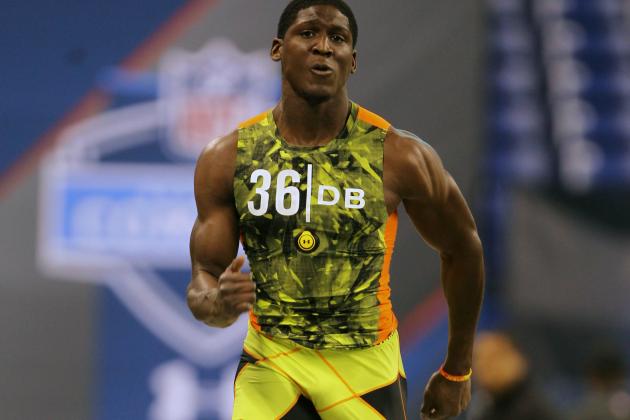 Brian Spurlock-USA TODAY Sports

This one's simple. The Dolphins need a replacement for Sean Smith, and Xavier Rhodes is expected to be the top cornerback on the board when they pick 12th overall. The All-ACC corner out of Florida State has the ability to start from the get-go in Miami.
It would be interesting to see, though, if Atlanta might consider trading into this range to grab Rhodes.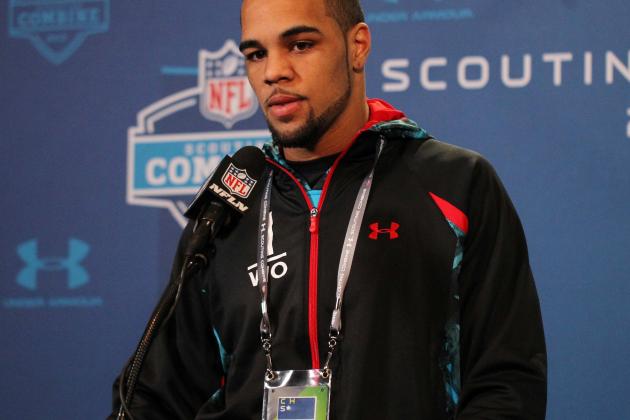 Brian Spurlock-USA TODAY Sports

We're guessing that Keenan Allen's stock has dropped enough to cause him to slide to the final spot in the first round, where the Ravens would likely be excited to add a man who was once considered to be the top wideout in this draft class.
Allen, who had 98 catches and 1,343 yards in 2011 at Cal, has raised a red flag regarding a reportedly shady drug test at the combine.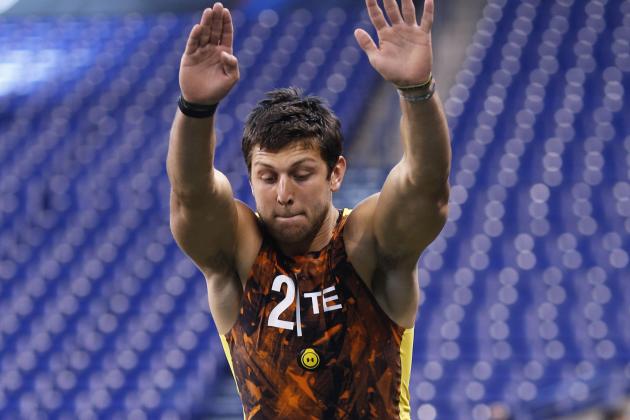 Joe Robbins/Getty Images

Tight ends are tough to get a read on in the first round of the draft, but there's no doubt that Tyler Eifert is worthy of being a first-round pick.
The 2013 John Mackey Award winner and second-team All-American out of Notre Dame is a candidate to wind up with the Giants, Broncos or Falcons, but I have a strong feeling about the Texans, who could really use a weapon like him to complement Andre Johnson in the passing game.
Houston might not let him get past the No. 27 spot.
Predicting where the quarterbacks are going to land is always tough, and there's a chance that Florida State pivot E.J. Manuel is taken as early as eighth to Buffalo. But we're gambling that teams like the Cardinals, Raiders, Bills and Jets will wait for Round 2 to take signal-callers.
With that in mind, it's hard to imagine Manuel getting past Philadelphia in the No. 35 spot. The Senior Bowl MVP has named the Eagles as a team he believes is very interested in him.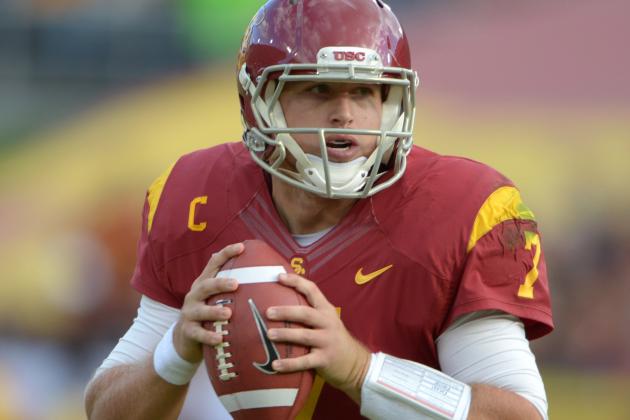 Kirby Lee-USA TODAY Sports

There's a good chance that either the Cardinals or Jets end up with yet another USC quarterback, as Matt Barkley is a candidate to go to either team in the first or second round. My gut tells me that he slides to the second round, where Arizona wraps him up one pick before the Jets.
This also means I'm calling a run on quarterbacks early in Round 2, with Manuel going to the Eagles, Barkley going to the Cards and Ryan Nassib either going to the Jets or the Bills, all of whom are on the clock within a seven-pick clump.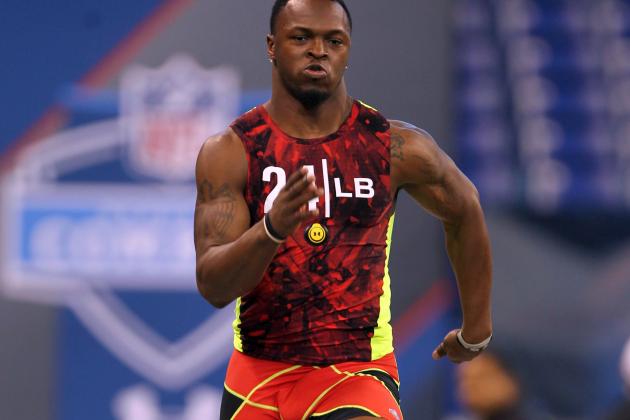 Brian Spurlock-USA TODAY Sports

With the Bears losing two starting linebackers in the offseason, they could have one hell of a decision to make in the No. 20 spot if both Alec Ogletree and Manti Te'o are available. Ogletree's ceiling, though, is a little higher than Te'o's.
If we're talking about off-field issues, I think Chicago would rather have a man like Te'o on the team, because Ogletree's February DUI hurt his rep. But ultimately I think the Bears will opt for Ogletree's on-field skills, since he has a much better range.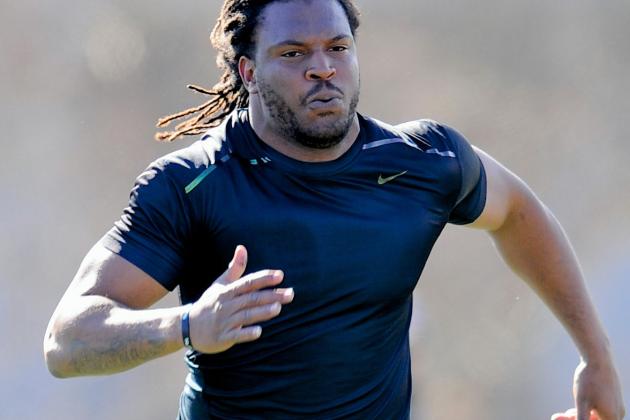 Dale Zanine-USA TODAY Sports

It's funny how these things work. Jarvis Jones hasn't played a single football game since January, yet his stock has been fluctuating all over the chart.
Early in the offseason, he was projected as a potential No. 1 overall pick. But the two-time consensus All-American has a spinal stenosis condition that could be cause for concern, and he put on a weak performance at his pro day.
Still, you'd have to think that the Georgia product would become an instant steal outside of the top 12. The Saints, who could use a guy like him in their new 3-4 defense, would have a very tough time letting him slide past the No. 15 spot.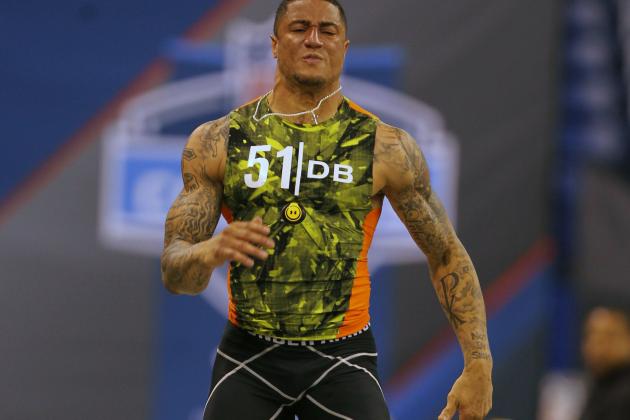 Brian Spurlock-USA TODAY Sports

There's been no debate regarding who the best safety in the draft is. At that position, it's Texas product Kenny Vaccaro, and then it's everybody else.
While Vaccaro could be a candidate to land in San Diego or St. Louis earlier in Round 1, there's no way he gets past the Cowboys in the No. 18 spot.
The local boy, who was a Pro Football Weekly All-American in 2012, is expected to be ready to start from the get-go. And Dallas has nobody beyond Barry Church at the safety position.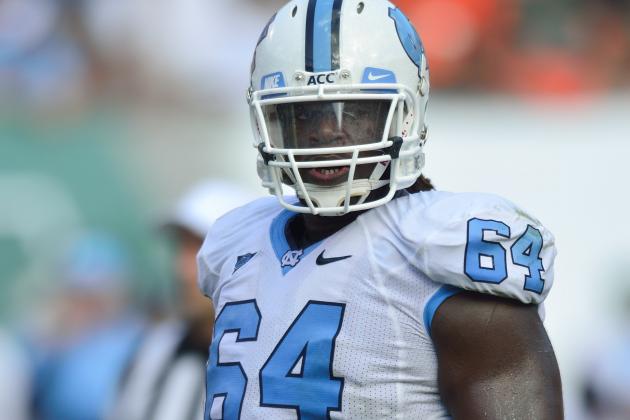 Steve Mitchell-USA TODAY Sports

Look for elite guards Jonathan Cooper and Chance Warmack to fly off the board between the 10th and 20th picks. Cooper, who was a consensus All-American at North Carolina, gets slightly less attention than Warmack but is the more versatile player.
When the Titans are looking to draft the best player available in the No. 10 spot, I have a feeling they'll go in this direction.
I don't get the feeling the Jets will draft a quarterback early, instead settling for someone like Zac Dysert in the middle rounds. That No. 9 overall pick will likely be used, instead, on someone who can spruce up the pass rush. If Dion Jordan is still available, great, but since I have him off the board, I'm giving Gang Green Ziggy Ansah.
The Ghana-born BYU product is a freakish athlete who would immediately help the Jets front seven, which has been the opposite of electric lately.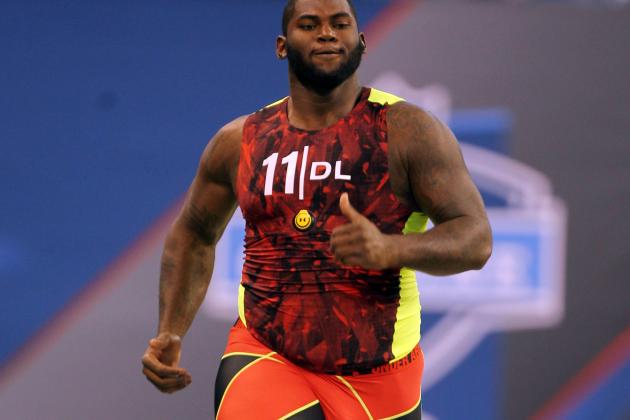 Brian Spurlock-USA TODAY Sports

Sharrif Floyd's draft stock has risen greatly this offseason. Now, he and fellow defensive tackle Star Lotulelei are both considered to be top-five picks.
While I believe Lotulelei is the better player, I agree with Todd McShay's assessment that Floyd might be a better fit for Oakland in the No. 3 spot.
The 2012 first-team All-American is a more natural 4-3 defensive tackle, which is a big reason why he's been linked more heavily to Oakland than to Philadelphia.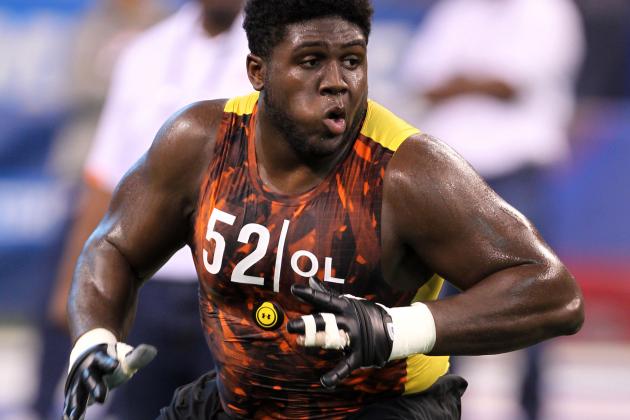 Brian Spurlock-USA TODAY Sports

No one really knows, but the consensus seems to be that Chance Warmack has a higher ceiling but a lower floor than Jonathan Cooper. He could become a flat-out stud, though, so I can't see the Rams passing if he drops to them at the No. 16 spot.
The All-American is a three-time national champion who is completely ready to step in right away and start opposite Harvey Dahl.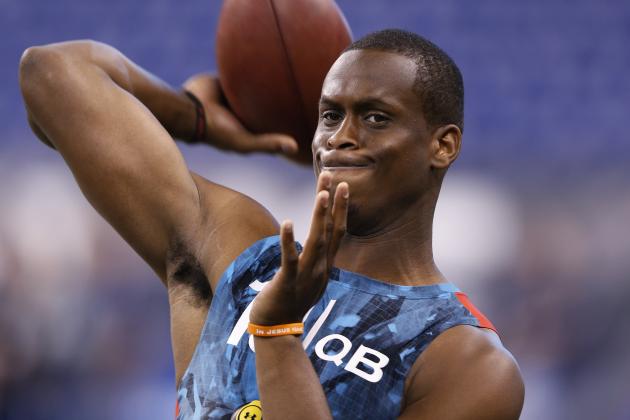 Joe Robbins/Getty Images

Geno Smith is an average quarterback prospect in the right place at the right time. Because players at his position are so valuable, and because he's the top-rated pivot in a weak class, the West Virginia product is likely to be picked second by Jacksonville, third by Oakland or fourth by Philadelphia.
I'm going to guess that he doesn't get past the Jaguars in the No. 2 spot, because I think the Jags are desperate to start a new era with a new potential franchise quarterback—and it appears they're pretty interested in Smith.
Brian Spurlock-USA TODAY Sports

Eric Fisher's stock rose so steadily during the draft evaluation process that some think he's good enough to be picked first overall ahead of Luke Joeckel. He's big, athletic, versatile and ready to start immediately.
It wouldn't be surprising to see Fisher go fourth to Philadelphia, but I don't think the Lions will let the local boy get past them in the No. 5 spot. He'd be capable of replacing Gosder Cherilus and might give Detroit the ability to flex Riley Reiff inside immediately.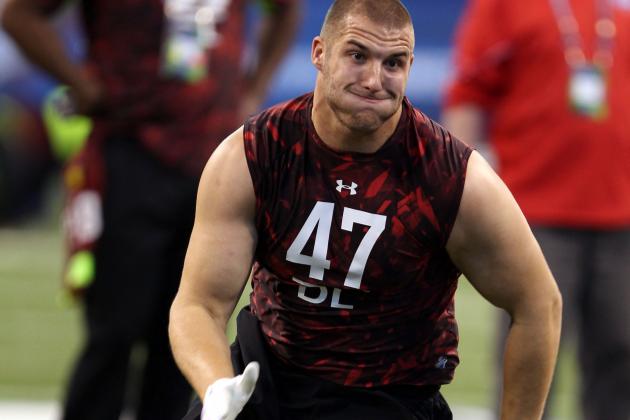 Brian Spurlock-USA TODAY Sports

When it comes to pass-rushing prospects, Florida State defensive end Bjoern Werner is as productive as they come. The German-born consensus All-American had 13 sacks and 18 tackles for loss as a junior in 2012.
The Giants are looking for a steady new end to complement Jason Pierre-Paul, and Werner is the ideal candidate. If he's still on the board when the G-Men pick at No. 19, expect his phone to ring.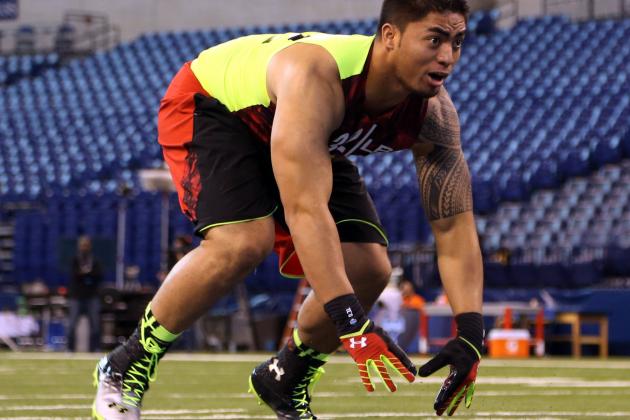 Brian Spurlock-USA TODAY Sports

Manti Te'o's stock might have been artificially high during Notre Dame's run this fall, but his off-field drama certainly caused many draft "experts" to overreact. It doesn't appear as though he'll present problems in the locker room, so the only question now is how good at football the guy is.
He has his flaws, for sure, but the tape still says Te'o is probably worthy of being a first-round pick. The Vikings could really use a linebacker like him, and they just so happen to possess a pair of first-rounders right in the range in which Te'o is expected to be selected.
It's pretty much a consensus that Dee Milliner is the top cornerback in this draft. He possesses ideal size and speed, and he has the scheme versatility to succeed at the next level.
The Raiders, Eagles and Lions could all consider Milliner in the third, fourth and fifth spots, respectively, but I don't think he'll get past Cleveland in the sixth spot. Mock drafters tend to agree, and Tony Pauline of DraftInsider.net reports that the consensus All-American out of Alabama is the Browns' top priority.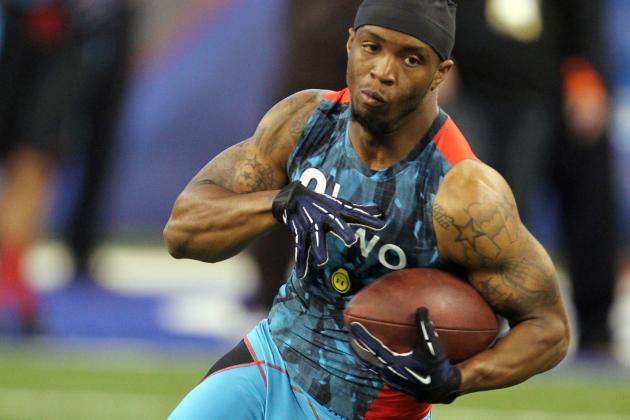 Brian Spurlock-USA TODAY Sports

Geno Smith gets a lot more of the attention, but two-time All-American wide receiver Tavon Austin is actually the best West Virginia prospect in this year's draft. He leaves the Mountaineers having put up a ridiculous 1,932 yards from scrimmage and 15 touchdowns in his senior year.
I'm watching the Bills closely here, because they have a thing for the best player available, and Austin could fit that profile in the No. 8 spot. Ultimately, though, I think he'll slide through to 13, where the Buccaneers will lock him up to complement Vincent Jackson.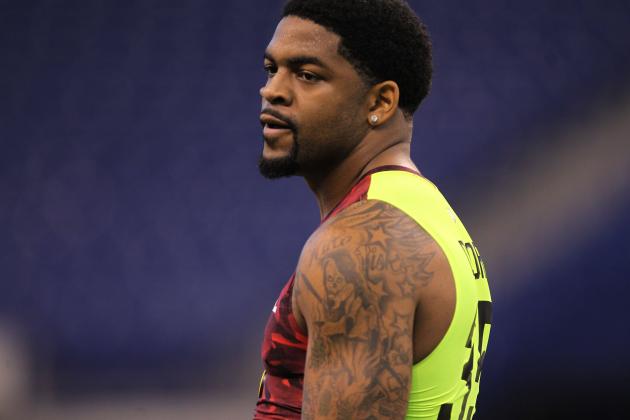 Brian Spurlock-USA TODAY Sports

Damontre Moore's stock has dropped throughout the offseason, but the Texas A&M pass-rushing specialist was a machine on tape the last few years in the Big 12 and SEC. He had 12.5 sacks and 21 tackles for loss as a junior, so a team could be in for a gift if Moore slides as low as many expect.
That team, I'm guessing, will be Detroit, who might just be lucky enough to land Moore with the fourth pick of the second round. With the Lions, he'd have a chance to start right away.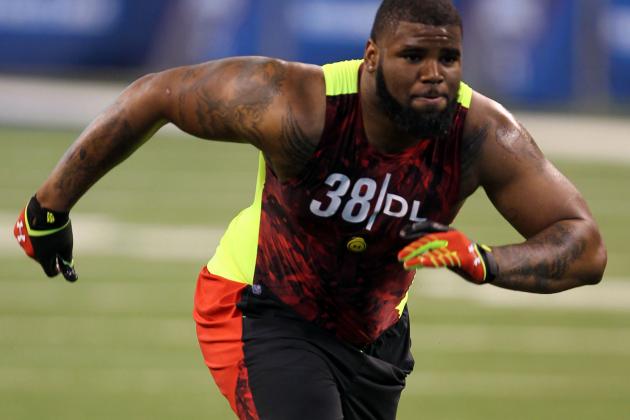 Brian Spurlock-USA TODAY Sports

Sheldon Richardson was such a force at Missouri that some think he's worthy of being picked in the top five. But it seems he's taking a back seat to Sharrif Floyd and Star Lotulelei, which could cause the defensive tackle to fall into the teens.
If that's the case, can you really see the Panthers passing at 14? Carolina desperately needs help upfront, and Richardson can be an instant force in the middle. The Panthers could also use a corner, but if Dee Milliner and Xavier Rhodes are gone, this makes the most sense.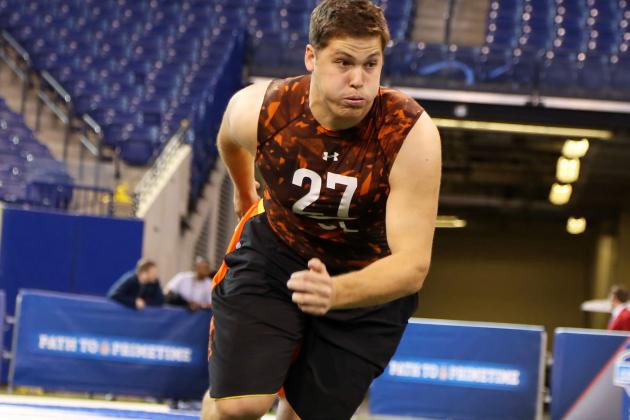 Brian Spurlock-USA TODAY Sports

Luke Joeckel doesn't strike you as the best player in a draft class, but that's why the No. 1 overall pick might hold less value than usual this year.
The consensus All-American did have a dominant junior year in front of Johnny Manziel in the SEC, though, so if the Chiefs believe the next piece to the puzzle is an elite left tackle, this pick makes sense. Eric Fisher would be a great option, too, but Joeckel is the favorite at this point.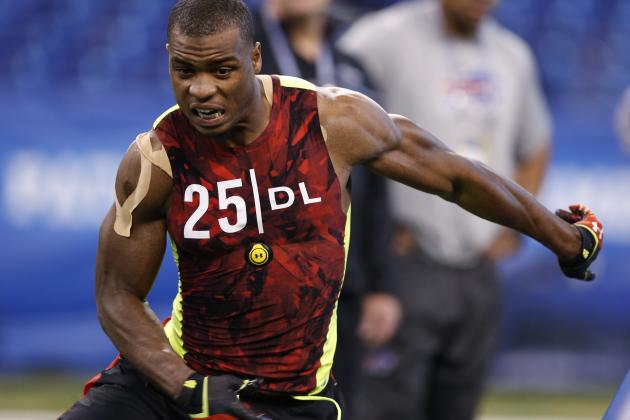 Joe Robbins/Getty Images

Dion Jordan is considered by many to be the best edge-rusher in this year's draft. And with his former coach picking fourth for the Philadelphia Eagles, a lot of prognosticators have the Oregon product coming off the board to Philly in the No. 4 spot.
But unfortunately for Jordan, the Eagles have larger holes to address and several quality pass-rushers already on the roster. In fact, the way I see things, Jordan might not be seen as a priority for any of the first seven teams on the board. Congratulations to the Bills in the No. 8 spot.
Yes, our No. 1 star is quite literally a Star. Lotulelei won't likely be picked first overall, but he'll be considered strongly by everyone to follow. It's extremely difficult to find a weakness in this guy's game, and he's without red flags now that his heart officially checks out.
The versatile defensive tackle out of Utah is a particularly ideal fit for the Eagles at No. 4, as he has the ability to shift inside and outside in their new hybrid 3-4 defense.