Rex Burkhead: Video Highlights for Former Nebraska RB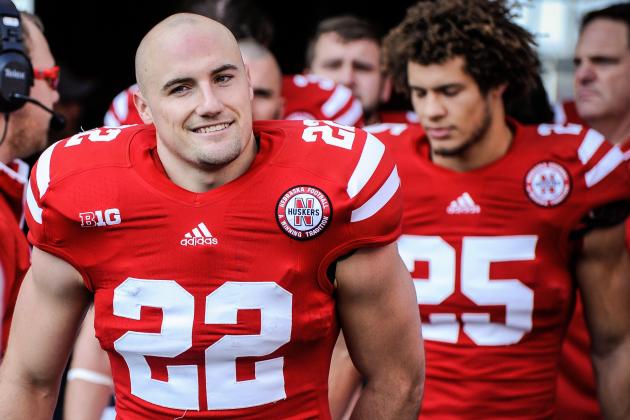 Eric Francis/Getty Images
Rex Burkhead (No. 22) is projected, at best, as a serviceable NFL running back.
The reviews of Rex Burkhead aren't sensational.
Bleacher Report's Matt Miller ranks him as the 18th-best at his position (200th overall) and CBS Sports ranks him as the 22nd-best running back (284th overall). CBS projects him as either a seventh-round pick or undrafted altogether.
Burkhead has good size (5'11" and 210 pounds), but isn't a blazer (4.65 40-yard dash). He averaged 6.9 yards per carry last season and 84.4 yards per game. He also benched 225 pounds 21 times and posted a 39" vertical leap as well as a 10'05" broad jump.
While he doesn't project as a stud, he could be a serviceable NFL back. Many believe his on-field performance over four years at Nebraska demonstrates that more than his 40-yard time suggests.
Here's a look at some highlights of his abilities.
Combine results courtesy of nfldraftscout.com.
Begin Slideshow

»
Demonstrating versatility is a great way for an unheralded player to find a home in the NFL. The league values versatility and one thing that's apparent about Burkhead is that he can do a number of different things.
In this clip, Burkhead demonstrates the ability to do a very simple thing: turn a checkdown pass into a first down and then some on a crucial third down.
Burkhead had wiggle room to get the first, but he got more than that. Moreover, he held on to a pass that was a little high, composed himself and then made the Ohio State defense pay.
The Nebraska running back doesn't project as an every-down back, which means he needs to demonstrate a variety of skills.
He does that here.
As stated, Burkhead doesn't project as an every-down back.
These two plays demonstrate an ability to pick up the blitz on passing downs.
On the first play, you'll notice Burkhead whiffs badly on the defender, but what stands out is his effort in not giving up on the play.
Despite his horrific first attempt, he sticks with it to land a key block that gets quarterback Taylor Martinez into the open field.
On the second play, Burkhead makes a satisfactory block on an Ohio State linebacker that enables Martinez to deliver a pass.
Non-elite backs must be able to pick up the blitz.
Many elite backs, like Minnesota's Adrian Peterson, struggle to pick up the blitz. That enables an average back like Burkhead to get on the field and could make him an attractive piece to an NFL team.
What you'll see on this down is a broken play.
It appears that Burkhead is supposed to run between the tackle and guard.
However, his guard gets beaten badly, which forces him to either stick with the play as is or cut it outside. Burkhead opts to cut it outside, which leads to a nice double-digit-yard gain.
His blockers, besides the left guard, do a nice job of picking up defenders. What's especially nice about this play, though, is that Burkhead reads his blocks very well.
If a running back is unable to read the blocks his offense makes, then it'll be tough for him to succeed. Far more often than not, the offense doesn't make all of its blocks as scripted, meaning the back needs to have some improvisational skills.
Burkhead demonstrates that here.
The blocking on this play is superb.
Also, keep in mind who Burkhead is running against on this series: Alec Ogletree, Jarvis Jones, John Jenkins.
All three may be first-round picks in the upcoming NFL draft.
Burkhead gets past them all and into the next level.
He doesn't project as a bruising back in the NFL, but he's not a speed back either. He'll need to do a little bit of everything and this shows he can go up the middle.
On an earlier play in the slideshow, Burkhead demonstrated the ability to at least catch a football.
On this second-down play in the red zone, Burkhead runs a nice streak up the middle of the field and makes an impressive touchdown grab on a poorly thrown ball.
Many of the league's best backs wouldn't have been able to make that catch, which makes Burkhead a very versatile player.