The Imagination Station: Mr. Kennedy vs Mr. Perfect in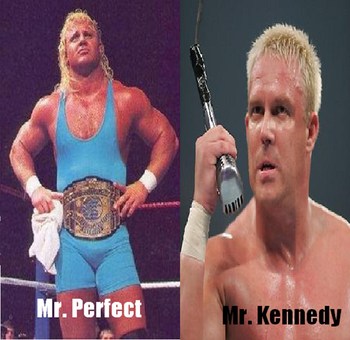 The Imagination Station: matches that only our minds can dictate. This my new series where I will take two superstars past or present and put them in a match.
Each match will be dubbed "The Battle of...". Each superstar will have something in common and I will decide who the winner of the match will be.
For my first match I will place the late "Mr. Perfect" Curt Hennig v.s. Mr. Kennedy. I would like to call this match "The Battle of Arrogance".
Tale of the Tape: Mr. Kennedy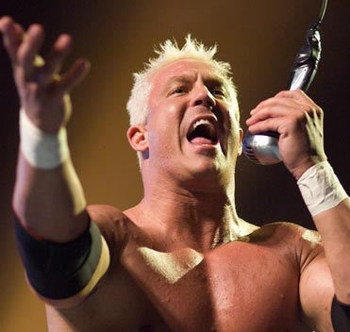 Statistics
-6 ft. 2in.
-243 lbs
-Billed from Green Bay Wisconsin
-33 years of age.
-Debut: Aug. 25, 2005. Scored a pinfall victory over Funaki on Velocity.
Title Reigns
-United States Heavyweight Champion
-Mr. Money In The Bank 2007
Wrestlemania Record: 1-0
Mr. Kennedy stormed onto the Smackdown scene in the later months of 2005. His attitude was and still his nothing short of cocky and high on himself. Once his music hits, the ring announcers know that Misssstttttttterrrrrrrrrrrrrrrrrrrrrr...Kennnnnnnnnnnneddddyyyyyyyyyyyy does not need their assistance when it comes to letting the people know who he is.
Tale of the Tape: Mr Perfect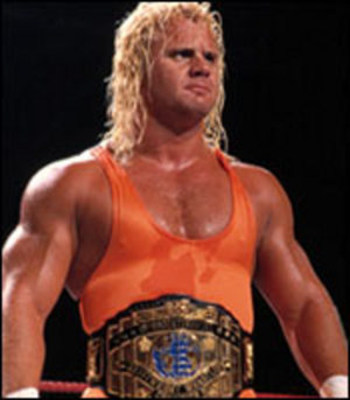 Statistics
-6 ft. 3 in.
-260 lbs.
-Debuted in AWA on Jan. 30, 1980
-AWA champion (373 day reign)
-U.S. Champion
-2 Time Intercontinental Champion
-WCW Tag Champion (Barry Windham)
-AWA Tag Champion (Scott Hall)
-Billed from Robbinsdale, Minnesota.
-Had 2 managers; Lanny "The Genius" Poffo and Bobby "The Brain" Heenan.
-2007 Hall of Famer
-Died Feb. 10, 2003 at the age of 44
Curt Hennig was by far one of the best in-ring performers of his time. In my book he is the greatest wrestler to never become the WWE champion. With gum in mouth and towel in hand, Mr. Perfect had the most arrogant demeanor when he stepped foot in the ring.
Throughout his career, Curt battled some of the best; Hogan, Flair, Michaels, Bret Hart, Ultimate Warrior, Kerry Von Erich and many many others.
One of his final feats was being in the final three of the 2002 Royal Rumble; entering a surprise entrant.
Hennig had it all, the ablity in the ring and on the mic. He will definitely be missed.
The Match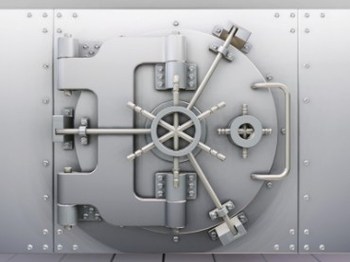 Missssssttttttttttttterrrrrrrrrrrrrrrrrrrrrrrrrrrrrrrrrrrrrrrrrrrrrrrrrrrrrr...
Kennnnnnnnnnnnnneddddddddyyyyyyyyyyyyyyyyyyyyyyyyyyyy!!!
(Mr Kennedy's music hits)
(RA) This match is scheduled for one fall. Introducing first from..
Kennedy snatches the microphone from the announcer before he even gets to finish.
(Kennedy) "Cut my music! I don't know who the hell you think you are, but you better get some lessons from Tony Chimel. I do my own announcements."
The ring announcer scurries out of the ring and the lights go dim. Kennedy is standing in the middle of the squared circle with his hand in the air, waiting for his '80s style mic to drop from the heavens.
(Kennedy) "Tonight I weigh in at 243 pounds. I will also remind you that I hail from Green Bay, Wisconsinnnn!!!! MISSSSTTTTTERRRRRRRRRRRRRRRRRRRRRRRRRRRRRRRRRRR
KENNNEDDDDYYYYYYYYYYYYY."
With microphone in hand he heads up to the second rope on the nearby turnbuckle.
"KENNNEDDDDDDDYYYYYYYYYYYYYYYYYYY"
(Perfect's music hits)
(RA) And now, from Robbinsdale, Minnesota. Weighing in at 260 pounds. Mr. Perfect!
(Jim Ross) "Hello everyone I'm Jim Ross along side the King and tonight we have a match up that most would call the battle of Mr. Cocky. Curt Hennig, as many people know him as Mr. Perfect, will be stepping in the ring tonight against Mr. Kennedy, a man whose character is simply arrogant"
(Lawyer) "JR I have goosebumps just waiting for the two microphone gods to lock up! I'm more excited than watching a Bra and Panties match between Sable and Trish!"
(JR) "Settle down, Jerry."
(King) "Oh come on JR. Look at how Perfect shines in the light. I wonder what flavor that gum is, because he chews it so perfectly. I want some of that gum. JR, do you have some gum?"
(JR) "How about we call this match before I CHEW you a new one."
As Kennedy sizes up with Perfect, he looks very intense and focused on his opponent.
Perfect, on the other hand, has that smirk on his face, as if he knows he can beat Kennedy.
The bell rings and they lock up. Perfect swiftly shoots Kennedy into a headlock. He wrenches the neck harder and harder, asking Kennedy if he has had enough.
Kennedy shoots him into the ropes and retaliates with a clothesline. As Perfect gets up, Kennedy shoves the back of Perfect's head.
Perfect goes right after Kennedy, but he jolts out of the ring, almost as fast as the ring announcer he tormented earlier.
(JR) "Well it looks to me that Kennedy is afraid of Perfect king."
(King) "I wouldn't call it afraid, JR. I think he is just trying to psyche him out."
Kennedy is back in the ring now. Perfect goes for another collar and elbow tie-up, but Kennedy sneaks a quick right tot he gut. He then begins to hammer on Perfect's neck and head.
Kennedy now has his own headlock stitched in. Perfect throws him into the ropes, but Kennedy holds on to them. Perfect then lunges toward him, but Ken ducks out of the way and Perfect spills to the floor.
(King) Man. Kennedy is really trying to get into Perfect's head. Watch out, here they come!"
Kennedy is wasting no time with his assault. He bangs Perfect's head against the announce table. With this action, the ref starts the count.
Kennedy throws Perfect back into the ring and delivers an Irish Whip. Kennedy misses with the clothesline and Perfect applies the sleeper.
(King) "Look out JR, its the sleeper by Perfect."
(JR) "Kennedy better watch out, this move is a classic and it is just as lethal as any other submission."
Kennedy uses all of his leg strength and gets to the ropes.
(JR) "Looks like Mr. Kennedy got a shot of luck."
(King) "Don't be so sure it was luck, Ross. Kennedy is a tough customer, and it will take more than a fast sleeper to put him away."
Perfect breaks the hold but gives Kennedy a sucker punch right to the kisser. As Ken lands, Perfect drags him to the center of the ring and slaps on a chinlock.
(Perfect) "ASK HIM!"
(JR) "Hennig has Kennedy in another submission in the early going of this match King. Perfect is trying to wear down the opposition for a quick victory."
Kennedy isn't giving up from the chinlock, so Perfect lets go. he then begins to stomp Kennedy in the back of the neck.
(King) "Ruthless stomps by Perfect. He is showing Kennedy that he is not only a technical masterpiece, but he can also get you with that tenacious mean streak."
Perfect then lifts Kennedy up for a quick snap suplex. He goes for the pin, but Kennedy manages to kick out at two.
Perfect sends Kennedy to the ropes but Kennedy comes back with a clothesline. Perfect gets up and Kennedy knocks him right back down with a shot to the head.
(King) "Kennedy is coming back, JR. He might be my pick."
(JR) "Is that your choice King? We know how you like to change your mind."
(King) "On second thought, I don't know Ross. Watch the match! The only time you can address me is when you can give me some gum."
Kennedy pulls Perfect up by his hair, but Perfect delivers four straight shots to the mid-section. He throw Kennedy into the ropes and catches him with another shot to the stomach.
He grabs Kennedy by the head and sizes him up for a beautiful standing dropkick.
(JR) "King did you see that elevation? What a beautiful move that was perfectly executed by Hennig."
Perfect goes for the cover. 1. 2. No! Kennedy manages to get the shoulder up. Perfect rolls up to his feet and awaits Kennedy to get to his feet.
He goes for a running knee lift, but Kennedy grabs his leg and reverses him with the Mic Check.
(King) "MIC CHECK! MIC CHECK!"
(JR) "Nicely done by Kennedy, but that move took everything out of him. He hasn't gotten up!"
Kennedy rolls ever so slowly over to Perfect, but is able to get the arm over him. 1, 2, and Perfect shoots out before 3.
(JR) "That was so close."
Kennedy has now risen to his feet, and begins to attack Mr. Perfect's stomp on the back of Mr. Perfect. He then lifts up and delivers a body slam. He makes his way to the top rope.
(King) "This might not be good JR. Wait! Is that Heenan??"
(JR) "What is that weasel up to, King. He shouldn't ruin this match."
Bobby tries to yank Kennedy of the rope, but Kennedy kicks him in the back of the head and Heenan is down on the floor.
Kennedy then positions himself for the Kenton Bomb, but Perfect slides out of the way.
Perfect goes in for the quick cover. 1, 2, Kennedy gets a shoulder up.
(JR) "What a timely distraction by Bobby Heenan. But it did not get the job done."
Perfect then gets up and gets in the refs face. He complains for a faster count. As soon as he turns around, Kennedy is slowly getting up to his feet.
Kennedy goes for the small package, but Perfect rolls out. As both men make it to their feet, Perfect executes the running knee lift.
Instead of going for the cover, Perfect goes to check on Heenan. He isn't moving. Perfect then takes off The Brain's shoe. Kennedy is now up to a knee. The ref is going to begin a count, when Kennedy moves him out of the way.
Kennedy reaches for the locks of Mr. Perfect, but Perfect decks Kennedy with the shoe. He goes into the ring for a count, but Kennedy BARELY gets the shoulder up.
(JR) "Dirty tactics aren't going to get you a win over Kennedy"
(King) "Who cares. Perfect is being smart. He is my final pick."
Perfect meanwhile is frustrated with the referee's count once again. He is all in his face, so the ref warns Perfect before he disqualifies him.
Kennedy is now in the corner. Perfect strikes him a couple times with knife-edge chops to the chest. He then begins to whip him into the opposite turnbuckle, but drags him back into the same corner, this time, Kennedy goes in chest first.
Perfect attempts the school boy.
(JR) "One. Two. Wait the ref notices Perfect's foot is on the ropes."
Perfect is now ticked off with the ref, but plays it cool because he fears a DQ. Kennedy is up and charges for Perfect, but Perfect sidesteps and out goes Kennedy to the floor.
Perfect climbs to the top rope and goes for a diving clothesline. He catches Kennedy, and both men are on the mat.
(King) "JR look. Its the Genius. He is here to check on Heenan."
(JR) "I don't think he's here just to check on that weasel. He might be looking to do some more cheating for Perfect."
Genius then creeps over to the other side of the ring to cheap shot Kennedy. Kennedy side steps and Genius nails Perfect in the head with his scroll.
(King) "The ref is allowing the match to continue JR."
(JR) "That is what Perfect gets. His dirty tactics have come back to bite him right on his perfect ass."
Kennedy slides Perfect back into the ring and goes for a cover. Genius grabs Perfect's foot and puts it on the rope.
Irate, Kennedy goes off on the ref. The Genius gets up on the apron. Before he can cause more damage, Kennedy reaches out to deck him. Genius drops before the shot connects, and Perfect is right there to capitalize.
(JR) "Double Axe Handle right to the back of the head. Perfect with the front face lock, hooks Kennedy's leg, and boom! Perfect-Plex. 1, 2, Kennedy gets his foot on the rope."
(King) "What a match! I thought for sure that Perfect had him."
(JR) "Looks to me like all hope is dead for you King. If Perfect can come up with something to get the win all by himself, then I can give you that piece of gum."
Perfect looks out to the crowd as if they can guide him. Heenan is now coming to, and so is Kennedy. Genius is now shouting at the ref, so the Ref does not see Kennedy deliver the low blow to Perfect.
He then gets up, and has his hand out as if to receive power from the heavens.
(King) "What the hell, JR? What is Kennedy doing?"
Kennedy's mic then falls into his hands as he awaits Perfect to get up to his feet. He then cleans his clock with the microphone. Now Heenan and Genius are both on the apron.
(JR) "This is mass chaos. Kennedy has the victory the ref is distracted by these two idiots."
The ref is now ejecting Genius and Brain from ringside.
(King) "NO! He can't do that."
(JR) "Why not, King. For people who call themselves The "Genius" and The "Brain", they sure weren't using their heads in this contest.
The ref finally has order restored, and he goes to count the 3. Perfect manages to kick out.
(King) "Phew. Close call JR. Get that gum ready. What kind is it?"
(JR) "Shut your mouth. Its the next best thing besides this piece of gum you so desperately need."
Kennedy signals for the end. He brings Perfect towards the turnbuckle, and places him on his shoulders.
(King) "I know what this is. Its the Green Bay Plunge. Can I change my prediction?"
Kennedy has Perfect on his shoulders and Kennedy is now climbing the top rope. Perfect begins to wiggle, and Kennedy is losing his balance. Perfect manages to get his body off of Kennedy and maintain balance on the last rope. Kennedy falls onto the turnbuckle and Perfect sets him up for the Perfect-Plex off of the top rope.
(King) "He nailed it! What grace. What brilliance. What perfection."
(Crowd) Holy Shit! Holy Shit!
Perfect goes for the cover. One. Two. Three.
(RA) "Your winner. Mr. Perfect!"
(King) "Can you believe it JR. He didn't need Heenan or the Genius. Mr. Perfect did it! Fork over the gum!"
(JR) "What a counter move by Curt Hennig. I don't think I have ever saw the Perfect-Plex executed from such elevation. Hats off to Kennedy, but he was out performed by that man. I hope you like assmint King. This gum has been in my back pocket all night."
That concludes this Imagination Station. Stick around for more! The next match is a mystery...
Keep Reading