UFC on Fox 7 Preliminary Card Predictions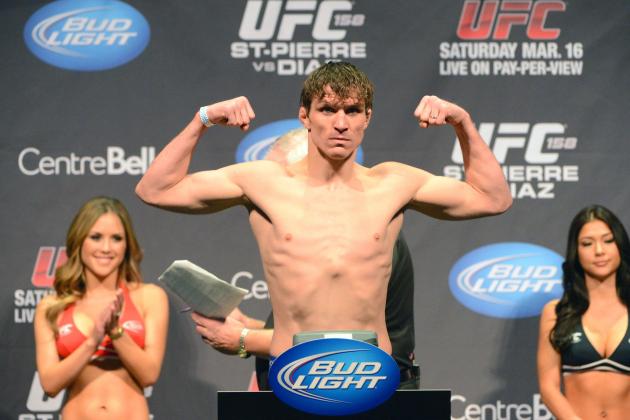 Eric Bolte-USA TODAY Sports

Nothing beats free televised fights on Fox, but for every UFC event, whether it's on pay-per-view or free TV, there are always free fights on Facebook and a sister Fox channel (FX, Fuel TV).
This weekend's preliminary card for UFC on Fox 7 is stacked, hosting former title contenders, rising prospects and UFC mainstays. Between Joseph Benavidez, Chad Mendes, Darren Elkins and TJ Dillashaw, the talent on display is going to be at a very high level.
Here is a preview and prediction of the preliminary-card fights come Saturday.
Begin Slideshow

»
Mark J. Rebilas-USA TODAY Sports

The opening bout on Facebook will see Strikeforce import Yoel Romero drop down from light heavyweight to take on Arizona Combat Sports representative Clifford Starks.
Romero is an Olympic silver medalist from Cuba in freestyle wrestling. His switch from amateur wrestling to MMA has been successful in the early going, running a 4-1 record.
Romero's most recent fight was a loss to Rafael Cavalcante by knockout, a stoppage which came in the closing seconds of the second round.
Starks is a once-defeated wrestler who will try and counter Romero's superior amateur skills with his MMA-evolved game. Starks is 1-1 with the UFC, decisioning Dustin Jacoby in his debut before falling via submission against Ed Herman.
Starks relies on his wrestling a lot, but Romero is on another level in that category. Starks needs to look at sprawling and keeping this fight up in an attempt to catch Romero should his striking be sloppy.
However, I think the Cuban's strength and athleticism will allow him to grab takedowns on Starks and throw heavy ground-and-pound. The newcomer grabs a decision.
Prediction: Romero def. Starks via unanimous decision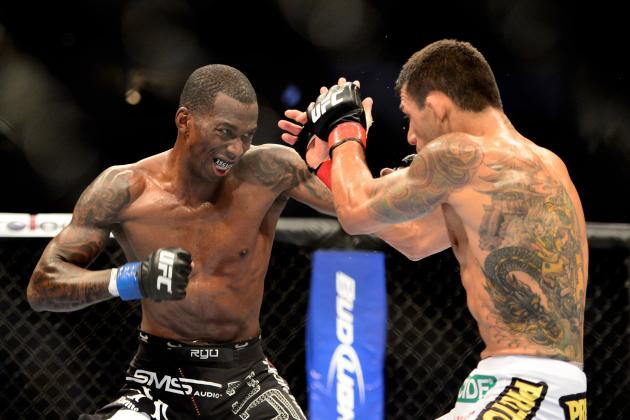 Kyle Terada-USA TODAY Sports

The other Facebook prelim should be a barnburner as well, as strikers Anthony Njokuani and Roger Bowling look to move up the lightweight ladder.
Njokuani is as exciting as they come, but he has been inconsistent since entering the UFC out of the WEC merger. He has shuffled wins and losses, defeating Andre Winner and John Makdessi while taking setbacks against Danny Castillo, Edson Barboza and Rafael dos Anjos.
The Nigerian's striking will be tested by a scrappy Strikeforce import in the form of Roger Bowling, best remembered for his three-fight series with Bobby Voelker, which unfortunately for Bowling was won by his adversary.
Bowling would be wise to get this fight down, but I don't know if he has takedowns to get Njokuani on his back. He will need to get inside on the Nigerian, which will be met with knees, kicks and nasty punches.
The UFC vet comes away victorious here.
Prediction: Njokuani def. Bowling via unanimous decision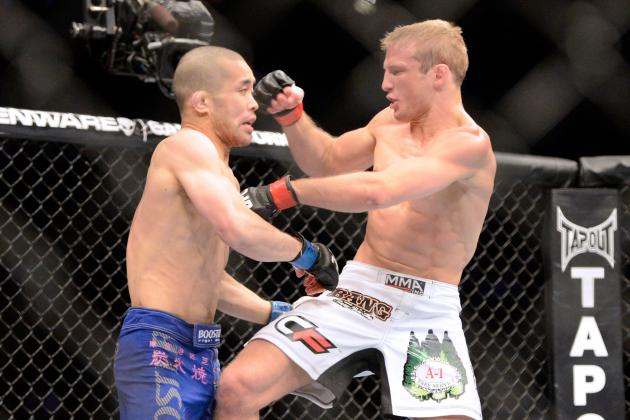 Eric Bolte-USA TODAY Sports

Leading off the FX prelims is a bantamweight scrap with high implications, when Brazil's Hugo Viana takes on the busy TJ Dillashaw.
Dillashaw makes a quick turnaround from UFC 158 where he dismantled Issei Tamura with his developing striking skills. Since losing the finals of The Ultimate Fighter, Dillashaw has rattled off wins against Tamura, Walel Watson and Vaughan Lee using the wrestling, submissions and standup skills he is gaining under Duane Ludwig.
As for Viana, he has made a splash at 135 since his stint on TUF Brazil. After a close win against John Teixeira to earn a roster spot, Viana brutally KO'd Ruben Duran in his last outing and set the 135-pound division on notice.
Viana is a good wrestler, especially for a Brazilian, as they are usually grapplers without the power takedowns. However, Dillashaw is the better wrestler and will be wary of Viana's heavy hands in utilizing a well-balanced attack toward victory.
Prediction: Dillashaw def. Viana via unanimous decision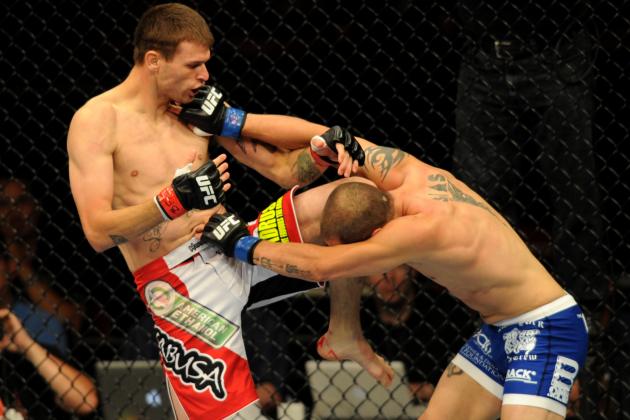 Steve Mitchell-USA TODAY Sports

We move on to the lightweight division, where two-time UFC vet Tim Means takes a big step up in competition when he takes on Strikeforce import Jorge Masvidal.
Since entering the Octagon, I have been very high on Means' skills as a fighter. In wins over Bernardo Magalhaes and Justin Salas, he has shown good takedown defense and lethal striking that have him looking toward a bright future with the UFC.
As for Masvidal, the journeyman enters the Octagon looking to win his second straight since a failed Strikeforce title bid against Gilbert Melendez (defeated Justin Wilcox in last fight). The brawler never fails to entertain, but he has looked more well-rounded in his latest fights against Wilcox, KJ Noons and Billy Evangelista.
These two will put on an entertaining fight with their hands and feet. Masvidal is extremely tough, as is Means, so neither man may have the ability to fall down when punched in the head during this fight.
I think Means is hitting his stride and I think he pulls the upset here. He may even sneak a takedown here and there to score points on the Florida native.
Prediction: Means def. Masvidal via unanimous decision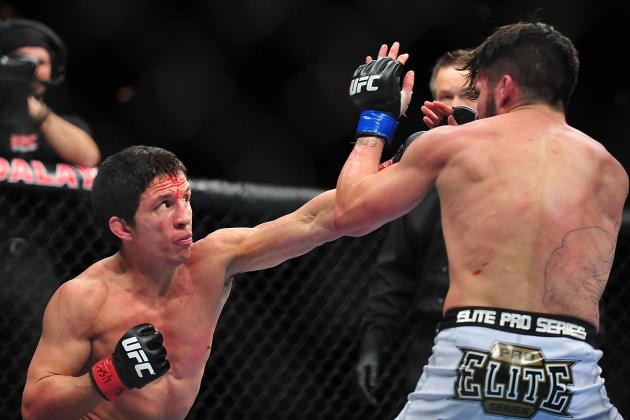 Gary A. Vasquez-USA TODAY Sports

In a bout that I think should have made the Fox card, flyweight counterparts Joseph Benavidez and Darren Uyenoyama will throw down with a possible title shot on the line in the near-future.
Benavidez is 2-1 since dropping to flyweight, beating Yasuhiro Urushitani and Ian McCall, while losing a title bid against Demetrious Johnson. Benavidez brings a well-balanced attack and looks to be in the correct weight class at this point in his career.
Uyenoyama is a top-heavy grappler that is going to look to grind away at Benavidez. His flyweight debut saw him dominate and choke out Phil Harris after his one fight at bantamweight (a win against Kid Yamamoto).
Benavidez is easily the more well-rounded guy, but he will need to avoid the takedowns of the larger Uyenoyama. He will stick and move, using his improved striking to win a convincing decision.
Prediction: Benavidez def. Uyenoyama via unanimous decision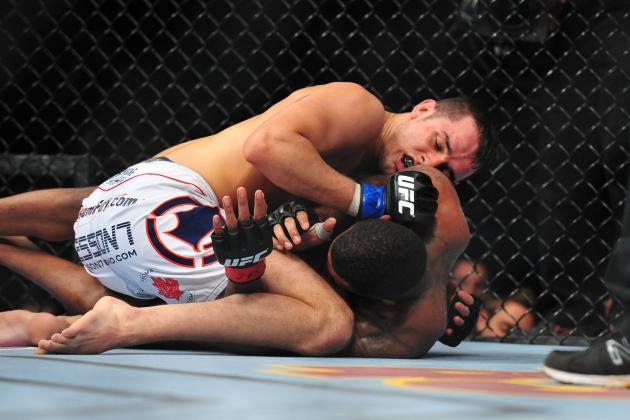 Gary A. Vasquez-USA TODAY Sports

Moving to the lightweight division, former TUF competitors will square off, when season 13 vet Ramsey Nijem confronts season 13 and 15 competitor Myles Jury.
Since losing the finals of season 13 to Tony Ferguson, Nijem has grabbed three straight victories over middling talents Danny Downes, CJ Keith and Joe Proctor. The wrestling-based Palestinian-American uses ground-and-pound to soften up opponents and search for chokes or a straight-up referee stoppage.
Jury is undefeated in professional competition and was supposed to be a castmate of Nijem on season 13 (he was injured in the first episode and left the house). Instead, he participated in the 15th season and won his first two UFC bouts against Chris Saunders and Michael Johnson.
Nijem and Jury both like to use their takedowns and top games to punish opponents. In terms of striking, Jury is probably the better of the two, but he would need to employ a sprawl-and-brawl type of gameplan if he doesn't attempt to get Nijem down.
The 24-year-old from Michigan stays undefeated.
Prediction: Jury def. Nijem via unanimous decision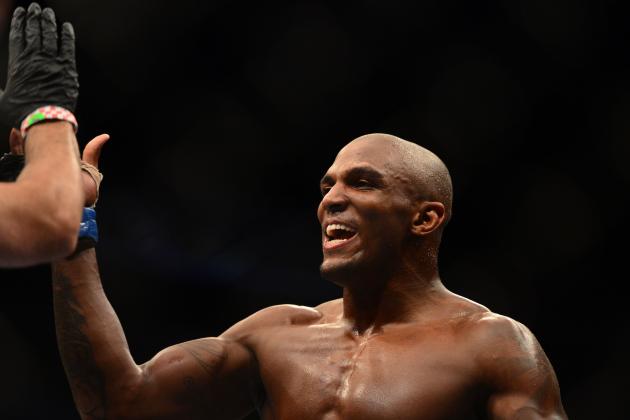 Kyle Terada-USA TODAY Sports

In a battle of big, bad middleweights, Frenchman Francis Carmont meets Strikeforce import and nasty striker Lorenz Larkin.
Carmont has yet to slip up since entering the UFC in late 2011. He has run a 4-0 record against the likes of Chris Camozzi, Magnus Cedenblad, Karlos Vemola and Tom Lawlor.
Larkin makes his debut on the heels of an undefeated run in Strikeforce. Though there was a loss turned no-contest against Muhammed Lawal, Larkin defeated Robbie Lawler and Gian Villante in his two biggest wins in the company.
Although Carmont can strike, he would be wise to stay out of Larkin's wheelhouse. Larkin has serious power, so the Frenchman should clinch and take down the striker.
If Carmont does that, he may tap out the colorful Strikeforce veteran.
Prediction: Carmont def. Larkin via submission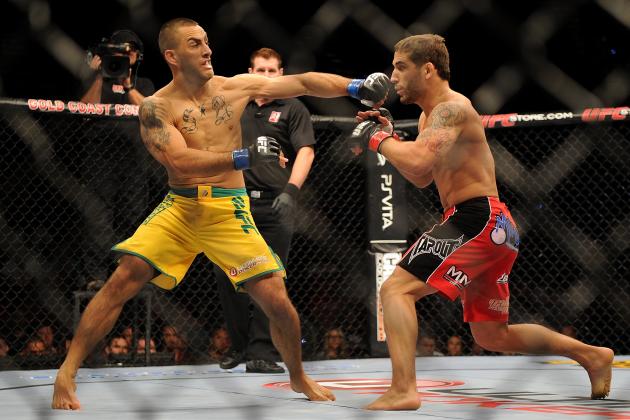 Matt Roberts/Getty Images

In the main attraction of the preliminary card, featherweight contenders Chad Mendes and Darren Elkins meet to gain possible title contemplation from the UFC brass.
Elkins makes a quick turnaround from UFC 158, where he knocked out Antonio Carvalho. Elkins is 5-0 as a UFC featherweight, defeating Carvalho, Steven Siler, Diego Brandao, Tiequan Zhang and Michihiro Omigawa along the way.
Mendes finds himself on a two-fight surge since failing to take the title from Jose Aldo in Brazil. In the UFC, Mendes has defeated Yaotzin Meza, Cody McKenzie, Rani Yahya and Omigawa to run his record to 4-1 with the company.
Both men are great wrestlers, so this may come down to a kickboxing match. Although Elkins showed power and improvements in his last bout, Mendes is the more refined striker training, with Duane Ludwig of Team Alpha Male.
It will be a close fight, but "Money" will walk away victorious again. There will be no shame in it for Elkins, who has looked great at 145 and could still be a contender down the road.
Prediction: Mendes def. Elkins via unanimous decision