Tracking UCLA Players in 2013 Draft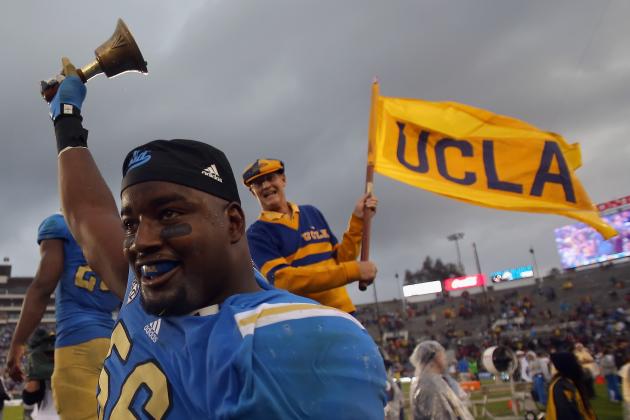 Jeff Gross/Getty Images

The 2013 NFL Draft is a little over a week away and speculation has been flying as just about every NFL analyst has come up with their own draft scenario.
Come April 25, college football fans from around the country will be glued to their televisions, watching intently to see how these scenarios pan out and where the players from their favorite teams will end up. For UCLA fans, 2013 should prove to be very interesting, as seven Bruins have a shot at finding a new home during the draft.
Let's take a closer look at the draft projections for these seven players, as well as their potential to have successful NFL careers.
Begin Slideshow

»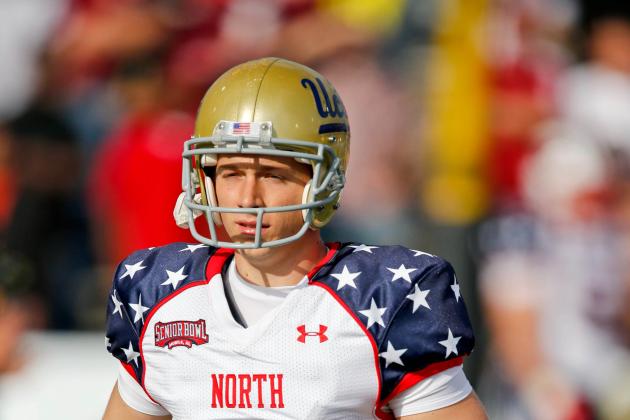 Derick E. Hingle-USA TODAY Sports

Where he was taken: 155th, Minnesota Vikings
Locke is one of the top special teams players in the 2013 draft and looks every bit the part of a future Pro Bowl punter.
Locke was one of the most valuable players on UCLA and put up kicking stats that were better than just about any punter in the NCAA. Locke averaged 44.58 punting yards over his career, second in UCLA history, and dropped 34 punts inside of the 20-yard line in 2012, tops in the PAC-12.
Locke also handled the kickoff duties for the Bruins, tallying 68 touchbacks on 89 kickoffs, good for tops in the conference.
Locke finished the season as a First-Team All-PAC-12 selection and earned a Honorable mention All-America selection from sportsillustrated.com.
Locke possesses the combination of a powerful leg and deadly accuracy that will make him the bane of NFL offensive coordinators. Rob Rang of cbssports.com, rates Locke as highly as Bryan Anger, who was taken by the Jacksonville Jaguars in the third round of the 2012 draft.
Locke is rated by cbssports.com and nfldraftscout.com as the top punter in the 2013 draft, and could be picked up in the mid-to-late rounds. Whether he is drafted or not, Locke seems destined for a fantastic NFL career.

Christian Petersen/Getty Images

Where he was taken: Undrafted, Denver Broncos
In 2012, Hester was part of a cornerback duo that may have been the most experienced unit on the UCLA roster.
During his career as a Bruin, Hester played in 42 games—37 as a starter—and was one of the staples of the team's defense. During his final three seasons, Hester was able to rack up 127 tackles, five interceptions and knock away another 18 passes.
At 6'2", 198 pounds, Hester is the perfect size for a NFL cornerback. He has long arms, a strong upper body and displays very fluid hip motion when dropping into his back pedals.
While Hester has all the natural intangibles of a pro cornerback, he still needs to refine his game if he hopes to have a long career in the league. In game situations, Hester had trouble locating the ball and was often a step too slow in reacting to the play.
While he is not as skilled as many cornerbacks in the draft, Hester could still come off the board sometime in the sixth or seventh rounds, due to his size and overall athleticism. Just making a team will not be enough, though, as Hester will have to improve his overall game if he hopes to stick around in the NFL.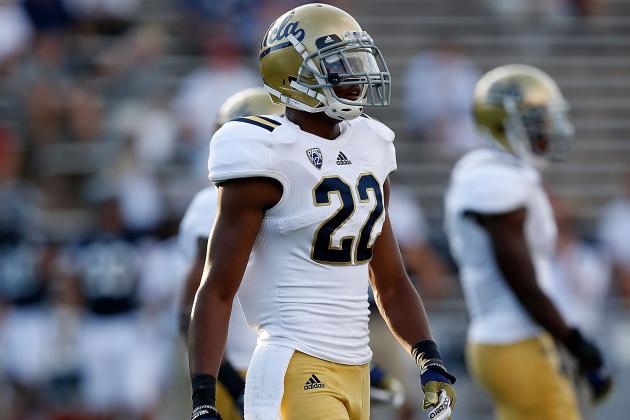 Scott Halleran/Getty Images

Where he was taken: Undrafted, Indianapolis Colts
Price was the other half of the aforementioned cornerback duo in 2012, as he teamed up with Hester to play in all 14 games last season.
Price was a four-year starter for the Bruins and saw his productivity increase with each season. As a freshman, Price had 48 tackles and managed two pass break-ups, but he was not able to record an interception. He actually did not pick off his first pass until his junior year. However, over the course of his senior season, Price displayed a new level of awareness and anticipation, picking off four passes. In total, he finished his career with 157 tackles, five interceptions and 21 pass deflections.
Like his counterpart, Price is a very long cornerback with prototypical NFL height. He matches up well against tall receivers and is adept at knocking balls down due to his long arms. Price showed in college that he can match up well with receivers in man coverage and can make quarterbacks who throw lazy passes into zone coverage pay .
Price will have to improve his strength if he is going to play against the more physical receivers in the NFL. He also needs to continue mastering his technique, but his size and ability should give him a chance to being taken in the later rounds.
Price is going to have to put in a lot of hard work if he hopes to stick around the NFL, but if he does, he could develop into a solid cornerback option.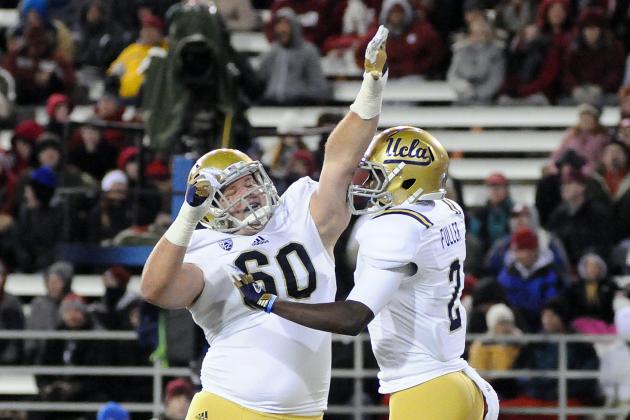 James Snook-USA TODAY Sports

Where he was taken: 196th, Minnesota Vikings
Baca was the lone senior on a Bruins' offensive line that was extremely young in 2012. Baca made 12 starts over the season, holding down the right guard position for 11 games and also making a start at right tackle.
In total, Baca made 45 starts during his UCLA career, 25 coming at guard and 20 at tackle, and was one of the strong points of an offensive line squads that, at times, struggled.
While Baca only has average height and size for a NFL lineman—he taps in at 6'3", 302 pounds—he makes up for this with intelligence and a ton of tenacity. Baca has a very strong punch which he uses to stun rushers in pass protection and also attacks defenders on running plays. He is very skilled at recognizing blitzes and redirecting them away from the play.
While NFL scouts love Baca's aggressive playing style, this can, at times, go against him as he overextends and loses balance. With the help of a good lineman coach this should be easily correctable.
Baca's size limits him to the guard position in the NFL, but his nastiness and eye for the game should merit him a late-round selection and a chance to see playing time in the future.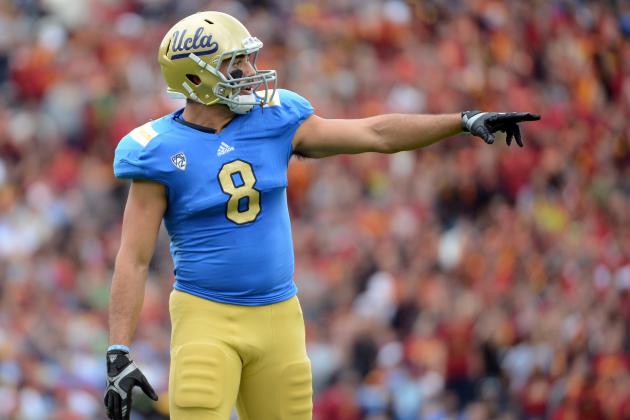 Harry How/Getty Images

Where he was taken: Undrafted, Detroit Lions
Fauria was one of the key components of a potent UCLA offense that averaged 34.4 points and 275.7 passing yards a game in 2012.
Over the course of his senior season, Fauria was able to snag 46 catches for 637 yards, averaging 45.5 receiving yards a game. Fauria's most impressive stat, however, was his 12 touchdown catches, which was at least four times more than any other receiver on the team.
At 6'7", 259 pounds, Fauria is an intimidating receiving target. He is exceptionally skilled at boxing out defenders and possesses very strong hands, making him a menace in red zone situations.
While he is among the most skilled receiving tight ends in the draft, he is not yet the overall package that NFL scouts are looking for.
Fauria, who is very long and lean, struggles with getting low on his run blocks. He has also been prone to missing blocks in the open field and does not seem to relish making big hits like many of the top NFL tight ends.
Fauria needs to improve his blocking and physicality in order to be an every-down player in the NFL, but his ability to be a red zone threat guarantees that he will be a mid-to-late round pick and find playing time with a NFL team.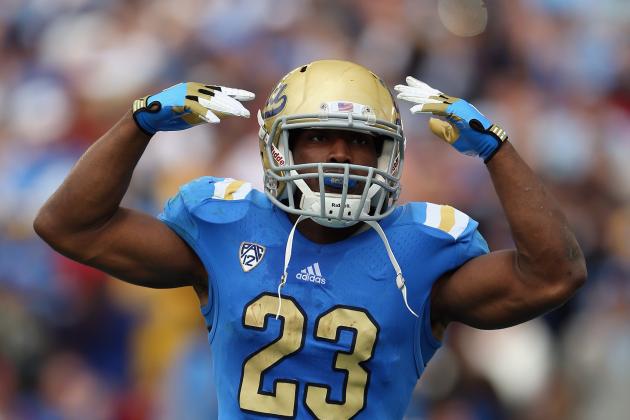 Jeff Gross/Getty Images

Where he was taken: 125th, Green Bay Packers
Franklin is among the top running back prospects in the 2013 NFL Draft and was one of the most exciting players in college football at any position in 2012.
Franklin electrified college football fans all season on his way to becoming the Bruins' all-time leading rusher and the first legitimate Heisman candidate at the school since quarterback Cade McNown in 1998. The back, affectionately known as "Jet Ski" by UCLA fans, racked up 1,734 yards and 13 touchdowns on 282 carries his senior season and was named a Second-Team All-Pac-12 performer.
Throughout his time in Westwood, Franklin displayed exceptional burst when attacking open holes, as well as the vision and patience of a very intelligent runner. While NFL scouts do not believe that Franklin has elite NFL speed, his 4.49 second 40-yard dash proves that he has adequate speed to match up with most defenders.
Franklin will need to work on his pass blocking before he becomes an every-down type back, but he fits the mold of an excellent third-down threat.
Franklin is projected as a second round pick by most scouting organization and is ranked as highly as the second overall running back by websites like CBSSports.com. He should make major contributions as a third-down back next season and, if he improves his blocking, will be a starter in the NFL.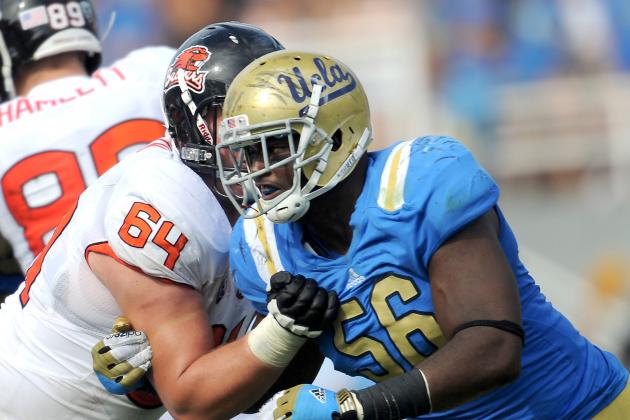 Jayne Kamin-Oncea-USA TODAY Sports

Where he was taken: 26th, Green Bay Packers
At 6'4", 283 pounds, Jones is one of the most imposing defensive ends in the 2013 NFL Draft. He will represent the biggest hope for UCLA fans that a Bruin will be taken in the first round of this year's draft.
Coming into his career at UCLA, Jones displayed a lot of potential as a top defensive end prospect. He appeared in 10 games as a true freshman in 2008, making 17 tackles, and then started in every game as a sophomore in 2009, coming away with four sacks. After redshirting in 2010 with a fractured right foot, Jones returned as a starter in 2011, but only put in an average performance, making 41 tackles and three sacks.
2012 proved that Jones deserves to be one of the most highly rated defensive linemen in the draft. As a senior, Jones was able to make 62 tackles, 19 for loss, and also tallied an impressive 6.5 sacks on his way to being named Second-Team All-Pac-12.
Jones is a big, strong defensive end who can fit into both 4-3 and 3-4 schemes. He also has the versatility to move inside to the defensive tackle position when necessary. He possesses long arms and an explosive first step that helps him knock blockers off balance and shoot into open gaps.
According to Rob Rang of CBSSports.com, Jones may just be scratching the surface of his potential.
Jones is projected as a first or second round pick. Todd McShay has him going 29th to the New England Patriots in his lastest mock draft and will be expected to make an impact right away. He looks to have all the makings of a dominate NFL lineman.