Theo Riddick: 5 Things You Need to Know About the Notre Dame RB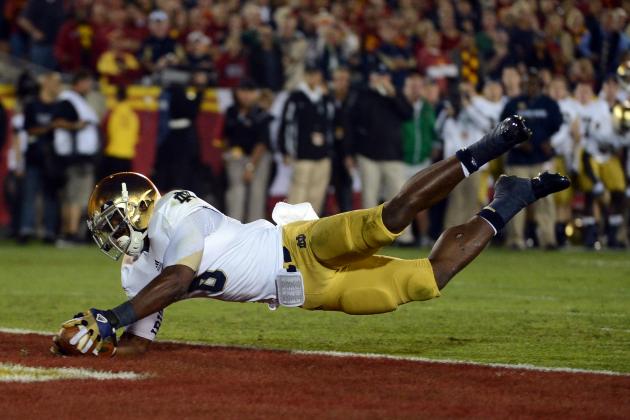 Harry How/Getty Images
Theo Riddick is a versatile athlete who could be worthy of a mid-round pick.
Theo RIddick isn't a player who is going to astound you with his speed, nor is he a running back who relies on power to force his way through bodies into the open field. However, he has the versatility and determination to remain on an NFL roster.
Riddick spent his time at wide receiver in his junior year but was switched to running back last season. This was his projected position coming out of high school, but the move was met with suspicion. He had posted decent stats as a wideout, and switching him deprived the Irish of another receiving weapon.
However, he justified his coaches' decision and put up even better numbers out of the backfield. Following this productive senior year, he will now move on to the NFL, hoping to make his mark there.
Read on for five things you need to know about the talented Irish RB.
Begin Slideshow

»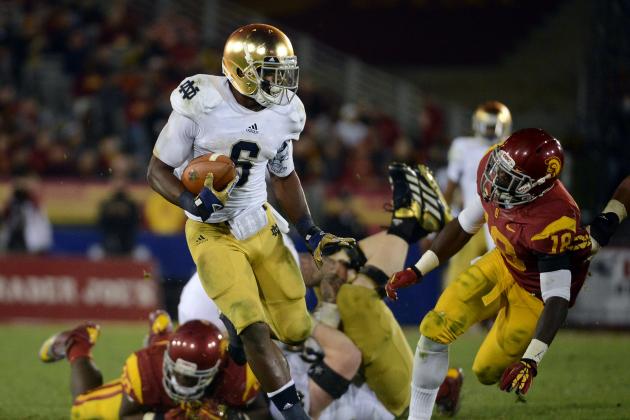 Harry How/Getty Images
Riddick is deceptively quick, making good cuts for solid gains.
Birthday: May 4, 1991
Hometown: Manville, N.J.
High School: Immaculata High School, New Jersey
Major: Sociology
Year: Senior
Riddick's versatility is something that was rather forced upon him. Coming out of Immaculata High School, where his team posted a 12-0 record and a state championship in 2006, he chose Notre Dame over Penn State and Pittsburgh.
In 2009, he made his name as a kick returner before being moved to wide receiver in 2010. Over the course of two seasons, he posted 850 yards and six touchdowns. While those numbers were acceptable enough, they were nowhere near what his coaches expected of him.
In a bold move, they switched him back to running back and he split carries with Cierre Wood in his senior year. He excelled by bringing everything he had learned from his time at receiver to the RB position, marking himself as an intriguing prospect in this year's draft.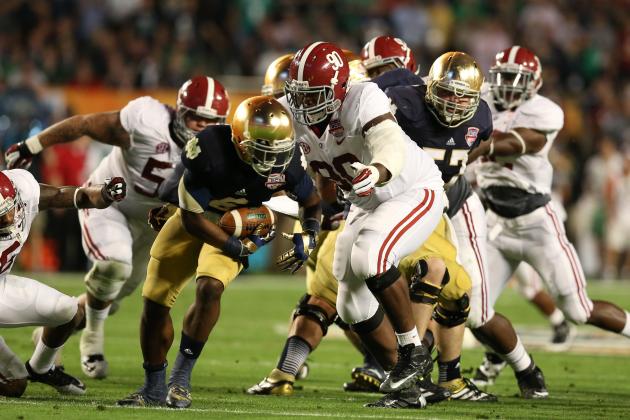 Matthew Emmons-USA TODAY Sports
Riddick never gives up on a play, which will serve him well at the next level.
Riddick's stats are difficult to project to the NFL, due to his playing time at two different positions across his four years at Notre Dame. He never really lived up to his promise as a receiver, but at the same time, he never got the chance to entrench himself as the No.1 running back.
Any team taking him will be basing it on potential and versatility. At 5'10" and 201 pounds, he doesn't project as an every-down back, but he cuts well and is willing to fight for the extra yards.
Rushing
Receiving
Scrimmage
Year
Pos
Att
Yds
Avg
TD
Rec
Yds
Avg
TD
Plays
Yds
Avg
TD
2009
RB
29
160
5.5
0
6
43
7.2
0
35
203
5.8
0
2010*
WR
11
29
2.6
0
40
414
10.4
3
51
443
8.7
3
2011*
WR
14
63
4.5
0
38
436
11.5
3
52
499
9.6
3
2012*
RB
190
917
4.8
5
36
370
10.3
2
226
1287
5.7
7
Career
244
1169
4.8
5
120
1263
10.5
8
364
2432
6.7
13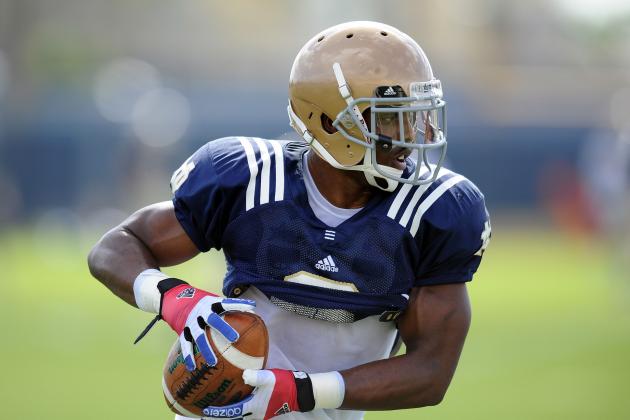 USA TODAY Sports
Riddick underwhelmed at the combine and his pro day.
Measurables
Height: 5'10"
Weight: 210 lbs.
Arm Length: 30"
Hand Size: 8 3/4"
Combine Results
40-yard dash: 4.68 sec.
Broad jump: 118"
Vertical jump: 32"
Pro Day results
40-yard dash: 4.65 sec.
Three-cone drill: 6.99 sec.
60-yard shuttle: 11.97 sec.
Bench Press: 14 reps
Had Riddick put up good numbers at the combine, he would have assuaged a lot of fears about his weaknesses. A decent 40-yard dash and a strong vertical leap would have gotten his name back in the mix and teams would have started thinking of ways to best use him within their offenses.
However, he performed poorly, posting a 4.68 40 time, along with a 32" vertical and 118" broad jump. Riddick later revealed that he had puled a hamstring, which meant he had to make up for it at his pro day.
He failed to capitalize, and Eric Edholm reported that he had problems with his hands:
Theo Riddick with 2 drops. #ndproday
— Eric Edholm (@Eric_Edholm) March 26, 2013
This has significantly hurt RIddick's stock, but he still has the intangibles to be worth a gamble as a late-round pick. He has the quickness to make a play, as well as the knowledge of receiving routes to slot into an NFL offense.
Statistics via NFL.com and NotreDame.247Sports.com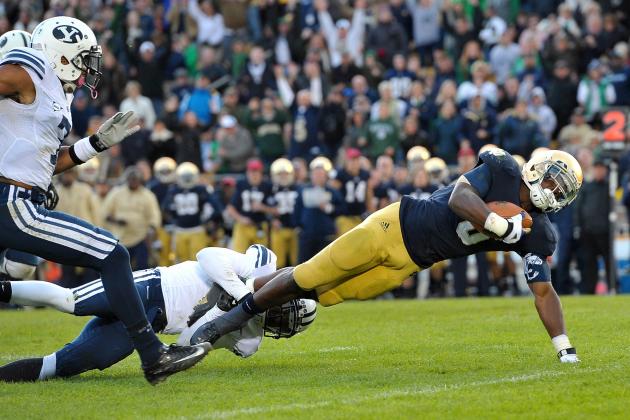 Matt Cashore-USA TODAY Sports

In high school he ensured victory and a state championship by posting three touchdowns and an interception in the end zone with under a minute remaining.
In 2009, he broke Armando Allen's school record with 849 kickoff return yards, and before committing to sociology at Notre Dame, he enrolled in the College of Arts and Letters, majoring in film, television and theatre.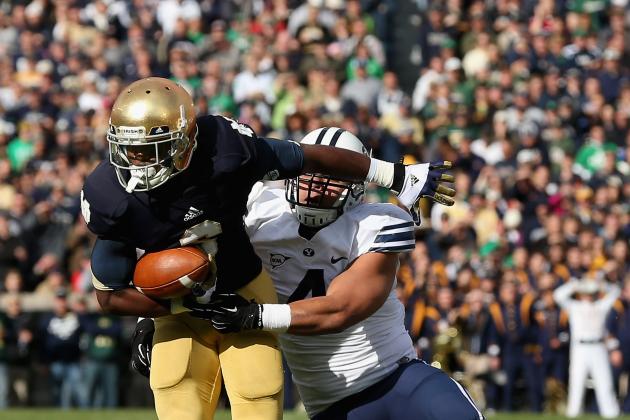 Jonathan Daniel/Getty Images

Most evaluations of Riddick keep coming back to his versatility, both as a strength and a weakness. He's not going to be a Week 1 starter, but there's no doubt that he can make a contribution in 2013. The three examples below show the general consensus of opinion on his chances at the next level:
Flashes a strong cut and acceleration to get through a hole. Has value as a receiver out of the backfield with his experience as a slot man. Freezes linebacker with his wiggle in his route, can adjust to poor throws to bring them in. Willing to lower his pads and lean for the extra yard in short-yardage situations, also not afraid to bring his shoulder or step through a would-be tackler. - NFL.com

Shows wiggle in space with the patience and vision to create. A lot tougher than expected and does a nice job staying fresh for all four quarters. Flexible to go high and leave his feet or low with natural bend. Natural wide receiver skills with quick hands to snatch the ball out of the air. A pair of the quickest feet in the draft and does a nice job setting up his routes when isolated in single coverage. - CBSSports.com

As far what could cause Riddick issues in the NFL you have to look no further than how he carries the ball. Many times you will see him running down field with only two points of pressure on the ball and away from his body. Even with only two fumbles this season; Riddick will be prone to putting the ball at the ground in the NFL. With players like Charles Tillman, he will be exposed as a careless ball carrier. - Patrick Conn, WithTheFirstPick.com